How to Ensure You Choose the Right College for You
Picking a college is one of the biggest decisions you'll make. Discover how one student's campus visit made him realize that school was right for him.
The author (front center with mic) co-hosts a multicultural music concert at Ithaca College. Image Credit: Brendan Iannucci / The Ithacan
In April 2019, I visited Ithaca College after getting accepted. However, I was unsure just where I wanted to go for school — I still had a few other colleges hanging in the balance.
On paper, Ithaca was and is a great school, but I was still very nervous when I visited the campus. I was concerned about choosing the right school. Would I fit in? Would I enjoy myself here? What if I fail? Would I grow and be challenged? Most importantly, would my family be OK if I attended this school?
All these questions — and more — made me hesitate to commit to Ithaca. As I reflect on that time, I realize that my hesitation came from a combination of internal and external pressures.
In the end, though, I pushed past those anxious feelings and made a few brave steps that got me to the other side: choosing Ithaca to be my home for the next four years.
My mother and older sister came with me. Together, we toured the campus, asked a lot of questions, and made connections from the moment I got there. I pushed myself to be intentional with my words and actions.
I stepped away from the tour at times to speak to current students I saw in the dining hall and in the hallways of academic buildings. I was open and honest about my skepticism.
In return, each student was transparent about their own journey, and I became overwhelmed throughout the day. Why? Because the reality is, deciding where to go for college is a big decision. Picking a school requires you to take a lot into consideration. And, ultimately, the decision is up to you and your family.
"I was concerned about choosing the right school. Would I fit in? Would I enjoy myself here? What if I fail? Would I grow and be challenged? Most importantly, would my family be OK if I attended this school?"
Many of us need perspective and guidance — not just statistics and information on websites. While those are important, there is so much more to the college decision-making process.
What I can do is tell you about my journey and what I discovered about myself when deciding whether Ithaca was the right choice for me.
I'm the youngest of four children. Knowing that, I'm sure there's a stereotypical picture or word in your mind right now about me. The youngest child is usually seen as spoiled, immature, coddled, and so on — I'll plead the fifth on that. But I often rely on my older sister and other family members to give me advice and lead the way.
However, it was during my first campus visit that I truly made one of my first life-changing decisions. I was used to making small decisions, which have helped me become who I am today, but this decision was different. I knew I needed to feel safe, valued, and challenged.
I'm glad I decided to attend Ithaca, but what's most important is how I got to that point. I knew what I wanted to get from going to college, but now it was about finding a school that could offer that to me.
While visiting Ithaca, I found all the things I was looking for. In a way, it was like a puzzle — pieces came together as I journeyed through the campus. And as those pieces came together, I noticed other things about Ithaca that impressed me, like the amount of money the school puts into its welcome events and how it financially supports students and families so they can attend those events.
Ultimately, I chose Ithaca because it checked off everything on my list. As my visit came to a close, I began to get this feeling. I couldn't describe it at first. All I knew was that I didn't feel like a stranger walking around campus. I felt at peace and at home.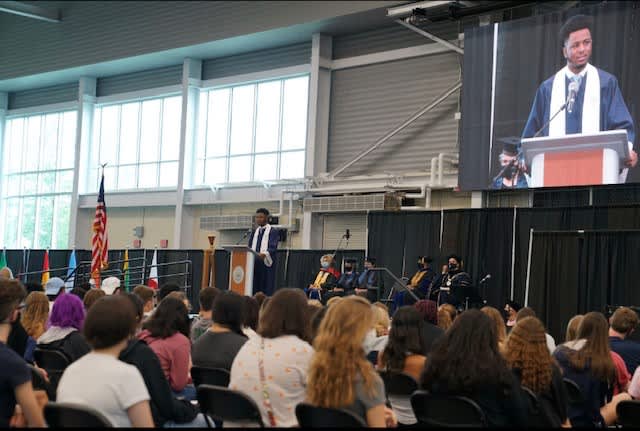 While you explore potential colleges, make sure you have a list of priorities. A wishlist of sorts. These can be specific subjects or majors, sports you want to play, clubs you want to join, study abroad opportunities, or research options.
Make sure you add flexibility to your list, as well. Do you have the opportunity to take a chance on yourself?
At Ithaca, I've been pushed by my peers, faculty, and staff across campus to get out of my comfort zone. Our director of admissions is one of many people who's taken the time to answer my questions and provide me with critical information.
The next step is to reconcile the fact that there is no perfect college, but there is a place that's perfect for you. I knew what my wants and needs were. What are your nonnegotiables? Do you want to be in a space that allows you to be a leader, an activist, or an advocate?
Discover what that could look like for you wherever you attend college. Are you looking for a mentor who can help you in your research? Or are you like many students in that you don't know exactly what you're looking for, but you do know you want a little help along the way?
I knew my decision to attend Ithaca was a big one, but I never knew I would accomplish the things I have while here. For example, I've been able to sit in on important conversations with our board of trustees. I've become a student manager, worked closely with the president and our senior leadership team, and served as student body president.
I was even the student speaker at convocation for the class of 2024, in addition to being invited to speak at and host many other campus events.
I never knew I would form the bonds I've formed with others, develop new academic interests, and so much more — all because I chose the right college for me.
Meet the Author
Déontae Guy
Déontae Guy is a senior at Ithaca College pursuing a bachelor of science in sociology with a minor in counseling. His life goals are to counsel and coach students toward successful academic lives. He is very active on campus, working with public safety as a student auxiliary safety patrol member and with information technology as a student manager. He also served as president of the student body for Ithaca's student government council during his junior year.