Respecting the Cultural Diversity of the AAPI Community
The AAPI population is an expanding and culturally diverse community. Improve your understanding of the fastest-growing ethnic group in the nation.
Image Credit: Edwin Tan / E+ / Getty Images
---
The AAPI population includes over 50 ethnicities and descendants of over 60 nationalities.
"Asian American" was coined in 1968 to unite the population and fight for equality.
Celebrating AAPI culture can include honoring AAPI Heritage Month.
The AAPI community is the fastest-growing ethnic group in the United States.
---
It is important to consider the ways diversity exists in and impacts all communities. Within the Asian American and Pacific Islander (AAPI) population, ethnic and cultural diversity continues to grow and impact the richness of people's lives nationwide.
The AAPI community includes over 50 ethnicities and individuals who speak more than 100 languages. Working to understand the diversity of the AAPI population can improve our collective ability to respect and support the individuals within the community.
What Does It Mean to Be AAPI?
The term AAPI is an acronym used to identify multiple cultural and ethnic groups. The Asian American and Pacific Islander community includes a wide expanse of people. Asian refers to the 48 countries and three territories on the continent of Asia. Pacific Islander includes 15 independent nations and thousands of islands.
Before "AAPI" came to be, people often just used their country of origin or ancestry to self-identify. Now, individuals — including Filipino Americans, Japanese Americans, and Chinese Americans — may use the umbrella term AAPI to discuss their identities.
The term Asian American was coined in 1968 by Emma Gee and Yuji Ichioka. The phrase was meant to bring together all people of Asian descent in the United States. It also served as a way for activists to join together in their fights for equality across the country.
The term AAPI includes many countries, cultures, and ethnicities. It is important to differentiate between the experiences of those who identify as part of the AAPI community. Each country, culture, and community holds different experiences and histories. Nandita Gupta, accessibility program manager at Microsoft confirms, "It's not only about celebrating various cultures and the diversity within the community, but also supporting these communities."
Using the term AAPI can help to unite communities in collective activism. However, it can also create an assumption that all AAPI people have a singular and shared experience in the world. Naming all AAPI experiences as one collective can greatly diminish the unique and individual experiences of many cultures and individuals.
Exploring Cultural Demographics Within the AAPI Community
According to the U.S. Census, about 24 million AAPI people lived in the United States in 2017. Within this 7.3% of the U.S. population, some people who are categorized as AAPI identify in other ways. Individuals may identify with their personal or ancestral country of origin.
Multiracial and Hispanic Asians accounted for 14% of the Asian population in the United States in 2021, according to the Pew Research Center. People who identify with multiple ethnic groups are a growing population in the country. About 70% of multiracial Asians in America identify as Asian and white.
The Chinese American population made up the largest Asian ethnic group in the U.S. in 2021, according to the Pew Research Center — 5.4 million people identify as Chinese American. Indian Americans account for the second largest ethnic group within the Asian American population.
Asian Americans account for 57% of Hawaii's population, the highest percentage nationwide. However, California holds the nation's largest Asian population with 6.7 million people. Native Hawaiian and other Pacific Islander groups are often classified together. This group included about 1.6 million people living across the country in 2019, according to the U.S. Census.
By 2055, people of Asian descent are expected to become the nation's largest immigrant group, according to the Pew Research Center. The demographics of the AAPI community indicate the diversity of people's cultural and ethnic backgrounds.
Why It's Important for Students to Understand the Diversity of AAPI People
Different Experiences Within AAPI Communities
Each ethnic group under the AAPI umbrella has different experiences and historical roots. Specific ethnic groups' histories of colonization, migration, and language can impact their experiences in the United States. These differences can affect income, access to education, family histories, and stereotypes that impact students and their families.
Ending the Model Minority Myth
The model minority myth assumes that all Asian Americans are hard-working, academically successful, career climbers. This stereotype creates bias and judgment without recognizing the truth and complexity of individual identities. As students come to understand the diversity of AAPI people, they can help dismantle the stereotypes that harm their peers.
Support and Celebrate Differences
Building an understanding of AAPI diversity allows students to honor and celebrate the histories and identities of their peers. Supporting the AAPI community can come in many forms, including celebrating AAPI Heritage Month. Engaging in conversations and teaching others about AAPI issues can encourage others to participate in activism for current community needs.
"We need more voices in this space that would not only stand up for those who are not being heard, but to also empower others to find their own voice. We are all unique in our own ways, especially with our various intersectionalities of race, culture, religion, disability, ethnicity, and nationality. With this growing community, we need to gain a deeper understanding of how they are all connected."
— Nandita Gupta, Accessibility Program Manager at Microsoft
Historical Understanding
Each AAPI population has its own unique history. Learning the respective histories of AAPI communities can affect how students see and engage in the world. Deepening global perspectives can also impact how students understand U.S. history.
Humanize Experiences
As students learn about the diversity of AAPI populations, they can improve their ability to see those around them with complexity. Humanizing the experiences of AAPI people can help build empathy and understanding of individual histories. This level of awareness is critical within the college landscape, as well as more broadly.
Explore more resources for our Asian American and Pacific Islander students
Supporting you at every step of your journey.
Discover Now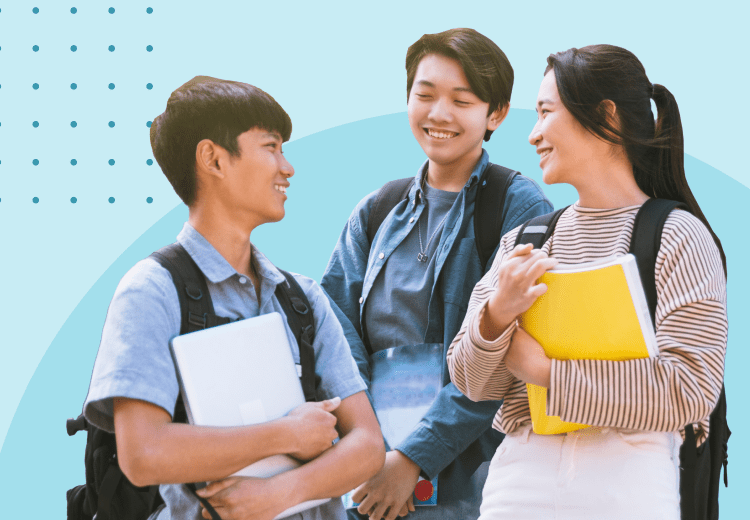 Conclusion
Respecting the cultural diversity of the AAPI community can help us build a foundation for understanding and support. The AAPI community includes many cultural and ethnic groups. People from more than 50 countries identify as AAPI, making it the fastest-growing ethnic group in the nation.
College students can learn AAPI histories and how they impact the U.S. Learners can also build a deeper understanding of the diverse cultures under the AAPI umbrella. Increasing awareness of this diverse population can help students engage with, support, and understand AAPI people and communities.
With Advice From:
Nandita Gupta
Nandita is an accessibility program manager at Microsoft, where she works on a product that empowers users to create inclusive and accessible experiences for all users. She has been named Influential Women of Manufacturing 2019 by Putman Media. She is a board member on different boards within the community including Lime Connect, an organization with a mission for rebranding disability through achievement, where she serves on the Community Engagement Committee. She also serves on the Accessibility Leadership Council for Disability: IN. As a board member for a nonprofit organization — Caroline Calouche & Co. — she leads the Diversity, Equity, and Inclusion Committee as the chair where she is working on creating inclusive spaces within the dancing communities. She has been actively involved in various mentoring organizations over the past years and was inducted into the Susan M. Daniels Disability Mentoring Hall of Fame. She has been a speaker at numerous conferences including the Grace Hopper Celebration for Women in Computing, Assistive Technology Industry Association 2020, and World Information Architecture Day.