What Does Campus Mental Health Services Do?
College is an exciting time for students, but it can also be overwhelming. Mental health services on college campuses can help. Learn how in this guide.
Image Credit: sturti / E+ / Getty Images
---
College counseling programs help students cope with mental health challenges.
Students can seek mental health services on college campuses, even if it isn't a crisis.
Colleges often enroll students in medical insurance as part of their tuition and fees.
Teletherapy and other telehealth services are available on many college campuses.
---
According to the Mayo Clinic, up to 44% of college students reported symptoms of depression and anxiety in 2021. While going to college is an exciting experience, it can also be overwhelming.
College counseling services can help students develop social skills and address stress and other mental health challenges.
Mental health services on college campuses offer a variety of assistance, from group workshops to individual counseling. Many schools also offer in-person, virtual, and hybrid options. However, college counseling services can differ significantly among campuses.
What Are Counseling Services on College Campuses?
Mental conditions, addictions, and other challenges often emerge with college stress. And some colleges are better than others at providing mental health support for students. The best college counseling programs offer workshops, counseling, therapy, and treatment recommendations.
"Most colleges and universities provide counseling and a variety of other mental health supports that are usually free or very affordable," said Rhonda Lesley, licensed professional counselor and director of the Missouri State University Counseling Center.
Mental health services on college campuses may even include extended services such as counseling for students with a substance use disorder.
For example, the Jed Foundation works with colleges to create programs, systems, and policies to help students connect to mental health support. Counselors may also provide care coordination and referrals for services off campus.
Ultimately, it's important to know what mental health resources a college offers before enrolling. If you have specific concerns, make a list of your mental health needs for reference as you're researching colleges. It's also a good idea to review the college's confidentiality policy.
What Types of Problems Can You Seek Help For?
Students don't have to be in a mental health crisis to make an appointment with a counselor. College counseling services can help with various issues, such as the following:
Career uncertainty
Substance misuse
Social anxiety
There are also psychiatric conditions that often can emerge in the early 20s, such as schizophrenia and bipolar disorder. The bottom line is that it's important to learn how to manage stress and know where to go for help if you need it.
"Studies show counseling only takes a few sessions for students to begin to benefit from the experience, so it is an efficient and affordable way to begin feeling and functioning better soon," said Lesley.
According to the National Alliance on Mental Health, it's essential to develop a self-care routine and healthy habits to handle the emotional challenges of college. Campus mental health services are there to help students even if they're not experiencing a mental health crisis.
Do College Campus Mental Health Services Cost Money?
Colleges typically include free access to counseling services in the tuition and fees for full-time students. However, these services may not always be available to part-time or online students. Additionally, counselors may refer students to outside providers, which usually costs money.
The good news is that there are options for lost-cost and free health insurance through the Affordable Care Act (ACA). The ACA also offers a choice for students to stay on their parents' or guardians' insurance plan until age 26. That said, learners must attend college in the same state where their parents or guardians live.
Additionally, most colleges offer health insurance for students. Some schools automatically enroll all new learners in a student health insurance plan. But these plans often only cover the academic year, leaving students uninsured or paying an additional premium over summer break.
How Does Making an Appointment With a Counselor Work?
Students can usually schedule their first appointment with a counselor over the phone, online, or through the student portal. The counseling center may also provide brief drop-in consultations with a counselor or drop-in workshops.
Keep in mind that counselors usually have more availability at the beginning of the semester. The wait time for an appointment will typically vary depending on the type of appointment you need.
"If you need more urgent mental health care during times when campus is closed, all campuses have after-hours procedures in place to assist in these situations," said Lesley. "Simply consult the campus's counseling center website for details."
Today, many college campuses offer virtual counseling sessions and free online therapy. You can usually book a virtual counseling session online. Once you book the appointment, you'll receive a confirmation email with a link, instructions, and necessary forms to fill out.
Online Counseling Services: Telehealth and Teletherapy
Telehealth and teletherapy are remote virtual services that provide a variety of healthcare options using technology. It's the same concept as virtual classrooms and Zoom meetings with employers.
What Are Telehealth and Teletherapy?
Telehealth and teletherapy sound similar, but they focus on different services. While telehealth provides help for physical healthcare needs and conditions, teletherapy specifically addresses mental healthcare.
Teletherapy can help students cope with depression, anxiety, substance misuse, and school-related stress or burnout. State laws vary in what insurance providers can cover, however.
Since teletherapy is a fairly new service, insurance coverage for it isn't as common as telehealth. But many providers charge per session, weekly, or monthly fees to make it more affordable.
Why Do Colleges Now Offer Online Therapy?
Virtual mental health services are convenient, accessible, and as easy to use as video chat. Studies show that teletherapy can effectively treat depression, sleep, stress, anxiety, post-traumatic stress disorder, and eating and alcohol use disorders.
Consequently, more colleges are starting to use virtual therapy to expand mental health options for students. What's more, virtual counseling can include using various platforms, including text messaging, phone apps, and online modules.
Students can check with their campus counseling center to find out whether their school offers virtual mental health services.
What Are the Benefits of Online Counseling?
Online counseling is all about providing access, convenience, and flexibility. Virtual counseling reduces travel costs, provides consistent therapy, and offers access to specialists.
Virtual mental health services are especially helpful for off-campus students because it means there's no need to travel. Teletherapy can help reduce some of the social stigma you may feel.
Many students find it a more comfortable experience. Virtual therapy means students can practice social distancing when needed and still have access to low-cost mental health services.
Take Time to Prioritize Self-Care
Give yourself time and space to focus on you. Explore our collection of mental health resources to find support.
Learn More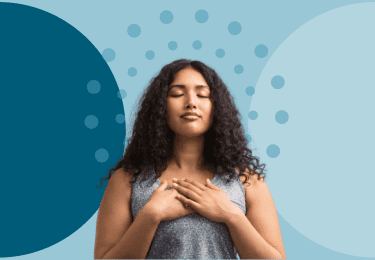 What If Your Campus Mental Health Services Are Full?
Many colleges' mental health services have become full or overwhelmed. Fortunately, students have other options. They can take advantage of online telehealth services, for example, or look for other alternatives through their school. Outside counseling is another option.
Take Advantage of Online Telehealth Services

Telehealth services provide choices for college students outside of visiting the campus counseling center or medical clinic. A telehealth app offers the privacy some students need so they can feel comfortable enough to ask for help.

Another advantage of telehealth is the ability to access low-cost mental health services outside the college campus. Scheduling virtual therapy with college counseling services means you may have to wait to talk to a counselor. If you're in crisis, seek emergency services.

Look for Alternative Mental Health Services

College wellness centers are an excellent place to find mental health resources and support services in addition to counseling. Many colleges now offer alternative services through the campus wellness center, such as mental health checkups and screenings for students.

There might also be a 24/7 campus mental health hotline. Campuswide courses, initiatives, and student-led support organizations can help students develop coping strategies to deal with fear, anxiety, and stress. Students can also learn how to talk to friends who might be struggling.

Seek Outside Counseling

College campus counselors may not be available due to the number of students seeking services. To that end, it might be necessary to look for help beyond your campus.

The ACA and most insurance providers, including student insurance through the college, cover basic mental health services.

Additionally, low-cost mental health services are usually available for a sliding scale fee at community health clinics. These medical facilities base the payment on your monthly income.
Frequently Asked Questions About Mental Health Services
Is online therapy, or teletherapy, as effective as in-person therapy?
Traditional talk therapy provides mental health support through face-to-face interaction with a licensed therapist. Whether it's online or in person, this kind of therapy can reduce symptoms of depression and anxiety.
A review of 17 studies found that online cognitive behavioral therapy was equally as effective as face-to-face sessions for depression and anxiety. Additionally, online mental health counseling can reduce the therapy cost.
Teletherapy also helps some students feel more comfortable because they can go to counseling without it being obvious. However, online therapy can be limited when it comes to more serious mental health conditions.
Are part-time and online students eligible for free campus counseling services?
While many schools extend mental health services to part-time and online students, not all of them provide free individual counseling. Not only that, but it might be more difficult for these students to get to campus.
Teletherapy services or a telehealth app may be available through the college for free or at a low cost. Colleges sometimes provide online resources through the student health center, including virtual workshops and self-paced mental health assessments and tutorials.
What is the most common reason college students seek counseling services?
While depression and anxiety are common reasons students seek counseling services, these are only two of the top mental health challenges facing college students. Eating disorders, substance misuse, and suicidal thoughts are also serious problems on college campuses.
Unfortunately, many students don't have the time or the will to seek support. They might be worried about the therapy cost or nervous about what people will think.
"Stigma is one of the greatest barriers," said Lesley. "Students worry they will be viewed negatively by peers for needing counseling or other mental health support."
Online mental health services make it easier for some students to get help.
With Advice From:
DISCLAIMER: The information provided on this website is not intended or implied to be a substitute for professional medical advice, diagnosis, or treatment; instead, all information, content, and materials available on this site are for general informational purposes only. Readers of this website should consult with their physician to obtain advice with respect to any medical condition or treatment.