C++ Bootcamps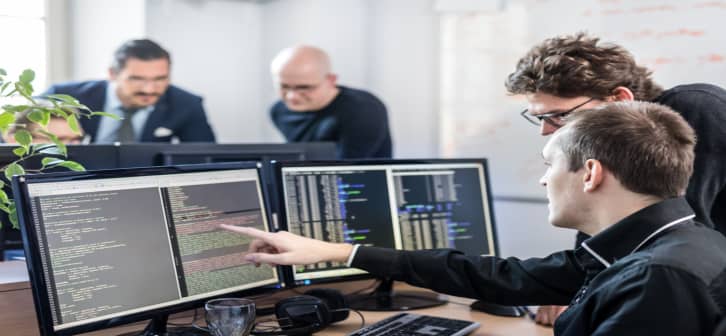 BestColleges.com is an advertising-supported site. Featured or trusted partner programs and all school search, finder, or match results are for schools that compensate us. This compensation does not influence our school rankings, resource guides, or other editorially-independent information published on this site.
Originally called 'C with Classes' by creator Bjarne Stroustrup, C++ takes the already powerful programming language C and adds object-oriented, generic, and functional features. The language combines two opposite traits: it is strong but also fast and lightweight. This combination is why it can be found in so many operating systems, web browsers, applications, and video games.
A popular feature of C++ is that it's a scalable language, meaning that it allows developers to have more control over the resource application use. It is also an object-oriented programming language, meaning that the main focus is on objects and the ability to manipulate and reuse them.
While C++ is a very versatile programming language, it is also one of the more complex and more difficult to learn. Students looking to add C++ to their toolbelt are often advised to have a basic understanding of programming before attempting to master this language.
For students and tech professionals looking to add this skill to their resumes, coding bootcamps can be an excellent choice. These high-intensity programs often specialize in one area of expertise and may assist graduates with finding a career in the tech industry. If you want to start learning C++, these bootcamps may be a great fit for you.
Best C++ Bootcamps
What Is C++ Programming?
C++ is a cross-platform language that creates web browsers, applications, and operating systems. It is an object-oriented language, meaning it organizes the design around the data instead of the functions. Because of this, programs written in C++ are often very efficient and easily changeable.
C++ is a part of a familial network of C languages. The original, simply called C, was the first of its kind, developed in the 1970s by an engineer at Bell Laboratories. C++, also created at Bell Laboratories, utilized many of the same features but added numerous tools and abilities. C#, developed at Microsoft in 2000, adds even more capabilities and is component-oriented, making it a high-level language.
While each of the C languages is distinct, they do build off of each other. Learning at least the basics of C before moving on to C++ or C# will give learners a better understanding of how to utilize the language.
What Is C++ Used For?
There probably isn't a single day where you don't interact with something built with C++. Web browsers, operating systems, and games often rely on C and C++ because of how strong and malleable they are. They are also commonly used in the financial, scientific, insurance, and tech industries. This means that it is usually not difficult for C++ developers to find work.
Common job titles for C++ specialists include embedded systems engineer, software developer, C++ programmer, C++ developer, and firmware engineer. The largest employers of C++ developers in the US are Microsoft, Capital One Bank, Cisco, IBM, and Verizon.
What Kind of Jobs Can You Get By Learning C++?
While C++ is not the most popular programming language, there are still plenty of opportunities to make a great career as a C++ developer. Some of the jobs you might expect to see as a C++ developer include:
C++ Programmer – These specific types of programmers use C++ to develop mobile or desktop applications and maintain older systems. Their average annual salary was $116,250 in May 2022, according to Indeed.
DevOps Engineer – Senior-level software engineers can use their C++ expertise to develop software that runs faster and more efficiently. DevOps engineers' average annual salary was $117,800 in May 2022, according to data from Indeed.
Software Development Manager – Those who demonstrate strong leadership skills may choose to mentor the next generation of programmers in addition to managing large development projects, programs, and initiatives. Indeed data shows the annual average salary for these professionals was $134,349 in May 2022.
Frequently Asked Questions About C++ Programming Bootcamps
What are C++ bootcamps like?
Coding bootcamps are often one of the best ways to learn programming or technical skills. Mostly online or self-paced, bootcamps combine expert instructors with hands-on learning. Coding bootcamps often incorporate career support into their programs and help students pursue work in the industry after graduation.
Coding bootcamps have become so popular that it should not be too difficult to find one that fits your needs. As many bootcamps are offered online, students with a variety of different schedules and learning needs can find something that works for them.
Can a C++ bootcamp get me a job?
Nothing is guaranteed, but C++ is a popular skill and might help get you noticed by employers. Some bootcamps offer career services and help with job placement, which might be particularly helpful if you're just launching a career in tech.
As is often the case, it mostly comes down to the time and energy you invest in the program. An easy ten-hour course might be a good intro, but it's not likely to elevate you to a new career path. If you are specifically looking to improve your resume to land a new job, pay attention to the bootcamp's depth of instruction and take your time to make sure you fully absorb the content.
Are coding bootcamps good for beginners?
Overall, C++ is one of the more complex programming languages to learn, so many of the bootcamps discussed above recommend that students have a basic familiarity with C or other programming languages. There are also plenty of bootcamps that cover C as well, so students can find something to match their current level.
If you are an absolute beginner, it could be helpful to specifically aim for a bootcamp that has a smaller class size and more individualized attention. Trying to learn entirely on your own might be difficult, as many concepts in computer science can be tricky.
GI Bill® is a registered trademark of the U.S. Department of Veterans Affairs (VA). More information about education benefits offered by VA is available at the official U.S. government website at https://www.benefits.va.gov/gibill/.