Best Online Project Management Bootcamps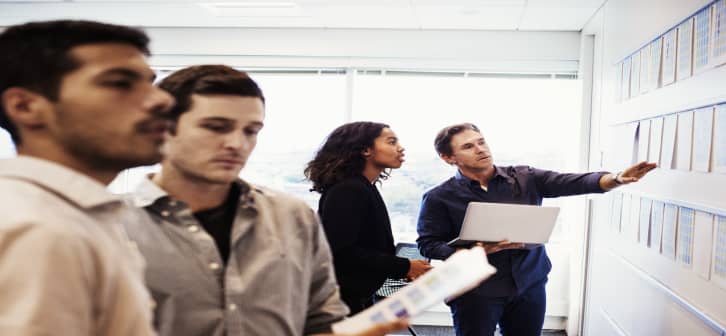 BestColleges.com is an advertising-supported site. Featured or trusted partner programs and all school search, finder, or match results are for schools that compensate us. This compensation does not influence our school rankings, resource guides, or other editorially-independent information published on this site.
As the tech industry grows rapidly, coding careers are also becoming more prominent. But having so many tech workers means that another type of tech career is blossoming – the managerial role.
Project managers oversee a team of professionals to meet project goals within a deadline. They need excellent communication and organizational skills and must work well with other individuals. Many industries use project managers, including tech and engineering, to make sure work proceeds according to schedule.
Aspiring project managers can learn essential skills for this career through an online project management bootcamp. Bootcamps offer hands-on learning opportunities, often from instructors with real-world experience. These programs also provide career services to help graduates pursue a job in their chosen field.
As coding bootcamps continue to grow in popularity, employers are increasingly accepting applicants with bootcamp credentials.
In this guide, readers will discover how to learn project management online through a project management bootcamp. Readers can explore the best online project management bootcamps and answer the question, "What is project management?" This guide will also provide examples of common project management careers.
Best Online Project Management Bootcamps
What Is Project Management?
Project managers work in many industries, including finance, healthcare administration, and tech. According to Payscale data from May 2022, project managers earn an average of $75,920 annually. Readers should note that project manager salaries may differ depending on the professional's industry, location, educational background, and level of experience.
Project managers oversee a team of professionals with different tasks who are working toward a unified goal. Project managers must ensure their team has everything they need to complete the project on time and to the best of their ability. People in this field need strong leadership and communication skills and the ability to solve problems quickly.
Product Manager vs. Project Manager
The roles of product manager vs. project manager often get confused. Product managers work on a specific product — a physical product, digital product, or a service provided to customers — from start to finish. Product managers may be involved in product design, market research, development, testing, and support.
Project managers work on specific projects with concrete goals and end dates. Once one project finishes they will move on to another. These professionals are not limited to a singular product — they may work on different projects for many products.
What Will I Learn in an Online Project Management Bootcamp?
Bootcamps typically ask students to enroll online. Some programs may have an interview process to see if the applicant will be a good fit for the bootcamp.
These programs typically involve several modules featuring hands-on projects to help students develop essential project management skills. Many bootcamps use a project-based curriculum so that students can create a portfolio to show potential employers after graduation.
A bootcamp may be offered full time or part time, or may allow students to follow a self-paced schedule. Students who continue to work while enrolled in the program should strongly consider signing up for a part-time or self-paced bootcamp.
Most bootcamps also offer career services to help students prepare for the job search after graduation. Career services often include resume review and interview prep.
Project Manager Jobs
Project Manager
Project managers oversee designated projects for their company. Their duties may include managing teammates, determining the project's schedule, and defining the goals for the project. Project managers also take responsibility for overseeing budgeting and resource management.
Average Annual Salary: $75,920 (Payscale, May 2022)
---
Business Analyst
Business analysts use data to determine how a company should best allocate its time and resources. For example, business analysts may run internal reviews of departments to discover how to make them more efficient. Business analysts can work individually or as part of a team.
Average Annual Salary: $63,090 (Payscale, May 2022)
---
Project Coordinator
Project coordinators assist project managers in ensuring that key details of a project meet set goals, including the schedule and budget. Project coordinators also communicate with different team members and help ensure they receive the resources needed to complete their work.
Average Annual Salary: $48,450 (Payscale, May 2022)
Frequently Asked Questions About Project Management Bootcamps
What kind of jobs can I get if I learn project management?
Many different industries -- including healthcare administration, engineering, finance, and tech -- use project managers. These professionals can also find work as business analysts and project coordinators.
Project managers need strong leadership and communication skills. This role requires a high level of organization and excellent resource management. Project managers must work well as part of a team and problem solve efficiently.
Can I learn project management for free?
Most bootcamps require payment. However, some bootcamps offer a free introductory course to get students with no experience up to speed on coding fundamentals.
Readers can also explore online courses in project management. While bootcamps require payment, many online courses do not. However, an online course may not offer the same level of depth as a bootcamp program nor come with perks such as career services.
Are project management bootcamps worth it?
Yes, project management bootcamps provide graduates with the skills they need to pursue jobs in their field.
Bootcamps often require an investment of time and money to complete. Readers should always assess whether they are ready to make this commitment before signing up. Many bootcamps offer part-time options so that participants may continue working while completing their program.