8 Ways to Celebrate National Coding Week
National Coding Week is a grassroots movement to promote coding skills in everyday life. See how you can participate in National Coding Week.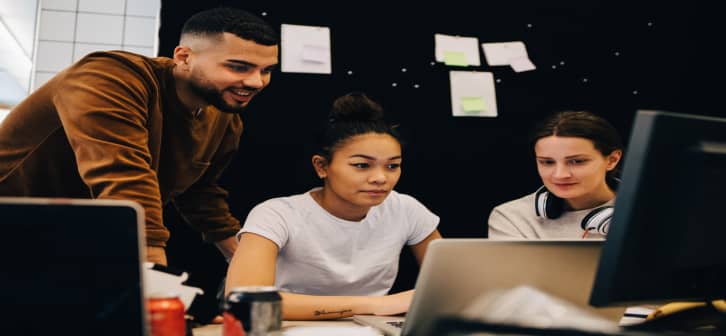 BestColleges.com is an advertising-supported site. Featured or trusted partner programs and all school search, finder, or match results are for schools that compensate us. This compensation does not influence our school rankings, resource guides, or other editorially-independent information published on this site.
National Coding Week began in 2014 as a way to encourage people to learn new digital skills. The Bureau of Labor Statistics (BLS) projects that computer and technology careers will grow 13% from 2020-2030, faster than the national average for all careers.
Learning how to code opens the door to a new career in tech, including software and web development. Even non-tech professionals can benefit from learning to code by increasing their marketability and versatility in the workplace.
What Is National Coding Week? When Is It?
National Coding Week begins on the third Monday of September and promotes tech skills and tech education in the workplace and schools. Each year, a theme is chosen to help inspire people to learn coding skills and to emphasize the importance of tech in everyday life.
Participants of National Coding Week share their tech experiences via social media. Learning to code can help people develop skills in communication, problem-solving, and teamwork.
8 Ways to Get Involved With National Coding Week
Below, you can find eight ways to get involved with National Coding Week. These suggestions can be used by both experienced coders and beginners alike.
1. Sign Up for Coding Classes
Signing up for a coding class is a great way to celebrate National Coding Week. Readers can find online coding classes and coding bootcamps suitable for beginners and more experienced coders.
Learning coding skills can also help professionals advance in their current career even if they don't work in tech.
2. Participate in the Digital Skills Challenge
Readers can participate in digital skills challenges all throughout the week. These challenges allow participants to test their current coding skills and build new areas of expertise.
Readers can find digital skills challenges online through participating organizations and on social media through National Coding Week-related hashtags.
3. Learn About Exceptional Coders
A great way to celebrate National Coding Week is to learn about exceptional coders and coding history. Readers can research people who have made significant contributions to the tech field — including women, people of color, and other historically excluded groups in tech.
Readers can post about what they learn on social media to spread awareness.
4. Showcase Your Work via Social Media
National Coding Week is the perfect time to showcase your technical projects. Displaying finished work — or even works in progress — can demonstrate your progress in developing tech skills and inspire others to learn new skills as well.
Readers can post using the hashtag #nationalcodingweek and tag @codingweek on Twitter or @nationalcodingweek on Instagram.
5. Create a Coding Challenge for Aspiring Coders
Experienced coders can push themselves in new ways by building a coding challenge for beginning or aspiring coders. These challenges can help beginners grow their skills and make connections with more experienced professionals.
Creating challenges can also help experienced coders refresh knowledge and skills, while stretching them to think in different ways.
6. Join a Coding Club
Joining a coding club can help beginners find a community of coders. Coding clubs typically group members by experience level and help participants gain new skills through hands-on projects. Clubs may be free to join or may require a membership fee.
7. Write a Blog About Your Experience in the Tech Sector
Writing a blog can help you document your progress in building tech skills. A blog can also serve as a digital portfolio for professionals looking to join the tech field. You can keep your blog private or reach a wider audience by using the hashtag #nationalcodingweek.
8. Support or Join Your Local Hackathon
A hackathon is an event where people come together to solve problems through code. Readers can enter a local hackathon individually or with friends. Readers can do some research to find a hackathon suited to their level of experience and interests.
Frequently Asked Questions About National Coding Week
Who founded national coding week?
National Coding Week was founded in the United Kingdom by an educator named Richard Rolfe and a tech entrepreneur named Jordan Love in 2014. After reconnecting with his former student Jordan, Richard decided to teach himself tech skills. The two founded National Coding Week as a way to encourage others to learn new skills in coding and web development.
When and how did national coding week begin?
National Coding Week began in 2014 in the United Kingdom. During the week, beginners and experienced coding professionals can build technical skills and explore new ways to use tech in everyday life.
Readers can use National Coding Week to find training programs in coding, including bootcamps, clubs, and competitions.
Who runs national coding week?
National Coding Week is a grassroots movement run by volunteers called Code Week ambassadors. Readers can get involved in local organizations to help run and/or participate in National Coding Week activities.
Readers can find National Coding Week activities for all ages and experience levels. Some coding experiences may be free; some may require a fee.
Feature Image: Maskot / Maskot / Getty Images