4 Ways to Celebrate Black Excellence at Work
Explore ways to celebrate Black excellence and amplify Black voices in the workplace through networking, recognition, ally support, and philanthropy.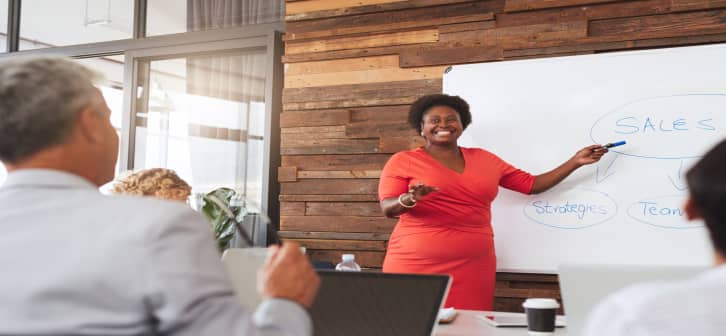 Image Credit: Goodboy Picture Company / E+ / Getty Images
---
Black employees formed the nation's first professional special interest group.
Employee research groups (ERGs) are still popular pathways for Black professionals to amplify their voices.
Anyone can become an ally in support of underrepresented Black employees.
Employers can also celebrate Black excellence through recognition and philanthropy.
---
Like so much of the history of the civil rights movement, Black workers' contributions too often go unacknowledged by employers and non-Black colleagues, especially among non-minority groups. In fact, Black workers at Xerox created the first employee resource group (ERG) in 1970, forging a path for companies to prioritize equality, inclusivity, and anti-discrimination policies.
In 2016, Bentley University found that roughly 90% of Fortune 500 companies host ERGs, including groups centered on celebrating Black excellence at work. Forbes recently noted the many benefits of ERGs for employees, which include finding a sense of community, building camaraderie, and increasing productivity. The following are just a few ways to amplify Black voices in the professional space.
BestColleges.com is an advertising-supported site. Featured or trusted partner programs and all school search, finder, or match results are for schools that compensate us. This compensation does not influence our school rankings, resource guides, or other editorially-independent information published on this site.
Ready to Start Your Journey?
1. Uplift Black Voices
Imagine a Black woman repeatedly being interrupted in a company meeting while her white male colleague can speak freely. Black employees face such discrimination daily in the workplace, but you can choose to be an ally and amplify Black voices instead.
Allies stand in support of others who share a common interest or belief. Allies can help Black colleagues speak out against oppression and increase their visibility. In the wise words of Dr. Martin Luther King, Jr., "Injustice anywhere is a threat to justice everywhere." Some Black voices need an ally's support to be heard and given the respect they deserve.
Allies, however, should be careful to make sure they do not appoint themselves as "saviors" in their effort to support their Black colleagues.
2. Acknowledge Black Employees' Contributions
To truly celebrate Black excellence is to recognize Black employees' contributions within your organization and in the workforce at large. Only 38% of Black employees feel rewarded appropriately for their company contributions, compared to 51% of white employees, according to a 2021 McKinsey & Company survey.
Laurin Mayes is a recruiter at Red Ventures and the co-chair of Kindred, an ERG supporting Black and African American employees. She provided insight on acknowledging Black contributions in the workplace.
"When Black employees' contributions are acknowledged, they feel respected, and their value is seen and reflected in their work," Mayes said. "If they're not recognized, it's easy for Black employees to lose their sense of trust and belonging."
While a raise or bonus never hurts, Black employees should also qualify for the same promotions and benefits as their non-minority counterparts. Some employers may show their appreciation for Black employees' achievements by issuing corporate or public awards.
3. Participate in a Black ERG
Black ERGs offer mutually beneficial pathways for employees to amplify their collective voice and employers to support Black professionals. Participation in a Black ERG can unite employees and model inclusive company culture for all allies of marginalized groups.
"As co-chair of Kindred, I continuously feel a sense of pride that I get the opportunity to help lead a group of people with whom I identify," Mayes said. "This opportunity in leadership has challenged and encouraged me to take bold steps in service to my community."
ERGs may focus on career development for Black employees in a particular field or industry, such as management, tech, or higher education.
How to Start an ERG
If you don't already have an ERG, try starting your own. Mayes pointed out that ERGs help boost employee morale.
"These groups create a sense of belonging in an environment where they feel they can be open and understood," Mayes said.
However, you'll need to do some groundwork to get there. Creating an employee resource group starts with gauging interest and getting support from HR and senior management.
Review your company's policy on establishing ERGs or corporate-sanctioned special interest groups for employees, and gauge interest among colleagues.
Form a mission statement to clarify the long- and short-term goals of your ERG, and draft a budget.
Communicate to colleagues that membership is open to all employees. Then, develop strategies for recruiting new members.
Seek out a high-level sponsor, such as a senior executive, to liaise between your ERG and top-tier corporate leadership.
The Benefits of an Employee Resource Group
Employee resource groups have many benefits for employees and employers alike.
"It's amazing to witness all of the support that is offered when we come together and share with one another," Mayes said. "In our group, there's a chance to laugh, inspire, and gain perspective when we share openly and honestly."
Additional benefits of ERGs include:
A more inclusive work environment

Increased visibility for underrepresented groups

Safety and self-expression in the company's culture

Enhanced overall wellness and work relationships

Better opportunity for career advancement

Increased productivity and corporate partnership opportunities

Help with informing best practices for supporting minorities at work

Emphasis on a company's employee-appreciation initiatives
Employee resource groups are also important in recruitment efforts, as they reinforce the companies' overall commitment to diversity. In addition, Black ERGs often host cultural events, such as Black History Month and Juneteenth celebrations. These types of events play a significant role in educating co-workers on the history and contributions of Black people, as well as highlighting current employees.
4. Donate to Organizations that Support Black Communities
Companies that celebrate Black excellence can show their support by making corporate donations to advocacy organizations. While many Black-run nonprofits, professional organizations, and local startups rely on these financial awards, others highlight person-to-person engagement in the Black community.
Another way to celebrate Black excellence is to form partnerships with historically Black colleges and universities (HBCUs). It's likely that some Black employees are alumni of HBCUs, and this could lead to developing internships, which can benefit the company's diversity.
In addition, employees may spend time celebrating Black excellence in the workplace. Many Black ERGs, for example, routinely volunteer at local organizations supporting Black communities. Better yet, some corporations encourage broader volunteer participation among allies and non-minority groups toward this cause.
Companies should strive to do better than using Black History Month, Juneteenth, or MLK Day as occasions to celebrate Black excellence. Meaningful gestures like supporting Black employee resource groups are a step in the right direction toward celebrating Black excellence year-round in the professional space.
With Advice From:
Laurin Mayes
Laurin Mayes has been employed as a recruiter with Red Ventures since August 2017. In addition to following her passion for working with people in her 9-5, Laurin is also a co-chair of Kindred, RV's Black and African American employee resource group. In both endeavors, she enjoys the opportunity to partner with employees and other external organizations to effect change within RV's four walls and the surrounding community.
In her free time, she enjoys spending time with family and friends, binge-watching trending pop-culture shows, watching sports, and traveling.