10 Movies That Celebrate Asian and Pacific Islander Heritage
Want to celebrate and learn more about Asian American and Pacific Islander heritage? Check out these 10 AAPI movies that will keep you captivated.
Feature Image: athima tongloom / Moment / Getty Images
In the wake of the Stop Asian Hate Movement, Asian American and Pacific Islander representation matters. A 2021 study found that Asian and Pacific Islanders constituted less than 6% of the speaking roles in films, and their parts often perpetuate harmful stereotypes.
Highlighting films that celebrate the richness and diversity of these cultures can help challenge these stereotypes and foster stronger communities.
BestColleges.com is an advertising-supported site. Featured or trusted partner programs and all school search, finder, or match results are for schools that compensate us. This compensation does not influence our school rankings, resource guides, or other editorially-independent information published on this site.
Ready to Start Your Journey?
Directors Daniel Kwan and Daniel Scheinert bring a sci-fi adventure that incorporates Chinese America to life in "Everything Everywhere All At Once" (2022). Evelyn, an aging immigrant who runs a laundromat in an ordinary town, is audited by the IRS. Then, she becomes wrapped up in a wild adventure where she alone has the power to save the world. How? Evelyn must travel to parallel universes and connect with versions of herself to prevent atrocities. Full of unexpected twists, the film blends marital comedy with domestic drama about immigrant struggles with parental relationships.
Nominated for six Academy Awards and directed by Lee Isaac Chung, "Minari" (2021) is a touching film about a Korean American family in search of the American dream. After years of working in California as chicken sexers, Jacob and Monica get a fresh start in Arkansas with their two children. On this family's journey, the audience experiences how small conversations about community and belonging can have lasting implications. The film spotlights acculturation and assimilation issues as Jacob and Monica adjust to the new landscape and their chosen communities differently, demonstrating how each immigrant experience can vary.
"Raya and the Last Dragon" (2021), an acclaimed animated film directed by Don Hall and Carlos Lopez Estrada, is inspired by Southeast Asian culture and geography. In the fantasy world of Kumandra, dragons once roamed and lived in harmony with humans. But as the evil Druun began to take over, threatening their way of life, the dragons sacrificed themselves to save Kumandra.
Now, it's up to a lone woman warrior, a young girl named Raya, to restore Kumandra. Aided by Sisu, the last diving water dragon she finds, they locate all five fragments of a magical gem to restore peace to the kingdom.
Based on Kevin Kwan's novel by the same name, "Crazy Rich Asians" (2018) is a contemporary romantic comedy that follows NYU economics professor Rachel Chu as she travels to Singapore with her boyfriend Nick Young to attend his best friend's wedding. Upon her arrival, Rachel learns that he hails from one of the wealthiest and most influential families in the country.
With the spotlight on her, Rachel is made to contend with the jealous women who had hoped to snag this eligible bachelor. More importantly, she is forced to defend her identity when confronted by Nick's disapproving mother.
Directed by Alice Wu, the film "Saving Face" (2005) is a coming-of-age drama that deals with an often taboo subject — sexuality. The film follows the story of Wil, who is terrified to come out to her mother and her grandparents because it goes against their traditionalist values.
However, in a twist of fate, her widowed mother is kicked out of her parent's house at 48 years old because she becomes pregnant and refuses to reveal the father's identity. Wil finds herself taking in her mother while trying to start a new romantic relationship.
Based on world-renowned author Jhumpa Lahiri's novel by the same name, "The Namesake" (2007), directed by Mira Nair, follows a young couple who immigrated to the United States to start a family after having an arranged marriage in Calcutta. The story spans over thirty years as the Ganguli family finds roots in America.
The story then shifts focus to their son Gogol on his identity journey. Gogol's one wish is to fit in with New York life. However, his choices often conflict with his family's traditional values and expectations.
In the film "Moana" (2016), directed by John Musker and Ron Clements, an adventurous teen sets sail to save her people from a force devouring her land. She learns that the reason for the plague on her Polynesian island is due to Maui, a demi-god, stealing the heart of Te Fiti, the Motherland. This knowledge compels Moana to go beyond the island and become a master wayfinder. Aided by Maui, she seeks to fulfill her quest by returning the heart to Te Fiti and restoring natural order to the world, all while solidifying her cultural identity.
A heartfelt drama directed by Lulu Wang, "The Farewell" (2019) follows the difficult choice a family makes to keep their family matriarch in the dark about her cancer diagnosis. Billi and her family return to Changchun under the guise of a family wedding. In reality, they are there to say their final goodbyes to their grandmother, who only has weeks left to live.
Though the heaviness of death looms, the movie is balanced with light-hearted moments. As Billi lives out the lie, she stumbles through family expectations, discovers her homeland, and witnesses the spirit of her grandmother.
Explore more resources for our Asian American and Pacific Islander students
Supporting you at every step of your journey.
Discover Now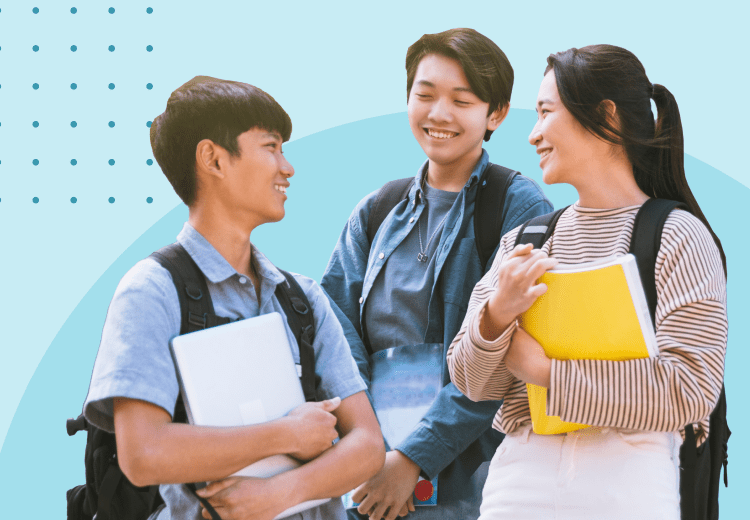 A celebration of Pacific Islander heritage, "Finding 'Ohana" (2021) is a culturally aware update of the cult classic "The Goonies" that celebrates native Hawaiians' culture and customs. The story begins with Pili and her family in NYC, who suddenly find themselves transported to a rural part of O'ahu when her grandfather suffers a heart attack. While there, she and her brother embark on a treasure hunt to save their family land. Along the way, Pili learns more about Hawaiian culture and the way of the island.
A highly anticipated film debut by Domee Shi, "Turning Red" (2022) explores the confusing years of becoming a teenager while navigating the complexities of growing up in two distinct cultures. Like Shi's Oscar-winning short "Bao," this film explores the often nuanced relationship between a mother and child within Chinese culture.
The film's main character, Meilin Lee, quickly learns that she magically transforms into an oversized red panda in moments of excitement. Throughout the movie, she learns how to navigate her emotions as she's torn between being obedient and being her true self.