7 Ways to Celebrate Black History Month
From being an ally to supporting Black businesses, learn ways to celebrate Black History Month and honor and support Black students.
Image Credit: vitapix / E+ / Getty Images
Celebrating Black History Month is one way to honor and center the voices and perspectives of Black students. Black college students' history and perspectives have too often been devalued and erased.
Colleges help expand social consciousness and promote social and civic engagement among students. So finding ways to celebrate and engage in Black History Month is important.
Black people have played an enormous role in shaping our nation's history, popular culture, and society. From inventions, science, math, languages, music, food, and dress, Black people have been and continue to be trendsetters and innovators.
Uplifting and supporting Black students demonstrates acknowledgment of their cultural and social impact. And it can help alleviate the social ills and injustices they continue to face.
Understanding Anti-Blackness on Campus
Many colleges and universities have come to terms with legacies of racism on campus — from the renaming of college buildings and monuments that were originally named after white supremacists to the decentering of whiteness in classroom curriculums.
However, society, in general, still has a long way to go to undo the decades of anti-Blackness in higher education.
Racial microaggressions are defined as "brief and commonplace daily verbal, behavioral, or environmental indignities whether intentional or unintentional, that communicate hostile, derogatory, or negative racial slights towards people of color."
Black students report experiencing cultural bias in courses, tokenism, the pressure to conform to white culture, and the lack of Black culture or texts in the classroom. And they often report being stereotyped as "criminals."
Numerous incidents of campus hate crimes have been reported — such as nooses being discovered at Stanford University and other institutions across the nation. Black students have reported being harassed by campus police for simply napping in student lounges and even disagreeing in class with a professor.
In other cases, Black students have been targets of racist slurs and images on campuses and social media, including white fraternity members wearing blackface. These incidents create a hostile culture for Black students and lead to feelings of isolation and exclusion.
If you are looking for new and innovative ways to support Black students, check out the strategies below.
Be an Ally
An ally is defined as "someone who advocates for a group that does not come from the same place of privilege as an ally." Being an ally is a critical step in doing social justice work and uplifting and supporting Black students.
To be an effective ally, follow these strategies:
Listen to Black Students: Social media coined the popular catchphrase "Listen to Black women" as a call to white allies to understand the hurt and harm experienced by Black women. Far too often, Black people are not heard or acknowledged, and their opinions and perspectives are distrusted. Allies need to be active listeners.

Understand It's Your Role to Educate Yourself: It is not the responsibility of Black people to educate their allies on their history, hurt, and harm. To be an effective ally, you need to self-educate. This means taking the initiative to read books or listen to podcasts on Black history and anti-Blackness.

Start a Black Studies Library in Your Home: Visit a Black-owned bookstore, or look for the section of books focused on Black history and culture in your local bookstore. You can also enroll in a Black studies or Black history course if offered at your local college or university.

Don't Assume All Black People Are the Same: And don't assume all Black people come from a lower socio-econmic status. Also, don't assume that one Black person can speak for the entire race.

Learn About Intersectionality: Intersectionality is a term coined by legal scholar and racial activist KimberléCrenshaw. It describes the interconnectedness of social identities — and how race intersects with our other identities like class, gender, national origin, and more to produce cumulative effects of discrimination. It's important to know that Black people are not monolithic. So understanding the importance of intersecting identities is critical to supporting Black students and addressing the injustices they face.
Visit an African American/Black History Museum
Some cities have museums dedicated to African American history. For example, Washington, D.C., is home to the National Museum of African American History and Culture.
Other cities may have museums with exhibits about African American history and art. Many of these museums and exhibits chronicle Black history and give visitors an opportunity to learn about important periods like the civil rights movement and the jazz age.
Additionally, many museums may have special tributes to historical Black figures like Rosa Parks and Malcolm X. Here's a list of the top Black history museums and cultural centers.
Watch Black Documentaries
Historically, African Americans have been largely sidelined in both television and film. In the majority of popular movies, Black people are not the center of the story. Viewing Black cinema is an educational opportunity, as well as a chance to support Black movie directors and production companies.
Many popular streaming services like Hulu and Netflix add Black movies and documentaries to their catalogs during February to celebrate Black History Month. Check out this list of 12 Black films to watch during Black History Month.
Attend or Support a Black History Month Event
Many schools host Black History Month events during February. Celebrations are often planned by Black student unions on campus. You can contact your school's Black student union to see if it needs assistance with planning an event or with promotion, marketing, or funding.
Supporting Black History Month events are a great way to meet Black students on campus. And you can show your support for Black students, faculty, and staff. Also, visit a Black church.
Donate to an HBCU
Historically Black colleges and universities (HBCUs) play a critical role in educating Black students and activists and dismantling racial injustice. However, many HBCUs lack traditional revenue sources that other types of colleges benefit from.
As a result, HBCUs can face an added disadvantage when it comes to paying for new academic programs, athletics, and buildings on campus.
In 2020, MacKenzie Scott, the former wife of Amazon founder Jeff Bezos, donated over $500 million to various HBCUs. You can donate to an HBCU by going directly to a school's website. And you don't have to be an alum to donate to an HBCU.
Listen to Black Podcasts
In the U.S., podcasts have become increasingly popular over the past several years. They are a great way to gain information and discover new perspectives. In 2021, over 55% of the U.S. population listened to a podcast, with most listeners ages 25-44, according to The Infinite Dial report.
Historically, the majority of podcasters have been white. But with the advancement of technology, podcasting has become more accessible.
Supporting a Black-owned podcast is a great way to help creators increase their listeners and podcast ratings. Black podcasters talk about a variety of subjects, including pop culture, travel, and business. Check out this list of 10 enthralling Black podcasts for college students.
Support Black Businesses
Black businesses are critical to the economic and social vitality of Black communities. They also help to generate intergenerational wealth. However, Black businesses often face challenges in building customers, sustaining revenue, and successfully marketing products.
If you are hosting an event on campus, consider hosting a Black vendor fair that showcases local Black businesses in your neighborhood or hiring a Black catering company to provide food.
Check with your city's department of commerce, your local NAACP chapter, or this list of Black business directories to find Black businesses in your area.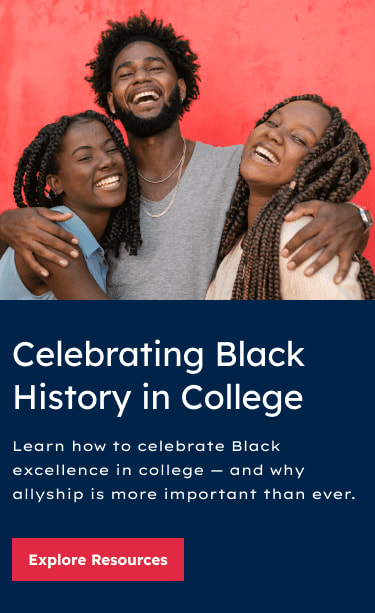 Black History Month Is Important
Celebrating and honoring Black history is a great way to pay tribute to African Americans and help rectify the harm done by centuries of anti-Blackness on campus.
Black History Month is an opportunity to understand the stories of Black Americans as something more than a history of racism and strife. It's a time to recognize their undeniable impact on our country and culture.
This year, let's continue to make Black History Month a significant celebration on all college campuses.