College Students' 4 Biggest Self-Care Tips
College is a busy time, often making it hard to prioritize taking care of yourself. We asked four students to share their best tips for self-care.
Image Credit: DjelicS / E+ / Getty Images
The student life is a busy one. Between classes, homework, a job, campus activities, and a social life, there's often little time to spend taking care of yourself.
Treating your mental health can feel like a big task. But small steps can help you take better care of yourself, whether in the form of everyday tips or the occasional treat-yo-self day.
Sometimes, self-care is as simple as sitting down and watching a movie. Other times, it can be as elaborate as a full-on spa day.
To shed light on the best ways to maintain mental and physical health in college, we asked four college students to share their favorite self-care tips and strategies.
1. "Self-care Sundays have become a weekly event for me."
University of Illinois Urbana-Champaign student Lydia Bielfeldt has adopted "self-care Sundays," dedicating the day to preparing for the week, grocery shopping, and staying in.
"Set aside time for yourself, whether that is reading for enjoyment, taking a walk, meditation, journaling, or doing the typical face mask and guilt-free movie night," said Bielfeldt.
Bielfeldt described self-care as anything that helps you unwind. She also recommends meditation apps and gratitude journals.
"College is a strange time where you have more freedom than ever before, but also a heavier workload than in previous years of school," said Bielfeldt. "Self-care can get put on the back burner with these newfound priorities. However, taking care of yourself should always be a priority."
2. "Try to find adventure wherever I can."
Brandon Bond, a health behavior and health education student at the University of Michigan, had adopted an adventurous mindset for his self-care.
He recommends building a sense of adventure by saying yes to random opportunities that pop up — especially if it involves meeting new people or experiencing a new event.
For Bond, it all boils down to one credo: "Deviating from the monotony of being in school."
He also tries to raise his spirits by seeking laughter.
"I try to watch a short comedy clip on YouTube to get myself laughing or get in a higher spirit," said Bond.
3. "Listen to what my body or soul needs."
When it comes to self-care, your intuition can often tell you exactly what you need.
Catherine Machorro, a Western Oregon University student on an exchange program at Boise State University, takes care of herself by listening to what her body and soul needs. And sometimes those things differ depending on the day.
"At times, I want to connect more with myself and just journal my thoughts and write down what I am grateful for and the goals I have in the future," said Machorro. "Other days, I want to take care of myself physically by going to the gym or doing a very long skincare routine while watching a movie."
Machorro also carves out nonnegotiable creative time.
"This could be creating art, following a passion, dancing, or anything you would like," said Machorro. "This could be as little as 30 minutes every day, but try to make time for yourself."
Take Time to Prioritize Self-Care
Give yourself time and space to focus on you. Explore our collection of mental health resources to find support.
Learn More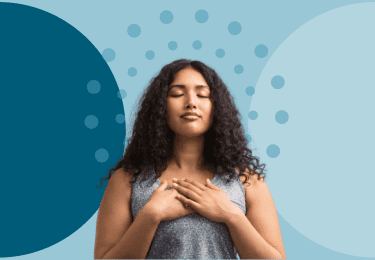 4. "Spend time with people I care about."
Mechanical engineering student Kelly Deschaine from the University of Maryland described college as the first time many students are balancing navigating newfound independence and prioritizing the right things.
"There's a lot of glamorization of hustle culture, which can influence students to overwork themselves," said Deschaine. "You can't pour from an empty cup. And learning how to fill that cup consistently takes both internal work and time."
Deschaine recommends filling that cup with rest and time with friends.
"Self-care is not just doing face masks or lighting candles; it's ugly and mundane," she said. "Self-care is making sure your meals are made, [making sure] your laundry is done, putting yourself to sleep early, and taking care of the things you need to perform at your best."
Deschaine also believes it's important to make time for the people you care about.
"There will always be work to do, but I won't always get to live so close to my friends, so I try to balance my schedule the best I can," she said.
Even small activities — like "grabbing dinner or taking a few hours off to have a game night with friends" — can act as a form of self-care, according to Deschaine.
"Being around other people in general helps me to feel more hopeful and motivated," she said.
With Advice From:
Lydia Bielfeldt
Lydia Bielfeldt is a senior at the University of Illinois Urbana-Champaign majoring in advertising and minoring in art and design. After graduation, she plans to work as an account representative with Amazon. Currently, Bielfeldt is pursuing her passion of content creation as she finishes her final semester of college.
Instagram: @lydiabielfeldt
Brandon Bond
Brandon Bond is a first-generation graduate student at the University of Michigan (U-M) pursuing an MPH in health behavior and health education with an injury science certificate, and an MSW in global social work practice and management and leadership with an anti-racist trauma-informed care certificate. As a U-M undergraduate, he double majored in biopsychology, cognition, neuroscience, and international studies: global environment and health with a minor in community action and social change. His current research areas of interest involve injury and violence prevention, BIPOC and 2SLGBTQI+ health equity, cultural and global conceptualizations of mental health, policy reform, human rights, consulting, and empowerment and capacity-building for individuals and organizations. Bond currently works as a wellness coach, where he aids in the development and facilitation of wellness-centered programming and provides one-on-one coaching for college students of underrepresented backgrounds. Bond earned the 2022 George Orley Student Mental Health Advocate Award and Michigan Difference Student Leadership Wellness Award.
Kelly Deschaine
Kelly Deschaine is an undergraduate at the University of Maryland (UMD) studying mechanical engineering. She plans to enter the engineering industry following her graduation in December. This summer, Deschaine will be interning with an engineering laboratory near campus. During her time at UMD, she has served as a tutor for calculus, a peer mentor, and an undergraduate research assistant. Currently, she is working on a payload research project. She also is a campus ambassador involved in event-planning and is an active executive board member of Alpha Omega Epsilon. Along with academic commitments, Deschaine films humorous and relatable STEM TikToks on her account. Outside of school, she enjoys reading, playing video games, thrifting, and spending time with loved ones. She is excited for what the future holds!
Instagram: @dellykeschaine
DISCLAIMER: The information provided on this website is not intended or implied to be a substitute for professional medical advice, diagnosis, or treatment; instead, all information, content, and materials available on this site are for general informational purposes only. Readers of this website should consult with their physician to obtain advice with respect to any medical condition or treatment.