The Good and the Bad: 4 Students Share How Social Media Has Impacted Their Mental Health
Social media is an integral part of many students' lives. We asked students about the good and the bad of social media — and how to curate a healthy feed.
Image Credit: We Are / DigitalVision / Getty Images
---
Social media allows students to find and create a digital community.
On many apps, it's easy to compare yourself to the highlight reels others post.
Young voices have a space to be heard and impact others thanks to social media.
But endless feeds and predatory algorithms can make it difficult to unplug and concentrate.
---
Many college students today are part of Generation Z — a group that's more likely to report mental health concerns and talk openly about mental health.
And unlike the generations before them, Gen Zers are considered digital natives: They've lived their entire lives with access to technology and the internet.
They were introduced to social media platforms early in their school lives, making internet personas and digital interaction an integral part of their social development. The connection between those mental health concerns and social media is evident.
While easy access to community and resources certainly has its positive effects, there are some consequences of social media's positioning as essential tools for young people.
Many forms of social media make it possible for students to have a voice, share experiences, and find people who understand them. But these platforms also open students up to constant comparison, visions of idealized lives, and instant deliveries of the world's worst news.
The COVID-19 pandemic exacerbated these effects with the rise of TikTok, social isolation, and disruptions to the college experience.
So how are students today using social media?
The Good: Social Media Creates Communities
The internet has made it possible for people all around the world to connect with one another. Finding a community of individuals who share the same struggles or outlook on life can be much more accessible with social media.
It can also be easier for introverts and those who find it difficult to communicate with people to connect through social media.
"I joined TikTok when I was at home during the shelter-in-place order," said VaNessa Thompson, who is currently pursuing a Ph.D. in educational leadership at Oakland University. "As an extrovert, I pull my energy from the outside world."
Thompson uses social media to connect with family and friends and to help her maintain relationships that would have otherwise fizzled out.
"TikTok allowed me to connect with people and create bite-size content instead of long YouTube videos," she said.
Shawn Thomas, a Texas A&M University-Commerce student pursuing a master's in clinical counseling, believes positive interactions with his online community have helped him become more confident.
"In being vulnerable and sharing my own insecurities and struggles with mental health, I was blessed to form community with others who felt the same way all across the world," said Thomas.
Social media makes vulnerability easier for some and allows students to connect with people they would likely have never met organically in the real world.
"If you can't see people in person or maybe you struggle with social anxiety, you can talk to people in the comments or direct message about any topic you desire," said Kumail Hussain, a medical student in Chicago. "I've met amazing people who have taught me a lot."
Catherine Volcy, a psychology student at Towson University, shared some advice for finding an online community that fits your interests and needs.
"I believe if you post, follow, and engage with people and that intention is a constant priority, you will definitely find communities and build relationships," said Volcy.
The Bad: Social Media Invites Constant Comparison and False Realities
The students we spoke to all agreed that the most negative effect social media has on their mental health is the proclivity for false comparison. It's impossible not to compare your life to what we see on social media — yet the image shared online is rarely reality.
Thomas said that despite its benefits, social media has negatively impacted his mental health with its "broadcast of unrealistic, glamorized lifestyles, and 'highlight reels' — videos or posts that showcase only the best moments of a content creator's life."
Most people on social media only share the best parts of their lives, providing a narrow and usually misleading glimpse into what everyday life is really like for them.
"The danger of hiding behind-the-scenes footage of one's struggles leads to unrealistic expectations being placed on both the creator themselves and their community," explained Thomas. "When I don't see the full picture or life story of a content creator/influencer, I can be prone to belittle myself, be hard on myself, or compare myself in a superficial way."
Thompson as well noted the allure to compare lives on social media.
"I had to remind myself that everyone is showing you their highlight reels or trailers of the good times; people are not sharing the days when they are feeling really low or sad," said Thompson.
When it feels like everyone else on the internet is living glamorously, students can feel more alone in their struggles and more pressure to live a "perfect" life.
The Good: Social Media Can Elevate Voices
Social media has become a place where students can share their voice and experiences. It's a space that's largely open to anyone and can empower young people to positively impact and inspire others.
"Social media has had a positive effect on my mental health by allowing me to feel seen and heard," said Thomas. "As a creator, I realize my voice has power, and I can think, feel, and act in the way I desire."
Creating a space for young people to express themselves and feel heard can go a long way in developing confidence and helping students feel less alone.
"I can set the precedent for being a creator of color who opens up about my struggles (while still sharing my best moments occasionally) and change the narrative," said Thomas.
The Bad: Social Media Remains a Tempting Distraction
There are more distractions for students today than ever before — and the endless social media feeds can make it hard for students to step away.
"Having your phone on you while you do an important task like studying or working impacts your focus," said Hussain. "Even after you put your phone away, there is something called 'attention residue' about what you were just doing on your phone or device."
This has created what experts call an "attention economy," and companies take advantage of this with world-class algorithms and endless feeds.
How to Create a Positive Social Media Feed
Curating a healthy social media feed is an important tool for protecting your mental health. What you consume can alter your view on the world — as well as how you view yourself.
Here are college students' top tips for establishing an uplifting social media feed and fostering a healthier relationship with social media.
Take Time to Prioritize Self-Care
Give yourself time and space to focus on you. Explore our collection of mental health resources to find support.
Learn More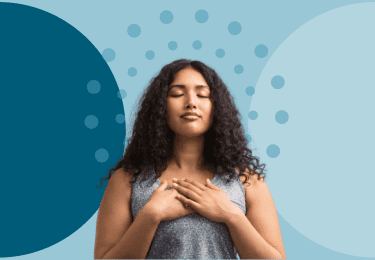 1. Limit Scroll Time
Putting time limits on your social media apps will help limit dependence and distraction.
"I would urge other teenagers and adults in school to prohibit themselves from scrolling through their feed too much and allowing themselves to go down a 'comparison rabbit hole,'" said Thomas.
2. Follow Accounts That Provide Value
Only follow social media accounts that provide something of value to you.
"I recommend students strictly follow creators that provide them joy, awareness, education, transparency, or positivity," said Thomas. "All in all, I strongly believe what you consume in your life every day shapes your identity."
3. Be Generous With That Unfollow Button
On the flip side, if a social media account or digital friend is posting content that brings down your mental state, don't be afraid to unfollow them.
"I … unfollow anyone who makes me feel bad or uncomfortable about myself — regardless of how much I like the feed," said Thompson. "I want to make sure that the information I am consuming is beneficial to me and making me feel like the best version of myself."
4. Avoid Screen Time Right When You Wake Up and Before Bed
Volcy recommends specific screen-free timeframes in the morning and before bed.
"Social media increases the access we have to others' thoughts, actions, and ultimately lives," said Volcy. "I don't think it's healthy for our brain to have that constant access right when we wake up and right before we go to bed."
5. Monitor Your Energy Inputs and Outputs
If you find it draining to scroll through your social media feeds, they're probably not positive. What you intake online can influence your mental state. So if all you're reading is upsetting or sad news, you'll likely start to feel bad.
"Where you put your energy is what you will become," said Hussain. "I chose to ignore many of the toxic qualities of social media."
6. Build Relationships Outside the Internet, Too
Having your entire social life and most of your friendships exist online can make it hard to disconnect. Don't replace building face-to-face relationships with only digital ones.
"Social media is to complement your relationship-building efforts, not supplement," said Thompson. "People should look at social media as a tool for people to share what's going on in their world and connect with their friends."
With Advice From:
DISCLAIMER: The information provided on this website is not intended or implied to be a substitute for professional medical advice, diagnosis, or treatment; instead, all information, content, and materials available on this site are for general informational purposes only. Readers of this website should consult with their physician to obtain advice with respect to any medical condition or treatment.