What Dorm Living Taught Me About the Relationship Between Space and Self
Many students live on campus, often moving to a new dorm or apartment each year. One student reflects on the power of making your living space your own.
The author stands in the parking lot outside their senior-year home. Image Credit: Anu Rajagopal
There are few environments quite like a college campus.
For many, college is our first time away from home, when we learn to be responsible for our own living. It can be challenging to find balance in a place like this — one that's independent and communal, chaotic and rule-bound, all at the same time.
In this new world, I learned just how important it was to carve out my own little slice of paradise in my dorm room. I made it through homesickness, finals, and even conflict with roommates by making my space an extension of myself.
Dorming taught me how to live with intention and stay in touch with my surroundings, even in an environment that prioritizes minimalism and compromise.
The Power of Things
A perhaps shallow but indispensable lesson: Don't underestimate the value of stuff, especially the stuff you don't think you'll need.
Above all, your room should work for you. The barebones, purely functional approach to dorm living may be right for some, but there's nothing wrong with bringing some things that are purely for decorative or entertainment purposes (within reason — I'm not talking about a flatscreen TV here, but, then again, to each their own). Our possessions are symbols of what we like, what we do, and who we are.
I knew from move-in day during my first year of college that I'd need to be surrounded by these symbols.
That afternoon, I unlocked my door for the first time, weary from a six-hour drive from New York City but eager for the start of a new chapter — and was met by a skeleton of a room. Along one side, a simple wooden bed frame, desk, chair, and wardrobe were placed back to back.
It was lifeless. My hope faltered, and I remember thinking to myself, "I'm gonna lose my mind in here."
Another college lesson was around the corner: Learn to make do. Though the walls were stark white and bare, the window that divided my half of the room from my roommate's was flooded with warm daylight. I've since discovered that's the only real given I need to build myself a home. Just put me in a sunny place — the rest is up to me and my worldly possessions.
Over the next couple of weeks, I plastered my walls with all kinds of decorations: art made by my friends and me, family photos, even posters for bands I didn't listen to. I got myself a cheap essential oil diffuser and stocked up on scents. I customized my essentials, too — my keys were attached to an orange bird-shaped whistle, which I could perch in a little birdhouse right by my door.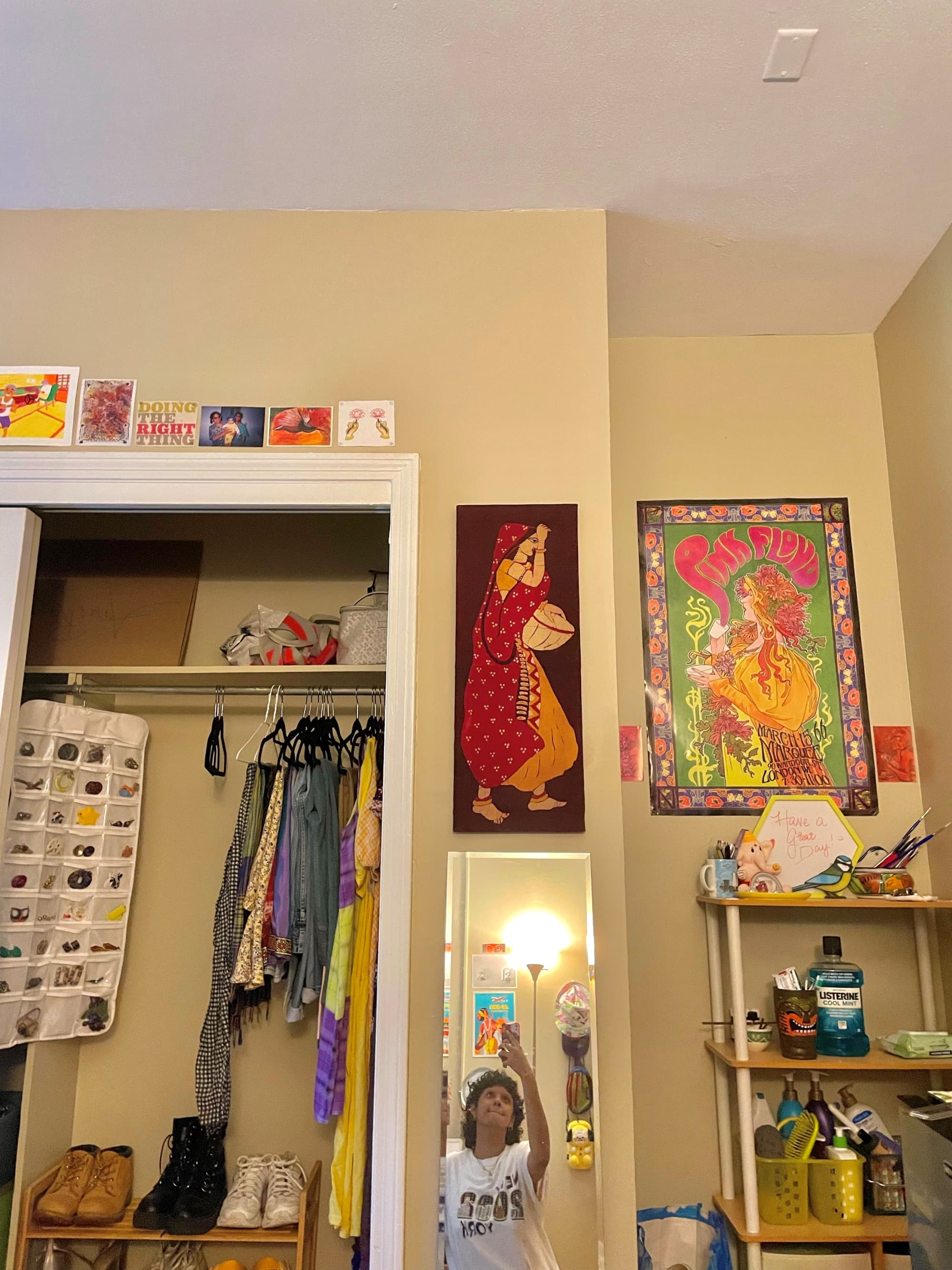 Some of these things held sentimental or functional value, but some were there just because they looked nice. (I know maybe two Pink Floyd songs in total, but that Marquee '66 concert poster was just too gorgeous to pass up.)
Either way, it all came together to transform a 5-by-11-foot rectangle of empty space into something I could call my own.
The smallest details can make all the difference. In my junior year, a now dear friend invited me over for dinner. I remember sitting in their room for the first time that evening and feeling like I was seeing a side of them I never had.
I was especially taken by a garland of crocheted shapes hanging from their ceiling, which they told me their mother had made. As the conversation unfolded, we began to talk about our families and their respective loves for crafting. And our friendship blossomed.
Months later, I took up crochet and made myself a garland of little stars, strung delicately on clear fishing line so they appeared to float in midair above my room. It wasn't a necessity in the slightest, but it was a reminder of the night my friend and I had connected deeper than ever.
In most cases, we're only occupying these rooms for about eight months. This transience may discourage some students from investing too much into their dorms, but it was part of what made the decoration process so fun and meaningful to me.
My dorm rooms became a living document, reimagined with fresh eyes over and over again. Although I would look forward to the comfort of my childhood bedroom at the end of every semester, I couldn't help but feel trapped in the past — stuck in a time capsule created by middle-school me.
But at college, there was always a place for new decor that could commemorate each trip back home, each budding friendship. Each iteration of myself.
Building an Ecosystem
Cycling through different dorm rooms every year did more than refine my aesthetic tastes. As I continually reshaped my home away from home, I found the opportunity to learn more about how I function independently.
One of the hardest adjustments to make was handling every function of life all in one place.
My high school back in NYC was nearly an hour away by subway, and many of my friends lived in neighborhoods that were inconvenient for me to get to without a car. Most days, traveling to and from school was tiring enough, and my home became a space solely for homework, food, and rest.
Dorming felt like another planet — everything about how I mapped out space was turned upside down. My classes, friends, and hobbies were all within a quarter-mile radius. With my whole world right at my doorstep, I really struggled at first to separate my life from my work.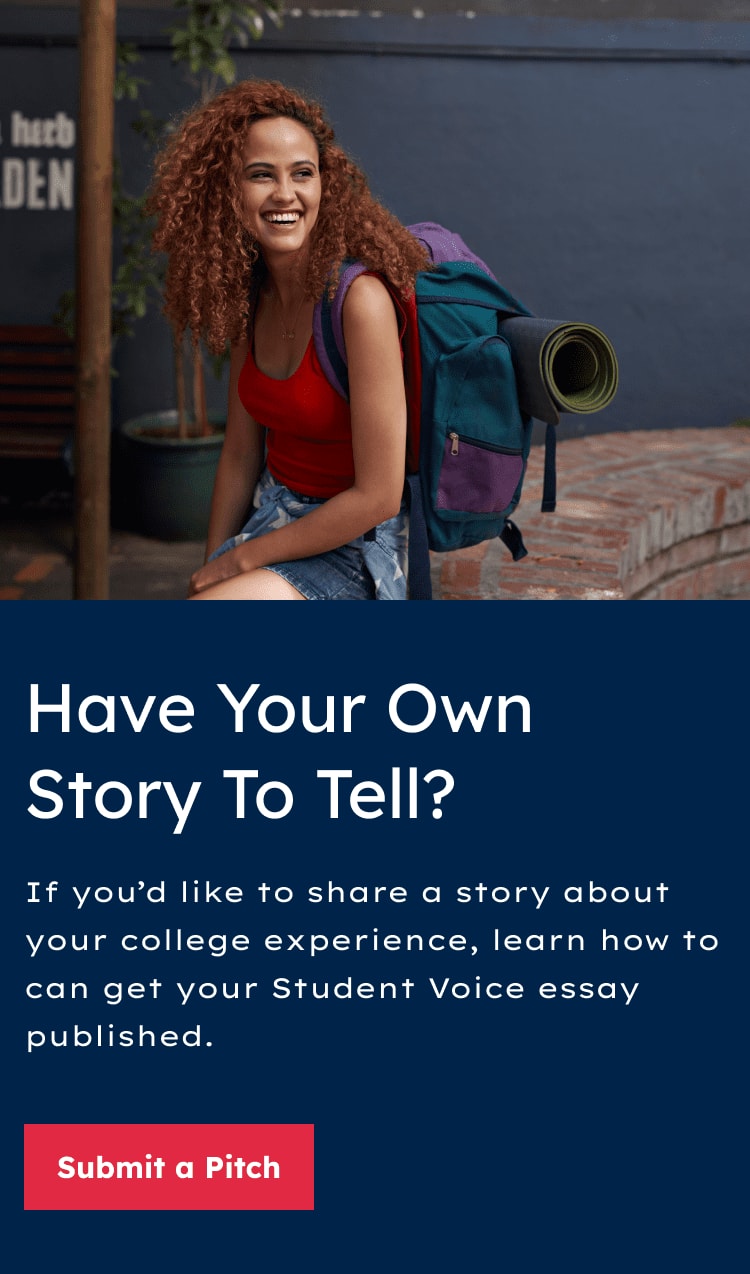 After a few unsuccessful all-nighters writing papers in bed, I realized I was someone who needed to compartmentalize the many parts of their life and designate them to different spaces.
To some extent, my college campus did that work for me. Schoolwork, food, and sleep could be separated by building: library, dining hall, and dorm. I scaled this model down in my own room each year and created zones for everything.
I'd never really thought of myself as a well-organized person before dorming, but I learned how well this worked for me.
My bed was a strict no-work zone. My desk always felt too high to comfortably do work on a laptop, so it became my hair and makeup zone. Instead, I did the bulk of my work in the library or the art studio, and any last-minute assignments were done on the rug in the middle of my room.
Laundry was in one corner of the closet, bedding in another, art supplies in a small storage cart, first-aid and cleaning supplies under the bed, and so on and so forth. Everything had its place.
I began to see my room as not just a space but a set of systems. And just as with my decorations, my systems brought me closer to myself through the years, giving me peace during the tougher parts of the semesters.
I always looked forward to coming back to my room at the end of the day. After several exhausting hours spent in the library or studio — and what felt like an eternal walk bracing the bitter cold and sleet of upstate New York — I'd find comfort knowing what was waiting at home for me.
I had a system for myself. I could let go of the day's stress and responsibilities and just go through the motions of winding down.
Most recently, it's looked something like this:
Take out your keys as you walk up to the house.
Scan your ID to get in (I kept it in a laminated sleeve on my keychain after losing it more times than I care to admit).
Walk up the stairs, plodding a little heavier than usual so your housemates know you're back.
Unlock your door and then turn on the lamp nearby.
Hang the little orange bird on your keychain in its holder by the door.
Plop your backpack down by your desk.
Take off your jacket and hang it on the hook behind the door.
Take off your shoes, walk to the closet, and put them on the shoe rack.
Take off your socks and throw them in the hamper.
Change into indoor clothes and throw the day's used clothes in the hamper.
Go say hi to your housemates.
Start making plans for dinner.
It may sound painfully ordinary, even robotic — but it was mine. When you've worked to build a system that's truly yours, even dirty laundry feels sacred. Routine becomes ritual, house becomes haven, and somehow life seems a little less daunting.
In my most recent and cherished room during senior year — a large single with hardwood floors — I had the luxury of creating a nook for myself, tucked in the sunniest corner between my bed and closet. I filled those few square feet with a small side table, chair, and plant stand, all bought from a local Goodwill for less than 10 bucks each.
It was then that I felt like I'd reached my dorms' fullest potential — like I'd given myself that slice of paradise I'd hoped for back in my first year. When the sun came out, and I had time to spare, I'd sit in my corner with a new show or book or crochet project. Other times I'd simply crack the window open and take in the fresh air.
It's summer as I'm writing this, and after emptying my room and packing up all my stuff for the fourth and final time, I find myself missing my homes away from home, especially that little corner. Moving your whole life from room to room every few months isn't just inconvenient or disorienting — it can also be a bittersweet goodbye.
It takes time and energy to feel rooted in one place. And oftentimes, as soon as I do, it's time to leave again.
But when one door closes, another opens (literally). So long as I bring my stuff and systems with me, I can be certain that I'll feel at home wherever I go.
Meet the Author
Anu Rajagopal
Anu Rajagopal (they/any) is a soon-to-be graduate of Hobart and William Smith Colleges, where they study sociocultural anthropology and studio art. Her artistic practice spans multiple 2D, 3D, and digital media and has been featured in several exhibitions at the Davis Gallery. As a teaching fellow of anthropology and an avid researcher, Anu is passionate about understanding and addressing the needs of their local communities of Geneva and NYC, and hopes to blend her creative and cultural expertise through a career in user experience design.