Why Black History Month Still Matters
Black history is American history. Read on to learn why we celebrate Black History Month and why this holiday matters now more than ever.
Feature Image: Westend61 / Getty Imagesc
Celebrating and learning about Black History Month, a nearly century-old celebration of 400 years of African American culture, matters now more than ever. In many schools and communities, Black history only encompasses the freedom of enslaved Africans, the civil rights movement, and the elections of Vice President Kamala Harris and President Barack Obama.
While historic, these events are just a small part of Black history in America. Black history is often narrowed to a few milestones, which may lead many to believe that African Americans played a tiny role in the formation of the U.S. and that racism no longer exists in this country. On both counts, the opposite is true. Racialized violence continues in America, and African Americans have been building this country — physically and culturally — since its inception.
The Origins of Black History Month
Black History Month can be traced back to 1926, when Carter G. Woodson founded Negro History Week. Woodson, a Black American scholar, had many goals when he established the commemorative week in February. He wanted to expose schoolchildren to African American history. But he also wanted to encourage social equity for African Americans by showing people how much of the country's growth stemmed from Black contributions — not only through slavery, but also through countless creative, academic, professional, athletic, political, and cultural contributions.
Woodson also aimed to increase Black representation. Black representation is still lacking today, though this has improved in some areas over the last few years. In the 1920s, however, very few media outlets, corporations, or universities included Black Americans.
The Harlem Renaissance
Despite this exclusion, African American intellectuals, artists, politicians, and activists reclaimed much of their culture during the 1920s, 1930s, and 1940s. During the Harlem Renaissance, musicians such as Billie Holiday and Louis Armstrong entertained Black communities, while writers like Zora Neale Hurston and Langston Hughes detailed the challenges and pleasures of African American life. Black visual artists, including Palmer Hayden, Laura Wheeler Waring, and August Savage, celebrated Black culture by creating and showing their collections of paintings and sculptures.
The Civil Rights Movement
The Harlem Renaissance served as a gateway for the civil rights movement of the mid-1950s through the late 1960s. In 1976, African American college students at Ohio's Kent State University and the Association for the Study of African American Life and History (ASALH) — among other protestors — pressured President Gerald Ford to extend Negro History Week into a month-long tradition, honoring African Americans' histories, contributions, and accomplishments.
Why Is Black History Month Important?
Much of African American history has been left out of American history. In public schools, students mostly learn about American heroes who are not Black. Rarely are students taught that past presidents owned slaves. Instead, they're taught diluted stories of the African American experience that gloss over the rich history of Black contributions that have shaped the country.
Students Still Learn White-Washed History
Justin David, a current student at Morehouse College, has only now been able to recapture and learn much of this history.
"Black History Month represents a time of learning and gaining knowledge about things I didn't know about our history," David said. "It's become even more pressing for me because, during my experiences growing up in New York, I didn't learn much about Black history and our contributions in my formal education."
Each February, countless people across the nation attempt to teach and learn aspects of largely forgotten U.S. history. The commemorative month remains necessary because racism and bias continue to shape every aspect of life in the U.S.
Black and African American Communities Are Still Underrepresented
African Americans still do not have adequate representation in corporations, media, and higher education. Racialized violence, including police violence stemming from racial profiling, remains a problem. And many African Americans lack the resources needed to maintain and increase their quality of life — their social, political, and economic welfare. Many Black people do not feel safe in America.
Accurate representation of marginalized groups reduces stigma, giving people the space to create safe, inclusive environments where they experience belonging. Each February, Black Americans continue Woodson's mission by educating students and society about Black history, improving representation, working to eliminate bias, and ultimately countering the misbelief that African Americans are not Americans.
African American history is American history. American history is part of world history. Black history is world history. Black History Month represents Black influence around the world. Today, we not only celebrate the Black astronauts, scientists, inventors, artists, and activists of the past; we also celebrate the rise of Black business, arts, and literature that will influence the future.
Resources to Learn About and Celebrate Black History Month
In 1915, before he founded Negro History Week, Carter G. Woodson founded ASALH to promote the achievements of people of African descent. Today, on the organization's website, visitors can find an extensive history of Black History Month, as well as relevant publications, a job board, events, and other resources.
A collaboration of seven national organizations, including the United States Holocaust Museum, the National Gallery of Art, the National Park Service, and the Library of Congress, the African American History Month website also offers a wealth of resources such as class activities, blog posts, and historical audio and video recordings. You can also visit the Center for Racial Justice in Education to find volunteer opportunities, events, a reading list, and Black History Month resource guides.
Countless Black authors, including Brittney Cooper, Ta-Nehisi Coates, Malcolm X, and Roxane Gay, have written books on Black history and culture. The books "Self-Portrait in Black and White: Unlearning Race" by Thomas Chatterton Williams and "Racecraft: The Soul of Inequity in American Life" by Karen E. Fields and Barbara J. Fields offer alternative ways of thinking about race, as does "Free Your Mind," a podcast with Dr. Sheena Mason.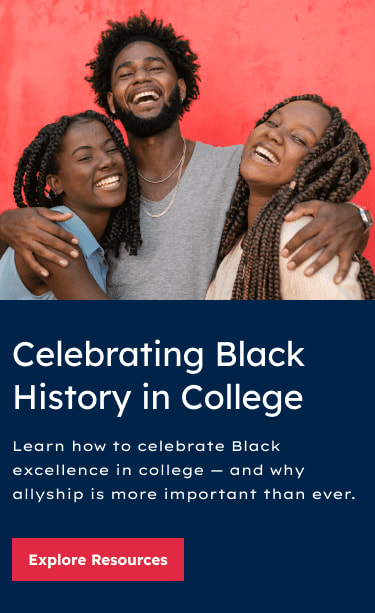 Celebrate Black History Year-Round
While Woodson designated only the second week in February as Negro History Week, he hoped it would prompt the public to study Black history all year round. Similarly, Black History Month doesn't mean Black history should only be honored once a year.
Black History Month is a time to spread awareness and learn more, while continuing to support the Black community's histories, traditions, and culture. February is also a time to imagine and work toward a future free of racism and discrimination.
America has made great progress since the Civil War, but we must continue to work to make the country an inclusive and safe society, where people of all backgrounds have full access to opportunities. Black History Month encourages us to learn about the true history of America and strive for a better world. During February, we study the past and look forward to a future of social equity for all.
Put aptly by Ebone' Kennya Denise Giles, a senior at Virginia Union University, "Black History Month is very important to me because our ancestors worked and sacrificed their lives so we could have equality. We still have a long way to go, but it's very important to me to know where I came from so I can continue the work that is unfinished."
Featuring
Justin David
Currently studying Psychology at Morehouse College, Justin David is interested in pursuing opportunities post-graduation in industrial organization, criminal justice, or education. He is from Brooklyn, NY and is a 2019 graduate of the Eagle Academy for Young Men of Ocean Hill, one of six schools in a network of traditional public schools serving primarily young men of color in challenged urban communities.
Ebone' Kennya Denise Giles
Ebone' Kennya Denise Giles is a senior majoring in Business Entrepreneur Management from Hampton, VA. Throughout her four years at Virginia Union University, she has been on the dean's list and earned induction into two national business honor societies, Sigma Nu Tau and Delta Mu Delta. Ebone is a strong advocate for eradicating the disparities in post-secondary education for college students, she is very active as a program participant in TRIO Student Support Services and serves as a TRIO Student Advocate for issues facing 1st generation and low-income students. She also had the distinction of serving as a student ambassador for Dominion Energy. Ebone is a proud member of Alpha Kappa Alpha Sorority Incorporated and serves our University as the 93rd Miss Virginia Union University. She enjoys giving back to her community, Ebone lives by this quote "it's not what the community can do for you it's what you can do for your community"