9 Women-Owned Businesses to Shop During Women's History Month
Women-owned businesses support economic development and community connection. Discover small businesses to shop this Women's History Month — and beyond.
Image Credit: d3sign / Moment / Getty Images
During March — which is Women's History Month — and beyond, supporting women-owned businesses shows your support of the women in your life and around the country.
Women have historically and systemically been sidelined by the business world. Shopping at women-owned businesses can help fight economic inequalities and bridge the gender wealth gap.
The women-owned businesses listed below include small businesses where entrepreneurs bring their specialties directly to you.
Check out their websites. And spread the word to family, friends, and social media followers that shopping women-owned businesses is an excellent way to celebrate Women's History Month. It also shows support for women entrepreneurs and brings attention to their businesses.
Created by Janine Kwoh in 2011, Kwohtations sells greeting cards, stickers, and other small items that reflect diverse identities and experiences. Kwohtations is a small business operated by Kwoh alone — artist, owner, and letterpress assembly line.
The goal of Kwohtations is to encourage kinship between the lives of diverse yet connected individuals. Kwoh hopes others will recognize themselves in her work and feel a sense of belonging.
Shop the collection of women-centered products, greeting cards, art prints, zines, stickers and care packages directly on Kwohtations' website.
This Latina-owned company began in New York as an online shop partnering with artisans from Mexico. Isabel Amigon founded Sololi in 2016 as a way to support and empower artists. Sololi donates a percentage of its profits to Adelante Student Voices, an organization that supports undocumented students' educational exploration.
Sololi sells a wide variety of products on its ever-growing website. Find collections of swimwear, clothing, jewelry, bags, and home decor items from Mexican artists. Handcrafted items by Amigon can also be purchased on the site.
Shereen Campbell, CEO and "head fairy," created My Little Magic Shop to bring ancient ritual practices to the forefront of self-care. With expertise in multiple healing modalities, Campbell uses her corporate retail experience to provide practical, self-empowering tools for others.
The goal of My Little Magic Shop is to support your personalized spiritual development. My Little Magic Shop offers an online community, educational tools, and a long list of products.
Customers can purchase crystals, candles, aromatherapy products, jewelry, meditation tools, and more online. Monthly subscription boxes support ongoing self-love routines.
Owner Valerie Chelangat launched Tusome Books in 2019 to celebrate the works of historically excluded people. Tusome — a Kiswahili word that translates to "Let us read" — is an online bookstore dedicated to bringing unfamiliar experiences closer to readers. Empowering readers to embrace diversity is Chelangat's goal for Tusome Books.
One of her favorite accomplishments as a business owner is running a foundation alongside the bookstore that offers tutoring and writing services.
"Struggling students come to the foundation and leave with a greater sense of confidence in their own abilities," Chelangat said. "I'd say that is my favorite accomplishment, seeing people — especially young students — realize that they can do it."
Chelangat recommends the following books by women from various historically excluded groups:
Emily Ladau's "Demystifying Disability"
Samra Habib's "We Have Always Been Here"
Ari Honorvar's "A Girl Called Rumi"
Katherena Vermette's "The Strangers"
"I'd say that is my favorite accomplishment, seeing people — especially young students — realize that they can do it."
Swelter Coffee Roasters, launched in 2020 by Stephanie Welter-Krause, supports women farmers in Burundi, Ethiopia, and Mexico. The goal of Swelter Coffee is to empower women entrepreneurs in the coffee industry by investing in their livelihood and sharing delicious coffee.
Swelter Coffee partners with Food 4 Farmers, an organization that provides training, education, and financing for women to grow coffee and diversify their income.
Purchase individual bags of coffee, sampler packs that include coffee and a tote bag, or join a subscription program. Swelter's Zero Waste Coffee Club delivers high-quality coffee without wasteful packaging.
Roam Loud's creator developed the premium activewear brand to uplift apparel for people with brown skin. Toyin Omisore wanted to shop at an athleisure apparel brand, where people of color were more than an afterthought. Unable to find one that suited her needs, Omisore created her own company.
In celebration of women's health and wellness journeys, Roam Loud offers bold and colorful clothing for women size XS to XXL.
Shop Roam Loud's collection of tops, bottoms, and accessories in a variety of colors.
Kadeja Liggans created K Ligg Co., an art and stationery shop, in 2020. Liggans' goal for the shop is to inspire women of color to feel empowered by centering on Black culture and self-care. Through its unique imagery and product line, K Ligg Co. seeks to build an uplifting community.
As the illustrator for all products on the site, Liggans' life experiences influence each creation.
With imagery representing Black girls and women, K Ligg Co. sells notebooks, bookmarks, artistic prints, keychains, stickers, and more.
Owner Mandi Masden founded Apostrophe Puzzles to join artistic creations by people of color with the mindful and meditative practice of doing puzzles. Apostrophe Puzzles strives to inspire investments in communities of color — combating economic, social, and institutional injustices.
The original artwork curated for Apostrophe Puzzles is created by seven contemporary artists of color, all featured on its website. Each artist designs inclusive, accessible, and sustainable pieces.
A growing collection of unique puzzle designs and digital gift cards can be purchased online.
Karen Young, founder of OUI the People, launched her small business as a counter to antiquated styles used to sell products to modern women. Young pushed back against the idea that selling to women required the use of words like flawless, anti-aging, and perfect.
OUI the People commits to using language that is mindful of the user's psyche, promoting its products by honoring the diverse needs of each body.
OUI the People sells razors, shaving gels, serums, masks, and bath soaks to suit all needs.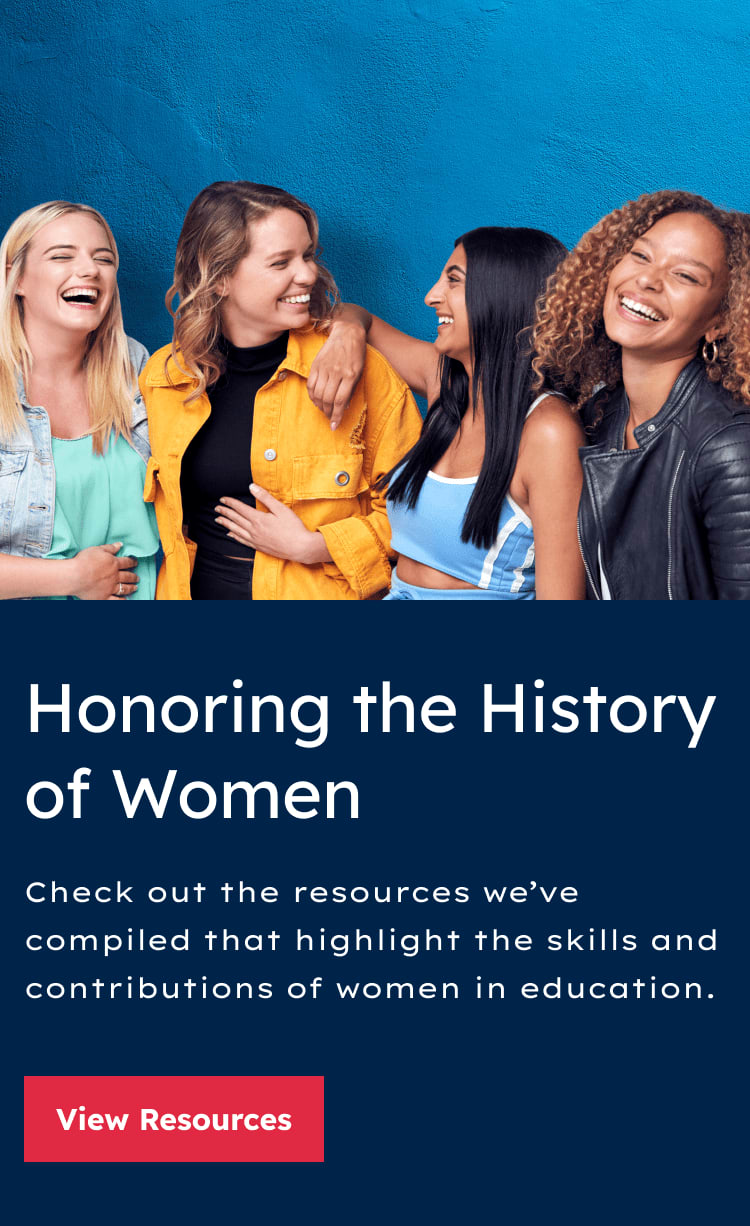 Frequently Asked Questions About Women's History Month
What is Women's History Month?
Women's History Month is a celebration of the contributions of women in the United States. Celebrated in March of each year, Women's History Month honors the specific achievements of women throughout American history and works to uplift women today.
Beginning in 1981 as Women's History Week, the celebration moved to a monthlong recognition — becoming a staple in American society by the 1990s. Each year focuses on a theme, centering on historical aspects of women's history.
For 2022, the theme is "Celebrating Women Who Tell Our Stories." It honors the work of journalists, authors, bloggers and other storytellers. Previous themes were the right to vote, peace and nonviolence, and persistence.
Who was the first female businesswoman?
Madam C.J. Walker is considered by many to be the first female businesswoman. She launched the Madam C.J. Walker Manufacturing Co. in 1910, developing a line of haircare and cosmetics products for Black women. Walker's entrepreneurial spirit made her the first self-made female millionaire in the United States.
Prior to Walker's entrepreneurship, little credit is often given to women's business endeavors. Other women who took part in business ventures that gained less recognition include Eliza Pinckney, Mary Goddard, and Rebecca Lukens.
Who is the most famous female entrepreneur?
Oprah Winfrey and Beyonce are often celebrated by many as the most famous female entrepreneurs. Both women are famous around the world.
Oprah Winfrey is a media executive, most notably gaining fame for her talk show — "The Oprah Winfrey Show." Winfrey is also an actor, philanthropist, and television producer with a net worth of over $3 billion.
Beyonce Knowles-Carter is a singer and songwriter, beginning her fame with the singing group Destiny's Child. Her solo music career is recognized worldwide, helping her attain a net worth of over $400 million.
Better known to fans by just her first name, Beyonce also owns the production company Parkwood Entertainment, which produces music, movies, and clothing.
How many women-owned businesses are there?
There are over 12 million women-owned businesses in the United States. The number of women-owned businesses continues to grow each year, outpacing the average growth of businesses nationwide. Thirty-one percent of small business owners are women, an increase from last year.
With Advice From
Valerie Chelangat
Valerie Chelangat is a regular millennial who loves books, (of course) avocados, organizing, and watching cooking videos. She subscribes to the saying, "The best way to predict the future is to create it." She opened an online bookstore in 2019 to feature minority voices. Her bookstore, Tusome Books, celebrates authors from historically excluded groups.