6 Things Employers Look for in Resumes
Discover what employers are looking for in resumes, how to make yours stand out above other candidates, and what mistakes to avoid.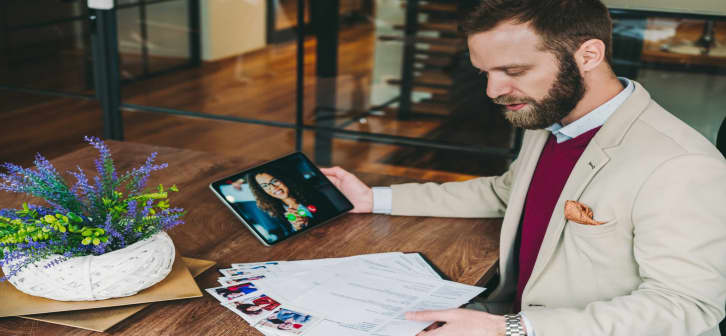 Image Credit: martin-dm / E+ / Getty Images
---
Identify keywords in the job ad and put them in your resume to bypass tracking systems.
Use the summary section at the top of your resume to highlight what you have to offer.
List accomplishments in your resume to help you stand out above other candidates.
Choose a resume design that is simple and quickly scannable.
---
When looking for a job, capturing the initial interest of a potential employer can be challenging. The average recruiter spends about seven seconds scanning a resume, according to eye-tracking research. This means your resume needs to sell your skills in a very limited time window.
Many people assume a resume is meant to get you a job, but in reality, it's only meant to get you in the door. Your resume should represent your skills, experience, and responsibilities to land that initial interview. Continue reading to learn what needs to be on a resume and what mistakes you should avoid.
BestColleges.com is an advertising-supported site. Featured or trusted partner programs and all school search, finder, or match results are for schools that compensate us. This compensation does not influence our school rankings, resource guides, or other editorially-independent information published on this site.
Ready to Start Your Journey?
Keyword Research
Many employers use an applicant tracking system, or ATS, to filter out resumes. Job seekers may find this process frustrating because it can quickly filter them out of the applicant pool. The trick is to add keywords to your resume to bypass this system.
ATS software doesn't understand synonyms, acronyms, or abbreviations, so you'll need to mirror the exact wording in the job ad. For example, if the ad lists "MS Office 365 experience" but your resume says "Microsoft Word" the tracking system would not consider that a match.
Error-Free Writing
According to a study conducted by job search engine Adzune, six in every 10 resumes have spelling or grammar mistakes. It's also one of the main reasons your resume could be rejected.
Maureen Cawley, a certified executive coach and vice president of people at Saatva, says "Small errors, such as typos or a single line on a second page will communicate to an employer that the candidate may not take great care to ensure the quality of their work."
There are several apps you can use to catch grammar and spelling mistakes. However, ask someone else to read your resume and review it for mistakes. A fresh pair of eyes can spot things you may have missed.
Brief Summary
Even if an employer uses an ATS, at some point your resume will be read by a real person. When that happens, you'll want to capture their interest as soon as possible. A summary at the top of your resume can encourage a potential employer to read on.
Matthew Warzel, a certified professional resume writer, says, "The summary should be made up of three to five sentences written in one paragraph that captures the best of what you have to offer an employer." He recommends including an overview statement, results you can accomplish for the company, and your unique skill set or experience.
Customization
While it requires a little extra effort, tailoring your resume to the job ad can make you stand out above other candidates. Start by comparing your skills to the job qualifications. Pay attention to the required and preferred requirements. If you meet any of the preferred requirements, highlight them in your summary.
Next, rewrite any sections in your resume to match their wording of experience, skills, and qualifications. Remove any unrelated tasks. To better highlight transferable skills, you may consider another type of resume format, such as functional, rather than chronological.
Easy-to-Read Formatting
While it's tempting to spend a lot of time and money on design, simple is often best. Zoë Morris, president of Frank Recruitment Group, says, "Just as it's important to get the information across, it's also crucial to lay it out in a way that can be understood at a quick glance."
Use one of the more popular resume types for your format, such as chronological, functional, or a combination. Chronological is best if you have a strong career path that shows current and previous experience related to your field. However, if you are new to the workforce, a functional resume may be better suited to show your skills.
Accomplishments
To make an eye-catching first impression on your resume, list your accomplishments. Daniel Lorenzo, marketing director of resume writing service Let's Eat, Grandma says, "They don't want to see every detail of every job — they want to see evidence you can do what they're asking for in the job description. Employers will be looking for specific accomplishments on your resume, complete with numbers and results."
If you are currently employed, start tracking your work progress and identify measurable achievements such as sales, efficiency in tasks, or improved processes. For prior positions, show clear accomplishments as much as you can remember. However, avoid exaggerating or underselling, which can harm your chances of a job.
| Instead of… | Try |
| --- | --- |
| Efficiently served coffee and rang up customers. | Implemented new training techniques, increasing tips for new baristas by 30%. |
| Managed the department budget, focusing on adequate spending and cost reduction. | Managed the department's $150,000 budget and reduced operating costs by 10% YoY. |
| Created a new training manual for our employees. | Created a detailed manual for incoming employees which resulted in a 50% faster training period. |
| Served as a leader, created schedules for my team, and helped the store achieve success. | Supervised a team of 8, optimizing schedules to align with increased foot traffic, which resulted in higher customer satisfaction and increased profit levels by 28%. |
Resume Mistakes to Avoid
Lying: While it may be tempting to exaggerate skills, experience, or education, lying can only do more harm than good. It's fairly easy for an employer to spot inconsistencies and they will be noticed when you start the job, if not sooner.
Inaccurate Contact Information: Even with a good resume you may not hear from a potential employer if you have out-of-date information. Before sending your resume, make sure your phone number and email address are correct.
Using an Unclear or Busy Resume Design: Remember, employers are looking at hundreds of resumes per job ad. Make it easy for them to read and quickly see how you are a good fit for the position.
Frequently Asked Questions About Resumes
If an employer is asking for a resume, they are looking for an overview of your skills, experience, and other qualifications you bring to a position. A CV, or curriculum vitae, is normally used for academic, scientific, or research-based positions.
Unlike a resume, a CV is lengthier, including multiple pages on professional experience, education, and research projects. A resume is concise and easily scannable so the recruiter or hiring manager can determine if you are a good fit.
How long is a normal resume?
Most resumes are 1-2 pages. For many people, a one-page resume is sufficient. Remember, you only have a limited time to capture a potential employer's interest, so keeping it simple is best.
However, a 2018 study indicated that a two-page resume may put you ahead of other candidates. If you have extensive experience, you will probably want to go with a two-page resume. Remember to include experiences and accomplishments relevant to the job ad.
When should you tailor a resume?
Ideally, you should tailor your resume for every job position you're applying for. Spending a little extra time can help you stand out above other job candidates.
Start by identifying keywords used in the job ad and use the same phrasing on your resume. Next, identify any relevant skills to put on your resume. Include soft skills, such as problem-solving or critical thinking, based on what is described in the position. Be sure to highlight any applicable accomplishments in your summary.