How to Choose Between a BA and a BS in Psychology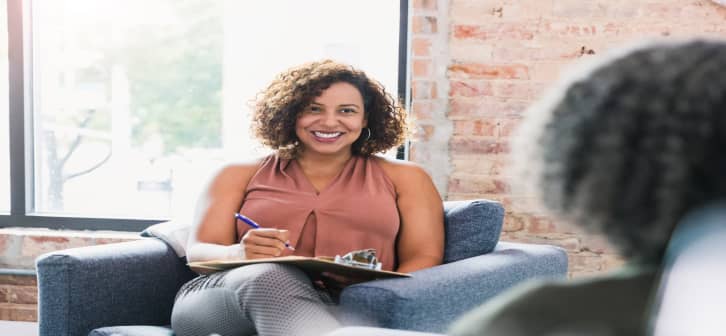 Image Credit: SDI Productions / iStock / Getty Images Plus / Getty Images
---
A BA in psychology may include more liberal arts courses.
A BS in psychology typically requires more math and science courses.
Both a BA and a BS can prepare you well for graduate studies in psychology.
---
You've decided to major in psychology, but now you have another decision to make: Should you get a bachelor of arts (BA) or a bachelor of science (BS) degree?
Many psychology programs offer a BA and a BS to give students flexibility in meeting their professional goals. The differences between a BA and BS vary by institution, but either degree can benefit students depending on how they plan to use it. The good news is students may not need to make a final choice until they've earned about 60 semester hours.
BestColleges.com is an advertising-supported site. Featured or trusted partner programs and all school search, finder, or match results are for schools that compensate us. This compensation does not influence our school rankings, resource guides, or other editorially-independent information published on this site.
Ready to Start Your Journey?
What's the Difference Between a BA and a BS in Psychology?
Traditionally, a BA program requires more courses in liberal arts, making it a great choice to diversify a course of study. A BS program requires more courses in math and science and could better suit learners who want to pursue graduate studies in psychology or other related disciplines. Both programs often require a similar number of credits, cost about the same, are rooted in fundamental psychology courses, and feature similar degrees of rigor.
Comparing BA and BS Degrees in Psychology
Factor
BA in Psychology
BS in Psychology
Both BA and BS
Potential Specialization Areas

Cognitive Psychology
Developmental Psychology
Forensic Psychology

Clinical Psychology
Behavioral Neuroscience
Biopsychology

Counseling Psychology
Developmental Psychology
School Psychology

Common Courses

Psychology, Law, and Social Policy
Social Psychology
Cognitive Psychology

Abnormal Psychology
Behavioral Neuroscience
Neurobiology

Introduction to Psychology
Exploring Research in Psychology
Child Development
Career Outlook
A BA or a BS in psychology can be used to enter the workforce right away. An undergraduate degree in psychology can prepare learners for a career in management, community and social services, education, healthcare, and law. According to the Bureau of Labor Statistics (BLS), psychology degree-holders earned a median annual wage of $50,000 in 2019.
Many students earning a BA or BS in psychology choose to pursue graduate programs. While a BS may better prepare students for a graduate degree in the medical field, the American Psychological Association reports that either degree prepares students well for graduate studies.
Careers for BA in Psychology
Social and Human Service Provider
Social and human service providers — also known as case managers — support people in challenging personal situations. They typically create and monitor treatment plans and track progress, working closely with the client and other health and human service providers. They typically connect the client to relevant services, assisting with research and applications where needed.
Median Annual Salary (May 2021)
$37,610
Career Counselor
Career counselors help students or clients evaluate interests, skills, and abilities to aid them in making decisions about their careers. They work together with students or clients to set career-focused goals. They also provide support with interviewing, networking, developing a resume, and applying for jobs.
Median Annual Salary (May 2021)
$60,510
Careers for BS in Psychology
Psychiatric Technician
A psychiatric technician provides care for people with mental health conditions or developmental disabilities. They work with psychiatrists to provide therapeutic care and help patients with daily activities. Psychiatric technician responsibilities include admitting and discharging patients, monitoring behavior and health indicators, and distributing medication.
Median Annual Salary (May 2021)
$36,230
Human Resources Specialist
Many professionals with psychology degrees pursue careers in human resources. These professionals use their education in motivation factors and human behavior to help companies and organizations evaluate candidates, track employee benefits, and handle workplace misconduct claims.
Median Annual Salary (May 2021)
$62,290
Continued Education
After earning an undergraduate degree in psychology, many students decide to continue with a master's program in psychology. Master's programs are often tailored to specific focus areas within the psychology field. Common master of psychology programs include counseling psychology, behavioral psychology, and educational psychology. Other options are forensic psychology, organizational psychology, and school counseling.
Most graduate schools look for a solid background in psychology. At minimum, graduate schools often want to see that students have taken introductory psychology, statistics, and an experimental psychology or research methods course.
From there, schools may often want to see that learners have a foundation in psychology — whether that's a BA or a BS. Taking undergraduate psychology courses in a potential focus area can be a great way to improve your chances of being accepted, for both BA and BS students.
Why Choose a BA in Psychology?
A BA can be a great option for learners looking to diversify their education and potentially dual major in another subject. BA degrees often require more liberal arts and social sciences courses. Students interested in taking a wider variety of courses or thinking about eventually transferring schools may benefit more from a BA.
Pros and Cons of a BA in Psychology
Pros
A BA can allow for more diversity in liberal arts courses, which can be beneficial if you're looking to dual major.

A BA can prepare you for a variety of careers related to human behavior.

A BA can be a great option if you are thinking of pursuing a graduate degree other than psychology (e.g., law, business management).
Cons
A BA can require more courses outside of psychology, so if you're looking to focus only on psychology, this may not be the right fit.

A BA may require you to take a foreign language, which may be a con if you don't have experience with a foreign language yet.

BA's don't have as many science and math requirements, which can limit STEM-based career and graduate program options later on.
Why Choose a BS in Psychology?
A BS in psychology can suit students looking to pursue a career or continue studies in the scientific field. A BS may also require students to take courses in biology, chemistry, math, and statistics, which are all courses that may transfer to another BS in psychology program if a student decides to transfer.
While the rigor between a BA and a BS is relatively similar, a BS may be a better fit for students looking to pursue graduate work in the medical field or academia. Some science-focused master of psychology programs may also find a BS more attractive.
Pros and Cons of a BS in Psychology
Pros
The math and science focus of a BS can prepare you well for graduate studies, especially in the medical field.

The science-minded student can benefit from training in biological science and research methodology.

A BS in psychology prepares students for graduate studies in psychology because it can often require more advanced courses in psychology like neuroscience and clinical psychology.
Cons
A BS may not allow for as much diversity in general education coursework, so it may not be the best fit for students interested in dual majors.

A BS in psychology often includes more science and math courses, which may be a challenge for some students.

Because a BS can sometimes have a stronger concentration in the major area, switching majors down the road could be more difficult (but this varies by institution).
Frequently Asked Questions About BA vs. BS in Psychology
Is a BA or a BS in psychology more popular?
Because students make an individual choice about which degree to pursue, the numbers vary widely by institution. Some institutions only offer a BA, whereas others may only offer a BS. Many students pursuing graduate studies choose to pursue a BS, but a BA is also a perfectly acceptable prerequisite for a master's program.
Rather than putting focus on whether an institution offers a BA or BS, look into the program as a whole, evaluating it for the overall required coursework, available scholarships, and student services.
Is a BS better than a BA?
Which degree is better will vary based on the student and their intentions after graduation. If you plan to pursue graduate school, it may be best to focus more on the coursework needed to get into the graduate program of your choice.
It's more important to look at the holistic picture of your educational studies rather than the degree you'll leave with. Looking at the coursework and experiences of a BA vs. BS degree and how they will prepare you for your future goals is a stronger indicator of which degree is better for you.
Does a BA in psychology prepare me for a master's in psychology program?
Yes, a BA can prepare you well for a master of psychology. In fact, in some instances, a BA may be a better choice if it allows you the opportunity to take more classes that relate to the desired graduate program.
Before choosing a major, consider your professional goals. A BA may offer more diversity in liberal arts studies, so if you're interested in another discipline (like a foreign language, criminal justice, economics, or sociology), a BA can allow course schedule flexibility for pursuing a double major or minor.
Is a BA in psychology worth it?
A BA in psychology can prepare you for various careers. A BA in psychology opens up career possibilities in education, law, social services, and advertising. Graduates can also work in public relations, human resources, management, and criminal justice.
A BA in psychology can also prepare you well for graduate studies outside of psychology in areas like law, social work, and business. Even if you choose not to pursue a career as a psychologist, a BA in psychology can be a valuable asset. According to the BLS, graduates with a psychology degree can expect to earn median annual salaries of around $50,000.
Is a BA or a BS in psychology right for me?
Choosing a major is a challenging decision because the right choice can differ for everyone. To decide whether to pursue a BA or a BS, first consider your future career goals. Take a look at the graduation requirements for each major and review which path will better prepare you to reach those professional goals.
If both degree types will lead you toward your goals, focus on which required courses sound more engaging and which you will enjoy more. Staying focused on what you want to get out of the degree can help you to decide which direction to take your psychology studies.