Cheap Coding Bootcamps
BestColleges.com is an advertising-supported site. Featured or trusted partner programs and all school search, finder, or match results are for schools that compensate us. This compensation does not influence our school rankings, resource guides, or other editorially-independent information published on this site.
Ready to start your journey?
Over the past decade, coding bootcamps have served an important purpose: They equip students with programming skills in a relatively quick and inexpensive way. Graduates can then use their new coding skills to help fill the tech industry talent gap.
Today, online bootcamps may become even more crucial as the state of the economy and job market remains uncertain. The COVID-19 pandemic caused millions of people to lose employment, with job loss estimates ranging from 20-40 million people. Although many individuals have returned to work or found new positions after the initial shock of the pandemic, job recovery numbers aren't growing as fast as many may have hoped.
The average bootcamp costs about $13,500.
The pandemic and its consequences could prompt many people to reconsider their careers. Switching career paths entirely, though, can seem like a long and intimidating process. This is where bootcamps come in: They allow students to develop the skills they need to enter the tech industry within 3-6 months.
Bootcamps are also relatively inexpensive, especially when compared to the cost of a typical four-year undergraduate degree. The average bootcamp costs about $13,500. In contrast, the average annual tuition at a four-year institution for the 2018-2019 academic year was around $16,000 -- making the cost of a bachelor's degree in computer science about $64,000 in total.
While $13,500 is certainly less than the cost of the average undergraduate degree, it is still a hefty financial commitment -- especially since bootcamp students cannot take advantage of federal financial aid like they can if they attend accredited college programs.
Nevertheless, the cost of bootcamps can vary considerably, and some bootcamps are more affordable than others. This guide will walk you through some of the cheapest coding bootcamps on the market and explore how they keep their costs so low.
Related Programs That Might Interest You
Learn about start dates, transferring credits, availability of financial aid, and more by contacting the universities below.
What's Cheap for a Coding Bootcamp?
With people coming from so many different economic backgrounds, descriptors like "cheap" and "inexpensive" can be relative and difficult to define. That's why we have looked at the base upfront tuition cost of 624 bootcamps offered by 131 bootcamp providers in the U.S. to determine what "cheap" means in the bootcamp industry.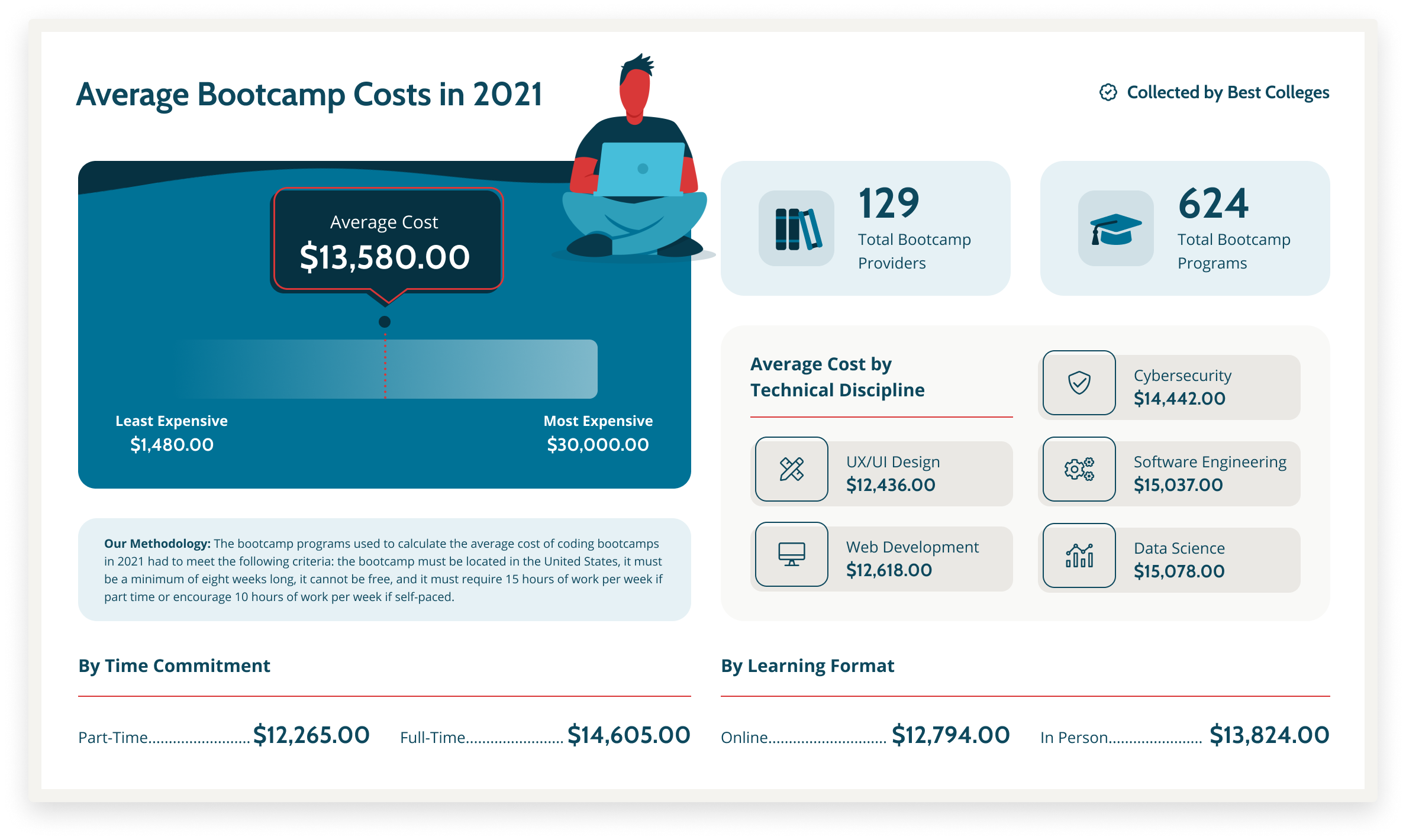 According to our analysis, based on data from November, 2020:
The average cost of a coding bootcamp is $13,579.
The median cost is $13,500.
The most expensive bootcamp (offered by Lambda School) costs $30,000.
The least expensive bootcamp (offered by Nucamp) costs $1,372.
Prices vary depending on several factors, like technical discipline, learning format, and time commitment. Among five popular technical disciplines -- web development, software engineering, cybersecurity, data science, and UX/UI design -- the two least expensive technical disciplines to study in a coding bootcamp are UX/UI design and web development.
UX/UI design bootcamps cost $12,436 on average, and web development bootcamps cost an average of $12,617. But you can find bootcamps for both disciplines that cost just a few thousand dollars or less: The least expensive UX/UI design bootcamp costs $2,995, while the least expensive web development bootcamp costs just $1,372.
In contrast, data science bootcamps rank as the most expensive. The average tuition of these bootcamps reaches $15,078. Software engineering bootcamps also skew on the pricier side, with an average tuition price of $15,036. Cybersecurity bootcamps land somewhere in the middle, costing an average of $14,442.
Online bootcamps cost about $1,000 less than in-person bootcamps, on average. Hybrid bootcamps that combine in-person and online components tend to be the most expensive format -- about $800 more than in-person bootcamps, on average.
In addition, full-time bootcamps cost $2,000 more, on average, than part-time bootcamps. That said, many bootcamp providers offer full-time and part-time programs for the same price.
Cheapest Coding Bootcamps
The tables below outline the cheapest coding bootcamps from reputable providers. The two tables are divided into full-time programs costing $8,000 or less and part-time programs costing $5,000 or less. The tables list the bootcamps in ascending order by price.
Note: COVID-19 may have impacted the learning format of many bootcamps, with in-person programs frequently moving online. Please contact the bootcamp provider or visit their website for more information on current program availability.
Cheap Full-Time Bootcamps

| Bootcamp | Price | Technical Disciplines | Learning Format |
| --- | --- | --- | --- |
| Cook Systems FastTrack | $3,000 | Web Development | In Person |
| TrueCoders | $4,500 | Software Engineering, Web Development | Online |
| CodeStack Academy | $5,000 | Software Engineering | In Person |
| theClubhou.se Code Boot Camp | $5,360 | Web Development | In Person |
| Designlab | $6,350 | UX/UI Design | Online |
| CareerFoundry | $6,555 | UX/UI Design, Web Development | Online |
| Data Application Lab | $6,600 | Data Science | In Person |
| Tech Talent South | $6,750 | Web Development | In Person |
| Savvy Coders | $7,000 | Web Development | Online |
| Deep Dive Coding | $7,495 | Web Development | In Person |
| Boise CodeWorks | $7,800 | Web Development | In Person |
| Devmountain | $7,900 | Mobile App Development, UX/UI Design, Web Development | Online |
| Project Shift | $7,900 | Software Engineering | Online |
| The Tech Academy | $7,974 | Web Development | Online |
| Montana Code School | $8,000 | Web Development | In Person |
---
Cheap Part-Time Bootcamps

| Bootcamp | Price | Technical Disciplines | Learning Format |
| --- | --- | --- | --- |
| Nucamp | $1,372 | Front-End Web Development | Online |
| Nucamp | $1,765 | Full-Stack Web Development | Online |
| Digital Creative Institute | $2,000 | Cybersecurity | In Person |
| Coding Dojo | $2,795 | Data Science | Online |
| Deep Dive Coding | $2,995 | UX/UI Design | In Person |
| Noble Desktop | $3,495 | Data Science | In PersonOnline |
| Jax Code Academy | $3,500 | Cybersecurity, Web Development | In Person, Online |
| LearningFuze | $3,995 | UX/UI Design, Web Development | In Person |
| Tech Talent South | $4,250 | Web Development | In Person |
| TrueCoders | $4,500 | Software Engineering, Web Development | Online |
| Montana Code School | $4,950 | Web Development | In Person |
| Arkansas Coding Academy | $5,000 | Web Development | Hybrid |
Does Cheap Mean Poor Quality?
When it comes to bootcamps, cheap does not necessarily equate to poor quality. Many cheap coding bootcamps have found ways to cut costs and then pass on those savings to their students. For example, some online bootcamps may not have a centralized office space. Instead, instructors and administrators may work from home, minimizing office costs. Instructors may work part time, keeping the budget for salary costs low.
Bootcamps may also use open-source content to build their curriculum. This means that they do not need to pay for licensing costs when gathering course materials. Finally, a handful of bootcamps operate as nonprofit organizations, relying on philanthropic funding to keep prices for students affordable or even free.
Some cheap coding bootcamps may indeed be of poor quality, but students can avoid these programs in favor of high-quality, inexpensive bootcamps if they conduct diligent research before enrolling.
When it comes to bootcamps, cheap does not necessarily equate to poor quality.
One way to choose a legitimate bootcamp is to investigate student outcomes. To do this, you can turn to the Council on Integrity in Results Reporting (CIRR), which is an organization that promotes standardized and transparent outcomes reporting in the bootcamp industry. On CIRR's website you can find independently audited data on student graduation rates, employment rates, and graduates' starting salaries from CIRR-member bootcamps.
Bootcamps unaffiliated with CIRR may still publish these statistics on their own websites. For instance, Nucamp reports that 78% of its bootcamp graduates find employment within three months of graduation. And DevMountain reports detailed outcomes across its different programs and locations.
However, make sure to read the fine print carefully, as it may not be readily apparent what data the bootcamp includes in its report. How does the bootcamp handle the cases when it was not able to get in touch with graduates? Does it count part-time or freelance employment in its employment rate? Does it count employment within the first 90 days, 180 days, or year after a student graduates? If you can't figure out how a bootcamp is qualifying its data, reach out to get more details.
You can also look at whether a bootcamp offers career services, such as networking events, career coaching, and help creating job search materials such as resumes and portfolios. Bootcamps often build some sort of career services into their program.
Finally, if you still feel unsure about whether a cheap coding bootcamp is high quality, reach out to former students. You may be able to find graduates of these programs by searching on LinkedIn; send them a message and ask them about their experience.
Other Ways to Make Bootcamps Affordable
When searching for potential coding programs, you may not want to limit your search to cheap coding bootcamps -- even if that seems counterintuitive.
Coding bootcamps know that students enroll in these programs to find valuable skills training at a fraction of college prices. When it comes to education, bootcamp students want a good return on their investment. With that in mind, many bootcamps offer alternative payment methods meant to curb upfront tuition costs, or at least make those costs more manageable.
Most bootcamps offer monthly payment plans, allowing students to pay in installments throughout the bootcamp instead of in one lump sum upfront.
Many bootcamps also offer income share agreements and deferred tuition plans. With a deferred tuition plan, students pay a small deposit (or nothing) upfront, and then pay the remainder of their tuition after they graduate and find employment. After finding a job -- often one where they make more than a set minimum salary -- graduates pay back the set tuition price in installments.
Income share agreements are similar to deferred tuition plans, but instead of paying a set tuition amount once the graduate finds a job, graduates pay a predetermined percentage of their paycheck over a fixed period of time. This makes the total cost of the bootcamp variable depending on your salary level.
Many bootcamps also offer income share agreements and deferred tuition plans.
In fact, some bootcamps even offer a money-back guarantee. If a bootcamp graduate does not land a job within a set period of time after graduation, typically 180 days, then they do not have to pay their bootcamp tuition.
Coding schools often partner with private lenders like Skills Fund and Climb Credit. These lenders offer loans specifically for coding bootcamp students, with interest rates typically lower than other private loans.
Finally, keep an eye out for bootcamp scholarships. Several coding bootcamps grant scholarships that cover partial or full tuition, especially to veterans and servicemembers, women, people of color, members of LGBTQ+ communities, people from low-income backgrounds, and other groups currently underrepresented in the tech industry.
With all this in mind, if you want to expand your search to include bootcamps that may have a more expensive upfront cost but offer multiple ways to make the financial burden lighter, you can explore this list of the best coding bootcamps.
Frequently Asked Questions About Cheap Coding Bootcamps
How much do coding bootcamps cost?
The cheapest coding bootcamps range from $1,372 to $8,000. The average bootcamp costs around $13,500, with some bootcamps charging up to $30,000. However, keep in mind that many bootcamps allow students to start paying only after they graduate and find employment. Several bootcamps offer small scholarships, while a handful grant full-tuition scholarships.
Are there free coding bootcamps?
While most coding bootcamps are not free, you can find some free coding courses. Bootcamps sometimes offer free, short, introductory courses that aim to prepare students for a more intensive bootcamp experience. You can also find free introductory coding courses online at websites like Coursera and edX. If you are interested in free coding bootcamps, you can find a list of these bootcamps here.
Are coding bootcamps worth it?
Coding bootcamps can prove to be a valuable choice for nontraditional adult learners and career switchers. They can cost less than a traditional four-year degree, and students often finish their program within 3-6 months. Many bootcamps offer career coaching and job search services, too. Still, bootcamps don't usually offer the same depth of knowledge as a four-year computer science degree. Ultimately, whether coding bootcamps are worth it depends on your goals, your financial situation, and the amount of time you want to dedicate to your studies.
What's the ROI for a coding bootcamp?
Many people find bootcamps to be a worthwhile investment, though it is impossible to give one definitive answer to this question. Your return on investment depends on multiple factors, including tuition costs and post-bootcamp earnings. Many bootcamps publish their graduates' employment and salary data, which can give you an idea of the salary range you can expect to earn after graduation.
---
Editor's Note: This article contains general information and is not intended to be a substitute for professional advice. Please consult a professional advisor before making decisions about financial issues.
---