How Much Do Coding Bootcamps Cost?
BestColleges.com is an advertising-supported site. Featured or trusted partner programs and all school search, finder, or match results are for schools that compensate us. This compensation does not influence our school rankings, resource guides, or other editorially-independent information published on this site.
The most common path to a technology career has traditionally involved earning a degree at a four-year college or university. But as degree programs have failed to produce the amount of graduates needed to fill the increasing number of tech jobs over the past decade, coding bootcamps have stepped in to fill the gap.
In-person and online coding bootcamps can provide students with an alternative route to a new career, a career change, or a promotion within the technology sector by offering students shorter, targeted programs designed to teach up-to-date skills and land graduates well-paying jobs. Bootcamp graduates have found positions at Google, Microsoft, Amazon, Facebook, and other major technology companies.
Bootcamps also come with lower educational costs than traditional degree programs, allowing students to minimize or avoid student debt. If you are interested in applying to a coding bootcamp, you may be wondering just how much coding bootcamps cost. In this guide, you can learn about typical bootcamp costs, ways to pay for your program, and financial perks that come with many coding bootcamps.
How Much Do Coding Bootcamps Cost?
Tuition costs for intensive, full-time coding bootcamps that deliver thorough career preparation and typically last several months usually range from $10,000-$15,000. Based on data from over 620 bootcamp programs offered by about 130 bootcamp providers collected by BestColleges in 2020, the median bootcamp tuition was $13,500 and the average cost was $13,579. The priciest bootcamps charge more than $20,000, while the least expensive cost a few thousand dollars. In contrast, the average undergraduate tuition for the 2018-19 academic year cost about $16,300, according to the National Center for Education Statistics. Multiplied by four years, that's nearly $65,000 to fund your education.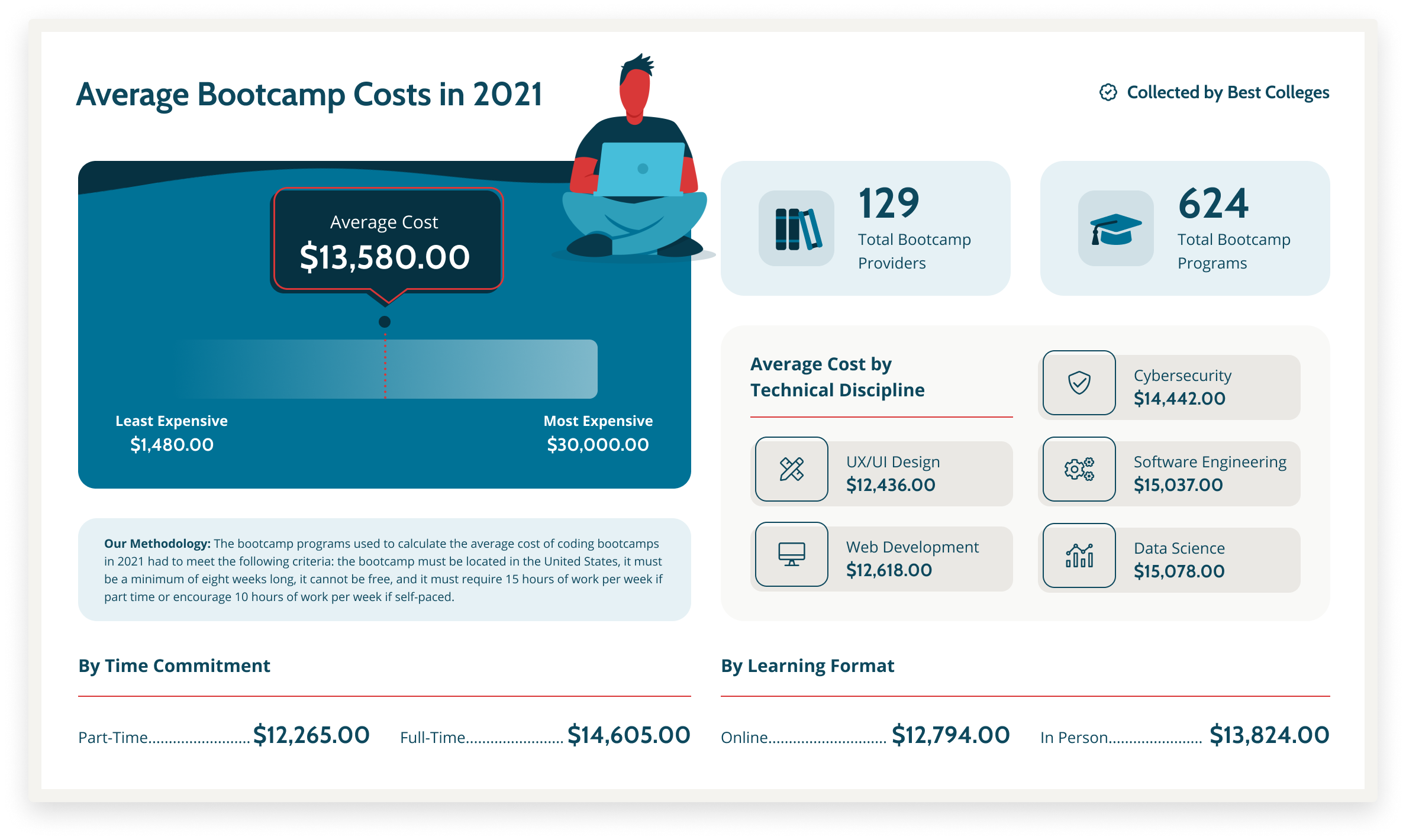 Students may be able to save a little money by opting for a part-time program, as the average tuition for part-time bootcamps in 2020 was $12,265. However, not all part-time programs cost less than full-time options.
In addition to intensive, career-focused programs, some bootcamp providers offer short introductory courses for those wanting to get their feet wet before committing to an intensive program. Bootcamps may also offer professional development courses that focus on a particular skill or programming language for experienced coders. These courses typically range from one to a few thousand dollars, with the median price in 2017 being $2,250.
Based on data collected by BestColleges in 2020, the median bootcamp tuition was $13,500.
Costs also vary depending on the technical discipline. Web development and UX/UI design bootcamps tend to cost around $12,500 on average, while data science and software engineering bootcamps cost around $15,000. Some university-affiliated bootcamps may also cost less than bootcamps offered by other providers.
Prospective students considering coding bootcamps should keep other types of expenses in mind, as well, including opportunity costs, technology costs, and living expenses. One opportunity cost of attending a bootcamp instead of a traditional degree program may be that while bootcamps typically charge less and allow graduates to enter the workforce sooner, degree-holders tend to earn higher salaries.
Technology costs for the hardware and software required by a bootcamp may also be a significant expense, as students usually need to buy necessary equipment themselves.
Featured Coding Bootcamps

BestColleges.com is an advertising-supported site. Featured or trusted partner programs and all school search, finder, or match results are for schools that compensate us. This compensation does not influence our school rankings, resource guides, or other editorially-independent information published on this site.

Match me with a bootcamp.

Find programs with your skills, schedule, and goals in mind.

Match me to a bootcamp

Bootcamp Cost Breakdown
Tuition costs for coding bootcamps pay for direct instruction in programming languages such as JavaScript and Python. Students often engage in hands-on, project-based learning by building web applications, performing data analysis, and using software development tools.
In addition to coding instruction, tuition usually covers a variety of career preparation services that support students in things like preparing for a coding interview, building a professional web presence, and developing a programming portfolio.
Sometimes, tuition also pays for mentoring sessions from tech industry professionals and networking events. Some bootcamps also connect students with internship and employment opportunities.
Bootcamp Payment Options
Students attending coding bootcamps do not qualify for federal student financial aid because these programs lack the appropriate accreditation. However, students can take advantage of other options to help manage coding bootcamp costs.
Students who can pay the cost of their tuition at the beginning of their bootcamp avoid interest fees. However, some bootcamps do offer interest-free payment plans.
Deferred tuition means that students pay little to no upfront tuition, but start making payments of a set dollar amount once they secure employment.
Income share agreements refer to an arrangement where a student agrees to pay a percentage of their future salary to the bootcamp for a set period of time, as long as they meet a minimum income threshold.
Students can look to private lenders, such as Skills Fund, that offer loans specifically for coding bootcamps.
Scholarships may be available to bootcamp students. These awards pay all or a portion of bootcamp tuition. Scholarships may target certain groups of students, such as women, military veterans, and members of other underrepresented groups in the tech industry.
Veterans can use this funding to pay for tuition at eligible coding bootcamps, and they may also qualify for a housing allowance.
Are Bootcamps a Good Alternative to Traditional College?
Our 2021 Bootcamps Trends Report found that "Almost half (48%) of all business leaders surveyed, and 56% of those from tech companies and organizations that hire for tech roles, said that bootcamps will play a pivotal role in meeting future workforce training needs".
Coding Bootcamp vs. Bachelor's in Computer Science Cost Comparison
Students can save thousands by attending a coding bootcamp rather than pursuing a four-year degree in computer science, with bootcamps costing roughly the equivalent of one year of college tuition. Students comparing the coding bootcamp cost of $10,000-$15,000 to the $50,000+ cost of a degree may be wondering if a bootcamp will lead to similar job opportunities as a traditional program.
Because bootcamps do not go through an accreditation process like most colleges and universities do, it can be difficult to gauge student outcomes across the bootcamp industry. Individual bootcamps often report their graduation and employment rates on their websites. Additionally, if the bootcamp is a member of the Council on Integrity in Results Reporting, you can find standardized outcomes for its programs that have been independently audited and verified.
The employment outcomes for graduates of coding bootcamps are often quite positive. For example, Fullstack Academy reported that 73% of its 2018 Chicago bootcamp graduates were employed in the technology industry within 180 days of graduation. In 2019, Galvanize had a 67% employment rate for its New York City data science bootcamp graduates and Hack Reactor had a 73% employment rate for its remote software engineering bootcamp graduates.
While some employers still view college degree programs as providing more thorough career preparation than bootcamps, this idea appears to be changing. A 2017 survey found that 72% of employers think coding bootcamp graduates receive equal preparation as those with computer science degrees, with the same likelihood of succeeding on the job. Many large companies, including Apple and Google, no longer require college degrees for tech workers.
Financial Perks of Coding Bootcamps
Coding bootcamps may offer financial incentives to students that are not typically provided by a college degree program, such as money-back guarantees and the ability to start learning without making a down payment on tuition. Increasingly, bootcamps offer stipends or living assistance.

Money-Back Guarantee
One of the draws of coding bootcamps is the possibility of well-paying employment in the technology sector after graduation. Many coding bootcamps stand behind their career preparation programs by providing full tuition refunds for students who do not secure a job in the tech industry within a set timeframe.

No Money Down
Coding bootcamps with deferred tuition plans or income share agreements often do not require students to put money down toward their tuition before getting started with their training. Some programs ask for a small down payment.

Living Assistance
Because students typically cannot maintain employment during a full-time coding bootcamp, some programs like Thinkful offer cost-of-living stipends. Prior to the COVID-19 pandemic, Devmountain provided housing for full-time, in-person students.
Coding Bootcamp FAQs
Are coding bootcamps worth it?
With employers increasingly interested in hiring bootcamp graduates, and with perks like money-back guarantees and lower tuition costs, many students find coding bootcamps to be worthwhile.
Are online coding bootcamps cheaper?
The costs for in-person and online bootcamps vary widely from program to program. Some online options are cheaper, but they often cost around the same price as in-person programs. Many in-person coding bootcamps have been forced to move online due to COVID-19, and some bootcamps offer scholarships to students adversely impacted by the pandemic.
Are there free coding bootcamps?
Although you probably won't be able to find a free intensive career preparation bootcamp, several bootcamp providers, including Flatiron School, General Assembly, and Fullstack Academy, do host free introductory courses. Additionally, bootcamp providers sometimes offer scholarships to members of underrepresented groups in the technology field.
GI Bill® is a registered trademark of the U.S. Department of Veterans Affairs (VA). More information about education benefits offered by VA is available at the official U.S. government Web site at https://benefits.va.gov/gibill/index.asp
---
Editor's Note: This article contains general information and is not intended to be a substitute for professional advice. Please consult a professional advisor before making decisions about financial issues.
Explore More Bootcamps Resources
View all