The 7 Best Java Bootcamps of 2023
Find out which providers offer the best Java bootcamps and learn about the types of jobs you can get after completing a Java bootcamp.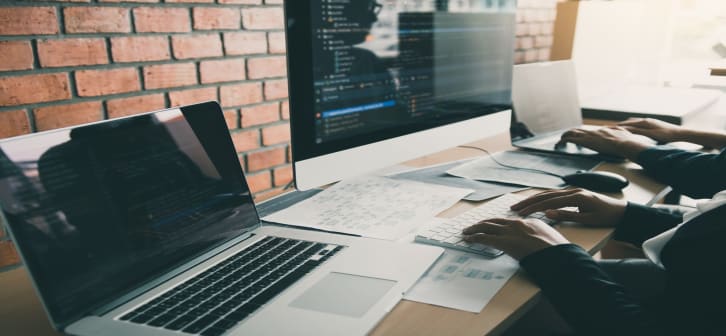 BestColleges.com is an advertising-supported site. Featured or trusted partner programs and all school search, finder, or match results are for schools that compensate us. This compensation does not influence our school rankings, resource guides, or other editorially-independent information published on this site.
Coding bootcamps are gaining in popularity. One of the biggest reasons for this popularity spike is that the COVID-19 pandemic forced bootcamps to develop an online option. Bootcamps offer courses that specialize in a technical discipline or programming language. Programs that focus on Java let people learn this language and create Java applications. Java bootcamps typically last 3-6 months and teach students everything they need to know about Java quickly.
Students who graduate from a coding bootcamp can often use the bootcamp to start a new career in the field. They can save time and money by not needing to earn a four-year degree to start careers. If you've been thinking about attending a Java bootcamp instead of college, keep reading to learn about the best Java bootcamps available. Many Java bootcamps teach students how to build desktop and mobile applications. Some also teach game development.
Reasons to Learn Java
Java is one of the most common programming languages used across many industries. It's secure, fast, and reliable, making it a popular tool in web development, big data, and app development. People also use it frequently in cloud-based applications, gaming consoles, and scientific computers.
Java mixes simplicity with functionality. Many people consider it one of the more accessible programming languages to learn, as the syntax is simple and easy to understand. It also comes with one of the biggest open-source libraries.
You may need to learn Java to work in back-end development. Since it is one of the easier-to-learn and most valuable languages, it makes sense to familiarize yourself with Java before tackling more complicated languages like C or C++.
Java vs. Python
There are more similarities between Java and Python than there are differences. Both are incredibly popular, versatile, and platform-independent and come with large libraries. Plus, you can use them to reach many of the same goals.
However, the difference lies in how the two languages reach that goal. Java is known for being slower and bulkier, whereas Python is more suited for quick solutions. What takes ten lines in Java might take one or two in Python.
People often use both languages for web and app development. But from there, these programming languages are better suited for different industries. Java is better for cloud development and big data, whereas Python works well for those involved with data science and machine learning.
Methodology
Bootcamp Ranking Guidelines
At BestColleges, we believe the best bootcamp is the one that fits your schedule, your learning needs, and your career aspirations. That's why we often present our recommendations in alphabetical order -- because the real best bootcamp is the bootcamp that's best for you.
Our Methodology
The Bootcamp Team at BestColleges has collected data for over 150 bootcamps to help you find the best bootcamp.
At BestColleges, we believe the best bootcamp is the one that fits your schedule, your learning needs, and your career aspirations. That's why we often present our recommendations in alphabetical order -- because the real best bootcamp is the bootcamp that's best for you.
At this time, our recommendation round-ups feature only immersive bootcamps designed to prepare students for job placement upon graduation.
To be included on our lists, bootcamps must meet the following criteria:
Must offer at least one bootcamp in the United States.
Must offer at least one bootcamp that is a minimum of 4 weeks long.
Must require at least 15 hours of work per week if the bootcamp is part time.
Must encourage at least 10 hours of work per week if the bootcamp is self-paced.
Pricing disclosure: The prices listed were collected from product websites in 2022. However, given the dynamic, fast-paced nature of the tech space, prices are subject to change throughout the year. To get the most up-to-date information about pricing, contact providers directly.
Methodology for Recommending Cheap Bootcamps:
The bootcamp must meet all of the general criteria listed above.
The bootcamp must cost less than $8,000 if it is offered full time, and less than $5,000 if it is offered part time. These numbers were chosen based on data collected by BestColleges in 2020 that determined the average cost of a coding bootcamp is $13,580.
Best Java Bootcamps
Java Careers
Java bootcamp graduates often work in web development or other areas of software development. Here are three of the top Java careers:
Java Developer
Java developers use Java to create complex applications, such as scientific applications and games. Java developers often develop mobile applications that run on Android.
Average Annual Salary (August 2022): $79,780
Software Developer
Software developers create computer programs that perform specific tasks. Depending on the application, they may use Java, C++, Python, or another programming language.
Average Annual Salary (August 2022): $74,130
Frequently Asked Questions About Java Bootcamps
Is Java easy to learn?
Yes, Java is easy to learn. It's written in a way that English speakers find very easy to understand. In fact, Java is one of the easiest languages to learn. It's a good choice for new programmers. Some other languages that are easy to learn include Python, Ruby, JavaScript, and PHP.
If you are just starting to program, it makes sense to start with an easy language. You can concentrate more on what a variable or a loop is without worrying too much about the syntax of the programming language itself.
What is the difference between Java and JavaScript?
The main difference between Java and JavaScript is that Java is a programming language while JavaScript is a scripting language. Java needs to be compiled, and JavaScript is interpreted as it runs. Java is used for all sorts of programs, from mobile apps to complex games. JavaScript is used mostly for adding interactivity to websites.
Java has a virtual machine platform that allows programmers to write a program once, then run it on any platform. JavaScript runs on websites. Most browsers have built-in software that reads JavaScript code.
Do employers hire with Java experience only?
Employers hire candidates who have all of the skills they are looking for. If you're applying for a job as a Java developer, you will probably need to be familiar with many Java tools and frameworks, as well as the language itself. You may also need to have experience with other languages.
Suppose you are applying for a position as a full-stack web developer. In that case, you may need to know all of the front-end languages (HTML, CSS, and JavaScript), as well as whatever back-end languages the employer uses. There's a good chance you will also need to know SQL and be able to interact with databases.
---
GI Bill® is a registered trademark of the U.S. Department of Veterans Affairs (VA). More information about education benefits offered by VA is available at the official U.S. government Web site at https://benefits.va.gov/gibill/index.asp.
---
Feature Image: Wutthichai Luemuang / EyeEm / Getty Images
Explore More Bootcamps Resources
View all