Tech Sales Bootcamps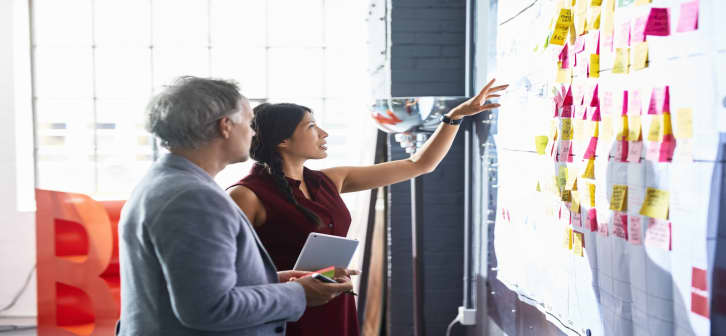 BestColleges.com is an advertising-supported site. Featured or trusted partner programs and all school search, finder, or match results are for schools that compensate us. This compensation does not influence our school rankings, resource guides, or other editorially-independent information published on this site.
It's no secret that the demand for tech employees is on the rise. The tech sales field is rising in demand as well. And the good news is that you don't need to be a coding techie to have a lucrative tech career.
The Bureau Of Labor Statistics projects this occupation to grow by 6% from 2021-2031, which is slightly faster than the 5% average growth rate for all jobs. The career is also popular because of its earning potential. Sales engineers made a median annual salary of $103,710 in May 2021.
While tech sales resembles other sales jobs, the tech industry requires a unique touch and specific knowledge. Traditionally, the most common way to begin a career as a sales engineer was to get a bachelor's degree in computer science or business management. However, since earning a degree takes many years, coding bootcamps are a faster and often cheaper learning option. Bootcamps for sales engineers are intense programs that may last as few as four weeks.
Our guide to the best tech sales bootcamps introduces the highest-ranked programs and gives advice on how to choose a program that's a good fit for you.
What Is Tech Sales?
Simply put, tech sales is selling technology-based products or services. The goal of most technology sales engineers is to connect with potential customers to provide a solution to a specific problem.
When thinking of tech sales, many people automatically think of software. But the market has a variety of options. A technology sales representative could sell anything related to technology, from laptops to IT services. The sky's the limit.
People who enjoy sales of any kind might succeed in a tech sales position. However, being informed about the field can help build confidence. Potential customers and employers also appreciate it when sales representatives are knowledgeable about their products.
If you're looking to jump-start your tech sales career, browse through our list below of the best tech sales bootcamps that you can find online.
Best Tech Sales Bootcamps
Methodology
Bootcamp Ranking Guidelines
At BestColleges, we believe the best bootcamp is the one that fits your schedule, your learning needs, and your career aspirations. That's why we often present our recommendations in alphabetical order -- because the real best bootcamp is the bootcamp that's best for you.
Our Methodology
The Bootcamp Team at BestColleges has collected data for over 150 bootcamps to help you find the best bootcamp.
At BestColleges, we believe the best bootcamp is the one that fits your schedule, your learning needs, and your career aspirations. That's why we often present our recommendations in alphabetical order -- because the real best bootcamp is the bootcamp that's best for you.
At this time, our recommendation round-ups feature only immersive bootcamps designed to prepare students for job placement upon graduation.
To be included on our lists, bootcamps must meet the following criteria:
Must offer at least one bootcamp in the United States.
Must offer at least one bootcamp that is a minimum of 4 weeks long.
Must require at least 15 hours of work per week if the bootcamp is part time.
Must encourage at least 10 hours of work per week if the bootcamp is self-paced.
Pricing disclosure: The prices listed were collected from product websites in 2022. However, given the dynamic, fast-paced nature of the tech space, prices are subject to change throughout the year. To get the most up-to-date information about pricing, contact providers directly.
Methodology for Recommending Cheap Bootcamps:
The bootcamp must meet all of the general criteria listed above.
The bootcamp must cost less than $8,000 if it is offered full time, and less than $5,000 if it is offered part time. These numbers were chosen based on data collected by BestColleges in 2020 that determined the average cost of a coding bootcamp is $13,580.
What Will I Learn in a Tech Sales Bootcamp?
People who enroll in tech sales bootcamps might start off by learning the basics of both technology and sales. Then, students might go through real-world examples or scenarios to refine their skills. The main driving force of bootcamps is to teach concepts in a short amount of time so that students can join the workforce quickly.
While each program differs, tech sales bootcamps often focus on practical skills like negotiation and closing a sale. Working through simulations or getting hands-on practice prepares students for the kind of situations they might encounter in their careers.
While they may not carry as much sway as a degree or long-term programs, bootcamps are a fantastic choice for people who want to keep working while they learn. They can also be a good option for people who are already in sales but want to upgrade their skills, or people who hold a degree in another field and want to break into the tech industry.
Frequently Asked Questions About Tech Sales Bootcamps
Can I learn tech sales online?
Yes. Most tech sales bootcamps are fully remote with live online class sessions. Some bootcamps offer flexible or part-time options, which allows professionals to continue working while they learn.
Can I learn tech sales for free?
Yes, there are employer-sponsored options. Some programs, like Satellite, are fully sponsored by their employer network.
You can also learn the basics of tech sales through various free courses and programs online. However, bootcamps are usually more comprehensive and often have a more hands-on approach.
Are tech sales bootcamps worth it?
Whether tech sales bootcamps are worth it or not depends on your specific situation.
For those completely new to the industry, enrolling in a tech sales bootcamp could be valuable. While many people could benefit from having the extra certificate, it isn't necessary for those with experience in either technology or sales.
Prospective students should weigh the costs against their potential earnings to determine the right path for their situation. Payscale reports that technical sales representatives make an average annual salary of $62,690 as of August 2022. Before enrolling, also check the program's graduation rate and graduate employment rate to get a complete look at what you can expect.
---
Feature Image: 10'000 Hours / DigitalVision / Getty Images