10 Coding Organizations Taking On the Tech Gender Gap
Women are massively underrepresented in tech. It can be challenging to enter a male-dominated industry, so these organizations work to even the field.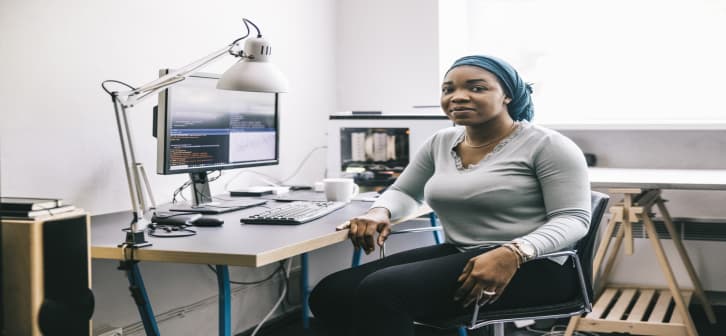 BestColleges.com is an advertising-supported site. Featured or trusted partner programs and all school search, finder, or match results are for schools that compensate us. This compensation does not influence our school rankings, resource guides, or other editorially-independent information published on this site.
Study after study has shown that having more women and greater diversity in an industry is positive on every scale. Firms with more women, especially in C-suite or management positions, see higher profits and more creativity. Yet, a study conducted by the Harvard Business Review in 2016 found that out of a survey of nearly 22,000 firms, almost 60% had no women board members, and around 50% had no women C-suite executives. A lack of diversity is a problem in many industries, but the tech industry has earned a reputation for being one of the worst. While there was a slight improvement in the last years, the World Economic Forum found that the pandemic caused another hit to women in tech.
Source: Harvard Business Review
Over the last few years, several organizations worldwide have taken steps to remedy this imbalance. Some offer training programs, mentorships, or even supportive communities to help women succeed in an industry that might sometimes feel unwelcoming to them — and that is sometimes outright abusive. Below, we list 10 of the organizations that fight against the gender disparity in tech.
Frequently Asked Questions About Coding Organizations for Women
What percentage of coders are women?
According to the global statistics website, Statista, women make up only 5% of coders online. When it comes to nonbinary or gender non-conforming people, that number is only 1.7%. This is why organizations like the ones above are trying to open the door for more diversity in the sector.
After all, studies have proven that more diversity in a sector enhances creativity, encourages the search for novel information, and can lead to better decision-making and problem-solving. Having a diverse workforce helps improve the company's bottom line and the lives of those working there.
Are there coding bootcamps for women?
A number of the organizations above host workshops that are only for women or non-binary people. However, if you are looking for a full bootcamp program, you can check out programs from AllWomen, Kal Academy, or SheCodes.
There are many other organizations for women. It mostly depends on what kind of bootcamp you are looking for and what you want to learn. Some of the big bootcamp programs that are not women-only will sometimes offer scholarships for women or other non-represented participants, so it is a good idea to look around and check out all of your options.
How can I support women in the tech industry?
There are several ways you can support women in the tech industry, depending on your circumstances.
Of course, donating to any of the groups is always an easy way to help support those trying to create substantial change. Many of them are also constantly trying to expand, so if you live in a city where a meet-up does not already exist, you can start your own chapter.
If you work in tech yourself, especially if you are higher up in your career, you can advocate for more diversity in your hires or offer mentorship to those just starting out. Leaders can also shift organizational policies and improve benefits.
Feature Image: visualspace / E+ / Getty Images