Students with the right combination of education and experience can pursue careers in photography.
Photographers capture images for commercial, private, industrial, fine art, and journalistic purposes. Most photography degrees also emphasize digital photography skills for the technology age, along with business, computer, and interpersonal career development coursework.
The following guide explores all facets of pursuing careers in photography.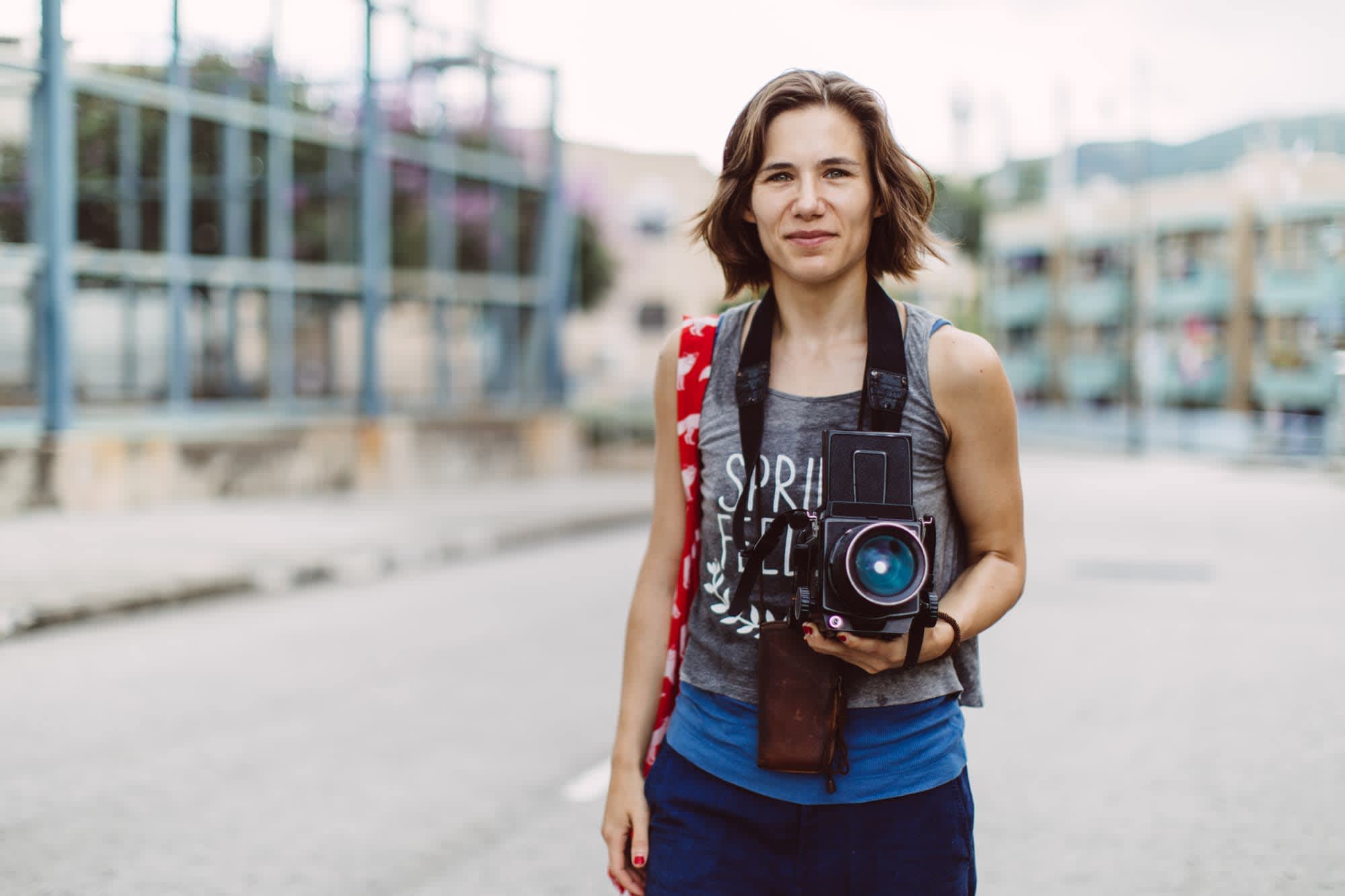 KT images / Getty Images
Why Pursue a Career in Photography?
Students with innate artistic ability and technical skills can thrive as photographers. Since more than 60% of photographers are self-employed, the field attracts personable professionals with excellent customer service skills and acute business sense. Most photography programs develop skills in marketing and communication.
While some fine arts programs incorporate traditional film-based photography, the majority of photography degrees train students in digital photography techniques. As such, most programs emphasize advanced computer and technical skills. Students may aspire to a particular career with a photography degree in a specialization such as wedding photography, photojournalism, or fine arts.
Photography Career Outlook
Photography careers vary in terms of salary and job outlook. According to the Bureau of Labor Statistics (BLS), photographers earn a median annual salary of $36,280. However, specialized careers in photography can yield a higher salary.
Similarly, while the BLS projects negative job growth for photographers overall between 2018 and 2028, the bureau also projects a 10% growth rate for self-employed photographers during the same period.
As the declining cost of digital cameras and a surge in online stock photo services in recent years have contributed to a diminished demand for traditional photographers, the BLS projects lucrative opportunities in new technology, especially in commercial and drone photography.
Average Annual Salary for Photography Careers
Job Title
Entry-Level
(0-12 months)
Early Career
(1-4 Years)
Midcareer
(5-9 Years)
Experienced
(10-19 Years)
Commercial Photographer
$35,170
$40,630
$49,000
$57,770
Photojournalist
$30,380
$34,160
$38,230
$54,680
Wedding Photographer
N/A
$45,000
$46,080
$44,620
Freelance Photographer
N/A
$40,000
$44,219
$50,000
Source: PayScale
Skills Gained with a Photography Degree
Photography degrees provide a distinct combination of creative and technical skills, enabling students to practice photography as an art form. The best photography programs teach students business, interpersonal, and computer skills.
Technical Ability

While capturing an image requires more than just technical ability, technical skills are critical for students entering the profession.

Whether an aspiring photographer chooses traditional (film) or digital processes, they must thoroughly understand how to operate a camera and use photographic equipment. Although most photography programs focus on digital techniques and forego traditional development processes in the darkroom, many degrees include training in aperture, exposure, and shutter speed.

Creativity

As most students who pursue an education in photography have innate artistic ability, most coursework in a photography degree is designed to expand on this skill set. Students learn to consider creative aspects of photography when choosing the subject, composition, and lighting of their images. Students also learn to be resourceful and adaptable.

Business Sense

Basic business courses for photographers train students to manage their clients, schedule, and finances, while also preparing students for portfolio development, marketing, and self-promotion.

Computer Skills

Aspiring photographers need computer skills to capture and process images using a digital camera, as well as for storing and editing digital images. Basic computer skills are also critical for professional interaction with clients, employers, and media publishers.

Interpersonal Relations

Aspiring photographers with advanced interpersonal and communication skills enjoy better job opportunities. Whether a student plans to work directly with clients, multiple media outlets, or a single employer, photographers should be personable and professional, especially those who aspire to be self-employed, work freelance, or manage their own small business.
Photography Career Paths
With a degree in the right specialization, students can pursue their choice of careers in photography. While each program provides its own unique career path in photography, the following represent some of the most popular specializations.
Photojournalism

Also called news photographers, photojournalists capture images of current events to accompany human interest stories for print news and broadcast outlets. Photojournalists may photograph people, places, or events.

Portrait Photography

Portrait photographers take pictures for a variety of clients. Some portrait photographers, such as wedding, newborn, and school photographers, travel to a particular site to take portraits, while others who specialize in editorial or fine art portraiture may work from their studio.

Fine Art Photography

Fine art photographers often develop their own distinctive method of creating images and aspire to publish or exhibit their photos to build their portfolio.

Commercial/Industrial Photography

Commercial and industrial photographers capture images of subjects such as buildings, merchandise, landscapes for clients like engineering firms, catalogs, and real estate companies. Some photographers in this field may specialize in drone or aerial imaging, both of which require training on special photographic equipment.

Fashion Photography

Fashion photographers take photos for marketing campaigns, fashion shows, and editorial projects. They work closely with designers, advertisers, and magazine editors to develop a cohesive brand identity. Fashion photographers may work out of their studio or on location.
How to Start Your Career in Photography
With broad applications in fine art, media, and communications, careers in photography suit creative professionals with an entrepreneurial side. Regardless of specialization, employers and clients typically value professional photographers with education, experience, and a strong portfolio.
While not all photography careers require a formal education, associate, bachelor's, and master's degrees provide students with the skills they need in the industry.
Graduates of an associate program can pursue careers as freelance photographers, photojournalists, and camera operators. Bachelor's degree-holders can graduate to art director, graphic design, and multimedia artist positions.
Photographers with master's degrees may qualify for careers as college professors. Many large media outlets favor highly experienced photographers with an advanced degree for leadership positions.
How to Advance Your Career in Photography
Regardless of education and experience, professionals can always seek out ways to advance their career in photography. Some states require professional licensure for photographers who sell their work, although most states offer licensure as an optional resource to photographers.
Many photographers pursue others paths toward career enhancement through continuing education units (CEUs) and networking opportunities. Students can gain an edge over competitors and increase their earning and advancement opportunities by enrolling in CEUs and joining a professional organization in their area of expertise.
Certifications and/or Licensure
Each state determines licensure requirements for professional photographers and related occupations. While most states do not require photographers to obtain a license to own and operate a photography business, some states do. Students should consult the business division of their individual state board for more information.
Photographers may also pursue the certified professional photographer (CPP) credential through the Professional Photographers of America. CPP certification demonstrates to clients that a photographer meets the highest industry standards of professionalism and expertise.
Photographers specializing in drone imaging must hold licensure in unmanned aircraft operation from the Federal Aviation Administration.
Continuing Education
Students can advance their photography career through continuing education. Learners may return to college at any time to earn a higher degree; however, many employers seek out photographers with extensive work experience for senior positions.
As programs increasingly move online, students can earn a certificate in specializations like digital photography or image editing software. Sites like Coursera and EdX also offer free online courses in photography, art, and design. Many students gain industry experience through internships and fellowships in their area of photographic expertise.
Next Steps
Whether a student plans to begin their career immediately after completing a photography degree or transition from another field, the next steps toward entering the industry are critical. Many students pursue continuing education through a fellowship or internship to gain work experience and develop their portfolio.
Students can also benefit from networking at this phase of their photography career, both independently and through membership in a professional organization like the Professional Photographers of America or American Photographic Artists. These organizations offer annual conferences, job boards, and group meetings.
Where Can You Work as a Photography Professional?
Industries
Equipped with education and experience, photographers can begin lucrative careers in print and broadcast media, publishing, and motion pictures.
Radio and Television Broadcasting

Photographers often pursue entry-level jobs in radio and television broadcasting as camera operators or production assistants to gain experience. Experienced photographers in this industry may qualify for senior positions as camera operators in larger media markets or as directors of photography for high-level projects.

Average Salary: $52,020

Newspaper, Periodical, Book, and Directory Publishers

Recent graduates of a photography program often begin their career by submitting freelance photographs to news media outlets, while more seasoned photographers may qualify for full-time positions as photojournalists or at a publishing house.

Average Salary: $52,820

Motion Picture and Video Industries

Some students aspire to become still or set photographers in the motion picture industry, while others seek industry experience and additional education to pursue a role like director of photography.

Average Salary: $71,670

Independent Artists, Writers, and Performers

Many photographers seek freedom and autonomy through creative pursuits. Most jobs in the fine arts value experience over an advanced education, enabling photographers to enter their choice of nontraditional occupations in the creative sector. Students often become self-employed as freelance photographers or explore photography as an art-making practice.

Average Salary: $46,170

Other Professional, Scientific, and Technical Services

This sector often includes photographers with specialized skills, such as scientific photographers who capture microscopic images or drone camera operators. Additionally, some students earn an advanced degree to become postsecondary photography instructors.

Average Salary: $41,040
Source: BLS
Locations
Employment rates and average salaries of photographers vary by location. California employs the highest number of photographers (6,600), followed by Florida and New York.
While California houses the most photographers in the U.S., the District of Columbia pays photographers the highest average annual salary ($89,310).
Beyond location, employment also depends on a candidate's education, experience, and artistic ability.
Resources for Photography Majors
The photography industry offers several professional organizations for photographers, artists, and editors. Membership can provide unique networking opportunities, industry news, and job advice. Many organizations attract students and recent graduates with discounted membership rates.
Professional Organizations

Open Courseware

Publications - Open Access Photography Journals

Publications - Photography Books

Publications - Online Photography Magazines
Frequently Asked Questions
Is photography a good career?

It depends. Photography careers can be lucrative and long-lasting, especially for self-employed workers, and drone and commercial photographers.

What kind of jobs are there for photography?

Photographers can specialize in many different fields, including wedding photography, commercial/industrial photography, and photojournalism. Photographers tend to gravitate toward self-employment through freelance and contract opportunities.

What is the highest paid photography job?

Commercial photographers are among the highest paid workers in their field, typically earning a starting salary of $35,000 and as much as $55,000 with nearly 20 years of professional experience.

Is a degree in photography worth it?

It depends. Creative students with an entrepreneurial streak often benefit from photography degrees.