How College Shaped My Climate Change Activism
Climate change impacts us all. Read one student's journey to climate change activism and how college helped to shape a new understanding.
Image Credit: FilippoBacci / E+ / Getty Images
The air was so thick with smoke from wildfires that the administration recommended students and their families wear masks in response to the terrible air quality. It was 2018 and my first day on my new college campus.
A year and a half before the onset of the pandemic — and on a campus with large populations of students from California and Colorado — this recommendation was almost entirely disregarded. Hazy skies and unprecedented natural disasters were nothing new to us, even as all of the incoming students stepped into this unfamiliar place.
"Our generation has been swallowing the bitter pill of inevitable environmental catastrophe from the get-go."
Our generation has been swallowing the bitter pill of inevitable environmental catastrophe from the get-go. We've experienced the effects of a deteriorating environment for most of our lives. We don't ask ourselves, "Will this happen in my lifetime?" Instead, we question where we should live in the face of worsening natural disasters. We ask if we should save for retirement. And we wonder if we could, in good faith, bring our own children into this world someday.
The Climate Change Conversation
As I eased into college, I became aware that discussing climate change among my peers often felt like discussing death. In some spaces, we're able to joke about it and keep things light. But in other spaces, it's so heavy and depressing that we're forced to change the topic before the conversation actually becomes about death.
Conversations about our changing climate are often front and center on college campuses. Unlike older generations, the topic of climate change seems to be less of a partisan issue for us college students and more of an accepted reality — a reality that some choose to fight back against and others choose to ignore.
By bringing these conversations into the classroom and to the forefront of campus life, student activists have tried to hold each other and their schools accountable. The consequences of climate change are becoming harder to deny for many people. For students, climate change activism is all but impossible to ignore. It is readily promoted and discussed at every level on college campuses across the country.
At the University of Puget Sound — my small liberal arts school in the Pacific Northwest — activism against climate change was more pronounced than I had ever experienced in my life. In my sociology and anthropology classes, we discussed the impacts of displacement from natural disasters on communities. In my bioethics classes, we read about the causes of higher asthma rates among Black communities. Almost every discipline and class had a tough reality point related to climate change.
"For students, climate change activism is all but impossible to ignore."
I would often observe in these classes how students, myself included, seemed more invigorated and vocal as conversations about environmentalism were brought up. Indeed, I believe this is attributed to the reality that our generation has expertise on the impacts of climate change. We understand climate change in ways that even leading scientists cannot — because climate change has been an ever-present reality for almost our entire lives.
Conversations outside the classroom were often the most pivotal for me. It was my peers who held me accountable and my friends in school who taught me how to best direct my energy and time towards genuine and continuous positive change.
Becoming a Climate Change Activist
My idea of climate change before coming to college was more abstract and rooted in individual responsibility. Once I arrived on campus, though, I was struck by the institutional narrative of sustainability and activism, and a deep love for the unending beauty of nature in the Pacific Northwest.
Living on campus, I would drop everything to watch the sunset dip below Puget Sound on the nights it wasn't raining. Nothing mattered — not my thesis, my dinner, my pre-existing plans — as much as walking along the shore bathed in oranges and purples and warmth. This inclination was born out of a deep sense of appreciation of the environment around me, and perhaps a subconscious awareness that such a simple pleasure would not always be an option.
Some of my conversations with friends and peers left me feeling relieved that I was not the only one who felt helpless and aimless on my path forward. Other conversations left me with a sense of shame that I wasn't doing enough, followed by a renewed sense of purpose to do more. The hyper scrutiny and constant comparison that many of us struggle to navigate throughout school, particularly those of us at smaller schools, can occasionally hold us accountable in positive ways.
Simply put, people notice when you don't show up. They notice when you don't put in the effort or when you go against your word for the sake of convenience. It can be easy to feel helpless in the face of climate catastrophes. However, I've found that it's often this type of social scrutiny that makes people actually follow through with their commitments to climate activism.
And still, environmental consciousness is not rooted at the forefront of all college students' brains at all times.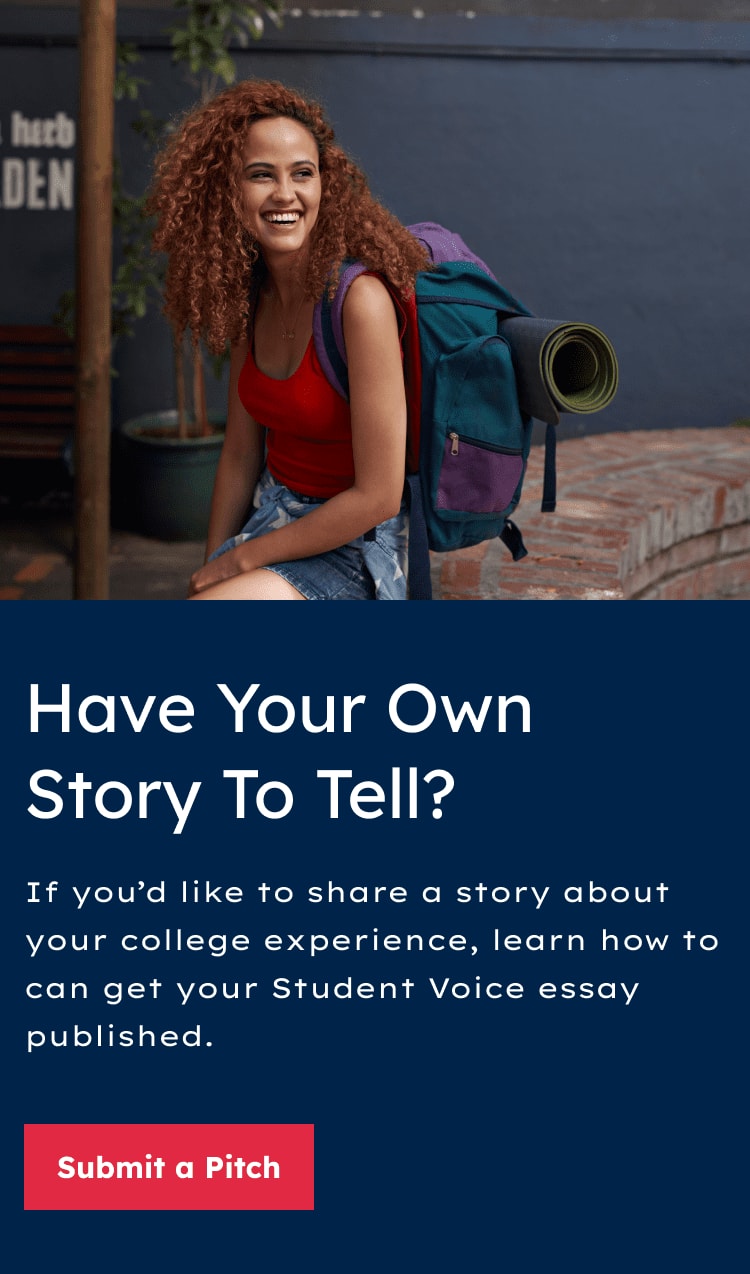 How Colleges Can Engage in Climate Activism
College students have been increasingly shifting away from the "take shorter showers" and "sort your recyclables" dialogues surrounding change. After all, these individual sustainability practices are second nature for many of us in this generation. Instead, our attention has become focused on holding those in power accountable.
By the time I arrived on campus, my school had already committed to divesting from fossil fuels over the next several decades. While the student activism that helped inspire this commitment to reduce fossil fuel investments was before my time, it cannot be overstated how important this affirmation is. This is a crucial move that every school across the country can and should make.
I firmly believe that the ultimate responsibility to combat climate change lies primarily within institutions — whether that is a four-year private university, a corporate giant, or the government itself. As individuals — particularly those of us in positions of privilege — we often make up these institutions. Holding institutions accountable for their investments, their policies, and their day-to-day actions is the best way to ensure a future for us all.
My biggest piece of advice for college students is to recognize your individual responsibility. Use your privilege to hold decision-makers and people in power accountable for your future. And finally, channel an entire generation's worth of frustration, fear, momentum, and love for our planet towards a sustainable future for everyone.
Meet the Author
Emily Kieny
Emily is a recent college graduate and a lifelong learner. After studying sociology, anthropology, bioethics, and mathematics in the Pacific Northwest she returned home to Denver, Colorado. She has always been passionate about storytelling, writing, and connecting with the people and places around her.