College is a critical time in a young person's life. Entering college means a lot of change for students: choosing a career path, broadening your social circle, and truly establishing your independence for the first time. This time of increased responsibility is the perfect time to develop healthy financial habits, and it all starts with creating and adhering to a budget. If you're new to budgeting, then you're not alone. According to a 2013 Gallup poll, only one in three Americans prepares a detailed budget of their finances. Buck the trend and embrace financial literacy in college -- your wallet will thank you in the long run.
Why Does a Budget Matter?
First-time college students are highly susceptible to overspending. Students are suddenly given free reign to manage their time and finances as they see fit, likely for the first time without any form of supervision. If a student hasn't been educated on budgeting before, whether from their parents or in high school, then making the transition to financial independence can be difficult. Budgeting is a challenge for even the most seasoned adults, but it may not even be on a student's radar.
Budgeting is also important because the college years can be some of the most expensive times of a young adult's life, and many don't fully realize it. College has never been more expensive. College graduates in the U.S. in 2013 left school owing an average of $35,200 in combined student loans and credit card debt. 39% of these graduates admit that given another chance, they would've done things differently: saved more, borrowed less, or attended a more affordable school.
If you're new to financial independence, establishing a responsible budget is essential. Before you overdraft your checking account, dip into savings, or open a credit card, you need to ask yourself: what expenses are essential in college, and what can I do without?
This guide will help you understand the value of a budget and walk you through the process of tracking your income and expenses. We will also show you how to create a successful budget with tools and tips that help you identify the areas where you can most effectively save money.
Tracking Income and Expenses
Though living away from home, some college students continue to rely on financial assistance from their parents or families. Parents might pay cell phone or credit card bills for their children, or even help them pay for tuition and room and board. Not every family can afford to do this, and most students have to rely on some combination of loans, scholarships, grants, or what they make at a part-time job to get by.
Student Loans
A student loan is a loan given to students or parents that is then used to pay for the cost of education after high school. Students are required to repay the loaned money within a predetermined span of time, as well as any interest that has accumulated. Generally, there are two types of loans available to you:
Federal student loans
Federal loans are offered through the Department of Education to qualifying undergraduate and graduate students. As with any loan, federal loans need to be repaid, but they come with comparably low interest rates, deferred payment schedules, and loan forgiveness alternatives. Eligibility varies based upon demonstrated financial need and degree level. Undergraduates at accredited schools can borrow up to $16,500 per year through Perkins Loans and Direct Subsidized and Unsubsidized Loans. Graduate students may borrow up to $28,500 in federal loans each year, but the majority of funds are considered unsubsidized, meaning the loan will begin accruing interest as soon as it is taken out.
Private student loans
These nonfederal loans are offered by commercial and private lenders, such as a bank, credit union, school, or state agency. Unlike federal loans, all private loans are unsubsidized and are not based on a student's needs. Due to their high rates and strict repayment structures, students should minimize the amount of money they borrow privately. Take full advantage of federal loans and scholarships before brokering a commercial student loan.
HOW MUCH SHOULD YOU BORROW?
Having a variety of loans options available is great, but it can be dangerous to take out too many student loans. You should try to determine how long you plan to be in college and take out a loan that will satisfy your exact needs without overborrowing. The larger the loan, the more interest it will accumulate, and the more you'll have to pay back in the long run.
We recommend using the mapping your future tool to help determine how many student loans you should take out. The tool helps you help you estimate how much you can afford in students loans based on an expected salary once you enter the workforce, or what salary you will need to support your current student loan debt.
Scholarships
Scholarships are often merit-based awards, offered by a wide variety of organizations. They are awarded for a variety of reasons, such as strong academics, excellence in sports, or volunteer work within a certain community or organization. Most importantly, scholarships don't have to be paid back. Consult with your school's financial aid office or career center for assistance finding scholarships that you qualify for. You should also visit the U.S. Department of Labor's free scholarship search tool to get a better understanding of major scholarships and their application deadlines.
Grants
Grants are need-based funds that are awarded to college students with distinct financial need. A good first step to determine if you qualify for grants is to submit your Free Application for Federal Student Aid (FAFSA) to the U.S. Department of Education. Grants can be awarded from the federal or state government, private or nonprofit organizations, and schools. There are a number of application resources and tips on the FAFSA website. You should fill out your FAFSA form by June 30th of the year you want to start attending college to guarantee eligibility for grants and federally-subsidized student loans.
Part-Time Jobs and Work-Study
Many students hold part-time jobs to supplement their income and help pay for their education. On-campus positions offer accommodating schedules and may qualify for Federal Work-Study, a government program that guarantees part-time campus work to qualifying full-time students. Students must file their FAFSA forms in order to be considered for a work-study. Some students seek part-time work off-campus, but it can prove difficult to find a job flexible enough to work around class schedules.
There are an estimated 3,400 postsecondary institutions in the U.S. that offer federal work-study opportunities. Federal work-study jobs could include tutoring elementary school students, working in a college mentor program, or even joining an emergency response crew. The program strives to place students in work related to their field of study whenever possible. Some schools even allow their students to count any on-campus job as their work-study.
Income Summary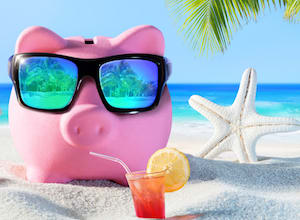 Your income each semester depends on three major factors:
1. How much loan money you qualified for and accepted
2. How many scholarships and grants you're applying towards your tuition and fees
3. How many hours you work for work-study or a part-time job
If you accepted more loans, grants, or scholarships than you needed to cover tuition, room and board, and facilities fees, then the financial aid office of your school will issue a refund check. This money can be put into your bank account and applied towards books for the term and other education-related expenses. However, be sure to check your student bill to make sure everything has been paid for before spending any refund money.
Budgeting Terminology

| | |
| --- | --- |
| Total Income | This includes the money you arrived at school with, any refunds you receive from your financial aid, and the funds from a steady paycheck. |
| Monthly Income | These are recurring funds that you receive each month from your job. The amount will vary based on the hours you work. |
| Discretionary Income | This is your spending money. These are the funds you have left over after paying your bills and moving money into a savings account. |
| Necessities | Also called "needs", these are goods or services you need to live or succeed in school. |
| Wants | In terms of budgeting, these are goods and services that you can live without. |
| Fixed Expenses | These are necessities that you are required to pay the same amount for every month. |
| Variable Expenses | These are necessities or wants with prices that vary month to month. |
| Emergency Fund | Another term for the money you transfer from your checking account to your savings account. |
Creating a Budget
While creating, balancing, and maintaining a budget may seem like an arduous task, knowing how much money you earn and spend each month goes a long way towards keeping your finances in order. A budget will help you prioritize which expenses are needs or wants and will keep you from developing poor financial habits. These four simple steps will help you create your first budget:
Assess your financial situation

First, log on to your bank or credit union's website and review your financial situation over the past month. You'll want to make a list of all of the things you spend your money on in the typical month, as well as an average cost of each item.

Categorize your expenses

Next, categorize the list of expenses you created in step 1. You should tag everything as either a "necessity" or a "want" and then sort everything into these two groups.

Crunch the numbers

Now that you have organized your expenses, it is time to crunch the numbers! Start by adding all of your necessities together and then subtracting that number from your monthly income. This number is your discretionary income.

Create your budget

This is where your budget will take shape. Review the discretionary income number you calculated in step 3. If the number you get is negative, that means that you are spending more money than you earn each month. If the number is positive, then you have extra money to spend.
Now that you have everything organized, see what items you can adjust or cut from your list to get your budget to where you'd like it. For example, if you find that you are spending more money than you earn and are also spending $50/month on movie tickets, then you should consider cutting back on this "want" to balance your budget. This step takes the longest, but getting your finances under control is definitely worth the effort.
Sample Budget
The following is a sample budget created for a student moving off-campus for the first time. For our calculations, we used the following criteria:
Only necessary expenses were included in this budget, though discretionary income was calculated.
Monthly income is based on $8 per hour (75 cents more than the federal minimum wage) for a part-time job off-campus, working 30 hours per week.
Costs for rent and utilities reflect average expenses when living with two roommates.

For comparison, the average rent for a 3-bedroom is $1,685 nationally
Utilities are variable, so the price reflects an estimate of how much should be set aside each month to comfortably pay utility bills.
This budget assumes a great deal, and it doesn't reflect every student's situation. The budget assumes that a student is on their parents' insurance, isn't responsible for car payments, and doesn't yet have credit cards, so those bills were excluded. If you do have a credit card, be sure to include the payment into your budget, and only use it for emergencies.
Necessities: $780 (81%)
Discretionary Funds: $180 (19%)
If you find that you're struggling to make ends meet, you should consider revising your budget. Look at where you are spending your money to determine how you can improve your budget. There are many electronic budgeting tools that make it easy to keep your finances in order.
BUDGETING TOOLS
Tracking and managing your expenses through an app, computer program, or bank service can simplify the process and reduce the likelihood of human error. Below, we provide a few tools that you can use to make budgeting simpler.
| | |
| --- | --- |
| | Microsoft Excel provides several budgeting templates in it's latest edition, including one specifically for college students. All are free to use and can be saved on your computer. |
| | Simple.com works with Bancorp Bank, Member FDIC, to provide customers with a free, insured online checking account and budgeting tools that make it easy to spend smart. |
| | Mint is designed to securely connect with your bank account and automatically organize and categorize your spending habits. It offers suggestions for ways to cut back on the areas where your spending is the highest. |
| | Left to Spend is an app for those who want to set a spending allowance and track how much of their budget is left. Users choose a target allowance and can review transaction histories from over the past month. |
| | Personal Capital is a general wealth management app that accounts for any type of financial investment. Personal Capital's features are robust enough that students can continue using the app well into their adult life. |
| | YNAB short for "you need a budget", this tool offers a variety of budgeting tools including a debt repayment interface that helps create a payment schedule based on when your financial goals. YNAB is free for the first month. |
Before committing to one of the above tools, check with your current bank or credit union. Many financial institutions provide their account holders with budgeting tools that are automatically populated with your balance and spending habits. These budgeting tools are often free to use and integrated with an institution's website or online portal.
Regardless of your preference, we strongly recommend using some sort of tool to help organize your budget if you are new to budgeting. Staying organized is the key to maintaining a balanced budget, and can prepare you for a healthy financial future.
Tips for Saving in College
It is never too early to start saving. Here are some tips to help you develop savvy saving habits today:
Establish a Credit History

Signing up for a credit card is a smart way to start building your credit score in college. However, an overdependence on credit cards can lead to large amounts of debt. Limit yourself to one or two low-interest cards, and pay them off each month. Try to maintain a low balance of 20-30% of the credit limit. Maxing out credit cards will hurt you in the long run. Even if you pay the minimum on them each month, they accrue interest that will extend the time it takes to pay off the balance. A good rule to follow is only using your credit cards for big purchases that you can slowly pay back over time. You can use your checking account or cash for smaller, everyday purchases.

Don't Pay Full Sticker Price on Textbooks

Over the past 30 years, college textbook prices have skyrocketed. Since 1978, textbook prices have risen 812%, an increase much higher that of housing prices, medical costs, or the consumer price index. In fact, one study found that the average college student pays about $655 a year for textbooks and supplies. Luckily, websites like AbeBooks, Chegg, and BookFinder make it easy to find discounted copies of almost any college textbook. You might also try making a study group in each of your classes and suggesting that everyone chip in on the cost of one shared textbook.

Cook For Yourself

Dining out at restaurants or having a few drinks with your friends is always fun, but the bills will quickly add up. In fact, Cheapism crunched the costs of eating an average meal out at a restaurant vs. cooking the same meal at home. Their calculations show that a home-cooked meal can cost up to 60% less than going out to a restaurant. Instead of eating out every night, consider learning how to cook at home, or hosting a dinner party at your apartment instead.

Embrace Communal Living

Living with roommates is one great way to reduce your cost of living. With one or two roommates, your rent price will be significantly reduced and groceries and utilities bills can be split. If you and your roommates share a similar palette, you may even save time on cooking food!

Dorm life is another cheap, communal housing option. The cost of room and board for a single semester is commonly paid all at once, instead of each month along the way. Therefore, you can roll your housing costs in with tuition and take care of them both at the beginning of each semester. One added bonus of living in a dorm is access to a cafeteria, which could reduce the amount you spend on food as well.

Frequent Thrift Stores

Thrift stores are a savvy option for students looking to buy clothes, or fill their apartment or dorm room with dishes, furniture, or small appliances. Thrift store discounts can be as high as 90% off the retail price. A shrewd shopper can save hundreds by sticking to thrift stores.

Use Student Discounts

Your school ID is more valuable than you might think. Many retailers like JCrew, Banana Republic, and Amazon offer discounts for students with a school ID or a .edu email. Amazon Prime offers a special student discount that comes with six free months of service, and several retailers will offer a discount for students shopping for a laptop or tablet. Your student ID will also likely get you discounts at local restaurants and businesses near campus, so keep it in a safe place in your wallet, and don't hesitate to ask local establishments about their discount programs.

Take Advantage of Campus Resources and Events

Movie screenings, intramural sports, pizza nights, and volunteer opportunities are prevalent on college campuses. Your school's student union should have a calendar of events. If your campus has its own bus lines or bike rental services, seriously consider using them for all of your transportation needs on campus. Avoiding a car payment, car insurance, and constantly paying for gas can be a huge source of savings.