"STEM" is an abbreviation for science, technology, engineering, and mathematics. Predominantly, these are the fields in which new industries, businesses, and human possibilities are conceived. STEM workers solve everyday problems, research and analyze data about the world around us, and use their knowledge to design everything from computer programs to prosthetic limbs. STEM workers occupy jobs ranging from food science technician to cartographer, engineering manager to database administrator.
Earning a STEM degree and working in the field requires a rigorous work ethic. To succeed in STEM, students need to be dedicated, intellectually curious, organized, detail-oriented, and have good time management skills. Well-rounded STEM employees must also develop "soft skills," including the ability to communicate ideas clearly, think creatively, and work with a team.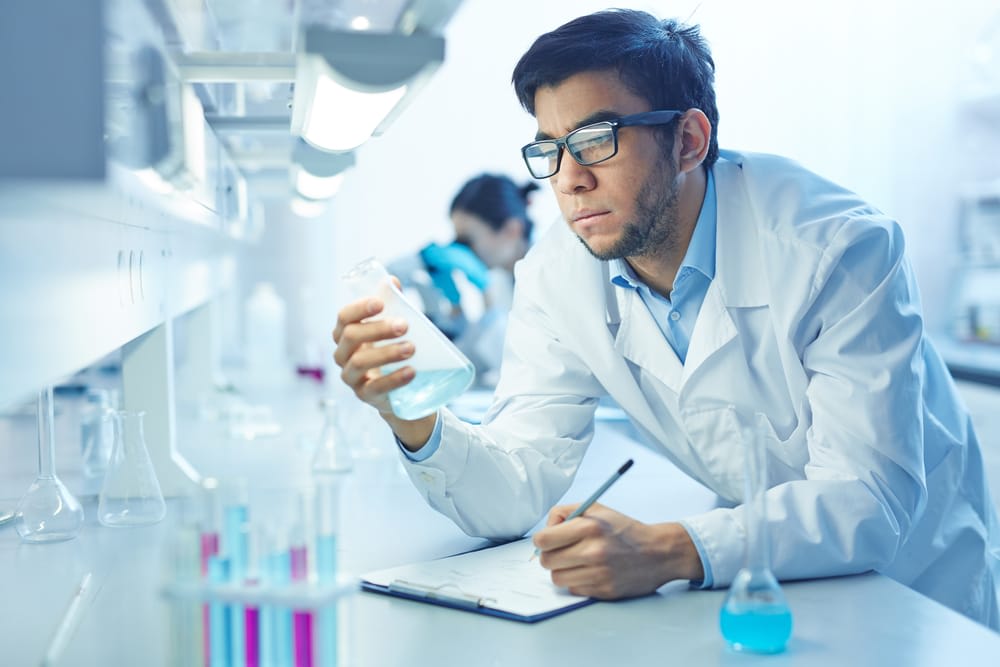 STEM Employment by State
STEM job opportunities vary greatly between states. Larger states employ hundreds of thousands of STEM workers in a variety of industries, while smaller regions will employ fewer, and in less diverse roles. To help graduates determine the best place to pursue a high-paying and rewarding career in STEM, we've ranked the 50 states based on the opportunities available to STEM graduates. Our rankings were determined by the net-number of STEM jobs in each state, as well as the average income of STEM employees. The rankings are indicated on the map below:
STEM Employment Snapshot
Educational Paths to a Job in STEM
There are dozens of STEM disciplines and a range of professional fields recruiting students with strong math and science skills. Here, we'll highlight some of the more common STEM programs offered on major campuses. Most of these fields offer opportunities for greater specialization, particularly for students in graduate programs.
Astronomy

Astronomy majors learn about the universe by studying physics and chemistry related to celestial objects, and often take courses in calculus, stellar astrophysics, astronomical techniques, and mechanics. Astronomy majors that seek professions within the field tend to become college faculty members; others work at federally-funded laboratories, while about one in ten work in private industry, such as the aerospace sector.

Biology

Biology majors ask questions about how the living world works, interacts, and evolves, and have the opportunity to study everything from evolution and nanobiology to biophysics and applied bioinformatics, chemistry, and physics. Beyond jobs in academia and education, biologists are essential to the advancement of a range of sectors, including medical sciences, biotechnology, and the pharmaceutical industry. Biology majors may seek careers as water quality specialists, geneticists, and doctors.

Chemistry

Chemistry students take a variety of classes in organic, inorganic, and physical chemistry, as well as physics, mathematics, and statistics. While studying chemistry, students develop essential skills like creative problem solving, data analysis, and communication, and as most universities offer both bachelor's and master's degrees in chemistry, students have strong opportunities to pursue careers in academia or in technical fields. Beyond academia, a range of career options are available for chemistry majors including working as analytical chemists, pharmacologists, or even toxicologists.

Computer Science

Technological progress in recent decades has increased the need for talented computer science majors, who take a range of courses, including artificial intelligence, robotics, and even video game programming. Core courses include computer organization and systems, principles of computer systems, and data structures and algorithms, which graduates may apply to a range of professional opportunities, particularly as programmers, infosec professionals, or web developers in the flourishing technology sector.

Electrical Engineering

Electrical engineering students take classes that cross disciplines, including courses in mathematics, calculus, and sustainable engineering. High-level courses within the field include electromagnetic waves and materials, integrated circuit engineering, and digital signal processing. With these skills, electrical engineering majors create electrical systems and devices that improve the human experience, shaping everything from iPads and GPS navigation hardware to hydro, wind, and solar power generation systems.

Geology

Core courses in geology include beginner-level geology, physics, chemistry, and mathematics, as well as petrology, tectonics, stratigraphy, and more. Students may go on to learn more about the planet's surface environments, physical processes like earthquakes and plate movements, or even specialties related to paleontology, the study of life preserved as fossils. Professionally, geology majors are integral to urban planning, mining and resource extraction, primary education, and more.

Information Technology

Information technology (IT) students study advanced-level math (including discrete mathematics and calculus), along with interactive design, web application development, and organizational communication. Careers in IT are plentiful, from network and database administrators to application system designers and multimedia specialists, requiring professionals to apply coding skills while undertaking data acquisition and retrieval.

Math

Most broadly, mathematics serves as a bridge between the physical world, the internal world, and the abstract spaces between. Mathematics majors may study everything from algebra, geometry, and topology to applied mathematical fields like fluid dynamics, and even theoretical computer science. Whether mathematicians pursue research, teaching, or even investment banking and strategic consulting, understanding core mathematical concepts serves as a strong foundation to professions requiring attention to detail and rigorous analysis.

Mechanical Engineering

Mechanical engineering students take basic science classes (including chemistry and physics) before launching into major-specific courses like mechanical systems, thermal science, differential and integral calculus, experimental physics, and more. Mechanical engineers are interested in both functionality and aesthetics, and as professionals design and manufacture all sorts of products, from the immense (satellites and spacecraft) to the nearly microscopic (parts for home computers).

Physics

Students studying physics focus on the most basic elements of scientific inquiry in order to learn how to effectively solve a variety of complex problems in everything from classical mechanics, to optics and electromagnetism, to quantum mechanics. Employing advanced mathematical reasoning and even laboratory skills, physicists may find themselves in a range of professional environments solving problems related to climate change, commercial space travel, and even food safety.
Distance Learning Opportunities
Online programs are key to expanding STEM education to more students. Online courses attract a wider demographic of students, and provide working professionals interested in STEM with an opportunity to change careers without disrupting their current obligations. While some of the components of a STEM curriculum are difficult to implement online — such as lab work — many schools are addressing the problem head on. Some colleges are implementing innovative laboratory programs in which students receive materials in the mail and conduct experiments at home. Other programs require distance learners to commute to campus occasionally for labs.
Featured Rankings: Best Online Bachelor's in Environmental Science, Best Online Master's in Engineering, Best Online Bachelor's in Accounting, Best Online Programs Information Technology
The US and STEM
The United States currently ranks 27th in math and 20th in science in the Organization for Economic Cooperation and Development's ranking of 34 developed countries. Worryingly, only 16% of high school seniors in the U.S. are proficient in math and have a desire to pursue a career in STEM. Meanwhile, many STEM jobs are projected to grow far faster than the overall job market, providing a perfect opportunity for career-minded students to enter a growing field.
In 2011, the U.S. government began a rigorous initiative to improve STEM education for students from preschool through graduate school. The government has invested heavily in math programs, increasing access to STEM learning technology, particularly for demographics of Americans who have long been underrepresented in STEM education. This push for STEM education is not only important but imperative, as the United States struggles to remain competitive in an increasingly technological world. Without this strong push, the U.S. may be short of skilled workers by the end of the decade.
Recently, some schools have also added another focus to STEM programs: the arts. In response to widespread concern that STEM-focused curriculums gloss over a critical educational element, STEAM schools have re-introduced art programs. The arts help students foster their creativity, which in turn helps them develop better critical thinking and reasoning skills. Moreover, artists and creative types have long contributed to scientific progress and technological breakthroughs. By integrating the arts into a traditional STEM education, STEAM proponents hope to effectively tap into the creative potential of artistically-inclined students.
Women in STEM
Though women account for nearly half of the U.S. labor force, more than three in four STEM workers are men. Additionally, women who earn degrees in STEM fields are less likely to be employed in STEM careers than men. Throughout their time in school and the workplace, women must combat social-gendered norms that subtly encourage young girls to pursue other career paths and all too often, more direct forms of sexism and sexual harassment.
There is also evidence to suggest that STEM jobs are less accommodating to women who want to raise children. The ramifications for these trends extend beyond inherent unfairness. According to National Geographic, when women are underrepresented in STEM professions, scientific innovation is limited. For example, many medical advances developed by all-male research teams only test results on men; oftentimes, this new technology is ill-suited to women's medical needs. The White House Council on Women and Girls recently started an initiative to develop engagement in STEM amongst girls, increase mentoring throughout educational levels, and build support networks to encourage women to pursue STEM careers.
Career Paths for STEM Jobs
Those opportunities continue to grow and change as technology develops. To demonstrate the exciting range of opportunities within STEM, we've identified and explored a few of the more common career paths in each field.
Science Careers
Biological Technician

Chemists and Materials Scientist

Geoscientist

Microbiologist

Zoologist and Wildlife Scientist
Technology
Computer Programmer

Computer Systems Analyst

Database Administrator

Information Security Analyst

Software Developer
Engineering
Aerospace Engineer

Chemical Engineer

Civil Engineer

Electrical Engineer

Mechanical Engineer
Math
Actuary

Cost Estimator

Mathematician

Operations Research Analyst

Statistician
PLEASE PROVIDE A BRIEF BACKGROUND OF YOUR ACADEMIC AND PROFESSIONAL EXPERIENCE.
My name is Sonja Fisher and I am a STEM professional. I have over 23 years of experience in the Information Technology field focused on Big Data, Data Science, Business Intelligence, and Data Warehousing. I have a BS. Mathematics, a BS. In Statistics, a minor in Psychology and an MBA and Doctorate in Business. My doctorate in business my dissertation focused on women in Information Technology Leadership positions and I studied the five factors surrounding this. I discovered some ground breaking aspects in my dissertation that is now published. I currently work at Splunk as a Senior Sales Engineer. I am also a co-founder of the first national technical sorority in America called Alpha Sigma Kappa, Women in Technical Studies. I am published in 4 different books as well as with my dissertation and I recently started my own company based on these efforts called Nonstop 4 the Top. My company is focused on inspiring women to achieve their dreams and rise to the top in technology, entertainment, and business.
WHAT FACTORS SHOULD A STUDENT TAKE INTO ACCOUNT WHEN CONSIDERING A DEGREE IN THIS FIELD?
Students should be aware of the skills needed in this field both soft skills and technical skills. The technical skills that are needed are constantly changing so they need to stay aware of what is new and relevant. Also, if you can put yourself in the position to really understand how the technology satisfies business use cases and real world situations this will really make you a strong sales engineer and consultant to have both these valuable skills.
WHAT DO YOU FIND MOST FULFILLING ABOUT THIS CAREER PATH?
This path is very rewarding not only from a lucrative perspective but also from a career growth and learning perspective. You are constantly challenged and learning new things every day and continue to become a strong professional.
WHAT CHALLENGES DO YOU FACE DAY-TO-DAY?
The biggest challenge I faced and still faced is being one of the only women in technology. One time in college I was told I would never graduate in Math and Statistics because I was a woman. I proved that professor wrong and even won an award only given out to 1 out of 1,000 students called the Paul Cartwright award at the University of MN. I always feel women need to prove themselves more rather than just being accepted that we know our stuff as much as men. I also feel it is harder to move up on technology positions due to lack of sponsorship opportunities that I was able to prove in my dissertation and 7 years of research in this field.
WHAT TYPE OF PERSON WOULD EXCEL IN THIS INDUSTRY?
A person that survives in this industry is someone who is resilient, tough, works hard and adaptable. Also, someone who is constantly willing to learn new content, apply it and stay current. And someone who can learn from their mistakes and come back stronger.
WHAT ADDITIONAL ADVICE CAN YOU GIVE TO SOMEONE PURSUING THIS CAREER PATH?
Network as much as you can! Don't be afraid to ask questions and get help along the way. Continuously challenge yourself. Learn something new every day and become the most adaptable chameleon possible.
Additional Resources
STEM Job Boards
STEM Professional Organization