Psychology is a multifaceted discipline that deals with the science of mental processes and behaviors. Psychology majors can pursue a variety of disciplines within the field, including clinical, behavioral, counseling, and school psychology.
As one of the most popular bachelor's degrees conferred, a psychology degree prepares students for success in a variety of career settings. While some psychology majors go on to pursue a master's or doctorate, others find employment with a bachelor's degree in fields such as business or education. Regardless of their desired path, psychology majors are competitive for many jobs due to their strong critical thinking and communication skills.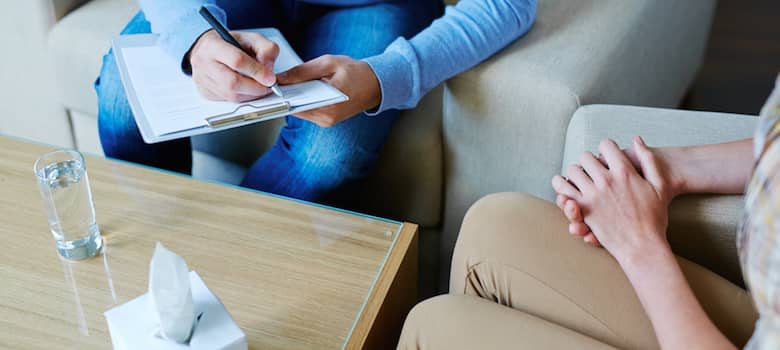 Career Paths in Psychology
As a multidisciplinary field, psychology encompasses many different career paths. For example, if you want to help people overcome drug and alcohol addictions, you may find employment as a substance abuse counselor. Alternatively, if you prefer working in a business environment, helping managers develop and hire new talent, you may choose to work as an organizational psychologist.
If you are interested in working directly with patients in health and social care settings, you may consider a career as a clinical psychologist; however, most clinical positions require a doctorate and license to practice. Each psychology career path has different licensing and educational requirements, but all psychologists should possess strong communication skills, patience, and analytical skills.
Psychology Career Outlook
As more people turn to psychologists for help with mental and behavioral issues, the demand for psychologists continues to increase. According to the Bureau of Labor Statistics (BLS), the overall employment for all types of psychologists is projected to grow 3% from 2019-2029, which is about as fast as the average projected growth for all other U.S. occupations.
Additionally, the median annual salary for all types of psychologists was $80,370 in 2019, which is more than double that of the median wage for all other occupations ($39,810). However, because psychologists work in a variety of fields, earnings vary greatly based on a worker's industry and occupation type. For example, while the median annual wage for organizational psychologists was $92,880 in 2019, clinical, counseling, and school psychologists made a median annual wage of $78,200.
How to Start a Career in Psychology
Careers as a clinical psychologist usually require a doctoral degree and state licensure. However, a bachelor's degree in psychology can open the door for entry-level roles in fields like business and education. Bachelor's degree-holders can work in marketing, advertising, and sales positions, applying their understanding of human behavior through a consumer lens.
Most careers in psychology can be unlocked by earning an advanced degree. With a master's degree, you can pursue many nonclinical psychology roles, such as a school counselor or an industrial-organizational psychologist; both of these positions feature strong earning potential.
With a doctoral degree, clinical positions in counseling, social work, and therapy become available. Graduate students can earn a Ph.D. or a Psy.D. These programs often include at least one year of supervised clinical experience. Once completed, candidates must successfully pass an exam to become a licensed psychologist.
Education
While some entry-level roles can be found with an associate degree, these programs typically serve as the starting point to a student's academic journey. Careers for psychology majors typically require at least a bachelor's degree, while most practicing psychologists need an advanced degree and state licensure.The sections below provide an overview of program offerings and common psychology careers found at each education level in psychology.
Certifications and/or Licensure
Psychologists are required to become licensed in the state in which they intend to practice. To become eligible for a license, candidates must meet a set of requirements. Along with meeting educational requirements, they must accrue 1,500-6,000 supervised clinical hours — depending on the state requirements — and pass the Examination for Professional Practice in Psychology.
Passing scores for the EPPP vary by state, but most require at least a 70%. Some states also require a seperate jurisprudence exam. The Association of State and Provincial Psychology Boards hosts an interactive handbook that outlines each state's requirements.
School psychologists, however, have a slightly different set of licensing requirements. Rather than earning the general psychology license, they must obtain a license in school psychology specifically. Most states require candidates to pass a teacher certification test, and some states also require internship hours.
Continuing Education
A psychologist maintains their license by completing continuing education credits. Most states require licensure renewal every 1-3 years. The amount of required credits, however, vary greatly by state. For example, Hawai'i only requires 18 credits every two years, while Vermont requires 60 credits over that same time span. The American Board of Professional Psychology (ABPP) keeps an organized database of each state's deadlines and credit requirements.
Alternatively, while all psychologists are required to hold licensure, they are not required to earn board certification. However, some psychologists choose to earn certification to demonstrate a high level of competency in their respective field of psychology. To become certified by ABPP, psychologists must present their credentials, submit practice samples for peer review, and take an oral exam. The board requires neuropsychologists and forensic psychologists to take additional written exams.
Next Steps
Another way that psychologists can further advance their career is by joining professional groups. Through affiliations with the American Psychological Association, each state has their own association that is designed to provide professional development resources and a means of support.
Since psychologists often deal with a high degree of stress, these associations give them a chance to connect with colleagues and discuss challenges they face on the job. Through blogs and forums, psychologists can also discuss new ideas and share their findings to further advance the field.
Apart from state associations, psychology professionals should also consider becoming involved in national organizations. Psychologists can join the National Alliance of Professional Psychology Providers, while counselors can join the American Counseling Association. These groups may offer continuing education opportunities, annual conferences, and exclusive publications.
Frequently Asked Questions
What are the career options for psychology students?

A bachelor's degree in psychology can lead to employment opportunities in fields such as business, education, and healthcare. Within these fields, students can pursue roles as analysts, teachers, and childcare workers. Clinical psychology positions, however, typically require a doctoral degree. Clinical psychologists often work in private practices, hospitals, and health clinics, assisting patients with mental health and behavioral issues.

How do I start a career in psychology?

The minimum degree requirement to become a practicing psychologist is a master's degree, though many of the top careers in psychology require a doctorate. Additionally, most states require one or two years of a supervised clinical experience to qualify for a license. Once you meet the state's requirements, you must successfully pass a national exam.

What are the highest-paying jobs in psychology?

Salaries for psychologists vary greatly depending on their field, experience, and industry type. In 2019, industrial-organizational psychologists earned a median annual wage of $92,880, while clinical and counseling psychologists earned $78,200, according to the BLS. Additionally, psychologists working in government roles earned a median annual wage of $96,870, while those employed in elementary and secondary schools earned a median annual wage of $76,960.

Is a psychology degree worth it?

While it may be difficult to enter into high-paying jobs in psychology with only a bachelor's degree, psychology majors can work in fields like business and education. Additionally, if you're passionate about helping others, you can also pursue entry-level roles in the social services sectors. Psychology majors who go on to earn a graduate degree can access lucrative careers with high levels of responsibility.
Read More About Psychology on BestColleges
Best Online Associate in Psychology Programs
Best Online Bachelor's in Psychology Programs
Best Online Master's in Psychology Programs