What Can You Do With a Psychology Degree?
Psychology is the science of human behavior and mental processes. While many psychology students take on professional roles as therapists and counselors after graduation, expertise in this area can also be applied to a wide variety of other fields, including education, business, information technology, and the law.
The Bureau of Labor Statistics (BLS) projects that employment for psychologists will increase by 14% between 2016 and 2026, roughly double the rate of growth for the rest of the economy. Certain related occupations should experience even more rapid expansion. For example, the BLS projects that the demand for marriage and family therapists will grow by an impressive 23% during that same span.
In addition to excellent job prospects, many psychology careers also offer strong earnings potential. In 2018, for instance, psychologists earned a median salary of $79,010, approximately $40,000 more per year than the median pay for all other occupations. Marriage and family therapists also earn significantly more than the national average.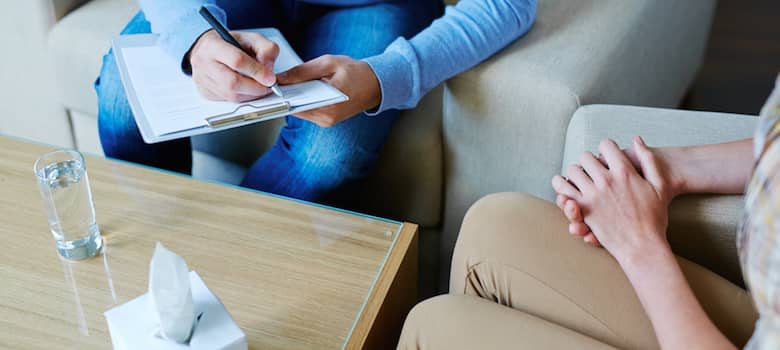 This page provides a broad overview of psychology career paths, including information on the types of degrees available, profiles of specific professional opportunities in the field, and a list of resources for psychology majors. It also features an interview with a licensed psychologist.
Psychology Employment by State
Professional opportunities for psychologists can vary considerably from state to state. For example, California is home to more than 17,000 of these professionals, while only 220 clinical, counseling, and school psychologists work in North Dakota. Rhode Island, however, boasts the highest concentration of psychologists per capita.
Generally, urban centers offer more jobs and higher salaries than rural locations, owing to the presence of larger employers like universities and hospitals. Regardless of where they live, psychologists with an advanced degree and those who specialize in working with the elderly and in rehabilitation psychology should enjoy the best job prospects.
Psychology Employment Snapshot
Educational Paths to a Career in Psychology
The type of psychology degree you earn shapes the kind of professional opportunities available to you. For example, while a bachelor's in psychology does not qualify you for roles as a licensed psychologist or therapist, it can allow you to take on a variety of nonclinical careers, including jobs such as market analyst or training and development specialist. To diagnose and treat mental illnesses, you often need either a master's or doctoral degree.
Associate Degrees
An associate degree prepares you for entry-level careers in psychology. After completing an associate program, you may choose to work as a social and human service assistant, providing direct care to clients and supporting social workers as they connect individuals and families with government benefits and other community services. You may also find employment as a health educator or community health worker, collecting data and teaching people how to lead healthier lives.
Associate programs in psychology usually consist of 60 credits and require about two years of full-time study. Part-time students may need up to four years to earn their degree, while some online programs offer accelerated tracks that allow learners to graduate in as little as one year.
After enrolling, students typically begin by completing general education coursework in subjects like English, mathematics, and the humanities. Within their major, learners may explore foundational topics such as human growth and development, the psychology of personality, and abnormal psychology. Finally, students may customize their degree through elective classes, opting either to study more advanced subjects in psychology or explore an entirely unrelated discipline.
Because most careers for psychology majors require at least a bachelor's degree, you should consider earning an associate as the first step towards ultimately completing an undergraduate program through a four-year institution. Many public colleges and universities have transfer agreements with community colleges in their state, making it easy to apply the credits you earn in an associate program toward a bachelor's.
Bachelor's Degrees
With a bachelor's degree in psychology, opportunities open up in a variety of fields, including business and education. For example, many psychology graduates apply their understanding of cognition and learning to work in human resources, acting as training and development specialists or human resources managers. Other BA in psychology careers include market research analyst and survey researcher, roles where graduates use their understanding of human behavior to collect and analyze consumer data. Finally, after earning their degree, many students elect to continue their education, applying to graduate programs in psychology or law school.
Most bachelor's programs consist of 120 credits, and full-time students usually need four years to graduate. If you enroll in an accelerated program, or if you have previously earned an associate degree or college-level credit, you may only need as little as two years to meet all of your program's graduation requirements. Part-time learners who must balance their undergraduate studies with a job or family responsibilities may need 6-8 years to earn their bachelor's.
In addition to general education classes, undergraduate psychology programs at four-year colleges offer advanced instruction in subjects like forensic and criminal psychology, counseling processes and techniques, disorders of childhood and adolescence, and contemporary issues in social psychology. Many programs also require or strongly encourage their students to participate in some form of field-based learning, such as an internship or capstone project. These experiences give learners the opportunity to grow their professional networks and apply their classroom instruction to real-world challenges in psychology.
Featured Rankings
Master's Degrees
Earning a master's degree allows you to take on several nonclinical roles in psychology. For instance, you may choose to serve as a marriage and family therapist, helping your clients cope with challenges like divorce or unemployment. Alternatively, you may opt to work as a school psychologist, addressing student learning and behavioral problems and collaborating closely with other educators. Some graduates also take specialized coursework to qualify for jobs as industrial-organizational psychologists, professionals who use psychological principles to create better working environments.
The nature of master's programs in psychology often varies, though most consist of 30-60 credits. Full-time students usually earn their degree in one or two years, though some may need longer to conduct and analyze original research for a thesis.
Your graduate coursework depends on your area of interest and professional goals. For example, a student interested in educational psychology may take classes in subjects like theories of learning and the psychology of the exceptional individual, while learners specializing in industrial-organizational psychology may instead study topics such as organizational behavior and the psychology of leadership. Some programs also offer more general courses of study in psychology, preparing you for multiple career paths.
Regardless of their area of focus, nearly all master's candidates must complete a series of courses on research and data analysis. In these classes, students learn to choose appropriate research methodologies, create surveys and other assessment tools, and identify correlations that may inform future interventions or policy decisions. Most programs require learners to apply this skill set and knowledge to a master's thesis or a research-based capstone project.
Doctoral Degrees
To diagnose and treat mental issues as a clinical psychologist, you typically must hold both a doctoral degree and a state-issued license. Licensure requirements vary, but most states mandate that psychologists complete at least one year of supervised professional experience, pass an exam, and earn continuing education credits to maintain their license.
Doctoral programs in psychology usually consist of 60 or more credits. Full-time students may need 4-7 years to earn their degree, largely depending on how long they take to research, write, and defend their dissertation.
In most doctoral programs, candidates first take courses in areas like qualitative design and analysis, advanced inferential statistics, and the theories and applications of multivariate statistics. Depending on their academic and professional interests, students may also complete coursework in subjects such as mental health policy and practice, trauma and disaster relief, or gender diversity studies.
As they near the end of their program, doctoral students typically must pass a comprehensive examination assessing the entire scope of their classroom learning. Then, in close consultation with their faculty advisor, doctoral candidates develop a dissertation proposal that consists of a primary research question and their planned research methodology. Once the proposal is approved, candidates generally take 1-4 years to conduct their research. After finishing their dissertation, students must defend their findings before a faculty committee. This committee then decides whether to formally award a candidate a doctoral degree.
Throughout their doctoral studies, many psychology students participate in internships and other supervised clinical experiences to collect original research and meet state licensure requirements.
Career Paths in Psychology
You can choose among many different careers with a psychology degree. For example, you may hope to work as a child psychologist, diagnosing and treating developmental and learning disabilities or attention deficit disorder. You may instead become an organizational psychologist, working with companies to enhance employee satisfaction and improve occupational health and safety. While you may need different degrees and licenses to qualify for specific roles, all careers in psychology demand exceptional communication, analytical, and problem-solving skills.
The section below includes a list of psychology careers broken down into five areas of specialization. Follow the links to read more about employment opportunities, educational and licensure requirements, and additional information specific to each of these disciplines.
Addiction and Recovery
Substance abuse and addiction counselors support individuals struggling with alcoholism, drug addiction, eating disorders, and other mental health issues. To qualify for a license, most states require counselors to hold a master's degree and complete 2,000-4,000 hours of supervised clinical experience. Direct-service roles, like rehabilitation aide, may require only a bachelor's degree.
Explore Addiction and Recovery Careers
---
Behavioral Psychology
Behavioral psychologists treat issues like anxiety and depression through therapy and behavior modification techniques. Behavioral psychology students usually develop skills related to client evaluation, the creation and implementation of treatment plans, and individual and group counseling. Behavioral health counselors must hold a master's, while most states require behavioral psychologists to earn a doctorate.
Explore Behavioral Psychology Careers
---
Child and Adolescent Psychology
Many psychologists work specifically with children and adolescents, diagnosing developmental disorders, addressing learning and behavioral problems, and providing support through important life transitions. As preparation, they often explore subjects such as family therapy and crisis intervention. While some school psychology positions require only a master's, most child and adolescent psychologists hold a doctoral degree.
Explore Child and Adolescent Careers
---
Counseling
Counseling psychologists help patients identify, understand, and cope with various problems in their lives. Many counseling professionals specialize in working with a particular subset of clients, such as the elderly or veterans. Marriage, family, and mental health counselors may need only a master's degree, but you need a doctorate to diagnose and treat specific mental illnesses.
Explore Counseling Careers
---
Organizational Psychology
Organizational psychology involves the application of psychological principles to challenges in the workplace. For example, an organizational psychologist may conduct interviews with employees in order to find ways to improve productivity or morale. Industrial and organizational psychologists typically need only a master's, though employers may prefer to hire candidates who have completed graduate-level coursework in specific subjects like performance assessment and human resource management.
Explore Organizational Psychology Careers
Meet a Licensed Psychologist
Dr. Eliza Belle
Licensed Psychologist
---
Dr. Eliza Belle is a licensed psychologist who has been working for 11 years in several arenas of the field of mental health and wellness, including community counseling, school testing and assessment, college and university counseling, drug/alcohol rehabilitation, veterans affairs, and chronic mental illness. Dr. Belle currently serves as a chief psychologist at Bryce Inpatient Psychiatric Hospital through the Alabama Department of Mental Health.
What do you find most fulfilling about your career as a psychologist?

Simply put, I like to help people. I find that getting to "help" as an everyday work assignment is very fulfilling. It never feels like work. I enjoy the opportunity I have to help those who may have lost hope. Also, I strive to represent a more relatable view of mental health and reduce the negative stigma attached to the field at times through creative techniques and advocacy. I love being able to train other professionals looking to contribute to the field.

What were the strongest skills you built upon/developed throughout your academic career?

Perseverance -- the doctoral journey was an arduous one, but a rewarding one. I learned patience, open-mindedness to the differences of others (given that I had many classes, professors, advisors, and supervisors over the ten years total that I was in school), and self-awareness (as my views, biases, beliefs, and skills were all brought to the forefront of my work often throughout the process). All of these skills I believe helped me to become a better psychologist and professional. They also helped me to better understand and empathize with the journey of others who are seeking a goal or going through a challenging process in their lives.

What was the job outlook like after earning your degrees/licensure? How long did it take you to establish your career after graduating?

My field requires professional licensure to be able to work in job positions delegated to psychologists. There is a national exam required as part of this licensure, and I had not taken this test upon graduation. So when I first graduated with my doctorate, I started working within six months in a substance use/co-occurring residential program -- not as a psychologist, but rather in a different clinical title and role. I was more administrative and less hands-on, as well as professionally limited by my lack of license. It was not until a year and a half after my graduation that I was hired as a psychologist with the Department of Veterans Affairs. There are often many jobs in mental health (e.g., counseling, social work, marriage/family therapy), but a position suited to your specific degree/level of training may be difficult to find depending on the area's need. If you are geographically and professionally flexible, the opportunities may be more abundant. There are also opportunities for student loan reimbursement if you choose to work in rural and/or underserved areas, so that is always an option and perk.

What advice would you give undergraduate students who are on the fence about earning a graduate degree in psychology?

Psychology is essentially a broad field; there are many options for career direction across various professions. So having an idea of what you would ultimately like to go into becomes more important than if you were seeking a degree with a specific focus (e.g., accounting, engineering). Know that psychology does not just mean mental health. There are also options for teaching, conducting research, organizing systems of business culture, and more. An undergraduate degree in psychology will most likely not put you directly into the workforce with a job in the field after graduating. A graduate degree will almost always be required to do any direct work related to psychology. Choosing whether to further your education after undergrad is a good decision to make early on.

What type of person excels in the field of psychology?

One who has a heart for working with others, knowing that you will see, hear, learn about, and work with some challenging cases and situations. One who is open to everything not always being black and white. I learned in school that "psychology is an art, not a science," and that stuck with me. While there are research- and evidence-based methods, theories, and foundations for the work we do, the fact that every person and group is uniquely different guides us in being open to the "gray areas" when we need to be. Also, one who is not seeking a career that is money-driven, because at times there may be positions that don't pay as much as you would like. A person that has compassion for those in pain, systems that may be broken, or minds that may be chemically imbalanced.

What additional advice would you give to a student pursuing a degree in the field?

There are a great deal of diverse work opportunities in the field of psychology. The need for mental health services, psychology educators, etc. is growing by the day, given our ever-changing society and challenging events that occur regularly. It's exciting to me that I can use my degrees to work in numerous areas at any given time. I never feel the need to change careers, because the field is so open with unique opportunities, whether working for a Fortune 500 company as a consultant or at a medical hospital, a college/university, a small community clinic, or more! Just know that your journey to that type of career freedom and flexibility may take a while, given the education and training requirements. Having patience for the greater reward will be imperative as you move along the path. Seek guidance! I benefited greatly from the advice and direction of mentors already in the field. Seek out your professors for more support, talk to community professionals who may have insight, or join the American Psychological Association as a student member even in undergrad and receive all kinds of resources and support regarding psychology academic training and job outlook. Being informed helps!
Professional Resources for Psychology Majors
Founded in 1892, APA is the largest association of American psychologists. Psychology majors benefit from internship opportunities and other career opportunities through the PsycCareers Job Center. Members also rely on APA's networking opportunities, continuing education resources, and publications.
SPSP organizes annual conventions and posts updates on other relevant, non-SPSP professional events. The site hosts a job board, links to funding opportunities, and other career resources.
APS members receive an online and print subscription to several field publications, including Current Directions in Psychological Science and Observer. Members also receive discounts on leading field journals and the association's annual convention. APS offers an online employment network, which includes both job and postdoctoral opportunities.
Specializing in clinical practice, NAPPP advocates for its members and promotes improvements to healthcare policy. Members receive free continuing education resources, practice tools, and training programs.
ABP brings together black professionals and addresses serious problems facing the community. The site includes a career center and information on public policy, and members can find local chapters and event information.
NLPA advocates for the unique needs of the Latina/o population in the U.S. Members include mental health professionals, academics, researchers, and students. NLPA provides training tools, a list of fellowships, and a directory of predoctoral internships.
Operated by the American Psychological Association, the job board at Psyc Careers provides an updated list of positions in every state. The site also displays information on local job fairs and links to other career resources.
Offered through the Chronicle of Higher Education, this updated list of psychology jobs caters to academics and psychologists interested in faculty and research positions. The job postings primarily show positions at community colleges and public and private four-year institutions.
This site provides a comprehensive database of careers for psychology majors and professionals. Job seekers can search for positions by category, such as forensic psychology or mental health jobs. Psychology majors can also post their resumes to attract potential employers.