Technology careers offer professionals the opportunity to work in many industries, including healthcare and business. Careers in technology can be pursued in several work environments, including fast-paced startups, innovative tech firms, and small IT departments.
Read on to learn about popular career paths in technology and explore different postsecondary education options.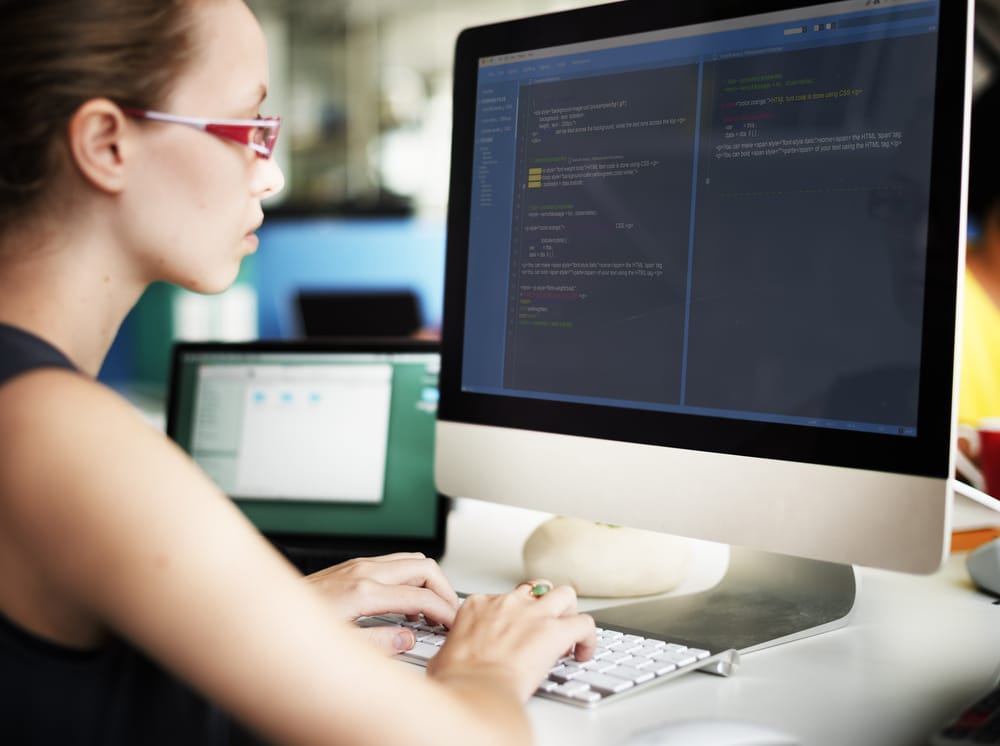 Career Paths in Technology
Careers with a technology degree offer many different specialties, including programming, data administration, and information security. Technology professionals typically work in an office environment and spend most of their time in front of a computer.
Below, you can explore some of the different career paths available in technology fields, as well as the level of education needed to qualify for them.
Technology Career Outlook
Most careers in technology require at least a bachelor's degree. Earning a four-year degree allows professionals to enter a competitive field and find a job that suits their interests.
Job outlook for careers with a technology degree depends on the field. For example, the Bureau of Labor Statistics (BLS) projects that software developers will experience 22% job growth between 2019 and 2029. The BLS projects 31% job growth for information security analysts during the same period. For reference, the average projected growth rate for all occupations from 2019-2029 is 4%.
Although most technology careers pay well, salaries vary depending on a worker's location, education, and experience. In 2019, the BLS reported median annual salaries for technology workers ranging from $54,760 for computer support specialists to $122,840 for computer and information research scientists.
How to Start a Career in Technology
Most entry-level technology careers require at least a bachelor's degree. However, some jobs, such as web developer, only require an associate degree to get started. Pursuing a bachelor's degree in technology allows students to enter the workforce with the skills and knowledge needed to complete their jobs.
You should determine what area of technology interests you. From there, you can begin researching colleges and their respective technology programs. Most postsecondary institutions offer technology programs at different levels with several formats, including online and in-person classes.
You can always reach out to program advisors and admissions departments with questions about program specifics and admission requirements. You can also learn more about finding the right college by reading this guide.
Education
In general, students can pursue four different degree types: associate, bachelor's, master's, and doctorate. Each degree offers a different level of difficulty and specialization. Students should choose the degree that best fits their career goals.
Certifications and/or Licensure
Licensure and certification can help technology professionals advance their careers. Licensure is typically awarded by a governmental agency at the federal, state, or local level. However, few technology careers require licensure to practice.
Professionals usually earn certification through professional organizations. Many careers in technology encourage certification, which demonstrates expert knowledge and skills in a particular area. Certification often requires candidates to pass an initial exam, and credentials usually need to be renewed every few years.
For example, information security analysts should strongly consider earning certification. Information security professionals can pursue certification from the International Information System Security Certification Consortium. Workers can also pursue more specialized options, including the penetration testing certification offered by the Information Assurance Certification Review Board.
Be sure to research specific career expectations and/or speak with a career counselor to determine if earning certification or licensure can help you succeed in your target career.
Continuing Education
Continuing education allows professionals to advance their careers or start a new career path. There are three main types of continuing education: earning a new degree, completing a certificate program, and taking continuing education units (CEUs).
Some professionals earn a second degree to advance their careers. For example, while most database administrators only need a bachelor's degree, earning a master's degree in this field can lead to promotions and higher salaries. Completing another degree can also help professionals change careers by providing new knowledge and skills.
Most colleges also offer subject-specific certificate programs, which usually take less than a year to complete. Professionals can also look into CEUs and online courses to stay current on new technologies and theories in their field. You can enroll in many of these classes online for free.
Frequently Asked Questions
What are career options for technology students?

How do I start a career in technology?

What are the highest-paying jobs in technology?

Is a technology degree worth it?
Read More About Technology on BestColleges