Gen Z Career Guide: The Best Jobs for the Future
Generation Z wants to know the best careers for the future. This guide breaks down the data on job growth, salaries, and careers with social impact.
Strong Economy, Uncertain Future: Gen Z Enters the Workforce
This spring, commencement speakers across the country addressed some of the challenges facing the class of 2019, the first cohort of Gen Z students to graduate college. Acknowledging the burden of student debt, Robert F. Smith pledged $40 million to pay off the student loans of Morehouse College's class of 2019. Michael Bloomberg announced a $500 million investment in a program called Beyond Carbon, encouraging graduates to take action on climate change. German Chancellor Angela Merkel asked Harvard grads how they would leverage technology to create a better world.
Debt, climate change, and technology — topics Gen Z knows all too well. Generation Z, defined as people born between 1997 and 2012, has grown up in an age of skyrocketing college costs, increasing environmental awareness, and unparalleled technological progress. These developments have shaped the values and preferences of Gen Z as they enter the workforce, and many of them might be asking themselves an assortment of career-related questions: What jobs provide the most income security? What careers will make a positive impact on the world? What jobs will still be around in the future?
BestColleges.com is an advertising-supported site. Featured or trusted partner programs and all school search, finder, or match results are for schools that compensate us. This compensation does not influence our school rankings, resource guides, or other editorially-independent information published on this site.
Ready to Start Your Journey?
Gen Z Expectations for the Workforce
Recently released data from Microsoft gives us a glimpse into the minds of Gen Z college students. The survey, conducted with YouGov, asked 17-25-year olds about their career goals and expectations for entering the workforce. Unsurprisingly, the data reveals that the class of 2019 is a tech-savvy, values-driven group of young professionals.
2019 YouGov Survey Responses of Gen Z Students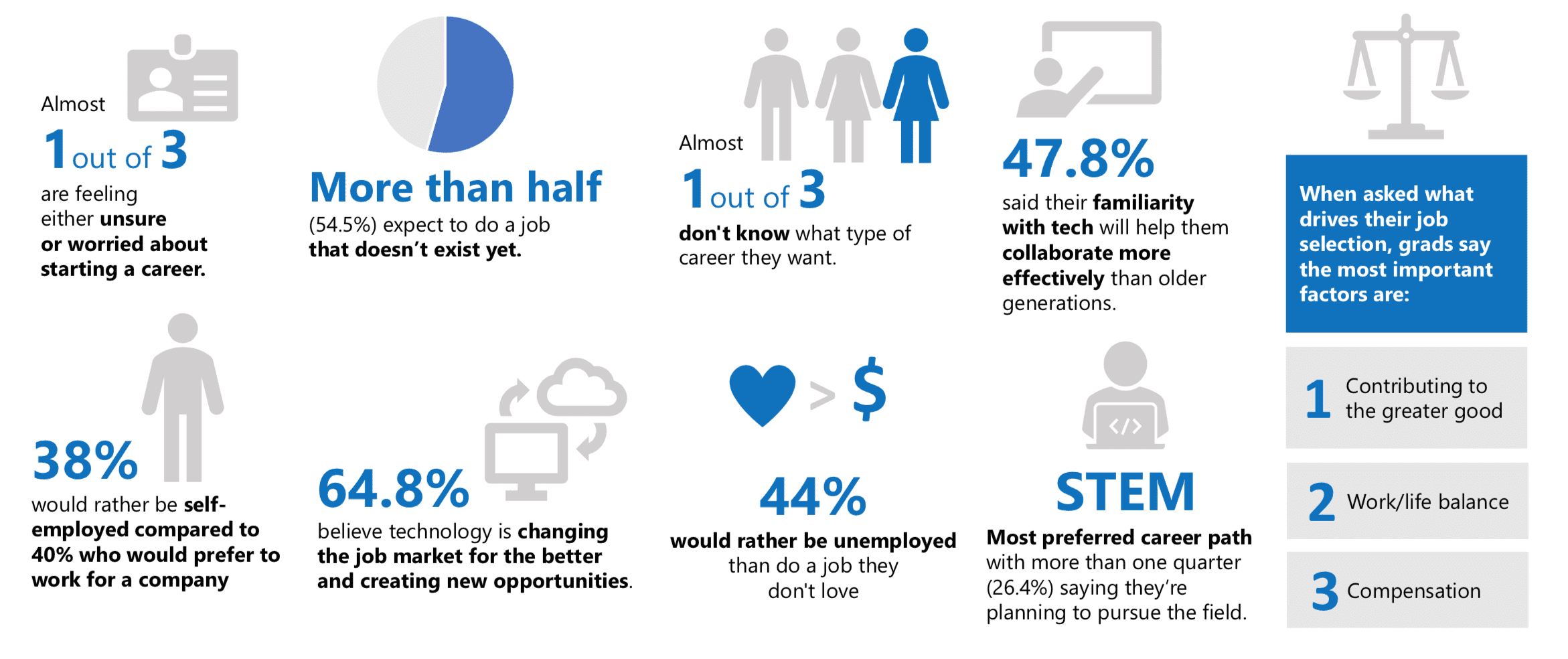 Mark Sparvell, senior manager for education marketing at Microsoft, talked to BestColleges about what the typical Gen Z student looks for in a job. "They want to engage in work that has meaning and purpose," he said. "They're a socially conscious generation focused on their tech readiness, using technology to communicate and collaborate, to build ideas." Almost half of these students think technology will help them collaborate better than older generations, according to the YouGov survey.
Having work aligned with their values is also a top priority for most Gen Zers. When asked what most drives their job selection, respondents rated "contributing to the greater good" as their top priority, followed by "work/life balance" and "compensation." Forty-four percent of respondents also said they'd rather be unemployed than stuck in a job they don't love.
Today's young professionals also value diversity. Sparvell noted that "diversity, inclusion, and belonging are core values for Generation Z, and how businesses represent these values will impact their ability to attract and retain an entire generation of talent." This is especially important given that approximately half of Gen Z in the United States is nonwhite, according to the Pew Research Center, making it the most diverse generation in American history.
Gen Z's strength may lie in its values and diversity, but other data indicate recent college grads care just as much about job security, income, and benefits. The Wall Street Journal reports that, because they grew up during the Great Recession, Gen Z cares more about financial security than any previous generation on record. According to Forbes research, income and work hours were most important to today's young adults, and the Barna Group reports that achieving financial independence before 30 is a top priority for 64% of Gen Zers.
Financial insecurity may be the new normal in America, but this generation yearns for financial success and stability. Even so, Microsoft's research indicates that around one-third of Gen Z students are uncertain about the types of careers they want to pursue, and around one-half expect to do a job that doesn't even exist yet. This suggests that today's college grads anticipate — and are uncertain about — some of the major economic transformations that will define their future. As BestColleges discussed in May, many jobs in the future are likely to be fully automated, while others may disappear entirely due to technological innovations like artificial intelligence.
Popular Online Programs
Learn about start dates, transferring credits, availability of financial aid, and more by contacting the universities below.
How to Get Hired After College: Future-Proof Your Skills
In response to seismic social and economic changes, many Gen Z graduates want to future-proof their careers. Entering scientific and technology fields is an excellent way to ensure their skills and knowledge remain in demand. According to the YouGov survey, these fields were the most popular among current college students, with over a quarter reporting they planned to pursue careers in STEM.
Sparvell explained these preferences, saying "[Gen Z knows] they're entering a workforce that's very different from their parents. They recognize that technology plays a significant role across all industries — not just STEM industries, but every industry."
"[LinkedIn's] top five skills really reflect the need for digital skills. So that's STEM-related areas, things connected to cloud computing, artificial intelligence, and also things that are connected to improving digital experiences … So user interface design, people management, analytical reasoning, knowledge and ability to work with cloud and emerging cloud technologies, digital social media."
LinkedIn's Top Five Skills New Grads Are Learning
Data Visualization
Data Modeling
Python
Web Analytics
Databases
Part of what distinguishes Gen Z from previous generations isn't just their tech-savvy; it's their entrepreneurial mindset. Almost 40% of students said they would rather be self-employed than work for a company. However, Sparvell suggests every Gen Z job seeker, regardless of who they work for, would benefit from this enterprising spirit:
"What I'm interested when I interview these young people is … how they demonstrate they can show initiative, run projects, show judgment, act ethically, responsibly, show persistency; how they are able to express their reason and success stories, their social perceptiveness."
"Soft skills" will also prove invaluable, as human reason, emotional intelligence, and ingenuity are hard to automate. "Those jobs that require intentional social skills — the ability to self-regulate, self-manage, make responsible decisions — have surged," Sparvell noted.
This means that students who aren't majoring in STEM fields can breathe a sigh of relief. LinkedIn research indicates that fields that build soft skills and analytical reasoning, including the social sciences, lead to the highest diversity of job opportunities. The majors listed below are also likely to remain in demand for the foreseeable future.
Majors Leading to Most Diverse Job Opportunities
Business Administration and Management
Political Science and Government
Marketing
Communication
Psychology
Computer Science
Economics
Information Technology
Finance
Sociology
Source: LinkedIn
Acquiring soft skills and being entrepreneurial aren't exactly part of the standard college curriculum, which is why Sparvell urges students to engage in activities outside formal education. What really distinguishes a good job candidate, and perhaps Gen Z candidates in particular, is that "they've been a mentor, they've been a tutor, they've been a coach, they've started a business, they've created a literacy app with their friends and they're helping young people learn to read."
"That's exactly the kind of people we would want to employ," Sparvell said. "They're socially conscious, they thrive on communication and feedback, they want an outlet for their ideas, they want to take action, they want to learn. And often they're doing that both within and often outside of school."
Gen Z Career Paths: The Best Jobs for College Grads
Even as they're eager to apply their tech-savvy and enterprising attitudes to their work, many Gen Z grads are uncertain which career is most likely to pay dividends in terms of income, values, flexibility, and happiness.
The number of openings for entry-level jobs is a good indicator of where to look, and LinkedIn data comes in handy here. According to their 2019 "Grads Guide to Getting Hired," there are a diversity of options to choose from — not just in STEM, but in business, education, and areas that don't even require a college degree.
Top Entry-Level Roles for College Grads

| Occupation | Entry-Level Roles in U.S. | Average Entry-Level Salary |
| --- | --- | --- |
| Software Engineer | 40,000+ | $83,000 |
| Registered Nurse | 9,000+ | $62,400 |
| Salesperson | 7,000+ | $31,100 |
| Teacher | 8,000+ | $40,000 |
| Accountant | 2,000+ | $48,000 |
Source: LinkedIn
If you don't know exactly what profession you're interested in, targeting specific industries — within which are any number of occupational categories — is another good way to ensure you land a job after college. Healthcare, financial services, and higher education top LinkedIn's list of top industries attracting recent graduates.
Top Industries Recent Graduates Are Hired Into

| Industry | Open Entry-Level Jobs |
| --- | --- |
| Hospitals and Healthcare | 870,000+ |
| Financial Services | 470,000+ |
| Higher Education | 108,000+ |
| Information Technology and Services | 409,000+ |
| Retail | 717,000+ |
Source: LinkedIn
But let's not forget that Gen Z cares about having a positive impact on the world. Nursing and teaching are great examples of careers that are in-demand, future-proof, and values-driven. Nursing professions are particularly important given the need for healthcare workers who can support the rapidly growing aging population in the United States. The Bureau of Labor Statistics (BLS) projects some of the largest growth over the next decade will be in healthcare-related occupations.
Perhaps more than any other issue, Gen Z is passionate about environmental causes, including climate change, alternative energy, and conservation. New hires care whether the companies they work for are environmentally sustainable, but for those who are really passionate about these issues, it's worth knowing that the fastest-growing jobs are in the alternative energy market — and some only require a technical or associate degree.
Fastest Growing Careers with High Social Impact

| Occupation | Growth Rate | Education Level | 2018 Median Salary |
| --- | --- | --- | --- |
| Solar Photovoltaic Installers | 105% | High School Diploma, Associate Degree, or Apprenticeship | $42,680 |
| Wind Turbine Service Technician | 96% | Associate Degree or Certificate | $54,370 |
| Physician Assistant | 37% | Master's Degree | $108,610 |
| Nurse Practitioner | 31% | Master's Degree | $113,930 |
| Social and Community Service Manager | 18% | Bachelor's or Master's Degree | $65,320 |
| Social Worker | 16% | Bachelor's or Master's Degree | $49,470 |
| Environmental Science and Protection Technician | 12% | Associate or Bachelor's Degree | $46,170 |
| Environmental Scientist | 11% | Bachelor's or Master's Degree | $71,130 |
Source: BLS
Some Final Advice for Gen Z Grads
If nothing else, Gen Z is highly pragmatic. Their parents faced the toughest economic climate in a generation, which has influenced their desire for jobs that will survive well into the future. And even while college graduates today are uncertain about what exactly this future entails, they haven't lost sight of their values and are eager to develop skills that make a positive impact on their workplace and society as a whole.
With all that in mind, Sparvell had some concluding advice for the class of 2019: "School is great, college is great, but it's the other things — where you choose to place your attention and passion — that is more likely to get you over the line with a job. Because it's through those experiences you can actually demonstrate those value-add skills and dispositions which will set you apart."
Additional Resources