Earning a degree in dentistry opens the door to rewarding work helping others live healthier lives. Depending on one's level of education, dentistry graduates can pursue entry-level dental assistant and hygienist jobs, enter a full-fledged dentist career, or use their skills to conduct dental research or train future dental professionals.
It can be beneficial to begin career planning and job search preparations early. High school students can take additional science classes to prepare for collegiate coursework, while current college students can enroll in pre-dentistry programs to fulfill dental school prerequisites.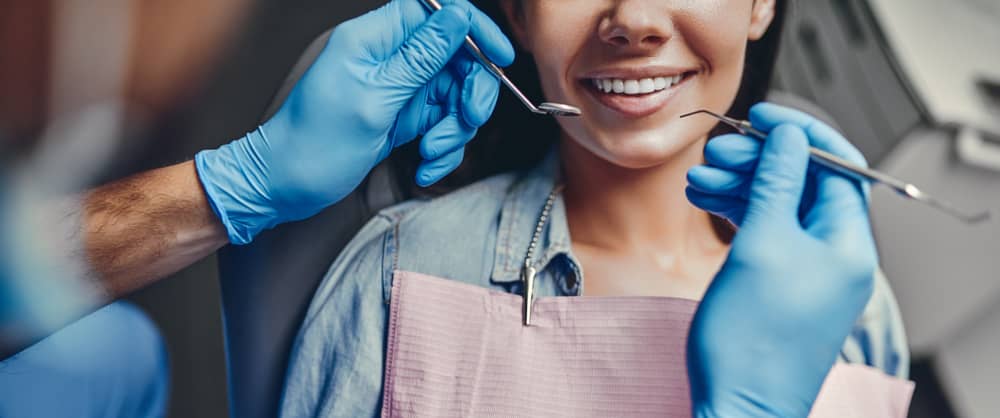 Skills Gained in a Dentistry Program
To succeed on a dental career path, professionals need multiple hard and soft skills. Higher education programs develop vital skills in areas including interpersonal and professional communication, organization, and research.
Communication Skills

Dental professionals need to communicate effectively with their colleagues and patients. These workers must listen to and understand patient concerns, explain complex dental information to laypeople, and collaborate with colleagues.

Organizational Skills

Organizational skills are important for professionals working in dental offices. Dental professionals frequently retrieve, evaluate, and update patient records, and they often using a combination of physical and digital storage systems. Professionals must also keep track of dental tools and effectively manage their time to adhere to appointment schedules.

Problem-Solving Skills

Dental professionals must possess problem-solving skills in order to assess patient needs and develop appropriate treatment plans. Professionals consider cases individually and evaluate multiple factors, including a patient's budget, a patient's preferences, and a treatment's efficacy.

Stamina and Manual Dexterity

Dentist jobs regularly require bending over, manipulating small tools, and working with larger equipment. Coursework and hands-on practica help dental students develop the physical dexterity required to safely handle dental tools.

Research Skills

To provide the utmost care for their patients, dentists must demonstrate a commitment to lifelong learning. Dental professionals should possess strong research skills in order to keep up with advancing technologies and maintain an up-to-date practice.
Why Pursue a Career in Dentistry?
The dentistry field offers a variety of jobs to individuals with diverse levels of education and experience. Dentistry careers are among the fastest-growing occupations in the U.S., with dentist, dental hygienist, and dental assistant positions all projected to increase by 19-20% between 2016 and 2026, according to the Bureau of Labor Statistics. Dental professionals work in multiple industries, including private practice dental offices, hospitals, outpatient care centers, and residential healthcare facilities.
How Much Do Dental Professionals Make?
The table below displays median salary data for three popular dental professions across their career timelines, as reported by PayScale. The earning potential of a dental graduate depends on several factors, including their location, education, experience, job function, and industry. For example, a dental hygienist in a large city with a high cost of living can expect to earn more than a hygienist in a small, rural town. Dentists typically earn significantly higher salaries than hygienists and assistants due to their advanced education requirements.
Median Salary for Dental Professionals by Occupation and Job Level

| Profession | Entry Level (0-12 Months) | Early Career (1-4 Years) | Midcareer (5-9 Years) | Experienced (10-19 Years) |
| --- | --- | --- | --- | --- |
| Dentist | $117,000 | $122,000 | $134,000 | $149,000 |
| Dental Hygienist | $59,880 | $63,340 | $68,660 | $70,240 |
| Dental Assistant | $25,640 | $28,640 | $33,140 | $36,520 |
Source: PayScale
Interview with a Professional
Dr. Mica Bartels, DMD
---
Dr. Mica Bartels, DMD, is a family and cosmetic dentist who has been practicing in the Stow-Munroe Falls community since 2001. She she earned her bachelor of science in biology at Asbury College before heading to dental school at the University of Kentucky Dental School. Dr. Bartels strives to bring her patients the gentlest, most up-to-date dental care possible. Her recent continuing education pursuits include a series of lectures on the latest techniques in cosmetic and esthetic dentistry taught by Dr. Ross W. Nash.
What got you interested in dentistry?

I've always loved science, and I love that dentistry combines art and science together. Also, my dad and uncle were dentists, so they inspired me quite a bit. I started working in my dad's office when I was 14 years old. I loved how his office atmosphere felt more like a family than a workplace. We got to know entire families through multiple generations. Also, I loved how people would be transformed during their time there. They would come in frightened or in pain but would leave confident and smiling! Ultimately, I saw firsthand how compassionate dental care truly improves people's lives, and I knew that I wanted to help others, too.

Having worked in both family and cosmetic dentistry, is there one area of practice that you find particularly rewarding?

Well, even with cosmetic dentistry, it's still really family dentistry! Many times, the patients I see as cosmetic patients have been my patients since they were children! I've been through their awkward teenage years and braces with them, and we work together to perfect their final results. Or I'm there when a sports injury knocks out a tooth! Similarly, many of my cosmetic patients are adults that I've seen for years for routine care who are now ready to improve their smiles. This continuity of care, I believe, leads to superior cosmetic results. I'm not just trying to sell someone a "better" smile. Rather, I'm responding to their changing dental needs as they go through their life's journey.

What did your career path look like after graduating? How did you end up where you are now?

After graduating, I was fortunate to get to work in my dad's multi-generational practice while I looked for the right fit close to home. The office was an hour commute each way from where I was living with my husband. The long commute became too much when I became a new mother, so I took an independent contractor position at a practice closer to home. Though not ideal, it bought me the time I needed to research and find a practice that fit my vision of what a dental practice should be like.

During my commute at the time, I would pass Munroe Falls Family Dentistry every day. The parking lot was always full, it looked like a homey cottage, and the bird feeders outside gave it that extra touch of home. The dentists, Dr. Young and Dr. Evan, had excellent reputations in the neighborhood. So I stopped in one day to see if they might be able to use another dentist! My timing was perfect. Dr. Young was looking to retire, and Dr. Evan was looking to find the right partner who would honor the practice's vision of "dentistry done by the golden rule". That was in 2001, and I've been there ever since! I enjoy a collaborative, supportive partnership with Dr. Evan.

What does continuing education look like for you? How do you stay up to date with new research and developments in the field?

I seek out continuing education opportunities that offer hands-on learning with tools and materials. My local dental society offers excellent options each year. I also seek out lectures and series taught by leaders in their field, and I'm willing to travel to attend them. For instance, in 2017, I attended aesthetic continuum courses at the Nash Institute for Dental Learning.

In addition, I see great value in collaborating with other dental professionals locally. Sometimes this collaboration comes in the form of bringing in a speaker we can all learn from; other times it's simply getting together for lunch to discuss new ideas or trends in our particular areas. The more I know about other dental treatment options — even if they are not ones I can offer my patients myself — the better I can meet my patients' dental needs! Finally, of course I read the dental journals regularly.

What advice would you give to someone interested in a career as a dentist?

Learn to love the people you're serving. If you make it about your patients, your dental practice will grow and thrive. Don't view other dentists as competition but as peers to help you grow and learn. Stay current, not just in the field of dentistry but in business practices and marketing. We don't learn much in dental school about running a business, but you'll need many of those skills! Seek out some business courses and resources to help you keep that part of your practice up-to-date and running smoothly.
---
How to Succeed in Dentistry
Education Required
Educational requirements in the dental field vary by occupation, location, and prospective employer. To work as a dentist, students must obtain an appropriate bachelor's degree and complete dental school. Very few colleges offer bachelor's degrees with a dentistry major; instead, aspiring dentists typically complete a program in biology or a closely related field. Some schools offer dedicated pre-dental/pre-dentistry tracks to ensure students take the courses needed to satisfy dental school prerequisites.
Though not explicitly required for entry into dental school, students may pursue a master's degree to improve their chances of acceptance into competitive dental programs. Dental school requires four years of study and results in one of two credentials: a doctor of dental surgery (DDS) or doctor of dental medicine (DMD).
Dental assistant and dental hygienist careers require less education. Some dental assistants can obtain jobs with no postsecondary education, relying on on-the-job training alone; however, many employers require assistants to possess an appropriate postsecondary certificate or diploma. Dental hygienists typically possess an associate degree. Though less commonly pursued, a more advanced degree can improve dental hygienists' earning potentials and employment prospects.
Experience Required
The level of experience required to work in dentistry depends on several factors, such as the type of job and a worker's state of residency.
Dental assistants require the least amount of experience. In some states, no formal training is required before hiring; instead, assistants learn on the job and receive training from other members of the staff. Other states require these workers to complete an accredited program, which may require hands-on lab courses. Dental hygienists typically need to earn an associate or bachelor's degree, completing a combination of hands-on work in classroom labs and supervised dental office practica.
Dentists need extensive hands-on experience and supervised training. All dental schools incorporate clinical experiences into curricula. Dental students work directly with patients under the supervision of a licensed dentist. The number of clinical hours required varies by program, but students should expect to clock approximately 2,000 contact hours with patients. Professionals who want to work in a specialization rather than general practice must complete an additional residency after dental school. Residencies generally require 2-3 years of additional on-the-job training.
Licensure Required
Students aspiring to dental assistant, dental hygienist, or dentist careers should look into the accompanying professional licensure and/or certification details. Licensure requirements vary by state and occupation.
All states require dentists to obtain licensure before engaging in professional practice. Criteria for licensure vary by state, so students should check with their state's board of dentistry to review requirements. To obtain licensure, dental students typically need to complete a doctoral-level dentistry program and pass a written exam and a hands-on clinical examination. Additional requirements may apply in certain states or for dentists who wish to pursue a specialization.
Additionally, every state requires dental hygienists to obtain licensure to practice. Hygienists must graduate from an accredited U.S. dental hygiene program. These associate-level programs typically take about three years to complete. Upon graduation, dental hygienists must take the National Board Dental Hygiene Examination (NBDHE) and pass a regional or state clinical examination. Additional requirements may apply in certain states or for hygienists working in a specialization, like pediatrics or periodontics.
Certification requirements for dental assistants carry the widest variation from one state to another; aspiring dental assistants should be sure to look into these requirements before beginning a job search. Some states do not require formal training, licensure, or certification to pursue this career, while others require dental assistants to complete an accredited college program. Alternatively, some states require completion of an accredited program and state-specific certification. In addition to or in place of state certification, many dental assistants choose to take the national Certified Dental Assistant examination.
Exploring Education Options in the Dental Field
Aspiring dental professionals interested in entry-level work as a dental assistant typically only need to complete a one-year certificate program at a community college or technical school, while dental hygienists usually need an associate or bachelor's degree. To become a dentist, students must first earn a bachelor's degree and then pursue an additional four years of doctoral-level education through a dental school.
Dental Assisting Certificate
Entry-level dental assistants do not always need formal education or training to obtain employment. Some dental offices train their own dental assistants, while others prefer to hire dental assistants with a certificate. Some states also require these workers to become certified. The Commission on Dental Accreditation (CODA) accredits more than 250 dental assistant programs throughout the United States. Even in states that don't require formal education, enrolling in a CODA-accredited program can boost a dental assistant's job prospects and salary.
Non-degree dental assistant programs typically require about a year of study to complete, though part-time, accelerated, and online options are also available. Coursework typically offers a mix of classroom lectures and hands-on lab work, covering subjects like sterilization, disinfection, dental tools, OSHA standards, and X-rays. 
Associate Degree in Dentistry
Currently, no schools offer associate degrees in dentistry. Aspiring dentists should begin their education by enrolling in a bachelor's program. Associate programs in the dental field are geared toward students pursuing entry-level careers. Associate degrees in dental assisting are not extremely common, as non-degree certification programs typically fulfill the minimum education requirements for this career. Dental assistants who choose to pursue an associate degree can expect to complete the same type of coursework as a certificate program; this work is also supplemented with general education courses and some learners may participate in a dental office internship.
Dental hygiene programs account for the majority of associate degrees in the dentistry field. Typically offered at community colleges and technical schools, dental hygiene associate degrees fulfill the minimum education requirements for many entry-level, non-specialized positions. To ensure future licensure eligibility, students should enroll in a CODA-accredited program. 
In an associate program, dental hygiene students learn through a combination of classroom instruction, hands-on lab work, and clinical experiences at dental facilities. Common areas of study include anatomy and physiology, nutrition, pathology, medical ethics, and patient management. Students develop practical skills related to professional communication, dental tools, and radiography.
Bachelor's Degree in Dentistry
Before applying to dental school, aspiring dentists need to hold a bachelor's degree. Since there are few bachelor's in dentistry programs, students typically major in biology, chemistry, or a closely related field. Enrolling in a non-science discipline may make completing dental school prerequisites more difficult. Some universities offer pre-dental or pre-dentistry tracks, either within a larger science major or as a separate, supplemental option to a bachelor's. A pre-dental program ensures fulfillment of dental school prerequisites, which typically consist of several credits of biology, chemistry, and physics.
In some cases, dental hygienists may also seek a bachelor's degree. Common courses at this level include practice management, dental hygiene research, and instructional methods. While an accredited associate degree typically fulfills the minimum education requirements for state licensure and entry-level employment, a bachelor's can open the door to higher salaries and advanced career opportunities.
Master's Degree in Dentistry
No dentistry field requires a master's degree, but earning this degree can bolster dental school applications and provide career advancement opportunities.
Graduate dental hygiene students complete a curriculum focused on dentistry, public health, management, and education. Programs typically require an internship or a practicum. Depending on the program, students can expect to develop skills in research, management, and classroom teaching. Earning a master of science in dental hygiene can lead to advanced employment opportunities. For example, graduates can secure management positions in dental practice settings or find work in academia or research.
Students may pursue a master of science in dentistry before or after dental school. Earning this credential immediately after a bachelor's enhances the competitiveness of an individual's dental school application. Alternatively, earning the degree after dental school is common for professionals seeking increased salary options or careers in a specialization, such as orthodontics, periodontics, or endodontics.
Doctoral Degree in Dentistry
Aspiring dentists should complete a doctoral degree at one of the 66 accredited dental schools in the United States. Dental school graduates earn a DDS or DMD credential. Despite the difference in title, these two credentials are similar and require students to take many of the same courses.
Earning a doctoral degree in dentistry typically takes four years of rigorous study. Students begin their education by studying human organ systems, including normal and abnormal functions. From there, learners take courses in microbiology, pathology, radiology, oral medicine, pharmacology, and anaesthesia. 
As their program progresses, students spend less time in the classroom and more time gaining clinical experience. A doctoral degree in dentistry provides students with the advanced knowledge and skills required to succeed as competent and compassionate healthcare providers, practice managers, and lifelong learners. After gaining licensure, students may begin working as dentists.
Concentrations Available to Dentistry Majors
Dental degrees typically don't offer traditional concentrations. Instead, students can prepare for a specialized dentistry career by completing several years of additional training after graduating from dental school. Most dentists do not pursue a specialization, instead working as general practitioners who offer many types of preventative and diagnostic care. Only about 20% of dentists work exclusively in a specialization. The American Dental Association (ADA) currently recognizes 10 dental specializations, including the four detailed below.
Dental Anesthesiology: These specialists apply dentistry and anesthesiology skills to manage patients' pain, anxiety, safety, and overall health before and during surgical and diagnostic procedures. Dental anesthesiologists administer local and general anesthesia, adjust dosages, and monitor patient response and recovery.
Orthodontics: Orthodontists specialize in the diagnosis, prevention, interception, and correction of orofacial issues and abnormalities. Orthodontists work to straighten patients' teeth by applying precise pressure through braces and other wearable devices. Patients may see orthodontists for cosmetic or health reasons.
Periodontics: Specialists working in periodontics focus on the prevention, diagnosis, and treatment of diseases affecting dental supporting structures, such as the gums. Periodontists may work with patients for cosmetic or health reasons. Common periodontics procedures include scaling, root planing, and dental implanting.
Oral and Maxillofacial Surgery: Oral and maxillofacial surgeons diagnose and treat diseases, injuries, and defects affecting the hard and soft tissues of the mouth and jaw. These specialists work with patients for cosmetic and health reasons. Common procedures include removing impacted teeth and performing reconstructive surgery of the jaw.
Where Can You Work as a Dentist?
Locations
Industries
Offices of Dentists

Owned and operated by dentists, private practice offices employ assistants, hygienists, and sometimes multiple dentists. These professionals work together to meet the ongoing oral care needs of their patients.

Average Annual Salary: $176,630

Outpatient Care Centers

Often owned and operated by corporations rather than individuals, outpatient centers, including dental clinics, may employ general dentists and specialists to meet patient needs in one location without the need for referrals.

Average Annual Salary: $152,810

General Medical and Surgical Hospitals

Dentistry professionals working in hospital settings meet the oral care needs of individuals in in-patient settings. Hospitals may also employ specialists, including maxillofacial surgeons, orthodontists, and pediatric dentists.

Average Annual Salary: $138,480

Residential Intellectual and Developmental Disability, Mental Health, and Substance Abuse Facilities

Facilities housing patients in a residential setting may employ dentists and dental hygienists to care for patients' oral health needs onsite. Professionals may provide preventative care and treatment to residents.

Average Annual Salary: $185,610

Offices of Physicians

Though considerably less common than dental office employment, some dental professionals may find work in doctors' offices, where they work closely with physicians and nurses to meet the oral and overall health needs of patients.

Average Annual Salary: $155,690
Source: Bureau of Labor Statistics
How Do You Find a Job as a Dentistry Graduate?
Private practice dental offices remain the largest employers of dentistry professionals, with less common employers including hospitals, outpatient care facilities, and doctors' offices. Wherever you plan to pursue a job, take time to consider potential interview questions and polish your resume. 
Creating a LinkedIn profile helps prospective dental professionals make online connections with peers and mentors. Job seekers can also take advantage of the official online job board of the ADA, as well as dentistry-specific job sites like Dental Staffing and Jobs Smile.
Professional Resources for Dentistry Majors
The ADA is the nation's largest professional association in dentistry and a leading source of oral health information for dentists and patients. The ADA offers free online resources and information, as well as paid membership resources like research, financial planning, and insurance.
---
More than 23,000 student members comprise the ASDA community. This student-run organization works to protect and advance the rights, interests, and welfare of dental students. Members receive access to professional mentorships, scholarship opportunities, certification exam prep, and health and wellness webinars and programs.
---
ADHA works to advance the dental health profession and support dental hygienists during school and throughout their careers. ADHA offers students one year of free membership. Members enjoy access to an online career center, continuing education opportunities, and grant funding opportunities.
---
ADCF facilitates the delivery of oral healthcare to underserved populations through a collaborative network of individuals and organizations. Dental professionals and students can gain valuable experience by volunteering at one of ADCF's dental clinics.
---
NDHA encourages underrepresented minorities to enter the dentistry profession and provides support for their career endeavors. NDHA also offers a variety of scholarships for dental hygiene students and annual membership opportunities to students, professionals, and retirees. Benefits include continuing education, mentoring, and networking opportunities.
---
Created by a practicing dentist to aid dental students with their coursework and career aspirations, this site features articles and content related to dental practice and education. Students can examine case studies, take quizzes, and access hundreds of articles covering nine different areas of dentistry.
---
Created and maintained by a registered dental hygienist, this website offers information and resources for dental hygiene professionals and students. To help students prepare for the NBDHE, this site offers free access to more than 200 case studies.
---
Part online community and part job board, DentalPost connects more than 750,000 professionals and 55,000 dental offices throughout the U.S. and Canada. The industry's leading job site offers personality, skill, and work culture assessments to find professional matches between job seekers and employers.
---
This site offers student resources such as a dental research database, online media library, study aides, and learning modules. Working professionals can also take advantage of more than 150 free continuing education courses.
---
For more than a decade, HygienestPrep has worked to help dental hygiene students pass the NBDHE. Interactive and fully online, this site simulates the NBDHE and offers an extensive database of questions, explanations to answers, and customizable study sessions based on a user's progress.