Shining a Spotlight: Women in Higher Education
Women in Higher Education Overview
The women's liberation movement in the late 20th century reduced inequality between men and women in American society. Higher education is one domain where women have increased their presence, both qualitatively and quantitatively. In 2018, 41% of women ages 25-29 earned a bachelor's degree, compared to only 33% of men — an increase of 11% from 18 years prior. While this progress is encouraging, the work is hardly finished. Women continue to face a myriad of challenges in higher education, and must combat discrimination in many forms, stemming from deeply entrenched stereotypes about their intellectual capacity and supposed emotional fragility. Nowhere is this more apparent than in STEM fields, where women account for only 28% of our science and engineering workforce.
Today, colleges across the country are trying to foster an equal and more supportive environment, catering to women's needs by providing special programs and resources to help them achieve academic and professional success. A variety of institutions, from all-women's schools like Smith and Wellesley, to co-educational schools like California State University and the University of Georgia are participating in these reformative efforts. Such diversity in the movement is encouraging, especially for students who can't afford the higher tuition costs associated with women's-only institutions.
Challenges Facing Women in Education

Though women still have challenges to overcome in higher education, they also have plenty of progress to celebrate. Today, institutions are making laudable efforts to reduce gender gaps in all areas of higher learning, including faculty hiring, enrollment, STEM participation, scholarships, retention rates, and graduation rates. Disparities among the sexes will undoubtedly continue to shrink, as colleges and universities evaluate their outreach efforts against current trends and adjust accordingly.
More Women Earning Degrees
Perhaps as a result of recent outreach and retention efforts made by higher education institutions, women are enjoying more postsecondary education success overall than men. As mentioned above, 41% of women who were 25-29 years old earned a bachelor's degree in 2018. Additionally, women continue to earn doctorate degrees at a higher rate than men. These numbers represent marked improvement from the days when women were either prohibited from or restricted in enrollment in graduate programs.
Workforce Imbalance
Despite the positive trends covered above, more men than women are employed after graduation. A recent federal report demonstrated that 86% of adults ages 25-34 who hold a bachelor's degree are employed, but it also revealed that more men (91%) are employed than women (83%). This employment gender gap is much wider in STEM fields, where women account for only 28% of the workforce.
These disparities in employment rates only exacerbate the wage gap among the sexes, which remains near 18%. That means that for every dollar earned by men, female workers earn just 82 cents. According to recent estimates, at the current pace of change, the gender wage gap won't be eradicated for another 40 years. That's a bleak outlook, but the key variable to focus on is the "current pace of change" element; that pace has increased in recent years and will accelerate as employers realize the role pay parity plays in attracting first-rate employees.
Women in STEM
As stated above, women compose only 28% of our science/engineering workforce. Within STEM, women are underrepresented in computer science, engineering, the physical sciences, and mathematics, earning 18%, 20%, 39%, and 43%, respectively, of the bachelor's degrees awarded in those fields. Significantly, those are some of the highest-paying disciplines in the economy today. Most women scientists work in fields like social sciences, where they make up 60% of the workforce, and biological, agricultural, and environmental life sciences, where women represent 48% of the labor pool.
Today, colleges and universities are making an effort to recruit more women into STEM majors, offering a variety of programs and resources designed to encourage female enrollment and retention in the sciences. Check out our list of "Women in STEM Initiatives" below for more info on some of these standout programs.
---
To help women of all income levels find a school that meets their needs, we've compiled two lists: the first is a 2017 update to our ranking of the best women's colleges, the second is a list of the best co-educational colleges for women. The latter ranking recognizes the efforts that co-educational schools are making to help level the playing field for women in education. A school doesn't have to enroll only women to be the "best women's college"; it just has to acknowledge that women students have distinct needs from their male counterparts.
Best Women's Colleges
Interview With Barnard College
Jennifer Fondiller oversees admissions, financial aid, registrar operations and precollege programs at Barnard College. A graduate of Barnard and Columbia University's Teachers College, Jennifer chose a career in enrollment management because she appreciates the opportunity to make an impact in several ways: to counsel students and parents, to have a hand in the business and marketing side of higher education, and to expand access to education for students all over the world.
What is the historical significance of women's colleges, and why is it so important that they still exist today?
Women's colleges in the U.S. arose in the 19th century because most colleges at that time offered a higher education only to men. They were most prominent in the Northeast and South. Barnard, Wellesley, and Smith, for example, were among the original Seven Sisters, a loose association of strong all-women's liberal arts colleges that were considered equivalent to the all-male Ivy League schools. The women who chose to attend were bold in their desire for a quality education and the pursuit of a career.
Back then, a women's college was the only option, but today women have a choice. This choice is incredibly important. Women's colleges tend to be small, liberal arts institutions with strong academic offerings and nurturing environments. Young women often choose them for the added benefit of leadership opportunities and support for women's issues, interests, and records of achievement among their graduates.
How has women-only education evolved over time?
Since their early days, women's colleges have encouraged women to pursue careers in traditionally male-dominated fields, such as science, mathematics and engineering. But women's colleges go further to harness the intelligence and potential of women. In addition to academics, they provide opportunities for personal growth and professional training. For example, many women's colleges have developed leadership labs like Barnard's Athena Center for Leadership Studies or Wellesley's Albright Institute. These centers foster collaboration, research, mentorship, and networking opportunities.
What are the greatest benefits of learning at a women's college? How does this environment help to foster a sense of empowerment among women?
There is a particular investment in our students at women's colleges. Women's colleges are small, discussion-oriented, and emphasize collaboration. While these are qualities that you often find in liberal arts colleges, women's colleges expose students to female role models and provide added support for certain fields where women ordinarily lag behind men. All student leadership positions are held by women, for example. And all connections with alumnae emphasize the advancement of women in the workplace.
What are the greatest challenges women face today when pursuing an education?
There still exists a perception of what women should or can study. It's a topic that frequently comes up when I meet with high school students. They'll talk about loving their chemistry class or being the top student (and only girl) in the highest-level math class, and being confronted with questions like, "You want to major in chemistry? But you're a girl!" or "Are you sure you can handle that class?"
I believe that women also grapple with, consciously or unconsciously, with finding a sense of balance in their lives. They want a career but at the same time wonder, "How am I going to juggle having a family or the many things I see myself accomplishing?" At women's colleges, students are encouraged to think about these early and talk about them.
How are women overcoming these challenges and what are academic institutions doing to help?
Women's colleges open doors for women, helping them make connections and pushing them to think independently and boldly. While they may ask themselves, "How am I going to succeed?" — whether it's pursuing an MD, writing a book, running a business or raising a family — we give them the confidence to pursue their dream. We help shift their attitude from "I don't know" to "I'm going to try. I'm going to make it happen." We make sure they have the tools to succeed and are aware of potential support from alumnae, all of whom are women.
What factors should a student take into consideration when choosing an all-women's college?
The first thing I would suggest is that students take a close look at the mission of the school. They should consider coursework, particularly in STEM disciplines, and opportunities for leadership development and internships. Students should visit the campuses and gain a feel for an all-women's environment. (They're all different depending on their location and proximity to other schools.) They should peruse course offerings, check out career center programming, and learn about the many opportunities for leadership — in clubs and organizations on and off campus. Most important, they should talk to current students, faculty, administrators and recent graduates to get their first-hand perspectives.
What Colleges are Doing to Help Women
As the primary gateways for our nation's future leaders, institutions of higher education have a special obligation to address obstacles hindering women's success in college and after graduation. By hiring more female faculty members, providing scholarship opportunities catered to women, and offering special resources designed to meet women's needs on and off campus, today's colleges and universities are embracing the challenge. We took these efforts into special consideration in creating our rankings of the best women's colleges and best colleges for women.
WHILE STUDENT LOAN DEBT IMPACTS STUDENTS OF ALL AGES AND BACKGROUNDS, WOMEN CARRY A LARGER BURDEN. WOMEN WITH A BACHELOR'S DEGREE HAD A CUMULATIVE TOTAL OF $21,619 IN STUDENT LOAN DEBT, COMPARED TO MEN WHO HELD $18,880 IN DEBT.
Scholarships for Women
Disparities among the sexes in education extend beyond the classroom. Data shows that women with a bachelor's degree carry more student loan debt than men. Scholarships specifically created for women — including minority women, women in STEM programs, women pursuing business majors, and single mothers — can help mitigate the disparity.
Be sure to also check out this compilation of scholarships and other helpful information for women.
Women in STEM Initiatives
With a mission of promoting equity in the sciences, Hunter's GEP sponsors women scientists, reports gender equity benchmarks, provides workshops for female faculty, and works to increase recognition for women scientists.
A student affiliate chapter of the American Chemical Society, BCS works to promote the academic advancement of chemistry students and hosts events throughout the year, like open houses and an annual Mole Day.
Students at Scripps with a common interest in the sciences can choose to live together in a residential community where they provide each other with academic and personal support. The LLC also hosts various events, including organic chemistry study sessions and a liquid nitrogen ice cream mixer.
A national initiative announced by President Obama in 2015, the "Let Everyone Dream" Coalition facilitates multi-sector partnerships to support STEM education for students from low-income and underserved communities. Wellesley is among several named partners who collectively committed more than $90 million toward fulfillment of the initiative.
Founded in 2007, AEMES works to recruit and support students who are traditionally underrepresented in STEM programs by providing services like peer mentoring, study groups, and courses on learning strategies.
Administered by the university's biology department, NDMU's Sister Alma Science Year program funds a full year of research at the Johns Hopkins School of Medicine for three students majoring in the sciences.

Women & Minority Clubs/Organizations
Many schools provide clubs for women and minorities, helping to empower them and foster mentorship, leadership, and networking opportunities. Standout programs from schools on the rankings include:
Female Faculty
As part of their efforts to become more female friendly, colleges across the country have sought to hire more women faculty members. In addition to helping students feel better represented by their educators, employing more women faculty members increases diversity in perspectives offered to students. Such diversity is also enhanced by hiring female faculty of color, who bring their intersectional experience to bear on students' worldviews.
Best Co-Educational Colleges For Women
---
Interview With an Advocate
Jenni Luke is CEO of Step Up, the nonprofit membership organization inspiring women to inspire girls. In this role, she leads one of the nation's most sought-after mentorship organizations in its second decade of service.
How can women stay informed about gender equality issues?
Gender equality covers everything from healthcare to workforce development since women are involved in all aspects of life. Be a savvy news consumer and follow those who ask critical questions of policy through a gender lense, being thoughtful about the intersection with race, LGBTQ, and socio-economic factors. Broaden your perspective by following a variety of voices. Some that I love include Carmen Perez, Luvvie Ajayi, Linda Sarsour, and Ultra Violet.
What can universities do to promote equality?
All institutions should have stated values that clarify that gender (and race, socioeconomic, and sexual orientation) discrimination will not be tolerated. Do a policy review to ensure this is true and do an implementation and enforcement review to ensure your institution is living up to those values; for example, enforcement of campus sexual assault laws or suspension of student organizations that do not uphold the university's values. Review data to see if there are any trends in implementation that might alert you to biases in implementation or enforcement that are not obvious. Admit mistakes and include affected parties in building the institutional solutions to protect against the issue happening again.
How can professors and department heads empower female students throughout their academic journey?
Make sure you call on women and acknowledge them for their ideas and contributions. Ask them what their career aspirations are and support them in reaching them. If your class enrollment skews male, ask the women in your class if there is something more you could do to attract more female students to the field. Don't just assume women aren't interested. I also admire Cynthia Baily Lee's practice of providing her Stanford students with clear and timely feedback, including class-wide distribution data. She notes that women and minority students often fear the worst about their position relative to the class and can be reassured by data.
What should a female student look for when choosing a college?
Beyond seeking the right academic and social fit, look at the school values and track record of the administration. Does the chancellor listen to student voices? Is there a campus police force? What is their record on campus sexual assault? What about student health services? Do they support your needs?
What additional advice you would give female high school students preparing for college?
Remember that you have power in choice. You choose the school as much as the school chooses you. Choose a school that serves your needs. Understand how you learn well — big lectures or small groups? — and the type of environment in which you thrive. Visit the campus a few times if possible to get a feel for the community as a whole. Talk to random students, not just student tour guides. Do students feel supported in their growth? Is it social? Or does it work for introverts? Are students friendly or is there an air of competition?
---
Other Things to Consider When Choosing the Best Women's College
Academics are just one part of the overall college experience. To account for that, we looked beyond academic considerations to features like campus safety and child care services. When looking through prospective schools, you may want to research these and other non-academic factors in depth.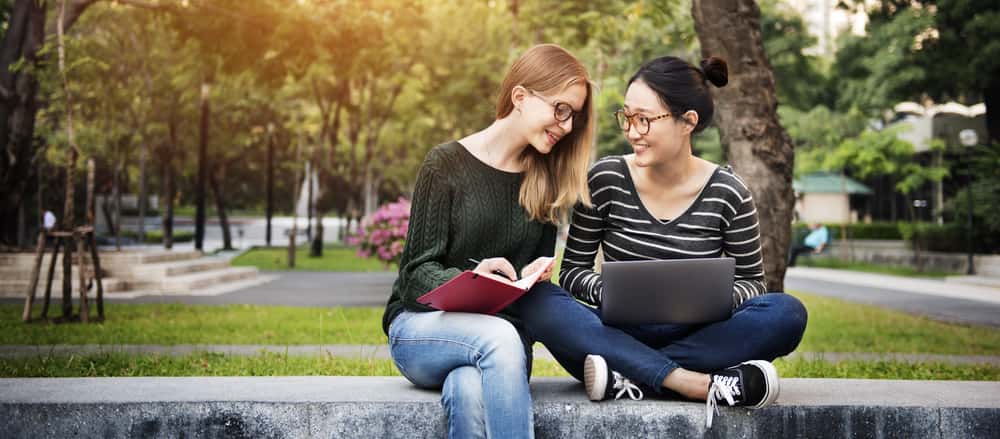 Campus Safety
One important non-academic factor for women to consider when researching prospective schools is campus safety. Among four-year colleges with 2,500+ students, around 75% employ armed officers. While armed officers have undoubtedly deterred many would-be criminals on campuses across the country, they have not extinguished violent crime entirely.
Of particular concern for women is sexual violence, which is more prevalent on college campuses than other violent crimes. On average, one in four female undergraduates is victim to sexual assault by the time she finishes college. Schools around the nation are acutely aware of the issue; 86% of campus law enforcement agencies provide rape prevention programming, and 72% offer survivor response and assistance. To aid in best practices for the prevention of and response to campus sexual violence, the Office on Violence Against Women (OVW)'s Campus Program has awarded over $131 million to higher education institutions across the country.
Contact your prospective school's campus safety office to learn about the steps the school is taking to ensure student safety on campus. Most schools should have many of the following features:
Campus escort services (free late-night transportation, group walking services, etc.)
Campus law enforcement
Safety education workshops (like those offered at the University of Michigan, for example)
Blue light emergency phone stations
Safety maps
Self-defense classes
Support for campus safety apps (e.g., CampusSafe)
Childcare Services
Currently, student parents account for 22% of our nation's undergraduate population. That's a sizable demographic, the needs of which have primarily been addressed by community colleges rather than four-year institutions. Besides offering lower tuition costs and evening and part-time options that appeal to student parents, community colleges often provide on-campus child care services. More four-year colleges and universities need to wake up and smell the formula; resources like on-campus child care make a bachelor's degree much more feasible for student parents who can't afford the rising costs of private day care services. Today, students without children are 10 times more likely to earn a bachelor's degree within five years than students who have children.
Given those statistics, we considered the availability of on-campus child care services as an important non-academic factor in our rankings. Not all student parents are women, but most of them are: of the 3.8 million students who are parents, 70% are mothers. Several of the schools we've featured in our rankings offer on-campus or near-campus child care services (such as Concordia University-Chicago's early childhood education center) including day care, early education, and private rooms for breastfeeding.
Additional Resources for Women
The president confirmed free community college had been scrapped from his Build Back Better plan and proposed an increase in Pell Grant payments instead. Trade education is on the rise. Colleges should embrace transferrable and stackable credentials so students can transition easily between educational paths. Discover the strategies college students with disabilities can use to determine a career path, search for a job, and navigate barriers to employment.