Shining a Spotlight: Women in Higher Education
The women's liberation movement in the late 20th century reduced inequality between men and women in American society. Higher education is one domain where women have increased their presence, both qualitatively and quantitatively. In 2018, 41% of women ages 25-29 earned a bachelor's degree, compared to only 33% of men — an increase of 11% from 18 years prior. While this progress is encouraging, the work is hardly finished. Women continue to face a myriad of challenges in higher education, and must combat discrimination in many forms, stemming from deeply entrenched stereotypes about their intellectual capacity and supposed emotional fragility. Nowhere is this more apparent than in STEM fields, where women account for only 28% of our science and engineering workforce.
Today, colleges across the country are trying to foster an equal and more supportive environment, catering to women's needs by providing special programs and resources to help them achieve academic and professional success. A variety of institutions, from all-women's schools like Smith and Wellesley, to co-educational schools like California State University and the University of Georgia are participating in these reformative efforts. Such diversity in the movement is encouraging, especially for students who can't afford the higher tuition costs associated with women's-only institutions.
Challenges Facing Women in Education

Though women still have challenges to overcome in higher education, they also have plenty of progress to celebrate. Today, institutions are making laudable efforts to reduce gender gaps in all areas of higher learning, including faculty hiring, enrollment, STEM participation, scholarships, retention rates, and graduation rates. Disparities among the sexes will undoubtedly continue to shrink, as colleges and universities evaluate their outreach efforts against current trends and adjust accordingly.
More Women Earning Degrees
Perhaps as a result of recent outreach and retention efforts made by higher education institutions, women are enjoying more postsecondary education success overall than men. As mentioned above, 41% of women who were 25-29 years old earned a bachelor's degree in 2018. Additionally, women continue to earn doctorate degrees at a higher rate than men. These numbers represent marked improvement from the days when women were either prohibited from or restricted in enrollment in graduate programs.
Workforce Imbalance
Despite the positive trends covered above, more men than women are employed after graduation. A recent federal report demonstrated that 86% of adults ages 25-34 who hold a bachelor's degree are employed, but it also revealed that more men (91%) are employed than women (83%). This employment gender gap is much wider in STEM fields, where women account for only 28% of the workforce.
These disparities in employment rates only exacerbate the wage gap among the sexes, which remains near 18%. That means that for every dollar earned by men, female workers earn just 82 cents. According to recent estimates, at the current pace of change, the gender wage gap won't be eradicated for another 40 years. That's a bleak outlook, but the key variable to focus on is the "current pace of change" element; that pace has increased in recent years and will accelerate as employers realize the role pay parity plays in attracting first-rate employees.
Women in STEM
As stated above, women compose only 28% of our science/engineering workforce. Within STEM, women are underrepresented in computer science, engineering, the physical sciences, and mathematics, earning 18%, 20%, 39%, and 43%, respectively, of the bachelor's degrees awarded in those fields. Significantly, those are some of the highest-paying disciplines in the economy today. Most women scientists work in fields like social sciences, where they make up 60% of the workforce, and biological, agricultural, and environmental life sciences, where women represent 48% of the labor pool.
Today, colleges and universities are making an effort to recruit more women into STEM majors, offering a variety of programs and resources designed to encourage female enrollment and retention in the sciences. Check out our list of "Women in STEM Initiatives" below for more info on some of these standout programs.
---
To help women of all income levels find a school that meets their needs, we've compiled two lists: the first is a 2017 update to our ranking of the best women's colleges, the second is a list of the best co-educational colleges for women. The latter ranking recognizes the efforts that co-educational schools are making to help level the playing field for women in education. A school doesn't have to enroll only women to be the "best women's college"; it just has to acknowledge that women students have distinct needs from their male counterparts.
Best Women's Colleges
| School | Location | Cost | Graduation Rate | Description | Toggle |
| --- | --- | --- | --- | --- | --- |
| Barnard College | New York, NY | Cost: $$$$$ | Graduation Rate: 87% | Barnard College is an all women's college located in New York City. Its intimate Manhattan campus serves more than 2,500 inspiring women scholars who have access to the same rigorous liberal arts programs as their male counterparts. Barnard College is one of the top women's colleges in the nation, and the university's dedication to its students is evident in its approach to education. The university's scholarly contributions to the Barnard Center for Research on Women span over 40 years, and the innovative center provides students with personal and professional opportunities, including research assistantships and access to lecture series that address current world events from unique feminist perspectives. More than 60% of Barnard College's outstanding faculty are women. They serve as instructors, role models, and mentors for the Barnard College's talented female student population. Barnard College's Athena Center for Leadership Studies examines career hurdles faced by women in management, and its scholars program is open to all Barnard College students. | |
| Bryn Mawr College | Bryn Mawr, PA | Cost: $$$$$ | Graduation Rate: 79% | Bryn Mawr College was founded in 1885 and became the first university to offer doctorate level programs to women. The all women's college began with founder Joseph W. Taylor's vision to provide women with the opportunity to engage in academic scholarship and conduct original research. The university continues to provide such opportunities and serves as an intellectual hub for many outstanding female scholars. The university's center for leadership takes an innovative liberal arts approach to preparing the future female leaders of the world, and the center utilizes experiential learning tools to cultivate self-awareness and professional growth. Bryn Mawr offers several unique degree programs for women, including growth and structures of cities and peace, conflict, and social justice studies. The arts program at Bryn Mawr includes five focal areas, and the fine arts degree in conjunction with Haverford College emphasizes the importance of cognitive information processing and analytical skills in the creation of visual art. | |
| Meredith College | Raleigh, NC | Cost: $$$$$ | Graduation Rate: 59% | Founded by North Carolina Baptists in 1891, Meredith College is a liberal arts school for women and offers more than 80 undergraduate degrees and concentrations. Meredith College is dedicated to the development of female scholars, both personally and professionally, and the women's college strives to prepare graduates for a lifetime of success. Meredith College's academic programs range from accounting and business administration to interior design and nutrition. The university's engineering degree is part of a dual degree program in conjunction with North Carolina State University, where students complete degrees in math or chemistry from Meredith College while completing their engineering degree at NC State. The university's unique self-designed major allows students to develop individualized plans of study that reflect their career interests. Examples of self-designed degrees include Chinese writing, media writing, and musical theatre. | |
| Mount Holyoke College | South Hadley, MA | Cost: $$$$$ | Graduation Rate: 77% | Located in South Hadley, Massachusetts, Mount Holyoke College is an exclusive all women's college that provides a globally-oriented liberal arts education rooted in traditions of academic excellence and individualized learning. The student-faculty ratio is 9:1, and the majority of classes have less than 20 students. A leader among women's colleges, the university offers more than 50 majors, and 39% of current students are pursuing degrees in the social sciences. At Mount Holyoke College, the alumnae network provides graduates with valuable career guidance and resources such as internships and recruiting programs. Mount Holyoke College's renowned science program generates more research funding than all the nation's other top liberal arts schools, and the university's cutting-edge science center provides students with access to the latest scientific technologies, such as atomic force microscopes. Mount Holyoke College strives to foster an inclusive academic environment that celebrates diversity, and its doors are open to women from all backgrounds, including transgender students. | |
| Mount Mary University | Milwaukee, WI | Cost: $$$$$ | Graduation Rate: 40% | Mount Mary University was founded in 1913 in Milwaukee, Wisconsin, and has continually provided a unique academic experience rooted in Catholic values that emphasize integrity and social justice. The liberal arts university offers over 30 undergraduate majors and is one of the leading women's colleges in the nation. Students enrolled at Mount Mary University receive a world class education taught by experienced faculty, and the student-faculty ratio is 12:1. These small class sizes promote meaningful interactions and engaging learning atmospheres where each student's contributions are valued. The university offers several pre-professional programs, including pre-law, pre-medicine, and pre-nursing. Mount Mary University's RN-BSN completion program allows registered nurses to conveniently boost career prospects while developing leadership skills and gaining advanced practical knowledge. The university's occupational therapy program has a 100% job placement rate, and its faculty have expertise in a variety of areas such as mental health, pediatrics, and neurorehabilitation. | |
| Notre Dame of Maryland University | Baltimore, MD | Cost: $$$$$ | Graduation Rate: 41% | Notre Dame of Maryland University was the first university in the nation to offer a four-year degree to women and is the state's sole all women's college. Located in Baltimore, Maryland, the university's beautiful wooded campus is an oasis amidst the bustling city. The university is committed to its female students, and its alumnae are leaders in the fields of education, nursing, engineering, political science, and more. Notre Dame of Maryland University offers a variety of academic majors, minors, and certificates, as well as two unique five-year programs that allow students to earn MAs in business management or education. The university's degree completion programs cater to busy working adults, and a BA in business is available online. Women who attend Notre Dame of Maryland University receive a well-rounded academic experience, and the college's student life programs are designed to create connections and build meaningful experiences. Examples of extracurricular programs offered include honor societies, sports clubs, and opportunities for community engagement. | |
| Scripps College | Claremont, CA | Cost: $$$$$ | Graduation Rate: 81% | Located in Claremont, California, Scripps College was founded in 1926 by the visionary philanthropist Ellen Browning Scripps during an era when few higher education opportunities were available to women. Today the all women's college strives to uphold Scripps' mission to enrich the lives of women through academic opportunities and scholarly achievement. The university's core curriculum emphasizes community engagement, interdisciplinary research, and individualized student projects. Scripps College's science department prepares women for leadership roles in areas such as biology, chemistry, physics, and neuroscience. Scripps College participates in a community-wide partnership with other Claremont area colleges providing students with more expansive degree options. Examples of degrees available through the partnership program include computer science, linguistics, and organizational studies. Scripps College's campus life programs provide opportunities for connection and socialization, and a variety of intramural sports for women are offered such as baseball, lacrosse, and water polo. | |
| Simmons University | Boston, MA | Cost: $$$$$ | Graduation Rate: 76% | Located in Boston, Massachusetts, Simmons University is an exceptional all women's college that offers a culturally enriching and inclusive learning environment. One of top women's colleges in the U.S., Simmons University promotes the development of leadership skills and professional success in the 21st century. Simmons University enrolls approximately 1,700 undergraduate students annually from over 50 countries. Seventy percent of the the university's faculty are women, and their low student-teacher ratio promotes an intimate learning environment where students' unique academic interests are cultivated. Simmons University offers more than 50 undergraduate programs, where women have the opportunity to excel in traditionally male-dominated fields. The university offers degrees in biochemistry, data science and analytics, financial mathematics, and much more. Simmons University's unique minor programs address areas that are critical to the advancement of humanity, such as social justice, sustainability, and principled leadership. The university provides numerous services to enhance students' academic experiences, and all students have access to advising, career development, counseling, and valuable resources for mothers attending college. | |
| Smith College | Northampton, MA | Cost: $$$$$ | Graduation Rate: 83% | Located in Northampton, Smith College is one of the nation's largest women's colleges and enrollsmore than 2,000 undergraduate students. The all women's college encourages diversity, and its student body includes women from 48 states and 68 countries. Its inclusive academic environment caters to student success, and the 9:1 student-faculty ratio ensures that every student receives individualized support. Smith College's liberal arts curriculum emphasizes seven areas of knowledge, including literature, history, and science. Academic programs range from Africana studies and anthropology to statistical and data sciences, and every program cultivates critical thinking skills, creativity, and resourcefulness. Extracurricular activities that promote exercise are offered to provide students with a well-rounded education. Smith College's health and wellness center also provides students with access to high quality mental and physical health care, as well as educational resources, including topics on wellness education, disease prevention, and nutrition. | |
| Wellesley College | Wellesley, MA | Cost: $$$$$ | Graduation Rate: 84% | Wellesley College is one of the nation's premier women's colleges, and its commitment to the personal growth and professional development of its female students is made evident by its successful alumnae. Challenging, innovative, and meaningful curricula shape the numerous academic programs available to Wellesley College's students, and Wellesley's students can choose from degree programs that range from architecture and astrophysics to media arts and natural sciences. The university offers three unique programs that sharpen students' skills in the areas of quantitative reasoning, sustainability, and writing. The women's and gender studies program at Wellesley College challenges students to examine their roles in society and to explore gender issues and their influence on the lives of individuals and entire communities. The program also offers a unique course that explores the life of Elvis Presley and his presence in 1950s America. Students who attend Wellesley College have access to a variety of clubs and organizations including sports clubs, cultural groups, religious organizations, and much more. | |
Interview With Barnard College
Jennifer FondillerDean of Enrollment Management, Barnard College
Jennifer Fondiller oversees admissions, financial aid, registrar operations and precollege programs at Barnard College. A graduate of Barnard and Columbia University's Teachers College, Jennifer chose a career in enrollment management because she appreciates the opportunity to make an impact in several ways: to counsel students and parents, to have a hand in the business and marketing side of higher education, and to expand access to education for students all over the world.
What is the historical significance of women's colleges, and why is it so important that they still exist today?
Women's colleges in the U.S. arose in the 19th century because most colleges at that time offered a higher education only to men. They were most prominent in the Northeast and South. Barnard, Wellesley, and Smith, for example, were among the original Seven Sisters, a loose association of strong all-women's liberal arts colleges that were considered equivalent to the all-male Ivy League schools. The women who chose to attend were bold in their desire for a quality education and the pursuit of a career.
Back then, a women's college was the only option, but today women have a choice. This choice is incredibly important. Women's colleges tend to be small, liberal arts institutions with strong academic offerings and nurturing environments. Young women often choose them for the added benefit of leadership opportunities and support for women's issues, interests, and records of achievement among their graduates.
How has women-only education evolved over time?
Since their early days, women's colleges have encouraged women to pursue careers in traditionally male-dominated fields, such as science, mathematics and engineering. But women's colleges go further to harness the intelligence and potential of women. In addition to academics, they provide opportunities for personal growth and professional training. For example, many women's colleges have developed leadership labs like Barnard's Athena Center for Leadership Studies or Wellesley's Albright Institute. These centers foster collaboration, research, mentorship, and networking opportunities.
What are the greatest benefits of learning at a women's college? How does this environment help to foster a sense of empowerment among women?
There is a particular investment in our students at women's colleges. Women's colleges are small, discussion-oriented, and emphasize collaboration. While these are qualities that you often find in liberal arts colleges, women's colleges expose students to female role models and provide added support for certain fields where women ordinarily lag behind men. All student leadership positions are held by women, for example. And all connections with alumnae emphasize the advancement of women in the workplace.
What are the greatest challenges women face today when pursuing an education?
There still exists a perception of what women should or can study. It's a topic that frequently comes up when I meet with high school students. They'll talk about loving their chemistry class or being the top student (and only girl) in the highest-level math class, and being confronted with questions like, "You want to major in chemistry? But you're a girl!" or "Are you sure you can handle that class?"
I believe that women also grapple with, consciously or unconsciously, with finding a sense of balance in their lives. They want a career but at the same time wonder, "How am I going to juggle having a family or the many things I see myself accomplishing?" At women's colleges, students are encouraged to think about these early and talk about them.
How are women overcoming these challenges and what are academic institutions doing to help?
Women's colleges open doors for women, helping them make connections and pushing them to think independently and boldly. While they may ask themselves, "How am I going to succeed?" — whether it's pursuing an MD, writing a book, running a business or raising a family — we give them the confidence to pursue their dream. We help shift their attitude from "I don't know" to "I'm going to try. I'm going to make it happen." We make sure they have the tools to succeed and are aware of potential support from alumnae, all of whom are women.
What factors should a student take into consideration when choosing an all-women's college?
The first thing I would suggest is that students take a close look at the mission of the school. They should consider coursework, particularly in STEM disciplines, and opportunities for leadership development and internships. Students should visit the campuses and gain a feel for an all-women's environment. (They're all different depending on their location and proximity to other schools.) They should peruse course offerings, check out career center programming, and learn about the many opportunities for leadership — in clubs and organizations on and off campus. Most important, they should talk to current students, faculty, administrators and recent graduates to get their first-hand perspectives.
What Colleges are Doing to Help Women
As the primary gateways for our nation's future leaders, institutions of higher education have a special obligation to address obstacles hindering women's success in college and after graduation. By hiring more female faculty members, providing scholarship opportunities catered to women, and offering special resources designed to meet women's needs on and off campus, today's colleges and universities are embracing the challenge. We took these efforts into special consideration in creating our rankings of the best women's colleges and best colleges for women.
WHILE STUDENT LOAN DEBT IMPACTS STUDENTS OF ALL AGES AND BACKGROUNDS, WOMEN CARRY A LARGER BURDEN. WOMEN WITH A BACHELOR'S DEGREE HAD A CUMULATIVE TOTAL OF $21,619 IN STUDENT LOAN DEBT, COMPARED TO MEN WHO HELD $18,880 IN DEBT.
Scholarships for Women
Disparities among the sexes in education extend beyond the classroom. Data shows that women with a bachelor's degree carry more student loan debt than men. Scholarships specifically created for women — including minority women, women in STEM programs, women pursuing business majors, and single mothers — can help mitigate the disparity.
CUNY Hunter College: Women's Forum Education Award

University of Mary: P.E.O. International Peace Scholarship

Alliance for Women in Media Foundation/Ford Motor Company: Ford Emerging Voices Scholarship

Association for Women in Mathematics: Alice T. Schafer Mathematics Prize

American Chemical Society: Priscilla Carney Jones Scholarship

American Physical Society: M. Hildred Blewett Fellowship

Google: Women Techmakers Scholarship
Be sure to also check out this compilation of scholarships and other helpful information for women.
Women in STEM Initiatives
With a mission of promoting equity in the sciences, Hunter's GEP sponsors women scientists, reports gender equity benchmarks, provides workshops for female faculty, and works to increase recognition for women scientists.
A student affiliate chapter of the American Chemical Society, BCS works to promote the academic advancement of chemistry students and hosts events throughout the year, like open houses and an annual Mole Day.
Students at Scripps with a common interest in the sciences can choose to live together in a residential community where they provide each other with academic and personal support. The LLC also hosts various events, including organic chemistry study sessions and a liquid nitrogen ice cream mixer.
A national initiative announced by President Obama in 2015, the "Let Everyone Dream" Coalition facilitates multi-sector partnerships to support STEM education for students from low-income and underserved communities. Wellesley is among several named partners who collectively committed more than $90 million toward fulfillment of the initiative.
Founded in 2007, AEMES works to recruit and support students who are traditionally underrepresented in STEM programs by providing services like peer mentoring, study groups, and courses on learning strategies.
Administered by the university's biology department, NDMU's Sister Alma Science Year program funds a full year of research at the Johns Hopkins School of Medicine for three students majoring in the sciences.

Women & Minority Clubs/Organizations
Many schools provide clubs for women and minorities, helping to empower them and foster mentorship, leadership, and networking opportunities. Standout programs from schools on the rankings include:
Female Faculty
As part of their efforts to become more female friendly, colleges across the country have sought to hire more women faculty members. In addition to helping students feel better represented by their educators, employing more women faculty members increases diversity in perspectives offered to students. Such diversity is also enhanced by hiring female faculty of color, who bring their intersectional experience to bear on students' worldviews.
Best Co-Educational Colleges For Women
School
Location
Cost
Graduation Rate
Description
Toggle

California State University - Fresno

Fresno, CA
Cost: $$$$$
Graduation Rate: 16%

California State University at Fresno, often referred to as Fresno State, fosters academic success through its celebration of diverse perspectives, utilization of applied research in curriculum development and instruction, and student support initiatives. The university's inclusive environment offers a variety of opportunities for women, ranging from academic programs to campus organizations, and the school's commitment to equality and empowerment secure its position as one of the nation's leading women's colleges. Fresno State's women's studies program promotes critical thinking skills in areas pertinent to women's issues, such as gender identity development, power and privilege, and women's unique experiences in society. The university's Cross Cultural and Gender Center promotes campus diversity and offers numerous services that celebrate cross-culturalism and acceptance. Fresno State's Women's Association explores women's social issues, hosts activities, and offers scholarships. The university's Women's Resource Center offers important information on health care and childcare services available in the area.

California State University - Fullerton

Fullerton, CA
Cost: $$$$$
Graduation Rate: 22%

California State University at Fullerton offers an academic experience that is driven by innovative teaching strategies, experiential learning, and collaboration among students and faculty. The university strives to provide an inclusive academic experience, and its female-focused programs and organizations make it one of the best colleges for women in the U.S. The college's women and gender studies program promotes critical thinking and self exploration through conversations led by the program's passionate faculty. Students interested in the program are guided by faculty with diverse research interests including feminist theories, the intersection of gender, science, and religion, and social justice issues. Women have the opportunity to participate in Greek life, and the university's sororities emphasize philanthropy and community engagement. The college's organizations have a variety of clubs that cater to female students, including advocacy organizations, the women's soccer club, and Sister Talk, a club that explores African American women's roles in modern society.

California State University - Long Beach

Long Beach, CA
Cost: $$$$$
Graduation Rate: 22%

California State University Long Beach prepares students for academic and career success by providing an experience that promotes creativity, diversity, and scholarly growth from a global perspective. The university offers one of the best women's college experiences in the nation and offers an exceptional women's, gender, and sexuality studies (WGSS) program. Faculty research projects include environmental breast cancer advocacy and media representations of gender. The WGSS program offers a scholarship for students who are pursuing a major or minor in gender studies. The university has a vibrant Greek life, and female students have the opportunity to join panhellenic council sororities as well as cultural Greek letter sororities. Students interested in politically active student organizations that focus on women's and gender issues could consider joining the Feminist Organization Reclaiming Consciousness and Equality or Justice and Gender Education.

Concordia University - Chicago

River Forest, IL
Cost: $$$$$
Graduation Rate: 37%

Concordia University Chicago is a private liberal arts college affiliated with the Lutheran Church. The university provides a variety of comprehensive degree programs that emphasize Christian values and professional training in an inclusive setting. The university's interdisciplinary women's and gender studies program examines theoretical approaches to gender, and students are encouraged to critically reflect on their gender roles in society. The athletic department offers nine women's sports programs, and female athletes can partake in basketball, lacrosse, soccer, and more. Concordia University Chicago has an exceptional early childhood education center that includes programs for infants up to kindergarten. Mothers interested in continuing their education can attend class or complete assignments while their children receive a jumpstart on their education. Busy working moms can choose to participate in one of the university's accelerated undergraduate degree completion programs that can be completed online.

CUNY Bernard M Baruch College

New York, NY
Cost: $$$$$
Graduation Rate: 40%

Baruch College is located in New York City and is home to one of the most diverse campuses in the U.S. The university offers a variety of programs and extracurricular activities geared toward women, including student organizations that focus on women's issues and political causes. The athletic department includes six women's sports, and female students with athletic talent can join teams such as basketball, swimming and diving, or tennis. As one of the best women's colleges in the nation, Baruch College employs many outstanding female professionals, including award winners in psychology and women's studies. The university's interdisciplinary women's studies program emphasizes the unique experiences of women, and courses are led by faculty with diverse research interests, including women's art in the 1970s, the history of women and gender, and women's achievement in math. Baruch College's outstanding daycare facility ensures that busy working mothers have time to pursue their academic goals.

CUNY Brooklyn College

Brooklyn, NY
Cost: $$$$$
Graduation Rate: 29%

Located in Brooklyn, CUNY Brooklyn College provides more than 17,000 students with a quality academic experience on a beautiful campus surrounded by opportunities for cultural enrichment and experiential learning. More than half of the university's student body is female, and CUNY Brooklyn College promotes an inclusive learning environment that values and incorporates women's perspectives and experiences. One of the best women's colleges in the nation, CUNY Brooklyn College offers an undergraduate degree in women's and gender studies and is home to the Shirley Chisholm Project of Brooklyn Women's Activism. Women athletes can choose from eight sports, and the women's basketball team is ranked eighth in the atlantic region. The university's health clinic offers several services for women, including gynecological care, birth control, and guidance on prenatal care and nutrition. The women's center at CUNY Brooklyn College empowers women through various holistic programs that focus solely on women's issues.

CUNY Hunter College

New York, NY
Cost: $$$$$
Graduation Rate: 28%

Located in Manhattan, CUNY Hunter College is the City University of New York (CUNY)'s largest college, and its diverse student body and innovative academic programs make it one of the best women's colleges in the nation.

The university's undergraduate science programs enroll twice as many women as the national average, and the women and gender studies programs at CUNY Hunter College offer an undergraduate degree and several elective courses designed to highlight the many incredible accomplishments of women throughout history. The program's courses include topics such as feminism, gender and sexuality, and women in culture and society. Among the university's cutting-edge research initiatives is the gender equity project, which examines gender biases and related issues in the social sciences. The project sponsors female scientists and collects data from various departments to examine gender equity and faculty experiences.

Notre Dame of Maryland University

Baltimore, MD
Cost: $$$$$
Graduation Rate: 41%

Notre Dame of Maryland University has been providing quality education for 120 years, and it's all women's college produces confident and competent female leaders with the knowledge and skills necessary to thrive in traditionally male-dominated fields. The Catholic university's women's college offers a variety of academic programs, including degrees in behavioral neuroscience, digital media arts, writing, and much more. The university's diverse student body is united through Notre Dame's traditions, and new students are supported during welcome week. The university prides itself on being "transfer-friendly", and allows students to transfer up to 68 credits earned from a community college and up to 90 credits earned from a four-year institution. The university's numerous extracurricular organizations ensure that students receive a well-rounded college experience, and women have the opportunity to participate in student government, the school newspaper, and academic clubs such as the Society for Women Engineers.

University of Georgia

Athens, GA
Cost: $$$$$
Graduation Rate: 66%

Chartered in 1785, the University of Georgia is the oldest public university in the state, and its academic programs have evolved to provide equal opportunity learning environments that value diverse perspectives and experiences.

The university is home to the Institute for Women's Studies, which promotes feminist perspectives and hosts seminars and a lecture series that explores topics such as motherhood and women's survival testimonies. The University of Georgia's athletics program has 11 women's sports, including volleyball, basketball, and golf. Several of the university's student organizations accommodate female students, including Delight Ministries, Feminist-Scholar Activists, and the National Council for Negro Women at the University of Georgia. The University of Georgia's online learning programs are built for busy working women, and the university's flexible online degrees allow caregivers to balance family and career responsibilities while continuing to pursue their professional goals.

University of Mary

Bismarck, ND
Cost: $$$$$
Graduation Rate: 43%

Located in Bismarck, North Dakota, the University of Mary is a private Catholic university that excels in higher education for women. The university's leadership began under the vision of a few exceptional women: the Benedictine Sisters of Annunciation. Their leadership and intuitiveness molded the future for the University of Mary, which has blossomed into a premier institution with more than 60 undergraduate majors. The university offers one of the best women's college experiences in the nation, and its faith-based academic programs include fields that have been shaped by innovative female leadership such as early childhood education, nursing, social work, and special education. The university's distance learning programs cater to busy professionals and provide working mothers with the opportunity to earn career-boosting degrees and certificates. The University of Mary strives to promote student wellness, and all students have access to the university's affordable health clinic that treats a variety of women's health issues.
---
Interview With an Advocate
Jenni Luke is CEO of Step Up, the nonprofit membership organization inspiring women to inspire girls. In this role, she leads one of the nation's most sought-after mentorship organizations in its second decade of service.
How can women stay informed about gender equality issues?
Gender equality covers everything from healthcare to workforce development since women are involved in all aspects of life. Be a savvy news consumer and follow those who ask critical questions of policy through a gender lense, being thoughtful about the intersection with race, LGBTQ, and socio-economic factors. Broaden your perspective by following a variety of voices. Some that I love include Carmen Perez, Luvvie Ajayi, Linda Sarsour, and Ultra Violet.
What can universities do to promote equality?
All institutions should have stated values that clarify that gender (and race, socioeconomic, and sexual orientation) discrimination will not be tolerated. Do a policy review to ensure this is true and do an implementation and enforcement review to ensure your institution is living up to those values; for example, enforcement of campus sexual assault laws or suspension of student organizations that do not uphold the university's values. Review data to see if there are any trends in implementation that might alert you to biases in implementation or enforcement that are not obvious. Admit mistakes and include affected parties in building the institutional solutions to protect against the issue happening again.
How can professors and department heads empower female students throughout their academic journey?
Make sure you call on women and acknowledge them for their ideas and contributions. Ask them what their career aspirations are and support them in reaching them. If your class enrollment skews male, ask the women in your class if there is something more you could do to attract more female students to the field. Don't just assume women aren't interested. I also admire Cynthia Baily Lee's practice of providing her Stanford students with clear and timely feedback, including class-wide distribution data. She notes that women and minority students often fear the worst about their position relative to the class and can be reassured by data.
What should a female student look for when choosing a college?
Beyond seeking the right academic and social fit, look at the school values and track record of the administration. Does the chancellor listen to student voices? Is there a campus police force? What is their record on campus sexual assault? What about student health services? Do they support your needs?
What additional advice you would give female high school students preparing for college?
Remember that you have power in choice. You choose the school as much as the school chooses you. Choose a school that serves your needs. Understand how you learn well — big lectures or small groups? — and the type of environment in which you thrive. Visit the campus a few times if possible to get a feel for the community as a whole. Talk to random students, not just student tour guides. Do students feel supported in their growth? Is it social? Or does it work for introverts? Are students friendly or is there an air of competition?
---
Other Things to Consider When Choosing the Best Women's College
Academics are just one part of the overall college experience. To account for that, we looked beyond academic considerations to features like campus safety and child care services. When looking through prospective schools, you may want to research these and other non-academic factors in depth.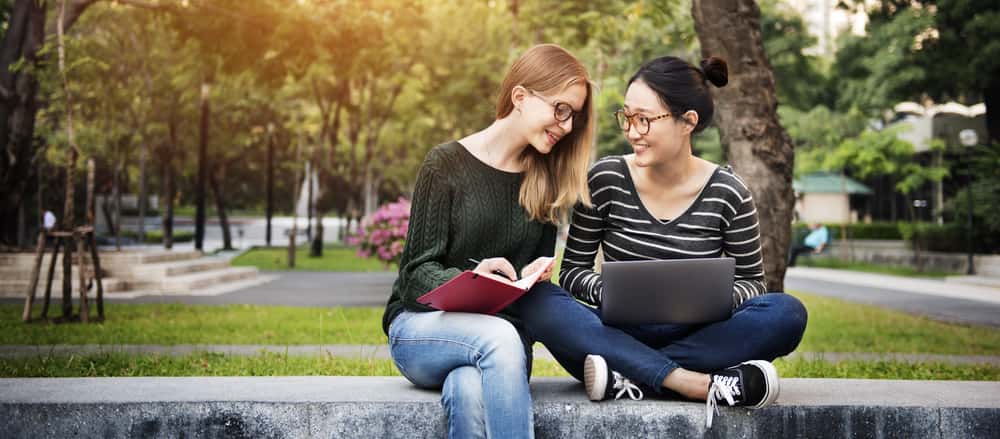 Campus Safety
One important non-academic factor for women to consider when researching prospective schools is campus safety. Among four-year colleges with 2,500+ students, around 75% employ armed officers. While armed officers have undoubtedly deterred many would-be criminals on campuses across the country, they have not extinguished violent crime entirely.
Of particular concern for women is sexual violence, which is more prevalent on college campuses than other violent crimes. On average, one in four female undergraduates is victim to sexual assault by the time she finishes college. Schools around the nation are acutely aware of the issue; 86% of campus law enforcement agencies provide rape prevention programming, and 72% offer survivor response and assistance. To aid in best practices for the prevention of and response to campus sexual violence, the Office on Violence Against Women (OVW)'s Campus Program has awarded over $131 million to higher education institutions across the country.
Contact your prospective school's campus safety office to learn about the steps the school is taking to ensure student safety on campus. Most schools should have many of the following features:
Campus escort services (free late-night transportation, group walking services, etc.)
Campus law enforcement
Safety education workshops (like those offered at the University of Michigan, for example)
Blue light emergency phone stations
Safety maps
Self-defense classes
Support for campus safety apps (e.g., CampusSafe)
Childcare Services
Currently, student parents account for 22% of our nation's undergraduate population. That's a sizable demographic, the needs of which have primarily been addressed by community colleges rather than four-year institutions. Besides offering lower tuition costs and evening and part-time options that appeal to student parents, community colleges often provide on-campus child care services. More four-year colleges and universities need to wake up and smell the formula; resources like on-campus child care make a bachelor's degree much more feasible for student parents who can't afford the rising costs of private day care services. Today, students without children are 10 times more likely to earn a bachelor's degree within five years than students who have children.
Given those statistics, we considered the availability of on-campus child care services as an important non-academic factor in our rankings. Not all student parents are women, but most of them are: of the 3.8 million students who are parents, 70% are mothers. Several of the schools we've featured in our rankings offer on-campus or near-campus child care services (such as Concordia University-Chicago's early childhood education center) including day care, early education, and private rooms for breastfeeding.
Additional Resources for Women