Scholarships and Financial Aid for Online College Students
Does financial aid cover online classes? The short answer is yes. In recent years, as the popularity of online higher education has exploded across the country, financial aid has evolved to meet demand. In the process, it has become an entirely mainstream learning option.
According to the National Center for Education Statistics (NCES), 35.3% of students were enrolled in distance education courses at degree-granting postsecondary institutions in 2018. Online students qualify for many of the same types of state and federal aid and scholarships as on-campus learners, and also have access to a variety of awards intended solely for distance learners. However, online students face unique challenges in paying for school.
The History of Financial Aid at Online Colleges
When online education was in its infancy, students seeking financial aid from the federal government had to take at least half of their classes on campus in order to qualify for assistance. The government created this "50% rule" based on research from 1992 that raised doubts about the quality of some online schools. In 2006 the government updated its policy, and schools were no longer required to follow the "50% rule," significantly expanding financial aid opportunities available to distance learners. Suddenly, students could take all of their courses online and still qualify for financial aid.
Today, as online education has become increasingly prevalent, the federal government no longer differentiates between online and on-campus courses when determining financial aid eligibility. Online education has expanded significantly in the past decade and is widely considered to be as effective as residential courses, particularly for non-traditional students. No longer restricted to a handful of for-profit colleges, online courses and degrees are now commonly offered by elite brick-and-mortar institutions.
Unique Challenges
The Hidden Costs of Online Degrees
Although distance learners can save money on living expenses, online degrees sometimes come laden with surprising hidden costs. Students typically pay more in tuition when they take one course here and another there, as many online learners do. Depending on the college, out-of-state students sometimes have to pay more than in-state students (though many online colleges charge in-state tuition for out-of-staters). Travel costs can also come into play: some online programs require students to travel to campus occasionally, which can be expensive if a student doesn't live close to the school. Other hidden costs of online degrees include miscellaneous fees (for technology, graduation, assessment, and so forth) and the cost of acquiring and maintaining the technology needed to study online (such as internet or a computer).
Non-traditional Students: Balancing Work and School
Non-traditional students face unique challenges that makes a return to school stressful. The time commitment required to succeed can be particularly burdensome for distance learners, particularly those who work full-time. Time spent in class, doing homework, and studying is time that cannot be spent working, taking care of family, and managing a household. The cost of school is another barrier. College is increasingly expensive for everyone, but non-traditional students often don't have the family support or financial resources that some younger students enjoy. Non-traditional students also often have expenses, such as daycare and mortgage payments, that make finding the money to pay for school even more difficult. These challenges underline the need online students have for scholarships.
The Importance of Accreditation
Distance learners are wise make sure they attend an accredited online school. Accreditation is an official review process in which colleges and academic programs are evaluated to determine if they meet certain standards. The process is voluntary, but most schools, both online and offline, choose to participate. Accreditation ensures that colleges are offering a robust curriculum, that faculty members are qualified, and that the college operates with sound business practices. Another benefit of accreditation is that enrolled students are eligible for federal and financial aid. The government only provides financial assistance to accredited schools, to make sure that federal money isn't supporting so-called "diploma mills", institutions that don't provide a solid education. Many scholarships are only available to students at accredited schools.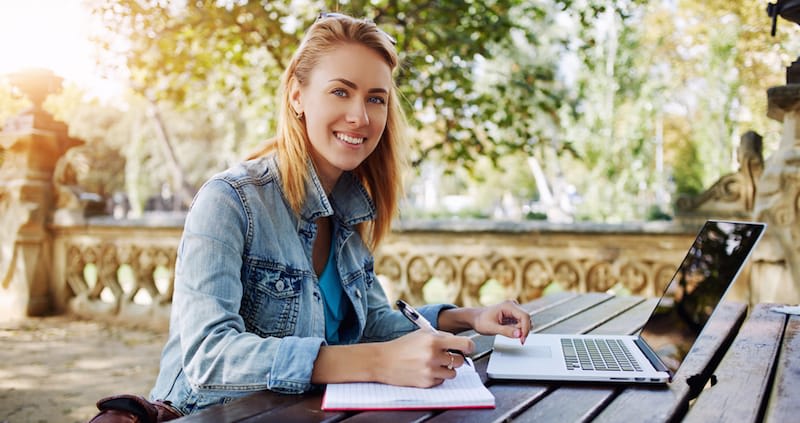 Before making a decision, make sure that your school is recognized by either the U.S. Department of Education (ED) or the Council for Higher Education Accreditation (CHEA). And be sure that the accrediting agency is itself reputable, as some accreditation bodies don't effectively evaluate schools.
Financial Aid Options for Online Students
Online students are eligible for the same types of financial assistance commonly available to on campus students. Four primary sources of college funding include federal financial aid, state-sponsored aid, college-sponsored aid, and private aid.
Federal Financial Aid

Made available through the U.S. Department of Education, Federal Student Aid must be applied for by individual students. The final financial aid package awarded can include a combination of the following:

Grants: Usually awarded based on established financial need and do not have to be repaid; Pell Grants and TEACH Grants are two examples.
Work Study: Programs at the undergraduate and graduate level that provide part-time employment for students while they are enrolled in school; opportunities are available on and off campus.
Loans: Borrowed money that must be paid back; interest rates and repayment options vary.

Learn more about eligibility requirement for federal financial aid through our Overview of Financial Aid and our guide to Understanding the FAFSA.

State-sponsored Aid

Scholarships and grants are available through each state's education agency. Other funding programs may also be affiliated with these offices. The National Association of Student Financial Aid Administrators provides an online tool for locating current financial aid programs in your state.

College-sponsored Aid

Many schools provide scholarships, grants and other types of tuition breaks to students. Athletic scholarships, for example, fall into this category, as do grants based on academic merit. Loans made directly from the college are also sometimes possible. The amounts and types of funding available vary widely from school to school, but it is worth contacting the financial aid office for more information.

Private Aid

Financial assistance can come from a wide range of organizations in addition to the government and college sources listed above. Financial institutions offer loans to students who qualify under varying interest rates and repayment options. Community groups, religious organizations and professional associations often sponsor college scholarships, which don't have to be repaid.
Snapshot of Online Colleges That Accept Financial Aid
What kinds of college-sponsored aid can you expect from online colleges? Here are just a few examples of the money some of the larger online programs make available:
If you are interested in applying for school-sponsored funding, contact a financial aid advisor to find out more about eligibility requirements and application deadlines.
Scholarships
Scholarships differ from loans, in that they do not require students to repay them. They are usually awarded on merit, though some need-based scholarships are available as well. Some scholarships are also awarded to particular demographics, such as women, ethnic minorities, single parents, military veterans, and children of police officers. Scholarship stipulations vary, but often require applicants to submit an essay, academic transcripts, test scores, and letters of recommendation. You can search for scholarships through your university, non-profit foundations, and local businesses and community organizations.
Tips and Tricks
Do Your Research: Thoroughly research all available scholarships. You don't want to miss out on a scholarship tailored to your background or experience but don't waste your time on scholarships with criteria that you don't meet. Be sure to read the fine print.
Stay Organized: Make a plan for staying organized. This will keep you from missing deadlines and spare you from applying for the same scholarship twice, for example.
Read (and Follow) the Directions: Before you start filling out an application, read through the entire set of directions. This way you can avoid making mistakes that could disqualify you (such as not attaching transcripts).
Start Early: The earlier that you start identifying and applying for online scholarships, the better. Many scholarships have deadlines well in advance of when you'll actually need the money.
Spend Time on Your Essay: If your scholarship requires an essay, make sure to spend enough time crafting a thoughtful considered and carefully composed piece. Be sure to address the prompt and have a friend (or two) with editing skills proofread and comment on your text.
External Resources
Places to Look for Scholarships
Your University

Check with your school's financial aid office, advisors, and teachers for information on scholarships offered directly through school. Most schools have online scholarship databases that make it easy to find relevant awards.

Foundations

Foundations and private companies all over the country give away thousands of scholarships for distance learners each year. Examples of scholarship-granting foundations include the Bill and Melinda Gates Foundation, the Ford Family Foundation, and the Coca-Cola Scholars Foundation.

Local Community Organizations

Many community organizations offer scholarships to their members and children of their members. Examples include 4-H Clubs, the Girl and Boy Scouts, and the Elks National Foundation.

Scholarship Database

The comprehensive Scholarship Database at BestColleges.com provides an extensive listing of online scholarships available throughout the country. Students can search for scholarships available to them by demographics and major. The site also provides a section devoted to financial aid for online colleges.
Scholarships for Online Students
Study.com Undergraduate Distance Learning Degrees Academic Scholarship

Christian College $2500 Scholarship

Education Matters Scholarship

GetEducated.com Distance Learning Scholarship

Penn State World Campus Scholarships

Zombie Apocalypse Scholarship

Columbia College eScholarship

Unigo $10K Scholarship

GIA (Gemological Institute of America) Scholarships

University of Wisconsin Platteville Scholarships

Southern Illinois University Off-Campus Scholarships

Western Governors University Scholarships

Unigo's Top Ten List Scholarship

Scholarship Owl's 'You Deserve It' Scholarship

ChameleonJohn.com Scholarship

Courage to Grow Scholarship

Foreclosure.com Scholarship

HeadsetPlus.com Scholarship

University of Alabama College of Continuing Studies Distance Learning Scholarships
Scholarships for Nontraditional Students
Imagine America Adult Skills Education Program

Association for Nontraditional Students in Higher Education (ANTSHE) Scholarships

Return2College Scholarship

TechChecks Business Leadership Scholarship

National University Presidential Tuition Scholarship
Grants
Grants are a type of financial aid that, unlike loans, do not have to be repaid. Like scholarships, they are essentially free money — gifts — to help you pay for your education. Some grants do require that you agree to fulfill certain obligations, usually to work in a certain field for a set period of time. Most scholarships are merit-based, while grants are usually need-based awards. Most grants come from the federal or state governments, and you'll need to fill out the FAFSA (Free Application for Federal Student Aid) to be eligible.
Different Types of Grants
Federal Pell Grants
Federal Pell Grants are usually given to undergraduate students who do not have a bachelor's or professional degree. The amount of aid you receive depends on your financial need, the cost of attendance at your school, your status as a full-time or part-time student, and whether you plan to attend school for a full academic year or less. The maximum Pell Grant award for the 2016 to 2017 year is $5,815.
Grants from State Governments
Almost every state government offers student grants, most of which are restricted to state residents attending a college in-state. Most programs have annual deadlines, and award amounts vary by state.
Private Grants
There grants are dispersed by trade and professional organizations. Award amounts from private grants vary considerably.
Grants for Online Students
Federal Pell Grant

Federal Supplemental Educational Opportunity Grant

P.E.O. Program for Continuing Education Grant

Iraq and Afghanistan Service Grants

Teacher Education Assistance for College and Higher Education (TEACH) Grants
Other Ways to Save
Only Borrow What You Need: If you're taking out student loans, only take out the amount that you need. You probably qualify for more money than you need, but this doesn't necessarily mean that you should accept it. Avoid over-borrowing and pushing yourself into excessive debt. Remember: you'll most likely have to pay it all off later.
Buy or Rent Used Textbooks: Textbooks are often expensive. Some can cost several hundred of dollars. You can save significantly by buying or renting used textbooks. In some cases, you might even be able to find a required textbook available free online or through your library.
Shop Around for the Most Affordable Online College: Make sure that you do your research when figuring out which online colleges to apply to. Compare different colleges and programs to see how much each one will cost. You might be surprised at how much the cost of an education can vary depending on where you attend.
Take Advantage of Student Discounts: Many companies offer student discounts on a variety of items, including technology. Many major computer companies offer student discounts, so be sure to shop around for deals on computers, software, printers, and more.
Choose Federal Loans Over Private: If you must take out student loans, always apply for federal loans before turning to private lenders. Federal loans generally have a lower interest rate and better benefits for borrowers, including the potential to qualify for student loan forgiveness programs.
Additional Resources for Online Students
Flash Card Machine is a free service and online study tool that lets users create web-based study flashcards that can be shared with others.
My Study Life is a free app that helps students plan and manage their schedules, assignments, and exams.
This site is devoted to study skill development for online and on-campus students.
Purdue's OWL offers writing help of all kinds, including help with grammar, bibliographies, and thesis statements.