Social Media Changes How College Students View Mental Health
The relationship between social media use and college students' mental health became increasingly complex during the pandemic.
Alpgiray Kelem / E+ / Getty Images
---
Students' relationship to social media became more complex during the pandemic.
College students' social media use doubled during the pandemic.
Young people are aware of social media's disruptive effect on their lives.
---
Between Instagram, Snapchat, TikTok, Yik Yak, and YouTube, social media is flooded with videos documenting college life. Search for the hashtag #college, and you'll find an infinite number of videos detailing the annoyances, hardships, and joys of college life.
Student creators post painstakingly edited vlogs about all facets of life at college, including moving into dorms and getting ready in the morning. You might even stumble upon ASMR videos of students cracking open tupperware in the law library or typing on their laptops.
According to a report by the Pew Research Center, social media users are predominantly women. However, men also document their college lives for thousands to see. They post POV videos of being locked out of their dorms at 4:00 a.m., playing pool with golf clubs, and detailing unspoken truths about life at college.
These apps use algorithms to gather information on users' interests and habits and feed them addictive content. The endless onslaught of lifestyle and body propaganda on social media is directly linked to mental health conditions in college-aged people, especially young women. However, social media can also connect users with mental health resources and communities of people with shared experiences.
Students' Social Media Use Doubled During COVID-19
According to Pew, 76% of 18- to 29-year-olds used Instagram, 75% used Snapchat, and 55% used TikTok prior to the pandemic. Most of these users logged on multiple times every day.
College students' social media use became even more excessive during the pandemic as they were forced online for school and social interaction, according to an October report published in Current Psychiatry Reports that was made public through the Public Health Emergency COVID-19 Initiative. Before the COVID-19 pandemic, teen and young adult users in the U.S. spent one or two hours per day on social media. Today they spend an average of three to four hours per day, according to the report.
All age groups spent more time on social media during the pandemic, but young users spent the most time. The additional screen time, social isolation, and added stressors of the past year and a half have had a profound impact on students' mental health. Numerous studies show significant increases in the rates of anxiety and depression among college students during the pandemic.
The situation is a Catch-22: Young people, harmed by social media's psychological effects, increasingly turn toward social media to express their feelings, find community, and manage their mental health.
Social Media Causes and Calms Mental Health Conditions
Social media worsens feelings of low self-esteem, loneliness, and stress, while increasing rates of depression, anxiety, substance misuse, and suicidality, according to the research published in Current Psychiatry Reports. Social media use can impair participation in normal life, reduce happiness and life satisfaction, and spur addictive behaviors.
That research also suggests there are positive as well as negative effects of social media. There is an inverse relationship between social media use and depression, according to the report. What's more, many people use social media to deal with stress and other struggles.
Listening to other people's stories is the basis of group therapy, long practiced by the likes of organizations such as Alcoholics Anonymous. On social media, rather than attending a meeting, someone can simply search for #sober to find inspiration and support.
Emerging adults also use Instagram and TikTok to learn more about their mental health and self diagnose. Many young people learn to recognize symptoms of depression, anxiety, eating disorders, and other mental health conditions through social media.
Still, experts are sounding the alarm that social media can't replace therapy or professional help when managing serious mental health conditions. Excessive or unhealthy use correlates with worse mental health outcomes overall.
Take Time to Prioritize Self-Care
Give yourself time and space to focus on you. Explore our collection of mental health resources to find support.
Learn More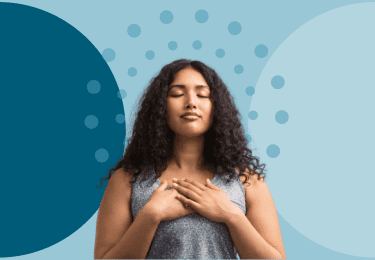 Despite Risks, Social Media Targets Even Younger Teens
The researchers who conducted the Current Psychiatry Reports study call college students' social media use "ubiquitous at baseline." The majority of current college students belong to Generation Z — those born after 1996. Gen Z students are "digital natives," having never lived without the internet or social media.
Though young people are accustomed to social media, they are also aware of its disruptive effect on their lives. According to a "teen mental health deep dive" produced in 2019 by in-house Facebook researchers, "Teens blame Instagram for increases in the rate of anxiety and depression," a reaction that was "unprompted and consistent across all groups." The report found that roughly one in three teenage girls feel worse about their body when using Instagram.
Despite these and similar findings, social media companies have only made small changes to their platforms. Instagram formed a "well-being" team responsible for changes like the option to hide the number of likes posts receive. Earlier this year, TikTok started including mental health resources in the results when users search certain problematic hashtags like #whatieatinaday, which is associated with eating disorders.
While social media may be toxic to young users, they are vital to social media companies' revenue. Fear of losing the teen pipeline to other social media apps prompted Instagram to start making dramatic investments.
Since 2018, the company has spent almost its entire marketing budget on targeting teenagers. Young teens ages 13-15 are the main target, but Instagram also has plans to create products for children younger than 13. Ann established legal safeguard stands in the way of that goal. The Children's Online Privacy Protection Act makes it illegal to store or collect the personal information of anyone under 13.
The same demographic that is vital to the future of social media companies is also vital to the future of colleges. Much like social media, colleges are reliant on a steady, incoming stream of young customers. Prospective students already turn to a school's social media accounts to get a feel for campus life. To help reach prospective college students, some schools are forming partnerships with influencers.