Graduating With Style: This Artist Creates Custom Caps for Students' Big Day
Artist Kimberlee Morales' custom graduation caps help students share their journey to a college degree. Now, she's turned her hobby into KimsCustomCaps, and business is booming.
Photo Courtesy of Kimberlee Morales
---
Kimberlee Morales started designing custom graduation caps in 2015 while studying at UC Santa Barbara.
Her company, Kim's Custom Caps, offers fully customizable, hand-painted caps, as well as printed cap toppers for graduates.
Many of the designs celebrate first-generation students, as well as nurses and teachers.
---
When Kimberlee Morales started designing graduation caps for her friends in 2015, she thought of it more as a hobby than a full-time job.
Then a third-year University of California, Santa Barbara student, Morales was known as the artsy, go-to project person, she told BestColleges.
"I had a lot of girlfriends who are graduating, and they were like, 'Hey, you know how to draw, can you do this for me?' And I was like, 'OK, well, I can figure it out.'"
The positive feedback on her custom mortarboards inspired Morales to create even more in spring 2016 when she also walked with her UC Santa Barbara graduating class. This time, though, she advertised her design services on the school's social media and started charging classmates for them. She also created her own Instagram account to showcase her crafty caps.
Then Instagram reached out to her with a surprise question: Could they feature her work?
"Overnight, I had like 25,000 followers and applications for custom caps for the next three years," she said.
Morales' hobby has transformed into Kim's Custom Caps. And this graduation season, she designed over 150 hand-painted graduation caps and printed an additional 2,000 graduation toppers, all while maintaining an in-demand two-year waitlist.
Interested customers can secure their spot with a $10 deposit two years in advance of their graduation. While they can complete an application for a date beyond that, Morales says she doesn't accept official bookings until the two-year mark.
"I have applications up until 2034. I have moms that are reaching out for their kindergartners' high school and college caps. It is crazy. I'll just tell them, 'I'll add you to my contact list. Let's talk in 2032' because it's not realistic for me to take someone's deposit 10 years in advance."
Mother Knows Best
Morales graduated with a degree in sociology and Spanish with a minor in education in 2016 with the goal of working with Spanish-speaking students.
However, after about a month of working in a school during the day and staying up all night to pack and prep orders for customized graduation caps, she realized that she wasn't reaching her full potential in either endeavor.
"My mom was the one that told me, 'Why don't you quit your job?'" Morales said. "And I was like, 'Mom, who quits their job to do arts and crafts full time?' But I did [quit] and I have been full time almost eight years now, and it's been a pretty crazy ride, but I absolutely love it."
Many of the designs offered on Morales' website feature Spanish lettering and the option to include the flags of different countries. As a first-generation student herself, Morales says the designs she creates for first-generation students are some of the most impactful for her.
"Ninety percent of the caps I do are in Spanish, and the majority are dedicated to their parents or their grandparents. The degree I went to school for was aimed to work with bilingual students, but I thought it was going to be in the form of a tutor in a school. I never imagined that I would still be using my degree just in my own way."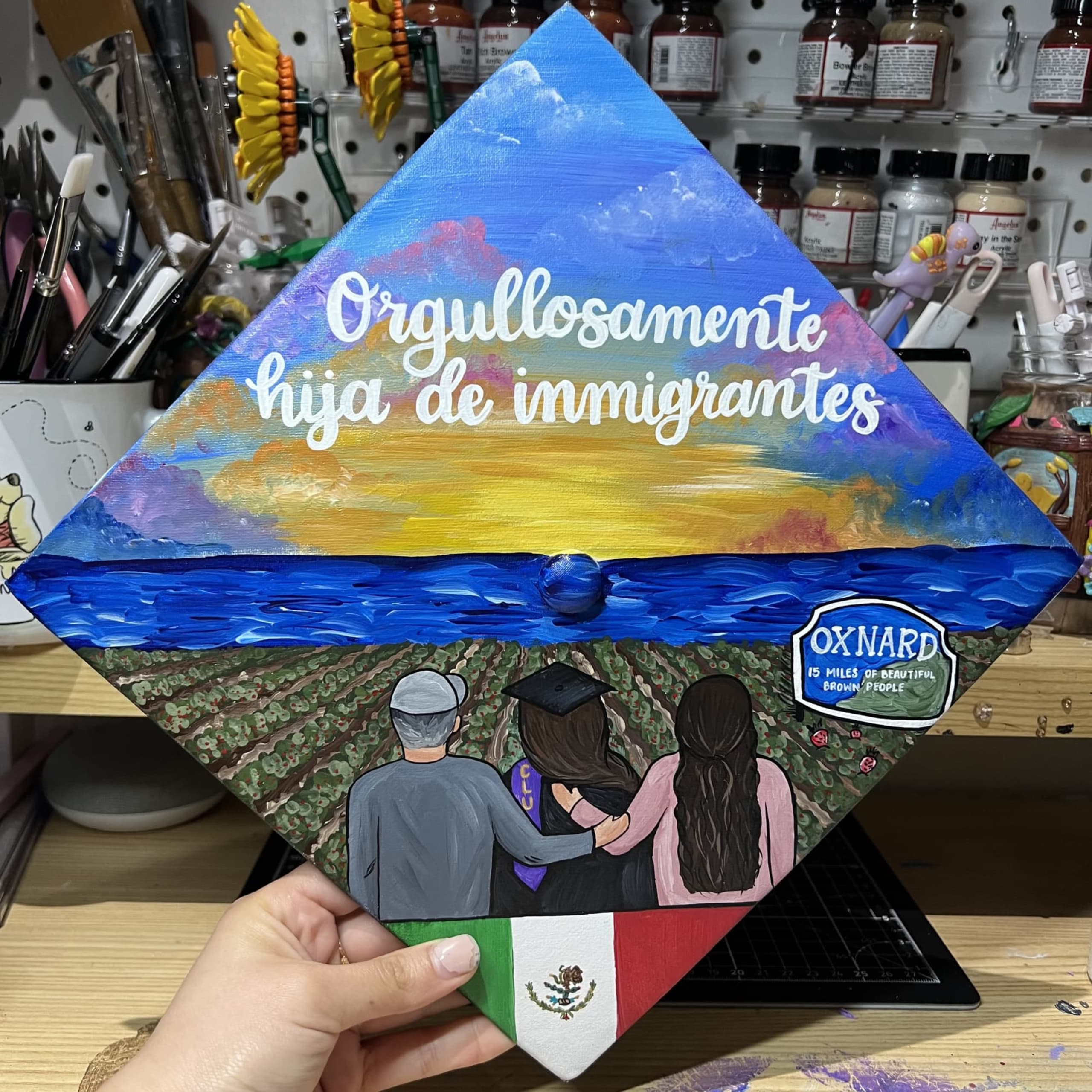 Creating the Perfect Cap
Morales sells her designs on her own website, along with on Etsy and Amazon. KimsCustomCaps is also active on social media, with over 100,000 followers on Instagram and 280,000 followers on TikTok.
Here's how she crafts the perfect cap: A few weeks before the reserved date, Morales connects with the client to brainstorm. While most designs take between 2-3 hours, some more complicated pieces can take as long as eight hours.
Once a design is chosen, Morales will give the customer a price point and will move to designing the cap or discussing more affordable options, if needed. Custom caps start around $65 and increase in price depending if the design will have detailed characters or portraits included. Caps with a fully painted background start at $80.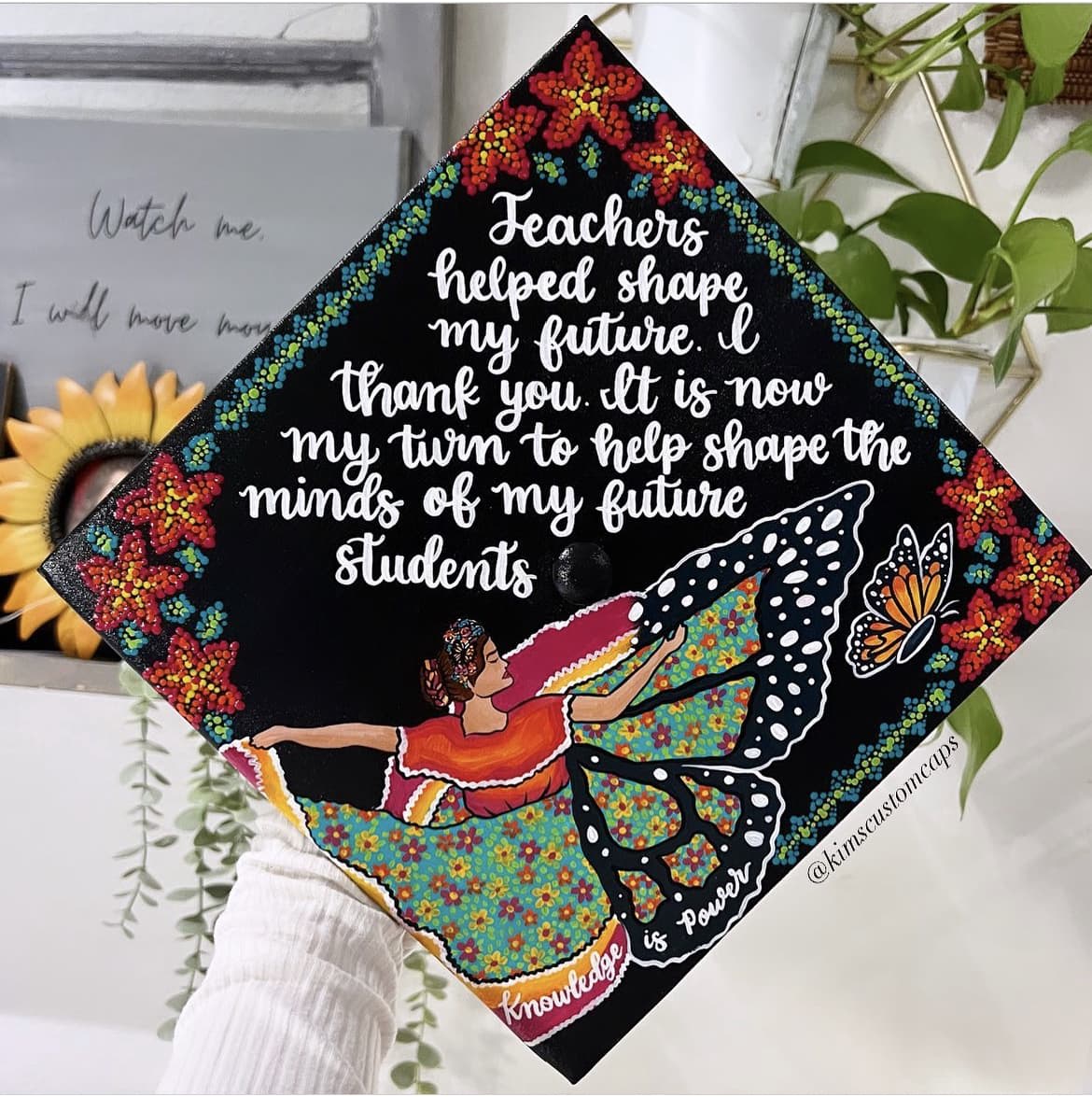 With an output of about five fully customized, hand-painted caps per week, Morales said she realized the demand outpaced what she could produce. So she started offering graduation cap toppers in 2020 — digital designs that are printed and taped to a graduate's cap. They currently sell for $26.
"I do a lot of digital designs because I had to figure out a way to cater to more students because I can only paint so fast … and [toppers] ended up being a really big hit just because they're a lot more affordable," she said. "I can customize them to a certain extent so that people are still getting something very personal to them."
Peak graduation cap season is March through mid-June when she generates 85% of her revenue for the entire year.
"I'm working 16, 18, 20 hours a day for three or four months straight, so it's pretty crazy," she said. "Things definitely slow down during the summer, and that's when I'm able to kind of take our time to prep for the high season."
This year is panning out to be her "biggest and busiest year yet," Morales said.
Celebrating Student Success
Over these eight years in business, Morales said she has realized how meaningful graduation — and its regalia — can be for students.
During the COVID-19 pandemic, Morales feared she'd go out of business. Instead, in 2020, her orders doubled. Students wanted to commemorate their graduation despite not having a traditional ceremony, she said.
"They wanted something tangible that they could have to really encompass their graduation and their educational journey," she said.
Morales says she also enjoys creating designs for teachers and nurses, partly inspired by some of her best friends who work in healthcare.
"I started doing nursing designs, just because a lot of the ones I see online are very cheesy and there was nothing like their actual instruments and what they do on a daily basis," she said. "So I aimed to create a very realistic nursing grad cap design, and that was a huge hit."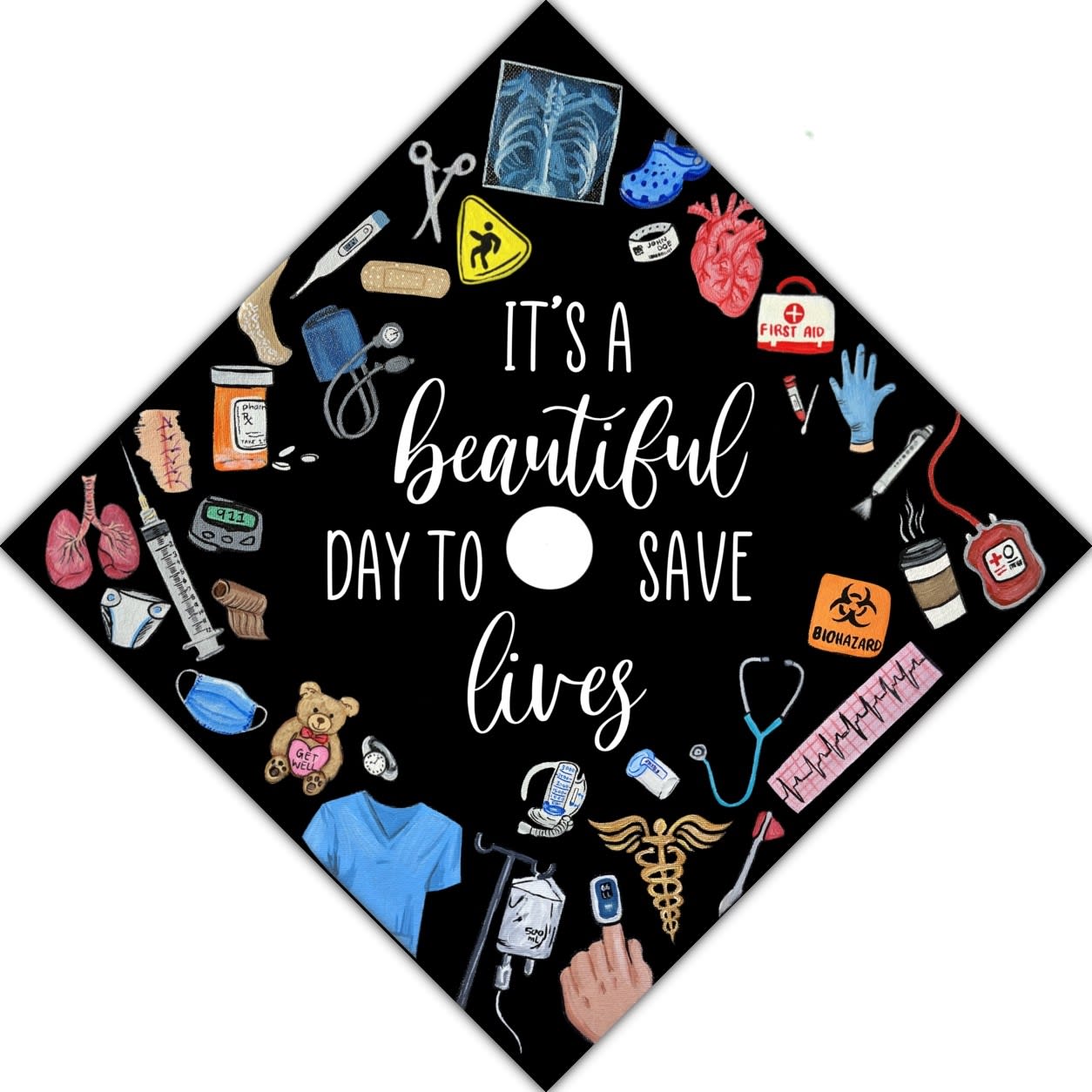 The designs that end up being her favorite are those that hold deep meaning to the customer, Morales said.
"A lot of [clients] do share the meaning behind their cap, and sometimes they are just so moving and beautiful that I have chills down my arms," she explained. "I've done ones for family members that have passed away … there have been some very emotional caps, and I love any design where I feel like I connect with a graduate."