Settlement Would Cancel Student Loans for 200K Defrauded Borrowers
More than $6 billion in federal student loan debt would be erased by the proposed settlement agreed to by the Department of Education.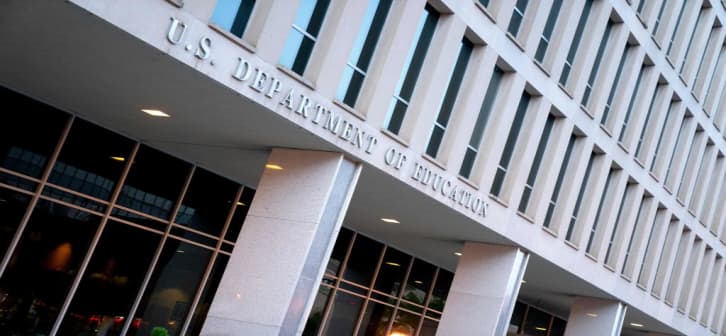 STEFANI REYNOLDS / Contributor / AFP / Getty Images
---
The class-action lawsuit Sweet v. Cardona spans the Trump and Biden administrations.
Plaintiffs say borrower defense claims were "unreasonably delayed" and decisions "unlawfully withheld."
Debt would be erased for 200,000 borrowers; 64,000 cases to be decided "using standards favorable to borrowers."
---
The Biden administration has agreed to discharge the federal student loan debts of more than 200,000 borrowers who claimed they were defrauded by colleges.
The agreement, which could erase more than $6 billion of student loan debt, was filed late Wednesday as part of a proposed class-action settlement.
If approved by a judge, the settlement would resolve a long-running lawsuit challenging the application of borrower defense laws by the Department of Education (ED). These laws allow past students who believe their former institutions defrauded them to apply for debt forgiveness.
Federal Lawsuit Spans Two Administrations
Under the Trump administration, former Secretary of Education Betsy DeVos stopped adjudicating borrower defense claims. This led Harvard's Project on Predatory Student Lending to file a federal lawsuit against ED in June 2019.
The plaintiffs in Sweet v. Cardona said they were defrauded by colleges and their borrower defense claims were halted and left "in limbo" — first by the Trump administration and then by the Biden administration.
According to the settlement, the Department of Education "unreasonably delayed and unlawfully withheld decisions on pending 'borrower defense' claims … issued unlawful notices denying certain borrower defense claims; and adopted unlawful policies governing the process of evaluating borrower defense."
The settlement class includes 264,000 people who have a pending borrower defense application as of June 22, according to the Project on Predatory Student Lending release. That includes the 200,000 student borrowers who will automatically have their loans discharged, and an additional 64,000 who didn't attend schools listed in the settlement but will have their cases decided using "standards favorable to borrowers."
"Since day one, the Biden-Harris Administration has worked to address longstanding issues relating to the borrower defense process," U.S. Secretary of Education Miguel Cardona said in a statement. "We are pleased to have worked with plaintiffs to reach an agreement that will deliver billions of dollars of automatic relief to approximately 200,000 borrowers and that we believe will resolve plaintiffs' claims in a manner that is fair and equitable for all parties."
Information about which schools are included in the settlement, if a student qualifies for relief, and how to apply for the "borrower defense" are included in the Project on Predatory Student Lending's guide to the proposed settlement.
Reactions Reflect Position on Biden's Use of Borrower Defense
A majority of the schools identified in the settlement and accused of defrauding student borrowers were for-profit colleges. Historically, the overwhelming majority of borrower defense claims are filed against for-profit colleges.
A 2017 analysis from the Century Foundation found that of over 98,000 borrower defense claims studied, nearly 99% of claims were made against for-profit schools.
Eileen Connor, director of the Project on Predatory Student Lending, lauded the settlement for delivering "answers and certainty" to borrowers who claim they were defrauded.
"It will not only help secure billions of dollars in debt cancellation for defrauded students," Connor said, "but charts a borrower defense process that is fair, just, and efficient for future borrowers."
However, Career Education Colleges and Universities (CECU), a for-profit college industry group, warned that "in its haste to respond to outside political pressure, [ED] is attempting to approve wide swaths of claims without regard to individual merit."
"The Court should look carefully at the settlement agreement to ensure it is fair for all parties involved," CECU's president and CEO, Jason Altmire, said in a statement.
The settlement would extend the Biden administration's preference to cancel federal student debt through borrower defense, an approach generally disliked by the for-profit college industry.
Last December, the Biden administration moved to extend what might constitute a borrower defense claim during negotiated rulemaking.
Proposed changes would make it so that former students no longer need to prove that they relied upon misleading information from their school when making enrollment-related financial decisions. Borrowers would no longer need to prove that their former school intentionally misled them, only that they were financially harmed.
ED would also add "aggressive recruitment" as a category that could lead to a successful claim.
Negotiators did not reach consensus during rulemaking, with the for-profit institutions registering the lone objection, but the department is likely to move forward with the language as presented in December.