Graphic Anti-Abortion Billboards Roil Many Students at UNC-Chapel Hill
They protested by blocking the billboards, which depicted aborted fetuses and compared abortion to genocide.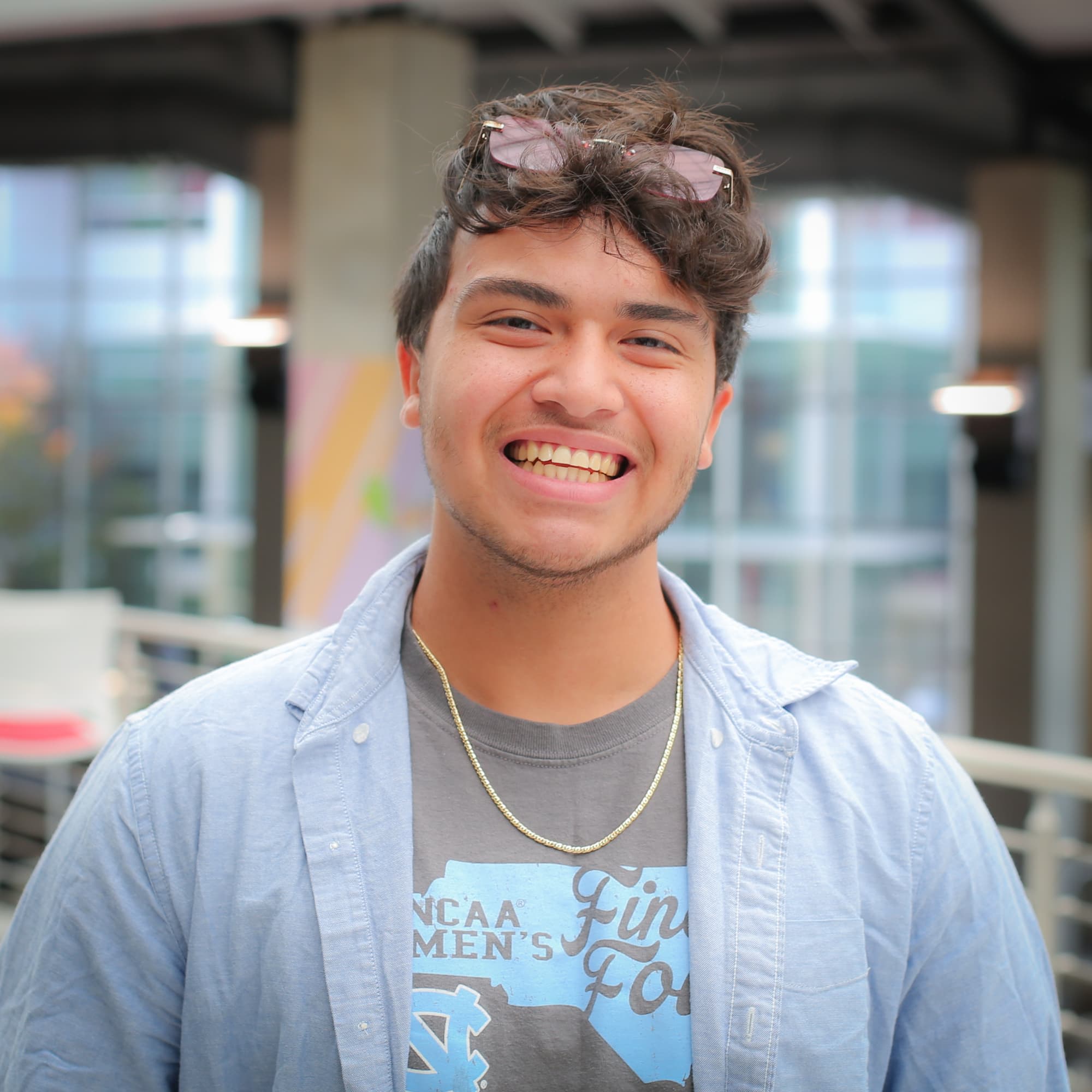 Published October 25, 2022
Student Voting
Photo by Evan Castillo
---
North Carolina is one of the few states in the Southeast that still offers some access to abortion care.
That may change if Republicans win a veto-proof majority in the state legislature in the midterm elections.
An anti-abortion group displayed graphic billboards at the University of North Carolina at Chapel Hill in an effort to sway student voters.
Some UNC-Chapel Hill students protested the billboards by covering them with signs.
---
With access to abortion care at stake in North Carolina in the upcoming midterm elections, anti-abortion activists are bringing their message to students at the state's flagship university.
University of North Carolina at Chapel Hill (UNC-Chapel Hill) students on their way to classes Monday and Tuesday encountered graphic billboards showing aborted fetuses and comparing abortion to genocide.
The mobile billboards were set up in the high-traffic McCorkle Place quad and driven around campus on trucks by the Center for Bio-Ethical Reform's Genocide Awareness Project.
UNC-Chapel Hill's media relations department told BestColleges that the nonprofit, which is not affiliated with the university, had received the appropriate approvals to display the billboards on campus Oct. 24-26.
Jacinta Robin, a spokesperson for the Center for Bio-Ethical Reform, told BestColleges that the group takes the project to campuses across the Southeast and chose UNC-Chapel Hill because midterm elections are approaching and North Carolina is an abortion rights swing state following the U.S. Supreme Court's overturning of Roe v. Wade.
The graphic images were necessary, she said, to convey the group's anti-abortion message.
Most social justice issues like the civil rights movement or child labor issues were resolved when publications of imagery about the issue at hand were given to the masses, Robin said. What we're doing is we're using imagery to ask young people that can vote, people that can have an opinion on this issue, what they feel about a child being mutilated in the womb.
Students Start Spontaneous Protest
As news of the billboards spread across campus Monday, students gathered to protest the graphic images, holding up signs to block them, chanting, and even blowing whistles to drown out the group's leaders.
Barrett Bolton, a third-year UNC-Chapel Hill student, told BestColleges that the protest started with just a few students and grew. When he saw them trying to block the billboards, he grabbed a sign and raised it high.
The reason I stopped by was the images they were showing were just extremely grotesque and really offensive to minorities, Bolton said. There's a public image of a lynching, a public image of dead Holocaust victims.
Allowing the Center for Bio-Ethical Reform's rhetoric and images to be broadcast across campus is not doing much for women's healthcare, said Jessica Cotton, a first-year student who also stopped to protest the graphic images.
I very much think it's beautiful how all the students are coming together for a common goal [of blocking the billboards], she told BestColleges.
Rook Schrader, a first-year student, also stood in front of the billboards with a posterboard raised high. He called the images horrifying.
I shouldn't have to see this on my way to class, he told BestColleges, and [the Center for Bio-Ethical Reform] shouldn't be peddling this as the truth.
Access to Abortion Care in North Carolina at Stake in Midterm Elections
It wasn't lost on student protesters that the Center for Bio-Ethical Reform had targeted their school because it's in one of the few states in the Southeast that still offers some access to abortion care.
Since the U.S. Supreme Court overturned Roe v. Wade in June, women from surrounding states have traveled to North Carolina's clinics for abortion care. And Democratic Gov. Roy Cooper in July signed an executive order to protect those women and their doctors.
Madeline Behnke, a second-year UNC-Chapel Hill student who stood beside Bolton to block the billboards, said the stakes in the midterm elections regarding women's healthcare are extremely high.
There's always a lot at stake, and there's a lot now — especially in North Carolina since we're a haven state, she said. We're going to have a lot of people coming to North Carolina because this is the safe place where they can get an abortion, compared to other places within the South.
In fact, Cooper's veto is all that stands in the way of new abortion restrictions, passed by North Carolina's Republican-controlled General Assembly, going into effect. He has vetoed multiple bills restricting abortion access in the state, Axios Raleigh reported.
But in the Nov. 8 midterm election, Republicans could win the two state Senate seats and three state House seats they need for veto-proof majorities.
For now, these UNC-Chapel Hill students say they will stand in the way of graphic anti-abortion billboards on their campus.
I'm here for my friends who have been assaulted, who've had unwanted pregnancies, for people who need this access and who do not need to be demonized for it, Schrader said.