Older Adults in College Classrooms May Be the Next Frontier in Higher Ed
With an enrollment cliff imminent, colleges may soon look to the 65-and-older crowd for future admissions.
Image Credit: Boston Globe / Getty Images
---
Lasell Village is the case study for a campus learning experience geared toward students over 65 and those approaching retirement.
The program's former president said it's a win-win for the institution and its students.
Now, she's looking to expand the model to other institutions.
---
"Senior" may soon take on a new meaning on college campuses across the U.S.
For the past 23 years, Lasell University in Massachusetts has been developing a first-of-its-kind model that integrates 65-and-older students with traditionally aged students. Retirees share classrooms with the wider population, all while living in the senior living facility Lasell Village adjacent to the campus.
Anne Doyle, the former president of Lasell Village, recently left her role to try to convince university presidents across the U.S. to take up a similar program.
A college enrollment cliff is looming, and Doyle thinks seniors — not students entering their final year of study — can fill upcoming enrollment needs.
BestColleges spoke with Doyle to learn more about Lasell Village, how it benefited students of all ages, and why its model could be an advantage for more colleges and universities.
What Is Lasell Village?
Living-learning communities have become common housing options on campuses across the U.S. Essentially, they bring like-minded students to live together in the same residence hall.
Lasell Village takes this idea but applies it to older adults.
People looking to return to higher education in their 60s and beyond can apply to live in Lasell Village. If accepted, they must live on campus and commit to taking at least 450 hours of courses per year. These courses are not always segregated from the rest of Lasell University, as they will oftentimes have older adults taking classes with more typically aged undergraduate and graduate students.
The retirement community includes 182 apartments to accommodate 225 full-time residents.
A Senior Community Eager to Learn
Adult learning has been a high priority among higher education policy circles in recent years.
That conversation has largely centered on workforce training. This is not, however, the primary goal for many older adults looking to go back to school, Doyle said.
"There is a whole cohort of people late 60s and on who are eager to continue to learn and grow in new ways," she said, "and it's not always for the purpose of moving another rung up the career ladder."
This presents a unique opportunity for colleges and universities.
These older students are willing to live on campuses and mingle with the larger campus community in a way that career-oriented learners may not be. Programs for older learners would also be suited for four-year colleges, which more heavily rely on traditionally aged students 18-22.
This pool of students is expected to shrink in the coming years due to population trends.
Not only does this meet a need for schools, Doyle said, but it meets a need for older adults.
"We know that senior living is facing a growth market … and, at the same time, we know that the pool of potential applicants for colleges and universities is declining," she said.
Under 10% of Americans over age 65 live in nursing homes or other institutions. The vast majority (93.5%) live at home — many alone — according to a 2010 report in the National Academy of Sciences.
Doyle notes that older adults could be better served living and learning with like-minded peers.
Colleges and universities also allow them to access amenities that the traditional senior living facility can't offer, she said. Today's seniors are eager for mentally stimulating activities, not the cliches of bingo and shuffleboard.
A Boon for "Traditional" Students, Too
Having older students on campus often benefits traditionally aged students, Doyle said, even if those students don't expect it.
For one, a community of over 200 retirees and older adults on campus leads to jobs for other students. Lasell Village, for example, hired student interns in human resources, healthcare, and marketing, she said. There was also a need for student workers for the community's fitness studio, and even a lifeguard position for the community pool.
Those roles were always sympathetic to a student's schedule, too.
"As an employer, the senior living community can be attuned and flexible in partnering with students to make the work work for students," Doyle said.
Having seniors in classrooms also presents unique networking opportunities, she added.
Many of the older students may have children in industries that interest the younger students. Or, recently retired students may themselves still have connections with employers students are hopeful to work with, Doyle said.
A Push to Expand Similar Programs
Despite 23 years of success, Lasell Village hasn't taken off nationwide.
That's why Doyle left the community to form Spark Living and Learning. Now, she meets with university leaders to sell them on the idea that they should emulate some, if not all, of what has made Lasell Village work so well.
It's not always an easy sell.
"It takes enormous intention and attention to create an integrated community," Doyle said. "When you have a university or college that is accustomed to a certain group of students … you have to basically have leaders who are willing to take stereotypes and turn them on their heads."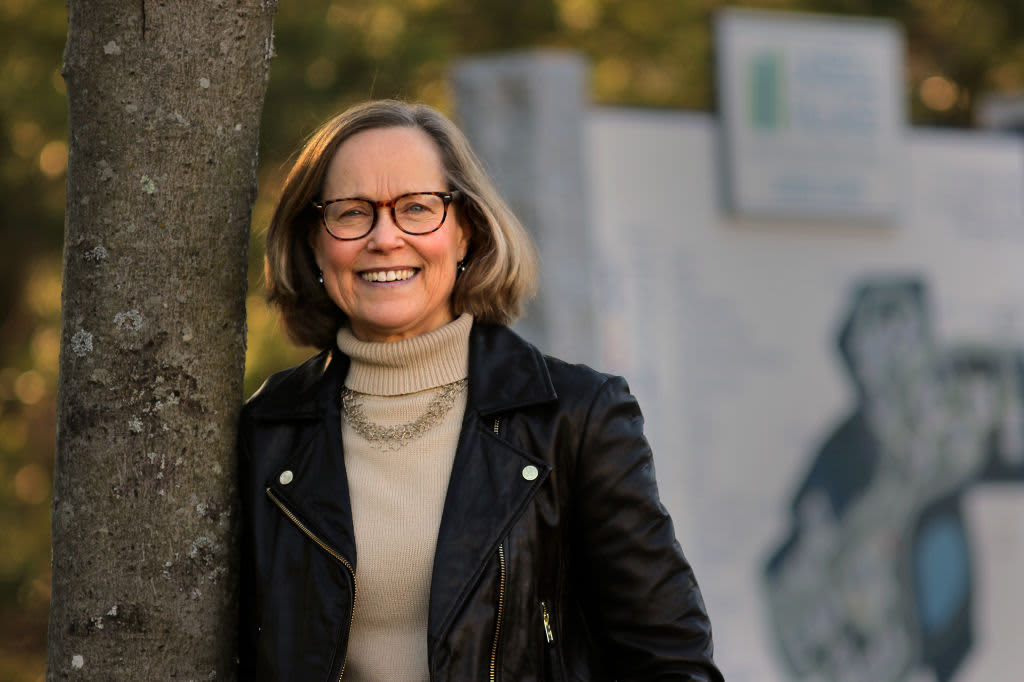 The COVID-19 pandemic showed Doyle, however, that there is plentiful demand for similar programs.
She said coming out of the pandemic, seniors remained financially secure. Once Lasell Village opened applications again, the waitlist grew to seven years. This is what convinced her to set out to expand the options for this population.
Doyle is sympathetic to the fact that land-locked universities may not have the space to replicate Lasell Village.
Her conversations with presidents and chancellors have explored limited partnerships with nearby senior living communities with residents interested in postsecondary education. The students don't have to live on campus to benefit from a partnership with a university, and such a pairing would also help fill classrooms during enrollment woes.