University of Oregon Waives Tuition for Native American Students
Eligible Indigenous students can apply for the new Home Flight Scholars Program starting this week.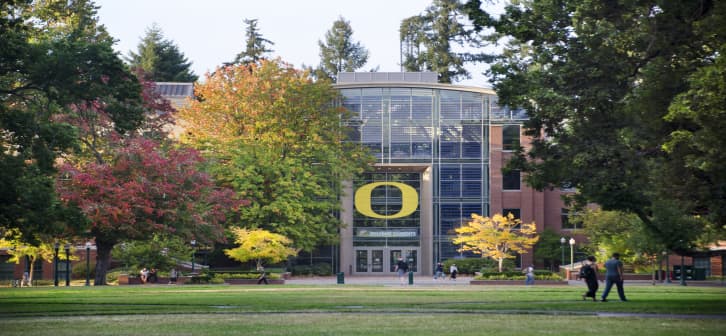 Mitch Diamond / Stockbyte Unreleased / Getty Images
---
American Indian and Alaskan Native students living in Oregon are eligible for the new Home Flight Scholars Program.
The program covers full tuition and fees for eligible students.
The Future Stewards graduate program provides tuition assistance for up to two years.
---
The University of Oregon (UO) is the latest university to break down barriers to higher education affordability for Native Americans.
The university announced on Oct. 10 that its new Home Flight Scholars Program would waive tuition and fees for in-state American Indian and Alaska Native (AIAN) students. All current UO students qualifying for the program can submit their applications to the university's financial aid office starting this week.
An estimated 150-175 currently enrolled students are eligible for the waiver, which covers the cost of tuition and fees once all federal and state financial aid has been applied, school officials said.
The university is dedicated to the success of Oregon's American Indian and Alaska Native students, said UO interim President Patrick Phillips. The Home Flight Scholars Program tackles the unique challenges these students face and prepares them to graduate with an education and the experience that empowers them to return home and make a positive impact in their communities and for their families.
According to the website, the Home Flight Scholars Program addresses three main difficulties for Indigenous students: financial hardships, academic difficulties, and a lack of cultural connectedness.
The program likewise creates a new AIAN academic advisor position and offers improved counseling services, academic services, and professional development.
There will be orientation programs for Home Flight Scholars and opportunities to take part in professional conferences and tribal job and internship fairs.
The university said the new program's goal is to increase AIAN student retention and graduation rates above the national average and to boost representation within Oregon's workforce and decision-making positions.
The university also supports the Future Stewards Program for AIAN students pursuing a graduate degree. The program works with nine federally recognized tribes of Oregon and historically based Oregon tribes to give students up to two years of tuition support.
The Future Stewards Program aims for graduate students to return home, after earning their degree, to become stewards of their community, support traditional culture, foster educational opportunities, and promote economic development.
Many of Oregon's Native American students grew up wondering whether they had the choice to go to college, said Jason Younker, OU's assistant vice president and an advisor on sovereignty and government-to-government relations.
But each of us has had ancestors that sacrificed and survived so that we could have the choices that we do today, Younker said. The choice should be where to go to college, not if we can go to college.
The University of Oregon is the latest big school in the American West to waive tuition for Indigenous students.
In July, the University of Arizona announced that it will cover tuition and mandatory fees for students from the state's 22 federally recognized Native American tribes. The University of California system announced in May that it will waive tuition for California residents who are enrolled in federally recognized Native American, American Indian, and Alaska Native tribes.