Voter Guide for Asian American and Pacific Islander Students
AAPI student voters have the power to influence elections. Use this voter guide to increase voter turnout and connect to important AAPI political issues.
Image Credit: Witthaya Prasongsin / Moment / Getty Images
---
Understand why the AAPI vote matters and why college students should mobilize.
Determine how college students can get involved in the upcoming general election.
Learn about the most important political issues affecting the AAPI community.
Gain access to various resources as you head to the polls.
---
Voting should be of great importance in the Asian American and Pacific Islander (AAPI) community, especially among college students. It was only in 1952 — a mere 70 years ago — that AAPI people were finally afforded the right to vote.
According to the Pew Research Center, Asian Americans are the fastest-growing racial or ethnic group of eligible voters. The U.S. Department of Health and Human Services reports there were 1.4 million Native Hawaiian and Pacific Islander people in the United States as of 2019. And, according to the latest Census, Asian Americans made up 7.2% of the total U.S. population in 2020.
Representation is a key component of democracy. Because disenfranchised groups have historically been denied this opportunity, it is vital that AAPI college students exercise their right to vote.
Voting Statistics for AAPI Students
Woodrow Johnston, a political strategist born and raised in the San Francisco Bay area noted that historical returns for AAPI voter engagement have been low. "AAPI voter turnout during midterms historically has been considerably low. In particular, the midterm primaries, where voters are overwhelmingly white and over 60 years old" said Johnston. "However, AAPI voters are a sleeping giant, while nationally they only represent 4-6% of the population, in the important swing state of Nevada it is 8-10%, they can greatly affect policy on a national level which is why you are seeing the RNC and DNC strengthening their AAPI outreach efforts."
After a summer of student campaigns and protests encouraging college students to hit the polls and influence the outcomes of elections, 2020 saw the greatest student voter turnout of any previous year. According to the Center for Information and Research on Civic Learning and Engagement at Tufts University, 47% of eligible Asian Americans ages 18-29 took to the ballot box, a significant increase from years past.
Since the start of the COVID-19 pandemic, there has been an increase in anti-Asian racism and hate incidents that also affect Pacific Islanders, some of whom also identify as Asian. In 2021, hate crimes against AAPI people increased 339% from 2020.
According to an AAPI Data analysis of the 2020 election, the Asian American vote increased 65% in Nevada and 84% in Georgia.
The Most Important Political Issues for AAPI Students
There are several key areas of importance to AAPI student voters:
Affirmative Action: One of the greatest concerns for AAPI college students is the issue of affirmative action. In a 2020 survey by Asian and Pacific Islander American Vote (APIAVote), 70% of respondents reported supporting affirmative action. Based on this statistic, AAPI students do not believe they are negatively impacted by these policies. Though groups like Students for Fair Admissions continue to sue universities and argue that such policies negatively impact AAPI admissions, these policies have actually increased AAPI admissions 27% over the last 12 years at institutions like Harvard University. The AAPI community's continued support for affirmative action indicates that AAPI students are tired of being used as a wedge on this political issue.
Anti-Asian Hate Crimes: Another pressing concern for AAPI college students is the uptick in hate crimes against people who are racial or ethnic minorities in their communities. Having witnessed the treatment of Latino/a immigrants, the reaction to the Black Lives Matter movement, and the exponential increase in anti-Asian hate crimes since the onset of the COVID-19 pandemic, young voters believe now is the time for action. AAPI students are advocating for more resources to address anti-Asian racism and pushing for new policies to end discrimination against people because of their race, ethnicity, sexual orientation, or immigration status.
Immigration Policy: According to the 2020 APIAVote survey results, two out of three Asian Americans state that immigration is an important voting issue for them. They see the value and talent that immigrants bring to the United States and, therefore, support a pathway to citizenship.
"Immigration can be important, particularly on one side of the issue you have people concerned about the DACA program. Those personally affected by DACA were hoping that Joe Biden with a Democratic majority would have codified it into law, some may be disappointed in his failure to do so."
"Conversely, many AAPI immigrants who went through the process legally may feel that the program is unfair for those who waited in line."
— Woodrow Johnston, political strategist
Asian respondents to the APIAVote survey also overwhelmingly supported health coverage for all who live in the U.S. regardless of immigration status because they believe all people deserve access to care. According to the Initiative on Asian Americans and Pacific Islanders, AAPI people accounted for half of the chronic hepatitis B cases and deaths as of 2010, while cancer was currently the leading cause of death within the community.
How Students Can Vote in Local, State, and Federal Elections
In Person:
Even if college students attend school away from home, they are still afforded the opportunity to vote in person for their local, state, and federal elections. Depending on the state, students can either choose to vote early in person or cast their ballot at a polling booth on election day. Although students face many barriers to voting, there are guides to help them learn how to vote in college.
By Mail:
College students who choose to not go to the polls to vote early or cast a ballot on election day can still exercise their right to vote. In many states, students have the option to cast an absentee ballot — also called a vote-by-mail ballot. Students have the choice to either submit their ballot by returning it to a local election office or mail it back by the designated deadline. Check out the BestColleges student voting guide for more information.
Five Ways Students Can Get Involved in the Midterm Elections
1. Learning How to Vote as a College Student: First, AAPI college students should take the time to educate themselves on their rights. Voting in an election requires a person to register to vote ahead of time, often 30 days before the scheduled election. AAPI students should be familiar with the various rules and regulations around casting a ballot, including what to do if they are out of state or abroad. College students should also learn what to do if they feel that their right to vote has been violated.
2. Raising Awareness of New Voter Laws: AAPI students can also impact future elections by voicing their concerns about new voter laws that threaten student political engagement. In many battleground states, politicians have been passing laws that limit students' access to the polls in an attempt to skew the vote. These laws particularly impact constituents who are young and people of color in key states like Arizona, Florida, Georgia, and Texas. Although it takes time to change policy and law, young AAPI voters can raise their voices in protest and embolden others to protest, call their legislators, and vote.
3. Volunteer Campaigns on Campus: One significant way AAPI students can become involved in the upcoming midterm election is to volunteer. There are many political organizations that welcome assistance and have programs for students. For instance, Asian and Pacific Islander American Vote's Youth Ambassador Program trains students to coordinate voter registration drives. The program also offers support and teaches participants different ways to educate peers on issues that impact the AAPI community. By volunteering, you can inspire other students and encourage them to come to the polls.
"Volunteering or interning for a local political campaign or political party is a great experience that I would recommend to anyone, one person can have an exponential impact on a campaign with enough hard work. You will also learn skills that will apply to any career."
— Woodrow Johnston, political strategist
4. Volunteer for a Political Candidate: AAPI students can also volunteer for a specific political party or candidate they feel strongly about. There are many ways to provide support. Volunteers can canvas for a candidate or party by knocking on doors, making calls, or even sending texts. They can have conversations with other voters to educate them about a candidate or party's platform. Volunteers may also be asked to post strategically on social media to get the word out. Whether a candidate is running for office in a student's home state or in their out-of-state college town, anyone can get involved. All a student has to do to get started is locate the state or local election office website.
5. Helping English Language Learners: AAPI college students can also get involved in future elections by assisting AAPI community members who have Limited English Proficiency (LEP). Research shows that there is a great need in the AAPI community for translators to help voters participate in the democratic process. Section 203 of the Voting Rights Act requires that certain jurisdictions provide language assistance. However, in practice, translations on the print material and language assistance at the polls themselves are lacking. AAPI college students who know other languages could serve as translators by helping translate print material or volunteering to be a poll worker.
Explore more resources for our Asian American and Pacific Islander students
Supporting you at every step of your journey.
Discover Now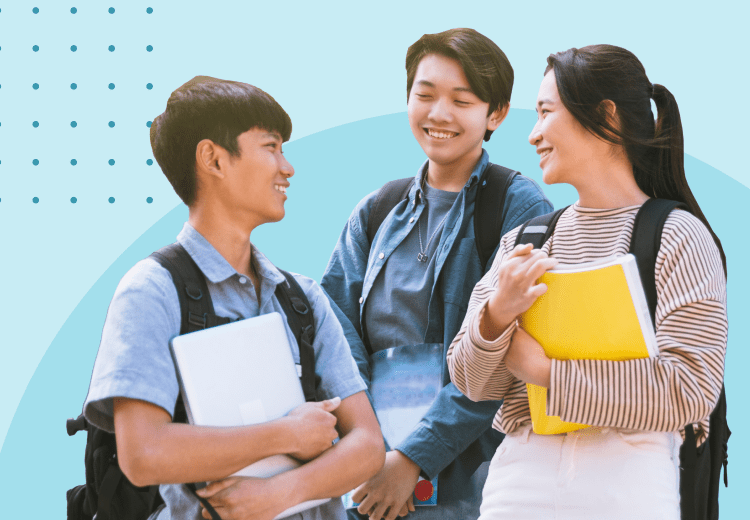 Resources for AAPI Student Voters
BestColleges Voting Guide is a great resource for both in-state and out-of-state college students. This guide can help them learn how to check their voter registration status and navigate the various voting options.
Asian and Pacific Islander American Vote (APIAVote) is a nonprofit organization that promotes civic engagement in the AAPI community. AAPI students who speak languages other than English may find this organization helpful as it also provides resources in Chinese, Vietnamese, Korean, and Tagalog.
Asian American Legal Defense and Education Fund (AALDEF) is a nationally recognized organization that specializes in AAPI issues. AALDEF has a voting rights and democracy program that educates communities, advocates for election reform, promotes civic participation among immigrants, and more.
Asian Americans Advancing Justice is an organization that advocates for AAPI inclusion in a variety of sectors. Some of AAJC's programs include legal advocacy, media diversity, and voting rights.
Movement Hub is a curated space of AAPI resources that can assist college students in connecting with causes important to the AAPI community.
With Advice From:
Woodrow Johnston
Woodrow Johnston is a political strategist born and raised in the San Francisco Bay Area to an AAPI parent. He started his career in youth politics, organizing students for various races including for a presidential campaign, where he served as the National Deputy Youth Director. Living in Las Vegas, Nevada, He now works as a consultant advising Republican campaigns across the country as Vice President of Special Projects at McShane LLC.
In 2020, he oversaw 54 election victories across the country and won 24 awards in campaign excellence from Campaigns & Elections Magazine and the American Association of Political Consultants including "Best Use of a Meme" and "Best Bare Knuckled Street Fight". In 2021 he was a strategist under Rory McShane who oversaw the historic primary victory of Winsome Sears for Lieutenant Governor of Virginia.