What is the ACT?
The American College Testing (ACT) exam is a standardized test that college and university admissions officers use to measure the academic achievements of current applicants. First offered in 1959, the ACT was originally created as an alternative to College Board's Scholastic Aptitude Test (now known as the SAT exam).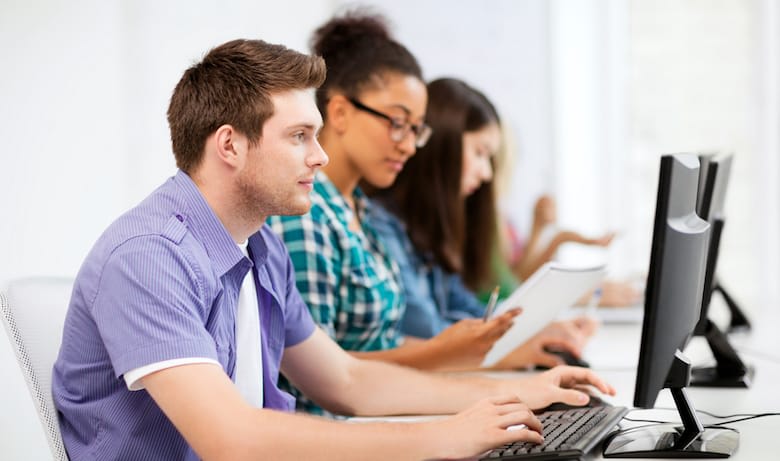 The ACT is offered seven times per year in testing locations across the country. It is comprised of four required sections -- English, mathematics, reading and science -- and one optional writing section. Each required section of the test is scored out of a possible 36 points, and a test-taker's final score represents a 'composite score' of the four sections. The optional writing section is graded separately, and scored using a different method (see below). The exam is designed to measure 'college readiness' in high school graduates by testing their reading comprehension, scientific reasoning skills and ability to form logical arguments.
The Details
When is the ACT?

The ACT is offered up to six times per year, although the number of annual tests will vary by testing location. ACT testing dates always fall on Saturdays, although alternative dates are available for students with religious conflicts on that day of the week. The following table features key dates and deadlines for the 2018 calendar year.

| ACT Test Date | ACT Registration Date | Late Fee Required |
| --- | --- | --- |
| April 13, 2019 | March 8, 2019 | March 25, 2019 |
| June 8, 2019 | May 3, 2019 | May 20, 2019 |
| July 13, 2019 | June 14, 2019 | June 24, 2019 |

Where is the ACT taken?

The test center locator on ACT.org allows you to search for available testing centers near your residence. There may be several options in your city and/or state; options are also available for students living in U.S. territories and Canada.

How can I register?

Registering for the ACT requires the following five-step process.

Step 1: Visit the official website for students, ACT.org, to sign up for an account.
Step 2: Create an account to be able to print your test-admission ticket, make changes to your ACT registration and check scores online.
Step 3: To complete ACT registration, you will answer a series of questions about your academic background and future college plans. During this step, you will also be asked to list the four schools you want your ACT scores submitted to and upload a current headshot.
Step 4: Paying is the last step of your ACT registration. Once you have paid the required fees or entered a waiver or voucher number in lieu of payment, you have finished ACT registration.
Step 5: Print your admission ticket for test day.

How much does the test cost?

The current fee required for ACT registration without the writing test is $46, which includes up to four colleges for reporting. With the writing test, the cost is $62.50; the additional $16.50 writing test fee is refundable with written notice if you change your mind before test day. Requesting additional schools (more than four) to receive ACT scores will incur additional costs.

Are fee waivers available?

Fee waivers for the ACT exam and the optional writing section are available for students that meet specific criteria. Eligible waiver recipients must be currently enrolled in the 11th or 12th grade, currently reside in the United States or a U.S. territory, and complete an ACT waiver form demonstrating financial need. Waivers must be requested through your high school counseling office. A total of two waivers may be applied to each exam, and will be used as soon as you register for a testing date.

Are there accommodations for people with disabilities?

Disabled individuals who register for the ACT may request specific accommodations for their testing date, such as extended testing time, longer breaks and visual and hearing aids.

Can I retake the test?

You are allowed to take the ACT as many times as you wish, and a large number of today's students sit for the exam at least once during both their junior and senior years of high school. More than half of graduating seniors who take the exam more than once manage to increase their composite score on subsequent tests. You will ultimately decide which score to send to send to colleges and universities, so definitely consider retaking the ACT if you aren't satisfied with your first score.

What does the ACT cover?

The current ACT covers core skills in five academic areas: English, reading, mathematics, science and essay writing.
ACT vs SAT
What's the difference between the ACT and SAT?
The SAT and ACT share a common purpose: to assess student college readiness and achievement in primary academic areas. Other similarities between the two exams include the following:
Categories

Both tests are content-based. The exams include sections in English and reading, as well as a math section measuring skills in arithmetic, algebra I and II, geometry and trigonometry.

Optional Writing

The SAT and ACT both feature an optional essay-writing portion.

Vocabulary

ACT and SAT test-takers are asked to figure out the meaning of a word in a sentence based on contextual clues. Due to a recent revision, the SAT no longer features 'sentence-completion' questions requiring test-takers to select the best vocabulary word.

Timed Sections

Each section must be completed within predetermined time constraints.

Duration

Both exams allow roughly three hours of total testing time, with the additional essay-writing section for those who choose to participate.

Number of Multiple Choice Answers

Both the ACT and SAT now offer four possible answers for all multiple choice questions; the SAT previously offered five.

No 'Wrong Score Penalty'

Currently, the ACT and SAT exams only award points for correct answers, and do not penalize test-takers for incorrect ones.

Test Availability

Though test times vary by location, both exams are available on six dates throughout the year.
Despite these similarities, there are several major differences between the two exams. To help you better see the differences between tests, we've included a handy table below:
|   | ACT | SAT |
| --- | --- | --- |
| Question Delivery | The ACT features more challenging questions phrased in a straightforward manner. | The SAT often disguises simpler questions by phrasing them in a more convoluted manner. |
| Mathematics | The ACT features more complex questions in the mathematics section, and allows students to use an approved calculator throughout this section. | The SAT tests for less advanced math skills, and calculators are not allowed in certain segments of the mathematics section. |
| Science | The ACT includes a science reasoning section with readable passages followed by multiple-choice questions. | The SAT does not contain a scientific component. |
| Education and Career Planning | In addition to general background information, the ACT collects information related to student education and career planning. | The SAT does not collect information regarding student education and career planning. |
| Scoring | Each required section of the ACT is scored up to a maximum of 36 points, and final scores represent a composite of all four sections. | As of 2016, the SAT features two required sections with a total of 200-800 points possible in each section. Final scores represent the total points earned in both sections (out of a possible 1600 points for the exam). |
How do I compare my ACT score and SAT score?
As mentioned above, the ACT scores out of a possible 36 points while the SAT features a possible total of 1600 points. Comparatively, each point on the ACT represents 40-50 points on the total score of the SAT. For example, an ACT score of 35 is generally equivalent to an SAT score range of 1540 to 1590. The average ACT composite score in the U.S. during the 2017-2018 calendar year was 20.8 points; the average total SAT score during 2018 was 1068 points.
Should I take both the ACT and the SAT?
Generally, colleges and universities that require standardized test scores will accept either the ACT or SAT. The decision to take both the SAT and ACT will depend primarily on your specific academic strengths. In order to make the most of your scores, it's important to consider potential advantages you might have by taking one test over the other.
Which Test Should I Take?
If you excel at Science...

If your math skills (particularly in Trig) are more advanced.

If your grammar and punctuation skills are advanced.

If you have an easier time with multiple-choice math problems.

You should take the ACT

If you excel at writing...

If you can decipher multi-faceted, "wordier" questions.

If your vocabulary skills are more advanced.

If you can answer non-multiple-choice math problems with ease.

You should take the SAT

You have advanced time-management skills...

If you perform well under pressure.

If your writing skills are advanced.

If your English language skills are advanced.

You can take either test.
The ACT Going Online
The ACT is now available online. While not all school districts offer the online ACT -- after all, it requires computers, special software, and proctor caching capabilities -- most are actively working toward it. Students should expect this version to become the preferred format for standardized testing as it provides increased security, convenience, and accuracy. It also reduces costs associated with test administration and delivers scores immediately upon completion.
How Does the Online ACT Work?
The sections of the online ACT -- English, reading, science, math, and (optional) essay -- are the same as in the paper version. Also like the paper test, students are given pencils and scratch paper for notetaking, and regular breaks are provided. There are slight differences between the two versions: The online ACT includes a countdown clock, unanswered questions are marked with an orange dot, and students can virtually "cross-off" answers.
Within a controlled setting, schools provide equipment for the online ACT. Each student is given a school-supplied laptop, Chromebook, or computer, as personal laptops are not permitted. The school's local server is also used to give the exams and collect responses, which are then electronically delivered to the main server of Pearson Assessment. At that point, exams are instantly removed from the school's computers and local server, ensuring student data is encrypted and free from hacking.
The online and paper versions of the ACT cost the same. And as with the paper version, the optional writing section requires an additional fee. Other fees, like late registration, may apply.
Students can visit TestNav to review the online ACT and take a timed or untimed practice test. Test preparation materials, including study guides and best practices, are available on ACT's website.
Adaptive Test-Taking
The GRE, GMAT, and certain professional licensing exams use adaptive testing. Even some state standardized tests are administered this way. In adaptive testing, students are offered more- or less-difficult questions based on their previous answers. The test adjusts to the student's demonstrated knowledge. Students who are experiencing difficulty with certain levels of questions are presented with easier ones, while those who exhibit mastery are provided more challenging ones. Adaptive testing arguably provides a better assessment of individual student knowledge than a test that asks each student the same questions. It also prevents cheating, as the test differs for each student.
When taking an adaptive test, students need to remember to take their time and answer questions carefully. This is especially important at the beginning of each section, when the test algorithm is assessing the test-takers' abilities. They should try not to guess answers randomly to ensure their remaining questions will most accurately assess their knowledge.
ACT Test Breakdown
The ACT test is comprised of four timed multiple-choice sections in English, math, reading and science. Students who elect to take the optional writing test will also be asked to answer a writing prompt. Each of the four required sections includes subdivisions designed to test a specific competencies in that particular subject. Our section-by-section ACT exam breakdown is found below.
ACT English Section
The English section of the ACT test is comprised of 75 multiple-choice questions that must be completed within 45 minutes. The section covers usage and mechanics of the English language, as well as rhetorical skills.
Strategy and Sample Questions
Your first step with each question should be to eliminate all answers you know to be incorrect. The process of elimination will help you narrow down the list of possible answers, thereby increasing your chances of choosing the correct one if a guess is required.
Question 1

1. My house was filled with paintings, tapestries and other decorations hanging on the walls; a ceramic kiln in the kitchen; sculptures in the backyard; and bookshelves packed with colorful, hardbound art books.

A. NO CHANGE
B. hanging, on the walls
C. hanging on the walls,
D. hanging on the walls

Question 2

2. The dog being anxious whenever its owner leaves the house, so it paces from room to room until he returns.

A. NO CHANGE
B. Since the dog becomes
C. The dog becomes
D. The dog,

Question 3

3. Dr. Haskell concluded his diagnostic tests, and told Suzie she would be fine in two or three days (1). "Welcome," Dr. Haskell said to Suzie and her mother as he entered the room (2). He then gave Suzie a piece of candy and sent them on their way (3). Suzie was nervous, and her mother held her hand throughout the examination (4).

Which of the following sequences of sentences make the paragraph most logical?

A. 4,2,1,3
B. 3,1,2,4
C. 2,1,4,3
D. 2,4,1,3
Click Here For the Answers

Question 1: A is the best answer.

Question 2: C is the best answer.

Question 3: D is the best answer.
Tips and Tricks
Quietly read each sentence aloud. Sometimes grammatical errors are more easily heard than read on paper.
Remember: you're looking for grammatically correct answers. Avoid choices that sound colloquial, even if they are commonly used in casual conversation.
Never blindly guess. At the very least, try to eliminate one answer.
Don't spend too much time on one question. If you don't immediately know the answer, make a note of the question number and come back to it when you've finished the rest of the section.
ACT Math Section
The math section of the ACT features 60 questions that must be completed within 60 minutes. The section covers various mathematical and analytical functions found in arithmetic, algebra, geometry and trigonometry. Approved calculators are allowed for the entire section; an extensive list of calculators that are permitted and prohibited can be found here.
Strategy and Sample Questions
Get to know your calculator before the exam; knowing all of its specific functions and shortcuts will save a great deal of time during the testing period.
Question 1

1. A car averages 27 miles per gallon. If gas costs $4.04 per gallon, which of the following is closest to how much the gas would cost for this car to travel 2,727 typical miles?

A. $44.44
B. $109.08
C. $118.80
D. $408.04
E. $444.40

Question 2

2. When x = 3 and y = 5, by how much does the value of 3x2 – 2y exceed the value of 2x2 – 3y?

A. 4
B. 14
C. 16
D. 20
E. 50

Question 3

3. Sales for a business were 3 million dollars more the second year than the first, and sales for the third year were double the sales for the second year. If sales for the third year were 38 million dollars, what were sales, in millions of dollars, for the first year?

A. 16
B. 17.5
C. 20.5
D. 22
E. 35
Click Here For the Answers

Question 1: D is the best answer.

Question 2: B is the best answer.

Question 3: A is the best answer.
Tips and Tricks
Identify your mathematical strengths and weaknesses early on in the studying process, and focus on areas where you struggle.
Use the process of elimination to arrive at answers. Whenever possible, don't decide on an answer until you've narrowed it down to a single option.
For some questions, using a calculator will actually take more time than solving the problem by hand.
Don't spend too much time on one question. If you don't immediately know the answer, make a note of the question number and come back to it when you've finished the rest of the section.
ACT Reading Section
The reading section includes 40 multiple-choice questions (based on four written passages) that must be completed within 35 minutes. The passages are typically comprised of non-fiction humanities, social science and natural science subjects, as well as one fictional passage. The material is comparable to college freshman-level curriculum, and is designed to assess reading comprehension and evaluation skills, rather than acute vocabulary or memorization techniques.
Strategy and Sample Questions
Read each passage as many times as necessary, and use the process of elimination to narrow down possible answer choices.
Question 1

Public debate around climate change and its effects on agriculture tends to focus on the large-scale industrial farms of the North. Farmers who work on a small scale and use traditional methods have largely been ignored. However, as the world slowly comes to terms with the threat of climate change, Native farming traditions will warrant greater attention.

What is the main idea of the first paragraph?

1. Attention to Native farming practices will lead to greater awareness of the threat of climate change.
2. Popularity of small-scale farming in the North will lead to greater attention to Native farming practices.
3. Global demand for food will lead to increasing efficiency of large-scale farming in the North.
4. It will be worthwhile to include a greater focus on Native farming practices in public discussions concerning the threat of climate change.
5. Despite potential climate change, public debate public debate will have little effect on industrial farming practices.

Question 2

2. A young couple entered the restaurant in Andy's view. They were holding hands. Andy sat back down in his chair. He felt sick. He turned and faced his father, who was eating soup.

What is the most reasonable conclusion to make from the statement in the first paragraph, "He felt sick."?

1. Eating soup with his father gave Andy a stomachache.
2. Andy was upset when he saw Jennifer holding hands with Tim.
3. Andy was unhappy about the restaurant his father selected.
4. Andy was upset with Jennifer for making him miss the party.
5. Andy mistakenly thought that Tim was his best friend.

Question 3

3. I started in Eatonville, Florida, because I knew that the town was full of material and that I could get it without causing any hurt or harm. As early as I could remember, it was the habit of the men particularly to gather on the store porch in the evenings and swap stories. Even the women would stop and break a breath with them at times. As a child when I was sent down to the store, I'd drag out my leaving to hear more.

As it is used in the passage, the highlighted word material most nearly means:

1. diversity
2. fabric
3. information
4. money
5. energy
Click Here For the Answers

Question 1: D is the best answer.

Question 2: B is the best answer.

Question 3: C is the best answer.
Tips and Tricks
Read each passage carefully two times before answering any questions. Focus on the overall message on the first read, and then study specific details the second time.
Remember: you're looking for the best answer, not the only possible correct answer.
Watch out for statements that seem extreme, controversial or irrelevant. They are almost always incorrect.
Vocabulary questions can be tricky, so be sure to search the entire sentence (and even surrounding sentences) for clues.
ACT Science Reasoning Section
The science section includes 40 multiple-choice questions (based on multiple passages) that must be completed within 35 minutes. The section tests scientific reasoning skills related to Earth science, physical science and biology.
Strategy and Sample Questions
Although this section contains science-related material, reading comprehension is equally important for choosing your answers. Read the passage below before answering the questions provided:
The Surface of Europa
Unmanned spacecraft taking images of Jupiter's moon Europa have found its surface to be very smooth with few meteorite craters. Europa's surface ice shows evidence of being continually resmoothed and reshaped. Cracks, dark bands, and pressure ridges (created when water or slush is squeezed up between 2 slabs of ice) are commonly seen in images of the surface. Two scientists express their views as to whether the presence of a deep ocean beneath the surface is responsible for Europa's surface features.
Scientist 1
A deep ocean of liquid water exists on Europa. Jupiter's gravitational field produces tides within Europa that can cause heating of the subsurface to a point where liquid water can exist. The numerous cracks and dark bands in the surface ice closely resemble the appearance of thawing ice covering the polar oceans on Earth. Only a substantial amount of circulating liquid water can crack and rotate such large slabs of ice. The few meteorite craters that exist are shallow and have been smoothed by liquid water that oozed up into the crater from the subsurface and then quickly froze.
Jupiter's magnetic field, sweeping past Europa, would interact with the salty, deep ocean and produce a second magnetic field around Europa. The spacecraft has found evidence of this second magnetic field.
Scientist 2
No deep, liquid water ocean exists on Europa. The heat generated by gravitational tides is quickly lost to space because of Europa's small size, as shown by its very low surface temperature (-160 degrees Celcius). Many of the features on Europa's surface resemble features created by flowing glaciers on Earth. Large amounts of liquid water are not required for the creation of these features. If a thin layer of ice below the surface is much warmer than the surface ice, it may be able to flow and cause cracking and movement of the surface ice. Few meteorite craters are observed because of Europa's very thin atmosphere; surface ice continually sublimes (changes from solid to gas) into this atmosphere, quickly eroding and removing any craters that may have formed.
Question 1

1. Which of the following best describes how the 2 scientists explain how craters are removed from Europa's surface?

A. Scientist 1: Sublimation; Scientist 2: Filled in by water
B. Scientist 1: Filled in by water; Scientist 2: Sublimation
C. Scientist 1: Worn smooth by wind; Scientist 2: Sublimation
D. Scientist 1: Worn smooth by wind; Scientist 2: Filled in by water

Question 2

2. According to the information provided, which of the following descriptions of Europa would be accepted by both scientists?

A. Europa has a larger diameter than does Jupiter.
B. Europa has a surface made of rocky material.
C. Europa has a surface temperature of 20 degrees Celcius.
D. Europa is completely covered by a layer of ice.

Question 3

3. Which of the following statements about meteorite craters on Europa would be most consistent with both scientists' views?

A. No meteorites have struck Europa for millions of years.
B. Meteorite craters, once formed, are then smoothed or removed by Europa's surface processes.
C. Meteorite craters, once formed on Europa, remain unchanged for millions of years.
D. Meteorites frequently strike Europa's surface but do not leave any craters.
Click Here For the Answers

Question 1: B is the best answer.

Question 2: D is the best answer.

Question 3: B is the best answer.
ACT Writing Section
The optional writing section of the ACT evaluates logical reasoning and persuasive writing by asking test-takers to compose a compelling writing prompt. You'll be given 40 minutes to write a cohesive essay that clearly expresses your perspective on the given topic and compares your stance to three other perspectives included below the passage.
This section of the ACT is optional, although some colleges and universities require students to submit a writing score along with scores from the four required sections of the exam. The writing section will not affect the composite score of the exam, but the writing score will add an English Language Arts (ELA) score to your ACT records; an ELA score is a prerequisite for admission to some colleges.
Strategy For Section
Read the passage a couple of times, making notes beginning on the second read-through, and carefully examine all three perspectives to find the ones that are most relevant to your position.
Tips and Tricks
Produce a rough draft on scrap paper to work out the kinks in each sentence and improve the clarity of your overall message.
Citing evidence from the passage will bolster your arguments and potentially increase your score.
Avoid extreme comments; a focused, rational argument will land you the best possible score.
If possible, cite all three perspectives in order to create the most balanced possible argument.
Scores
The Act utilizes a composite scoring system, awarding composite (or average) scores out of a possible 36 points.
Each required section is graded on a scale of one to 36 points. The first step in determining the exam score is tallying the raw scores for all four of the required sections. Each section awards one point for each correct answer, and then the total number of correct answer points is scaled to a score between 1 and 36. The scores of each section are then added together and divided by four to calculate the composite, or average, final score.
For example, let's say you scored the following: 28 for the math section; 26 for the reading section; 23 for the science section and 24 for the English section. Your composite score would be these four numbers divided by four, or 25.25. This figure is rounded down for a final composite score of 25.
The writing test, like the other sections, is scored on a scale of one to 36 points. Additionally, ACT readers will grade the essay on four domains, or subsections: Ideas and Analysis, Development and Support, Organization, and Language Use and Conventions. Two readers will grade each domain on a scale of one to six points, for a possible score of two to 12 points in each domain. An image of the essay and the test/domain scores will be included in your ACT records if you choose to participate in this optional section -- but the essay will not affect the composite score whatsoever.
ACT multiple-choice scores are released anywhere from 10 days to eight weeks after the exam date. If you opt for the writing test, then your composite score will not be released until the essay has been graded. Writing scores are generally available two weeks after multiple-choice scores have been announced. Reasons for delayed scores include errors on ACT documents or incomplete forms, as well as outstanding exam fees. Scores will be directly sent to schools.
Recent reports place the national average ACT test score at 21, with those in the midwest and upper east coast among the highest-scoring states. While the number of students with a perfect composite score of 36 on the ACT has increased dramatically since 2013, this group is still representative of less than 1% of all students completing the test.
Average ACT Composite Score
In recent years, certain colleges and universities have adopted a 'superscoring' system for entrance exam scores. In this system, only your highest subsection scores out of every time you've sat for the ACT exam are considered. For example, if you took the test twice and did better on math the first time but better on reading the second, your superscore will include the highest subscores of the two sections from two different tests for a better overall score.
When you register for the ACT, you will be asked to list all of the schools and scholarship agencies where you would like your scores sent. Your ACT scores will not be sent to these recipients until you have viewed them; if you are dissatisfied with the results, simply log in to your account and delete all of your college recipients from the list. If you would like to include additional schools and agencies after you have sent your scores to the original recipients, then you may submit a request in writing, online or by phone or email.
Preparing for the ACT
Understanding the ACT format is crucial to earning a high composite score on the exam. For this reason, extensive pre-exam studying is encouraged. According to PrepScholar, there is no set-in-stone amount of study time that will guarantee success on the ACT. Instead, you should first use ACT prep materials become familiar with the exam format. Then, calculate a reasonable goal for your composite score and take multiple practice tests. Finally, calculate the difference between your scores on the practice tests and your goal score and study additionally as needed. A one point differential may call for an extra 10 hours of study, while six to nine points may require more than 150 hours of additional study.
In order to attain the highest possible composite score, it's important to utilize a wide range of study resources. ACT prep guidebooks are often seen as the standard studying tool. Additionally, you can use alternative materials such as flashcards, study apps and tutoring services. The following list features our list of ACT test prep resources:
Online Practice Tests

ACT Prep Course

Books

Flashcards

Tutors
What to Expect on Test Day
| THINGS TO BRING WITH YOU | THINGS TO LEAVE AT HOME |
| --- | --- |
| Printed admission ticket and photo ID | Cell phones |
| Approved calculator | Non-approved calculator |
| Two No. 2 pencils | Highlighters and colored pens |
| Water and snack foods | Books, pamphlets, dictionaries and other prohibited materials |
Test-Day Schedule
Planning ahead for the ACT exam is a must. A detailed itinerary for your test day (beginning with the night before) will allow you to alleviate stress and head into the exam with confidence. We've included a model schedule below to help you plan for your ACT exam.
The Night Before
A good night's rest is essential before you take the ACT. Sufficient sleep is linked to focus, energy, stamina and cognitive abilities. Ideally, you will have studied for weeks leading up the testing date and you won't have to cram the night before your exam. Be confident in your exam prep and relax the evening before your exam.
| DOS | DONTS |
| --- | --- |
| Go to bed at a reasonable time | Stay up late |
| Set at least one alarm | Take sleeping aids |
| Relax, possibly take a shower to calm your nerves | Study for the exam |
| Get everything organized the night before | Wait until the morning to get organized |
Morning of the Test
If you've organized everything (i.e. clothing, car keys and directions to the testing center) the night before your ACT exam, then the morning of your test should be relaxing. Double-check all of your testing equipment before you leave the house. Eat a good, well-balanced meal that won't upset your stomach and limit your coffee intake, since caffeine can cause added anxiety. Show up to the test center no later than 8am.
| DOS | DONTS |
| --- | --- |
| Get up at a reasonable hour | Get up too early |
| Double-check your exam materials | Leave the house without ensuring your materials are in working order |
| Eat a healthy breakfast and limit your caffeine | Eat or drink anything you don't normally consume |
| Relax and leave the house with enough time to arrive at the testing center a few minutes early | Cram or leave the house without sufficient travel time to reach the test center by 8am |
Upon Arrival
Plan to arrive at the test site by 8am at the latest. Once you arrive, present your admission ticket and (if applicable) ask where you can store your bags. Wait to be seated by a test supervisor. The test will begin between 8:30am and 9am. The test supervisor will give verbal instructions once it's time to get started.
AFTER THE TEST
Congratulations! Now don't overthink your performance -- you won't know how well you did until your scores are released. Follow the ACT coordinator's instructions, pack up your belongings and head home (or out to celebrate). Be sure to check your ACT account in the days following your exam to see if your scores have been posted and contact the ACT if you think there might be an error or discrepancy with your results.