Resource Guide for Deaf and Hard-of-Hearing Students
Find out what to expect and what resources are available for Deaf and hard-of-hearing students preparing for college.
Reviewed by
Michelle N. Wolf
Our Review Network
BestColleges is committed to delivering content that is objective and accurate. We have built a network of industry professionals across healthcare and education to review our content and ensure we are providing the best information to our readers.
With their first-hand industry experience, our reviewers provide an extra step in our editing process. These experts:
Suggest changes to inaccurate or misleading information.
Provide specific, corrective feedback.
Identify critical information that writers may have missed.
Our growing Review Network currently consists of professionals in fields like business, nursing, social work, and other subject-specific industries; professionals in higher education areas such as college counseling and financial aid; and anti-bias reviewers.
Reviewers typically work full time in their industry profession and review content for BestColleges as a side project. Our reviewers are members of the Red Ventures Education Freelance Review Network and are paid for their contributions.
Image Credit: Clara Murcia / iStock / Getty Images Plus / Getty Images
---
Deaf students face many obstacles in postsecondary schools and need adequate support.
Schools need to accommodate Deaf students by modifying lesson plans and teaching methods.
Schools should provide assistive technologies in classrooms and dorms for Deaf students.
Many organizations provide support, access to resources, and advocacy for Deaf students.
---
According to the World Health Organization, 5% of the world's population has a hearing disability. While the United States has made strides to improve access to education for Deaf and hard-of-hearing (HoH) people, only 5% of Deaf people attend were enrolled at postsecondary institutions, compared to 11% of hearing people, as per a 2019 National Deaf Center (NDC) report.
Attending college can be challenging, and Deaf and HoH students face additional obstacles. Here, we help identify what students should consider when pursuing postsecondary education. We also highlight the technologies and organizations making a difference for Deaf and hard-of-hearing students.
Deaf, Deafness, and Hearing Impairment
There are different degrees of hearing loss, and the Deaf community has terms to help distinguish them. According to the National Association of the Deaf (NAD), the once-politically correct term "hearing impaired" has fallen out of favor for its negative connotation. Most organizations now use "Deaf" and "hard of hearing" instead.
The term "Deaf" refers to people with profound hearing loss, whereas "hard of hearing" refers to people with mild-to-moderate hearing loss. When referring to the community, the word "Deaf" is often capitalized. Deafness, conversely, often refers to the audiological condition, and the word is never capitalized.
The Transition to Higher Education for Students Who Are Deaf or Hard of Hearing
Students transitioning from secondary to postsecondary education encounter new people, environments, and responsibilities. This can be daunting, overwhelming, and isolating. For Deaf and HoH people, these transition challenges may be magnified.
The Americans with Disabilities Act (ADA) ensures that people with disabilities receive equal rights in all public areas, including colleges and universities. As a result, postsecondary schools must provide Deaf and hard-of-hearing students with adequate resources to partake equally in all lessons and activities.
Still, most college services and functions are tailored to hearing people. Deaf and HoH students may not even know what accommodations they have access to or how to ask for them. Communication support services can be challenging to use in everyday situations, but academic language may add greater difficulties.
Many schools need to invest more time, money, and effort into assisting Deaf and hard hearing students to ease this process. They need to be more transparent about the support they offer and walk students through the process.
Choosing the Right College If You're Deaf or Hard of Hearing
Deaf and hard-of-hearing students may need to take additional care when selecting a school and program. They need to ensure their chosen school provides the appropriate accommodations and services to offer them an equitable academic experience. For example, you might see if the school has a disability resource center, which can help you with the transition.
You may also want to check out the school's available assistive listening and communication technologies and how they accommodate Deaf and hard-of-hearing students in their facilities. Does the school provide interpretive services around the campus, access to specialists, or one-on-one sessions? You can look at an institution's on-campus communities, student groups, and organizations for peer support.
Ask about accommodations and adjustments when visiting or researching a school. Ask about the staff and faculty qualifications.
Dr. Jill Hernandez, the Dean of the College of Arts & Humanities at Central Washington University, advises students to "talk with faculty, students in your program, and students in other programs at the university to ensure they will keep you safe, have a community that will mentor you, and a student success network that will launch you into the future of your choosing."
How Do Colleges Accommodate Deaf and Hard-of-Hearing Students?
Visual aids
Teachers should incorporate visual aids whenever possible, such as providing transcripts for lectures and captions for videos. This will allow the learners to speech read a lecture without worrying they might miss something or follow along with class videos. Teachers should also provide written notices for every important thing said in class.
Amplification and visibility
Large classrooms should be equipped with microphones and effective light sources to help Deaf and hard-of-hearing students understand the lecturer. Small classrooms can be arranged in circles or semi-circles for speech-reading purposes. Teachers can also ensure they are visible when speaking and point to visual aids.
Provide support
Schools should ensure that Deaf and hard-of-hearing students have access to interpreters and note-takers in their classes. Interpreters and hard-of-hearing students should be given adequate space and viewing angles to ensure no material gets missed. Central Washington University takes it a step further. The school has an American Sign Language (ASL) Resource Center, which facilitates face-to-face and online community, tutoring, and student success coaching.
Teaching strategies
Professors and lecturers can give Deaf and hard-of-hearing students advance notice of new or technical terms to avoid translation difficulties. Teachers should wait until the interpreters have finished delivering their message before moving on or taking questions. They can also avoid saying anything important while students are reading or otherwise occupied.
Manage classroom sound
Background noise hinders Deaf and hard-of-hearing students who use assistive learning devices (ALDs). Teachers should maintain a clear and consistent sound level in the class. Professors can have students raise their hands to ask questions to avoid talking over each other. They should also repeat the questions asked.
Modified tests and exams
Professors should ensure that Deaf and HoH students have extra time to accommodate any additional measures they need to take during tests and exams. Tests with oral components should be adapted to text, and students should be informed about any available alternative testing formats ahead of time.
What Assistive Technology Is Available For Deaf and Hard-of-Hearing Students?
Hernandez says every student is different, but group work can be made easier for many students with ASL interpreters and assistive technologies.
Assistive Listening Devices (ALDs)
Classrooms may provide ALDs that transfer clear sounds from a microphone to a hearing aid or receiver. These may use loop, FM, DM, or infrared systems to transfer the sound. Schools may also provide teachers, students, and classrooms with personal amplifiers, remote microphones, and amplified telephones.
Speech-to-text services
Schools may offer Communication Access Realtime Translation (CART), also known as real-time captioning, which is the instantaneous translation of spoken words into text. They may alternatively offer C-Print or Typewell services, which provide meaning-for-meaning interpretations of speech. The services may be provided on-site or remotely. These services help Deaf and hard-of-hearing students focus on learning and classroom participation without relying completely on speechreading or translating.
E-textbooks
While e-textbooks offer more convenience for many learners, they can assist Deaf and hard-of-hearing students by including more visual aids and interactive learning experiences. Teachers can add annotations and notes to the e-books and send electronic messages while students read.
Digital recorders
Digital recorders allow deaf and hard-of-hearing students to record lectures and presentations and listen and watch them at a later time. The recordings can be time-stamped and annotated in some cases.
Emergency alert devices
Schools may provide deaf and hard-of-hearing students with emergency alert devices, including fire and emergency alerts. Student dorms may also be equipped with these alerts, including doorbell and door-knocking alerts.
Mobile Apps for Students Who Are Deaf or Hard-of-Hearing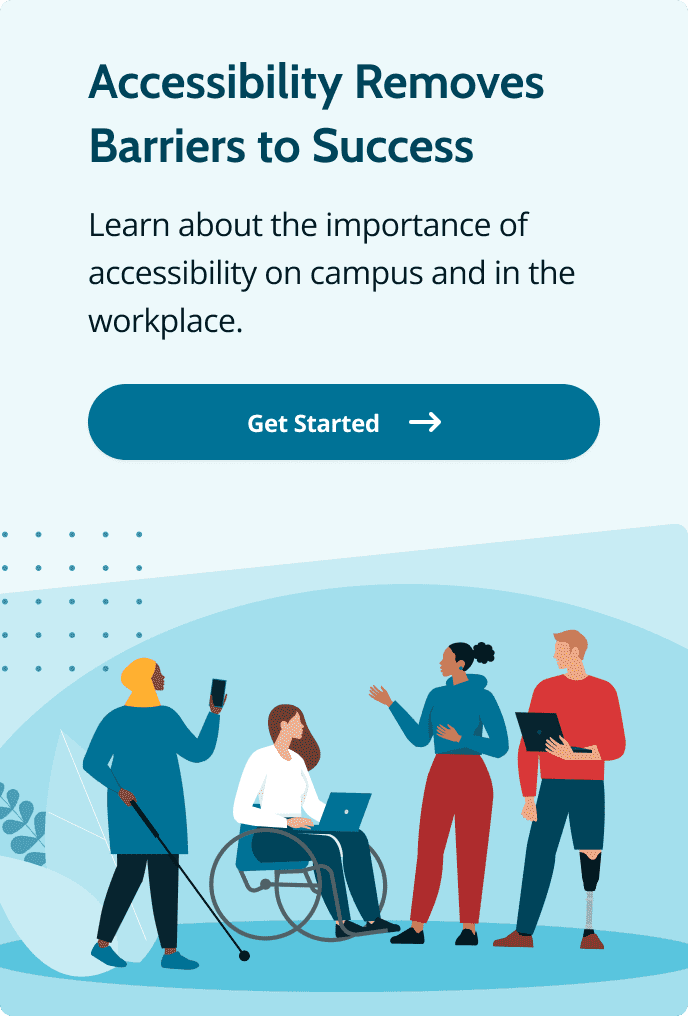 Resources for Students Who Are Deaf or Hard of Hearing
Frequently Asked Questions About Students Who Are Deaf or Hard of Hearing
With Advice From:
Jill Hernandez
Dr. Jill Hernandez is Dean of the College of Arts & Humanities and Professor of Philosophy at Central Washington University. Central Washington University has the State of Washington's only Bachelor's degree in Deaf Studies, in their World Languages and Cultures Department.