Native and Indigenous Student Mental Health Access and Education
Native students' mental health conditions may be rooted in historical trauma. Learn about their experiences and need for culturally competent healthcare.
Image Credit: Thomas Barwick / DigitalVision / Getty Images
If you or someone you know is considering suicide, please contact the National Suicide Prevention Lifeline: 988 or 1-800-273-TALK (8255), available 24 hours a day, seven days a week. All calls are confidential, and anyone can use this service.
---
Native and Indigenous college students fail to receive tailored support services on campus
Native American mental health conditions are linked to colonization and maltreatment by the U.S. government
Barriers to mental healthcare access are impacting Native American mental health needs
Native and Indigenous students deserve mental healthcare that is culturally competent
---
Student mental health is getting worse, and it's more important than ever for college students to take care of their mental health.
Unfortunately, not all students have the same opportunities to do so. Students from Native and Indigenous backgrounds, who make up a small percentage of all college students, lack access to strong social connections on campus and are often deprived of culturally-tailored services. It's time to prioritize Indigenous mental health.
Mental Health Considerations for Indigenous Peoples
Native and Indigenous peoples share values of connectedness to family, community, and nature. Though social connectedness can protect against negative mental health outcomes, almost 1 in 5 Native and Indigenous peoples reported having a mental health condition in the past year.
Native and Indigenous peoples' mental health conditions can be traced to the devastating impacts of colonization. Forcibly removed from their ancestral lands, they continue to face disproportionate negative economic, political, health, and educational outcomes as a result.
The Biden Administration took steps to remedy this injustice by launching a challenge valued at $1 billion for projects that "accelerate land, water, and wildlife conservation efforts across the country." In their press release, the White House called the collaboration with tribes "essential."
Still, Indigenous people still feel the damaging effects of colonialism.
This is evident when looking at mental health conditions on reservations, which include:
Substance use disorders (SUDs)
Post-traumatic stress disorder (PTSD)
Suicidal ideation
Major depression
Research with Native stakeholders found that knowing someone who died by suicide often increased suicidal ideation or behaviors among those close to them. Behavioral and social factors such as experiencing interpersonal violence or bullying also increased the risk of dying by suicide.
Participants also described a supernatural connection to suicide, comparing suicidal ideation to a harmful spirit. This perspective highlights the importance of support services that are inclusive of Native and Indigenous cultures and beliefs.
We talked with Shannon LaRance, LCSW — an experienced mental health counselor and member of the Diné, Hopi, and Assiniboine communities — about the challenges Native and Indigenous students often face when they reach college.
"For Native, Aboriginal, and Indigenous students, going to college could be the first time they have been away from their homeland, family, and community. This can bring about feelings of anxiety and depression," LaRance shared. "Native students may experience feelings of unease as they navigate classes, make new friends, and live in a new place without their support system. The stress of wanting to succeed can also be overwhelming and can bring about self-doubt and uncertainty. Due to some of these stressors, Indigenous students may not make it to graduation."
Barriers to Mental Healthcare Access
Despite experiencing life-threatening mental and behavioral health conditions, Native and Indigenous peoples do not have an easy path to mental health support.
They face numerous barriers to competent mental healthcare, including:
Limited access to hospitals due to the distance and isolation of reservations
Internalized stigma about mental health conditions
Distrust of Western medical practices
Lack of culturally competent systems and providers
The U.S. government is responsible for providing healthcare services to Indigenous peoples through the Indian Health Service (IHS), but it invests less than half of what they offer for people who are incarcerated into the IHS. As a result, Indigenous peoples living in remote areas have few or no healthcare options. There also may be a lack of medical providers to staff clinics.
Even if care is available, Native and Indigenous peoples may internalize stigma about seeking mental health care. For example, they may resist seeking help for fear of seeming weak or being judged by others. There's also the distrust of services providers and traditional Western medical practices.
This distrust can be traced back to previous generations' boarding school system experiences, which is attributed to Indigenous Historical Trauma (IHT). Native and Indigenous peoples were forced to learn colonialist language and cultural practices at the expense of their own traditions. At the same time, they were also subject to rampant physical and sexual abuse.
Parents refused to speak their native language and gave their children non-Native names to protect their children from suffering similar fates. As a result, future generations are grappling with behavioral issues that can be attributed to what experts call cultural identity problems.
Cultural Competence in Healthcare
Cultural competence refers to respecting people's diverse cultures or beliefs and engaging with them from a place of understanding. In healthcare, that looks like providing treatment options that meet a patient's health needs and align with their social and cultural beliefs.
Culturally competent healthcare for Native and Indigenous peoples may involve:
Creating spaces that are welcoming to elder Native and Indigenous populations
Designing intake forms for people to indicate their Native or Indigenous heritage
Incorporating Medicine Wheels or Sacred Hoops into care
Hiring Native and Indigenous peoples as staff and providers
Featuring Native and Indigenous peoples in marketing and outreach materials
Respecting their health choices, such as seeing a healer
Having translation services available for languages spoken by tribes in the local area
Take Time to Prioritize Self-Care
Give yourself time and space to focus on you. Explore our collection of mental health resources to find support.
Learn More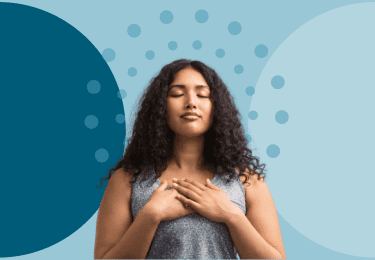 Mental Health Resources for Native Students
Given their community's historical maltreatment by the U.S. government, Native and Indigenous students may be more likely to experience mental health conditions and less likely to access support systems.
They can benefit from developing their own positive coping strategies and knowing where to turn for help and support. Students have access to several on- and off-campus resources dedicated to improving physical, mental, and social well-being, including options tailored specifically to Native and Indigenous peoples.
1. Campus Counselors
Campus counselors are professionals dedicated to improving the well-being of college students. They may offer individual or group counseling services, design and implement violence prevention programs, and screen for health risk factors.
On the significance of campus support, LaRance said,"Most colleges provide students access to mental health support. Students need to know how to access this service, which is typically available 24 hours a day, seven days a week. Additionally, students may need to be encouraged to reach out, as cultural norms may discourage some students from seeking support from a non-family member."
Healthy Native Youth provides culturally responsive toolkits related to topics like Indigenous parenting, preventing suicide, and respecting the circle of life. They also have resources for parents and teachers working with Native and Indigenous youth.
The Indian Health Service is located within the Department of Health and Human Services. As a healthcare system specifically for Native and Indigenous peoples, they support patients through their health journey, from healthcare access to navigating treatment options and health conditions.
4. State Departments of Social and Health Services
For off-campus resources, each state has its own department of social and health services. They provide services like screenings for sexually transmitted infections, providing vaccinations, and prevention and intervention programs to support healthy development from birth through adulthood.
Created by Dr. Natalie Welch, the Creative Native Podcast features conversations with Native and Indigenous peoples living their passions. Dr. Welch teaches at Linfield University and has created campaigns like Nike's N7 campaign, which promotes Native and Indigenous youth participation in athletics.
The Hogg Foundation is dedicated to promoting Indigenous mental health and well-being. Their podcast on Indigenous mental health discusses the phenomenon of disenfranchised grief and recommends engaging in self-care as an act of resistance.
This book discusses common issues in Native communities, including substance use and interpersonal violence. Educators and researchers provide recommendations for those working with Native peoples to promote healing through culturally competent care.
Additional helpful resources:
With Advice From:
Shannon LaRance
Shannon LaRance, LCSW, serves as director of service delivery at Workplace Options, a global provider of employee wellbeing services. She is an experienced mental health counselor with over 10 years of professional experience in behavioral health, crisis intervention, and social services.
As a member of the Diné, Hopi, and Assiniboine communities, Shannon has been involved in providing grief support for Indigenous people in a culturally sensitive setting. She is a strong advocate for ensuring access to mental health services for the community. In her spare time, Shannon shares children's book, including ones written by Indigenous authors, on her YouTube channel, So'oh's Story Time.
DISCLAIMER: The information provided on this website is not intended or implied to be a substitute for professional medical advice, diagnosis, or treatment; instead, all information, content, and materials available on this site are for general informational purposes only. Readers of this website should consult with their physician to obtain advice with respect to any medical condition or treatment.