Your Guide to Resumes & Cover Letters
BestColleges.com is an advertising-supported site. Featured or trusted partner programs and all school search, finder, or match results are for schools that compensate us. This compensation does not influence our school rankings, resource guides, or other editorially-independent information published on this site.
Ready to start your journey?
Share on Social
A Note From BestColleges on Searching for a Job in the Wake of COVID-19
The coronavirus outbreak is affecting all areas of students' lives. Beyond the immediate impact of campus closures and canceled programs, students are also facing a rapidly changing job market as they plan for graduation and life after college.
Our Guide to Landing a Job will help you stay organized and focused on essential job search tasks in the midst of this distracting and challenging time.
We are also working to provide information and resources to students about the impact of coronavirus on students' lives. Read our latest Coronavirus Resources for Students.
We encourage students to contact their college or university career centers and employment offices. Many services have moved online as schools work to support students through this challenging time.
Your Guide to Resumes & Cover Letters
Even in a job seeker's market, gaining valuable and lucrative employment can be a challenge for the most experienced professionals. A large part of the difficulty comes from the sheer number of applications that companies receive for a single position. The career website Glassdoor reports that the average corporate job opening attracts at least 250 candidates.
To stand out from a similarly skilled applicant pool, candidates need to boast impressive resumes and cover letters, the tools for creating a good first impression. The best resumes/cover letters detail the candidate's qualifications while conveying personal characteristics that demonstrate understanding of the company's culture and the ability to collaborate with colleagues and supervisors.
A survey by the research organization The Ladders reveals that hiring coordinators spend an average of six seconds scanning a resume before making a decision. Candidates who want to maximize the impact of their resume and cover letter should focus on information hierarchy, placing the most relevant skills and experiences at the top and using proper formatting to guide the reader's eyes to these items.
Although candidates should submit creative applications that set them apart from the applicant pool, they should also make sure to abide by the professional standards of their field. It's a fine line. The following guide details content and formatting guidelines for resumes and cover letters and provides insight on the editing process.
What's the Difference Between a Resume and CV?
CV stands for "curriculum vitae," which translates to Latin for "course of life." On the other hand, "resume" is French for "summary." Job applicants submit these documents along with other materials to obtain an interview. The information they contain should reflect the candidate's best skills and experiences, with emphasis on how these qualities make them the perfect person for the position in question. While some companies and organizations use "resume" and "CV" interchangeably, significant differences exist between these two terms.
Resumes and CVs differ in length, with the former ranging from 1-2 pages and the latter regularly exceeding two pages. Length ties in with content. A resume is short because it should contain only the academic history, professional history, and demonstrable skills relevant to the position. CVs provide more details because they reflect a professional's full academic credentials, including their education, research experience, publications, and official accolades.
In general, candidates submit resumes for nonprofit, public, and industry work. They provide CVs when applying for academic careers, fellowships, and grants. These differences predominantly exist in the U.S. and Canada. Asian, European, and African companies operate using distinct standards that job seekers should confirm prior to sending in their application materials.
1. Check Out Samples Resumes and Cover Letters
Job seekers often find it challenging to create cohesive resumes and cover letters, a process made even more difficult if they have to stare at a blank page. Fortunately, online samples abound and provide a starting point that candidates can use to jump-start their own applications. Job listing and professional networking websites like Indeed, Monster, and LinkedIn offer resume and cover letter samples for all career fields. In addition, college students can look to their university's career center for examples of effective application materials. Candidates should also ask their network (like colleagues or fellow members of professional associations) for successful resume/cover letter samples.
Templates are useful for helping job seekers visualize the basic structures of resumes and cover letters and lay out their own qualifications in a way that best emphasizes their strengths. This guide examines formatting in the next section.
Resume/cover letter templates also give job seekers a good understanding of industry-specific terminology. Recruiters often scan for these terms because they indicate a prospect's hands-on experience in the field. Using the correct language can also assist with meeting the standards of a company's applicant tracking system. Ultimately, templates help job seekers display information cogently. Professionals should still take the time to personalize their resumes and cover letters to the specifications of individual positions.
2. Explore Formatting Options
After job seekers explore available resume and CV types, they should pick formats that align with both their qualifications and the position in question. At best, these document types offer malleable frameworks that enable professionals to set themselves apart from other keen applicants. At worst, they are a crutch. Overreliance on a particular format or template can lead to a generic application that recruiters quickly toss aside.
Professionals should ensure resumes and CVs reflect their unique skills and experiences while maintaining a uniform visual appeal. In general, resumes offer more variability for structure and content than CVs. The following sections examines resume and CV formats and the differences between the two documents.
Resume
Three major types of resume formats exist: chronological (or reverse chronological), functional (or skill-based), and combination (or hybrid). This section examines the strengths and weaknesses of each type, including their main purposes and most suitable conditions. As always, job seekers should take the time to tailor their resumes to each position. Employers value personalized applications because they reflect a strong worth ethic and professional creativity.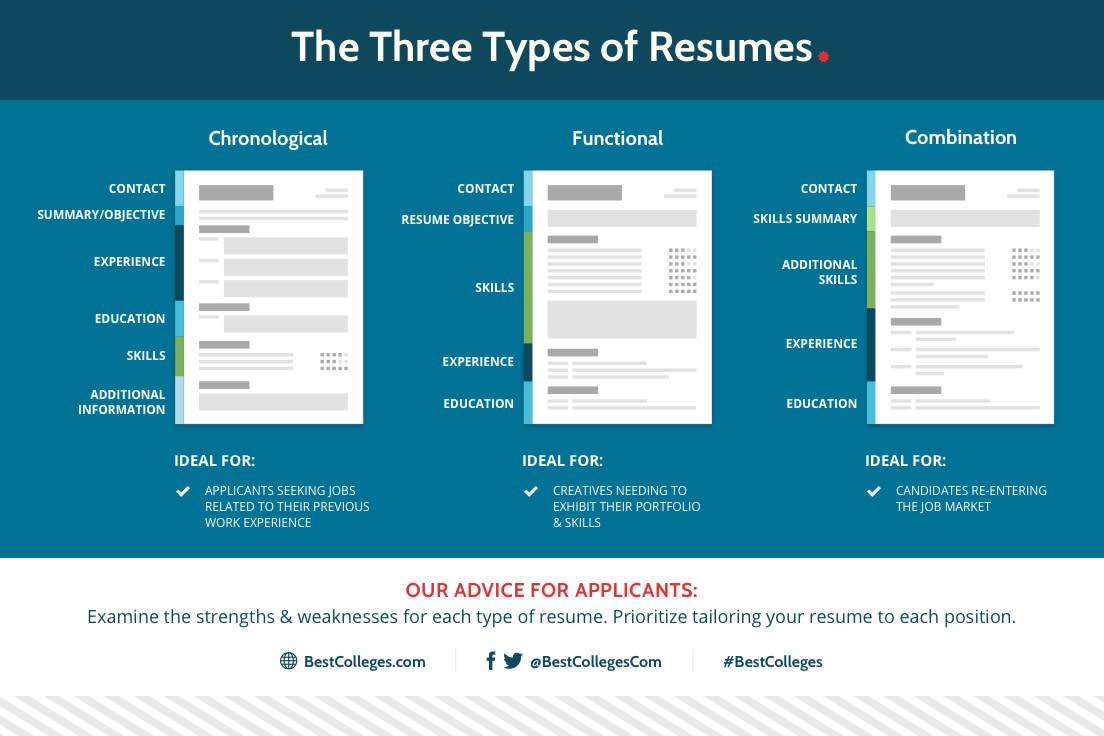 Chronological
The chronological resume highlights experience and best fits job seekers with relevant and uninterrupted work histories. Candidates typically list their most recent (or current) job first followed by previous positions in reverse chronological order. Each job should have around five bullet points describing duties and, more importantly, the accomplishments connected to each position. Writers should focus on action verbs and quantifiable achievements. The most common format, the chronological resume is instantly recognizable to recruiters and greatly helps applicants bypass tracking and filtering software.
Functional
The functional resume emphasizes skill over experience, making it a great format for recent college graduates, career changers, military transitioners, and professionals with gaps in their work history. Here, the resume leads off with a personal statement that summarizes the relevant skills that follow. Although candidates often include valuable soft skills, they should prioritize hard competencies, like mastery of computer applications and data analytical software. Job seekers provide a concise list of work experience at the bottom of the page, followed by their academic credentials.
Combination
As its name suggests, this resume format combines work history and relevant skills to create a flexible document suitable for professionals with extensive experience in their industry. Like the functional resume, the combination document begins with a detailed skills section. Employment history, rendered in reverse chronological order, follows. Candidates should ensure that the jobs they list provide evidence of their skill set in action, bolstered by quantifiable successes. Writers typically find the combination resume the most difficult to create, since it contains so many elements. To make the process easier, professionals should include only skills and positions that directly relate to the job they seek.
Cover Letter
Like a resume, a cover letter offers an employer details on how the applicant's demonstrable skills and their unique experiences and accomplishments make them the best candidate for the job. Unlike a resume, however, cover letters operate under a strict format that job seekers should follow. This uniformity allows recruiters to quickly identify key elements (or lack thereof) to make their vetting decisions efficiently.
Heading
The heading contains contact information for both the job seeker and the company. The applicant should ensure that they separate these elements clearly by either centering the information or presenting each item on a new line.
Your Contact Information: This section has the sender's full name, email address, phone number, and mailing address. Additionally, applicants commonly use this section to provide links to social media profiles, particularly LinkedIn.
Date: Here, applicants put the date they send the cover letter. The date should be separated from the sender's and recipient's contact information.
Recipient's Contact Information: If a candidate plans to send hard copies of their cover letter, they should include the name of the recruiter or human resources officer and the company's official address. This information is optional for online cover letters.
Introduction
The introduction contains a standard greeting like 'Dear' followed by the name of the hiring manager or department head and ends with a comma or colon. Job seekers can usually find the proper recipient's name by searching the company's website or contacting the front office.
Body
A cover letter gives job seekers 2-3 paragraphs to not only detail professional qualifications but also set themselves apart from other applicants. Therefore, it's important for writers to work deliberately and concisely. The first paragraph should convey a candidate's intent to apply, specifically referencing the company and position in question. The second (and occasionally third) paragraph should delve into the professional's relevant skills, credentials, and career experience.
Conclusion
By linking the company's needs with the applicant's skills, the concluding paragraph highlights the reasons why the applicant represents the best candidate for the position in terms of both professional accomplishments and personal characteristics. The conclusion should reflect the job seeker's enthusiasm and their willingness to discuss their qualifications in greater detail.
Signature
Because a resume is a form of professional correspondence, candidates should sign off with a formal closing like 'Sincerely,' 'Yours Truly,' or 'Best Regards.' The final piece of a resume is the applicant's signature.
3. Important Elements to Include
Customizations for Each Job Application
Companies want employees that demonstrate a strong worth ethic and a passion for the industry, and this begins with customized application materials. While resume and cover letter templates provide a good starting point, job seekers should tailor each document to individual positions. This means customizing the objective statement and career accomplishments. Tailoring these documents also involves going beyond the job description. By conducting research into the company, applicants can effectively speak to an employer's general philosophy, workplace culture, and organizational goals on their resume and in their cover letter.
Keywords from the Job Description
By incorporating keywords into their resumes and cover letters, candidates show that they keep up with standards and changes in the industry. Professionals can find these terms in job descriptions. They should also take a look at the company's website for additional terminology. Keyword incorporation also enables candidates to meet the criteria of applicant tracking systems. Furthermore, using the right terms help job seekers garner more matches on internet databases like Glassdoor, Indeed, and LinkedIn.
Quantifiers for Achievements
Instead of simply telling a potential employer about their accomplishments, job seekers can bolster their credibility by showing quantifiable details. This means including data that displays their current/former company's successful projects, their company's yearly growth, and how the candidate facilitated these achievements. To facilitate future job applications, professionals should maintain a detailed list or spreadsheet of professional benchmarks and accomplishments.
4. Proofread
Because recruiters read vast quantities of job applications, the slightest grammatical, spelling, or formatting error can lead to a candidate's outright dismissal. Therefore, professionals should carefully proofread their documents. This process entails printing out their work, reading it out loud (several times, forward and backward), and enlisting the help of friends and family. Writers should look out for common errors, checking for incorrect employer names, position names, contact information, contractions, possessive terms, verb tenses, and word choice. Even minor mistakes can reflect a lack of thoroughness on the part of the applicant.
Dos and Don'ts
Do
Don't

Personalize the resume and cover letter for each application
Conduct thorough research on the position and company
Provide detailed but concise information
Proofread for grammar, spelling, and content

Use weak verbs, generic phrases, cliches, or jargon
Include too many colors, pictures, or complex/inconsistent formatting designs
Lie or otherwise provide misleading information
The two-time NBA champion enrolled at North Carolina A&T State University this fall to pursue a degree in liberal studies and play college golf. Getting into a college isn't an exact science. Here, we've identified five things to include on your application that may help you nail the formula. Discover 18 Friendsgiving food ideas for college students. Explore options for appetizers, entrees, and desserts.
BestColleges.com is an advertising-supported site. Featured or trusted partner programs and all school search, finder, or match results are for schools that compensate us. This compensation does not influence our school rankings, resource guides, or other editorially-independent information published on this site.
Compare your school options.
View the most relevant school for your interests and compare them by tuition, programs, acceptance rate, and other factors important to find your college home.