SAT Prep Guide
A Note from BestColleges on Coronavirus and SAT Testing
SAT testing center capacity and availability remains limited and is subject to change. Visit the College Board website for continuing COVID-19 updates
BestColleges.com is an advertising-supported site. Featured or trusted partner programs and all school search, finder, or match results are for schools that compensate us. This compensation does not influence our school rankings, resource guides, or other editorially-independent information published on this site.
Ready to Start Your Journey?
We are also working to provide information and resources to students about the impact of coronavirus on college life. Read our latest Coronavirus Resources for Students.
What is the SAT?
The Scholastic Aptitude Test (SAT) is a standardized test created by the College Board that most colleges and universities use to evaluate incoming students. Schools use the test to evaluate college readiness in applicants, alongside their high school GPA, transcripts, letters of recommendation, and extracurricular activities.
The test is typically offered October through January, and in March, May, June, and August each year. It is comprised of a combined reading/writing section and a math section, each scored out of 800 points. The test format emphasizes context of vocabulary, scientific reasoning, and your ability to form logical arguments in the reading section. The test evaluates the logic of your ideas and punctuation skills on the writing section, while data analysis and real world problem solving are crucial in the math section.

The Details
The SAT is offered up to six times per year. The following table features key dates for the 2020 calendar year. Registration deadlines will be available beginning in May.
| SAT Test Date | SAT Registration Date | Late Fee Required |
| --- | --- | --- |
| August 29, 2020 | TBA | TBA |
| September 26, 2020 | TBA | TBA |
| October 3, 2020 | TBA | TBA |
| November 7, 2020 | TBA | TBA |
| December 5, 2020 | TBA | TBA |
The SAT is given at approved testing sites across the country and internationally.
How much does the test cost?
The cost of the SAT exam is $49.50; if taken with the optional essay segment, it's $64.50.
Are fee waivers available?
Fee waivers are available for low-income 11th and 12th grade students who meet established criteria. The waiver covers up to two SAT test fees and two SAT subject test fees.
Are there accommodations for students with disabilities?
Certain accommodations are made to help students with disabilities, including extended testing time, extended breaks, and visual and reading aid. The College Board must approve all accommodations, which can take up to seven weeks.
The test can be taken as many times as you want! You should try to take the test 2-3 times, repeating only if you still feel that you need to improve your first score.
The SAT covers basic core skills in reading, writing, and math, emphasizing logical reasoning and practical problem solving and analytical skills. It tests skills students should develop in high school.
What is a good SAT score?
The highest score you can earn on the SAT is 1600, with the lowest being 400. According to College Board, the average SAT score in 2019 was 1059. A "good" score depends on which colleges you're considering. The Princeton Review offers a college search tool, which includes average SAT scores of enrolled students.
SAT Changes
In 2016, the SAT made a shift to a new two-part format with optional essay. The change came from the College Board's desire to make the test more fair and transparent, moving away from singular test-taking skills and instead giving students a chance to demonstrate higher-level logical reasoning and analytical skills.
Now, in light of students' and colleges' changing needs amid the coronavirus crisis, the College Board has made the decision to discontinue the essay altogether. Students who previously registered for the SAT with the optional essay can still take the test through June 2021.
In addition to removing the optional essay, the College Board also announced that, effective immediately, SAT Subject Tests will no longer be available to U.S. students. This policy goes into effect in June 2021 for international students.
Click here to learn more about the updates, as well as the reasoning behind them.
The SAT Going Online
In 2017, the College Board released a digital version of the SAT that students could take online. Three years later, after rolling the digital version out to a few thousand students, the College Board abandoned it amid challenges of developing a test that all students could access and take in an equitable manner.
On January 19, 2021, the College Board announced that a new, revamped digital version was in the works, but did not reveal any specific details, including when it would be released or what it would look like. For now, the College Board plans to consult education leaders, and intends to release more details later this spring.
Breaking Down the SAT
The SAT has two major sections: the evidence-based reading and writing section and the math section. The reading and writing portion of the test contains a 65-minute reading section that tests evidence-based logic and a 35-minute writing and language section that covers contextual word knowledge. The math section includes a 25-minute no-calculator section focusing on problem solving and data analysis and a 55-minute section where you will need a calculator for the problems.
With this general test structure in mind, students should note the specific changes in each section.
Writing and Language
The writing section is comprised of 44 multiple choice questions that should be completed in 35 minutes. The writing section tests grammatical knowledge and allows students to think like editors by fixing mistakes in sentences and identifying grammatical errors.
Strategy and Sample Questions
Eliminating obviously incorrect answers should be your first step; if you can identify a definite wrong answer, your chance of picking the correct one increases.
A Life in Traffic
Transportation planners perform critical work within the broader field of urban and regional planning. As of 2010, there were approximately 40,300 urban and regional planners employed in the United States. The United States Bureau of Labor Statistics forecasts steady job growth in this field, projecting that 16 percent of new jobs in all occupations will be related to urban and regional planning. Population growth and concerns about environmental sustainability are expected to spur the need for transportation planning professionals.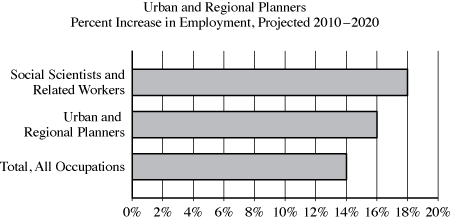 Which choice completes the underlined sentence with accurate data based on the graph?
A. NO CHANGE
B. warning, however, that job growth in urban and regional planning will slow to 14 percent by 2020.
C. predicting that employment of urban and regional planners will increase 16 percent between 2010 and 2020.
D. indicating that 14 to 18 percent of urban and regional planning positions will remain unfilled.
Source: CollegeBoard.org
Language is a living document shows how people think and communicate.
A. NO CHANGE
B. document it shows
C. document that shows
D. document, which showing
Source: CollegeBoard.org
Dong Kingman: Painter of Cities
A 1954 documentary about renowned watercolor painter Dong Kingman shows the artist sitting on a stool on Mott Street in New York City's Chinatown. A crowd of admiring spectators 12 watched as Kingman squeezes dollops of paint from several tubes into a tin watercolor 13 box, from just a few primary colors, Kingman creates dozens of beautiful hues as he layers the translucent paint onto the paper on his easel.
A. NO CHANGE
B. had watched
C. would watch
D. watches
Source: CollegeBoard.org
Click Here For the Answers
Question 1: C is the best answer.
Question 2: C is the best answer.
Question 3: D is the best answer.
Tips and Tricks
Read carefully and identify easily eliminable answers.
Remember that colloquial language and written language are often dissimilar. They way people speak is not necessarily grammatically correct. The test sometimes takes advantage of this and tries to trick you.
Don't blindly guess. Try to eliminate at least one answer.
Don't spend too much time on one question. Read it and move on. Return later if you can't answer quickly.
Don't go for the obvious answer, especially later in the section, where questions are designed to trip students in a rush.
Reading
The reading section requires students to complete 52 passage-based questions in 65 minutes. The section may ask test-takers to determine the meaning of words in context, to identify the main idea of a passage, or to compare two passages. Reading questions include evidence support questions, which ask student to cite evidence from a passage, and data reasoning questions, where students analyze a reading passage.
Strategy and Sample Questions
It is important for students to learn how to analyze arguments. Read plenty of traditional publications, such as a newspaper, to identify the structure behind arguments. Understanding how to read graphs will also be important in this section.
Mattie Silver had lived under Ethan's roof for a year, and from early morning till they met at supper he had frequent chances of seeing her; but no moments in her company were comparable to those when, her arm in his, and her light step flying to keep time with his long stride, they walked back through the night to the farm.
In the context of the passage, the author's use of the underlined phrase is primarily meant to convey the idea that:
A. Ethan and Mattie share a powerful enthusiasm.
B. Mattie strives to match the speed at which Ethan works.
C. Mattie and Ethan playfully compete with each other.
D. Ethan walks at a pace that frustrates Mattie.
Source: CollegeBoard.org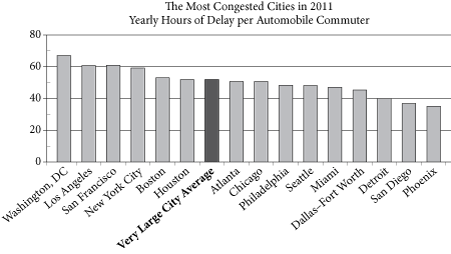 Which claim about traffic congestion is supported by the graph?
A. New York City commuters spend less time annually delayed by traffic congestion than the average for very large cities.
B. Los Angeles commuters are delayed more hours annually by traffic congestion than are commuters in Washington, D.C.
C. Commuters in Washington, D.C., face greater delays annually due to traffic congestion than do commuters in New York City.
D. Commuters in Detroit spend more time delayed annually by traffic congestion than do commuters in Houston, Atlanta, and Chicago.
Source: CollegeBoard.org
The nature of impeachment: a narrowly channeled exception to the separation of powers maxim. The Federal Convention of 1787 said that. It limited impeachment to high crimes and misdemeanors, and discounted and opposed the term "maladministration." "It is to be used only for great misdemeanors," so it was said in the North Carolina ratification convention. And in the Virginia ratification convention: "We do not trust our liberty to a particular branch. We need one branch to check the other."
As used in line 26, "channeled" most nearly means:
A. worn.
B. sent.
C. constrained.
D. siphoned.
Source: CollegeBoard.org
Click Here For the Answers
Question 1: A is the best answer.
Question 2: C is the best answer.
Question 3: C is the best answer.
Tips and Tricks
Read carefully and use the process of elimination to increase your chances of choosing the correct multiple choice answer.
Be careful with multiple-part questions, as a wrong answer to one question might lead you astray on subsequent parts. Be sure there actually is evidence for your conclusion, and not just an "easy" or obvious answer. This may sometimes manifest itself as a personal bias.
Do not let personal bias cloud your judgment. Answers do not take extreme stances on topics. If an answer seems too extreme, or seems to support a stance that the College Board would not approve, chances are it is not the correct answer.
Beware of extremes and controversial statements. These are usually tricks to prey on personal biases.
No-Calculator Math Section
The no-calculator math section is comprised of 20 questions (15 multiple choice and five grid-in) to be completed in 25 minutes. Math topics on this section include algebra, arithmetic, probability, and data analysis, along with some geometry and trigonometry.
Strategy and Sample Questions
Students will be provided with some basic formulas at the start of the section. It is worth memorizing these so that you don't waste time flipping back and forth to reference them.
Line straight l is graphed in the xy-plane below.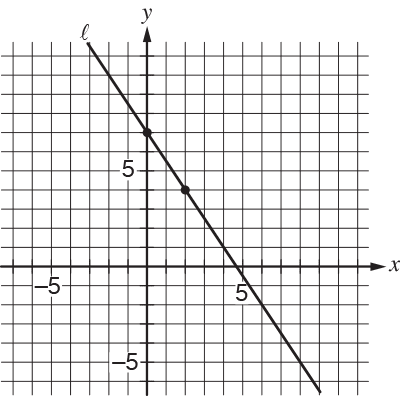 If line straight l is translated up 5 units and right 7 units, then what is the slope of the new line?
A. -2/5
B. -3/2
C. -8/9
D. -11/14
Source: CollegeBoard.org
Which of the following is equal to (14-2i)(7+12i)=?
(Note: i = square root of -1)

A. 74
B. 122
C. 74 + 154i
D. 122 + 154i

Source: CollegeBoard.org
x2+y2-6x+8y = 144
The equation of a circle in the xy-plane is shown above. What is the diameter of the circle?
Source: CollegeBoard.org
Click Here For the Answers
Question 1: B is the best answer.
Question 2: D is the best answer.
Question 3: The diameter is 26.
Tips and Tricks
Identify your strengths and weaknesses and focus on building a strong overall skill set. Focus on weak points.
Read these questions carefully. The math format emphasizes long-format questions that require careful scrutiny, especially for multi-part questions.
On equation-based questions, plug in answers to the formula, and test them. This can help you save precious time.
Don't rely on your calculator excessively; sometimes the calculator can actually slow you down.
Don't spend too much time on any one question. If you don't get it initially, return to it later.
Calculator Permitted Math Section
Many of the calculator permitted math questions are real-world style examples that use graphs and word problem formats. Calculators may or may not be required to complete these questions.
Strategy and Sample Questions
As always, read carefully. These questions are often asked in a complex word-problem format. Eliminate obviously wrong answer choices.
The recommended daily calcium intake for a 20-year-old is 1,000 milligrams (mg). One cup of milk contains 299 mg of calcium and one cup of juice contains 261 mg of calcium. Which of the following inequalities represents the possible number of cups of milk m and cups of juice j a 20-year-old could drink in a day to meet or exceed the recommended daily calcium intake from these drinks alone?
A. 229m + 261j is greater than or equal to 1,000
B. 229m + 261j is greater than 1,000
C. 299/m + 261/j is greater than or equal to 1,000
D. 299/m + 261/j is greater than 1,000
Source: CollegeBoard.org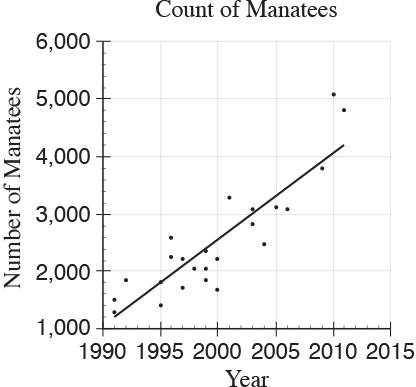 The scatterplot above shows counts of Florida manatees, a type of sea mammal, from 1991 to 2011. Based on the line of best fit to the data shown, which of the following values is closest to the average yearly increase in the number of manatees?
A. 0.75
B. 75
C. 150
D. 750
Source: CollegeBoard.org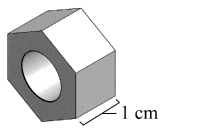 The figure above shows a metal hex nut with two regular hexagonal faces and a thickness of 1 cm. The length of each side of a hexagonal face is 2 cm. A hole with a diameter of 2 cm is drilled through the nut. The density of the metal is 7.9 grams per cubic cm. What is the mass of this nut, to the nearest gram? (Density is mass divided by volume.)
Source: CollegeBoard.org
Click Here For the Answers
Question 1: A is the best answer.
Question 2: C is the best answer.
Question 3: 57.
Tips and Tricks
Learn common formulas ahead of time.
Plug in answers on equation-based questions.
Re-check answers if time allows.
Don't rely too heavily on the calculator.
Don't bring a non-approved calculator to the test site!
Scores
The SAT scoring system is simple. Each of the test's two halves are scored out of 800 points, for a total of 1600.
Source: CollegeBoard.org
You earn points for correct answers and there is no advantage to leaving questions blank, as there was in previous years. There is no penalty for wrong answers, so it is to your advantage to answer every question, even if you are guessing. Raw test scores are converted into an overall scaled score using a sliding chart method that accounts for variations on different tests and test dates. This scoring method is designed so that there is no advantage to taking a particular test, or taking a test on a particular day.
Scores are available a few weeks after the test date. They are relayed by a paper report, by phone, or online. Students who want to double-check their answers after receiving their scores have access to College Board's Score Verification services.
Students who take multiple tests may use Score Choice to send their best scores to colleges. This allows them to conveniently choose their best test date scores to report to colleges. It's important to note, however, that some schools may require students to send in all of their test scores. Students are not allowed to pick and choose high-scoring sections from across multiple tests; scores from an entire SAT are sent.
In certain cases, a student may feel they did poorly on the test and want to officially cancel their scores. Scores can be canceled at the test center or by 11:59 p.m. on the Wednesday following the test date. Once the cancellation form is submitted and a score is cancelled, it cannot be reinstated.
Scores can be reported to colleges directly online and through Score Choice. Rush reporting is currently unavailable through the College Board website. Scores must be reported directly from the College Board. The fastest way to send scores to colleges is to register to send free score reports when you sign up for a test date (you can send up to four reports for free). This free service extends for nine days after the test date.
Preparing for the SAT
It's useful to know as much about the test format as possible. The reading section contains set topic sections including one US/world literature passage, two history/social science passages, and two science passages. All vocabulary will be tested in context. Because of this, studying just vocabulary is less important than doing advanced reading. Familiarizing yourself with diverse real world publications is a great starting place to start studying.
Old SAT test prep books can still be useful too. Just be sure to skip over problems that are no longer included, like sentence completion problems and isolated vocabulary questions. ACT science question are helpful as well, as the SAT is very similar to the ACT, and LSAT books can also be a source of useful information for data reasoning questions. The best overall advice is simply to read. Read widely, and read difficult, challenging articles from well-respected sources. You should also familiarize yourself with graphs and data charts, as these will be more prevalent on the new test, not only in the math section, but also in the reading sections.
Below we have compiled a list of test preparation resources:
4 Cheap Ways to Prep for the SAT
You got through high school. You've picked a college. And now you're ready to take on the world. But first, you just need to take this one little test that determines whether or not you'll even get into college.
No pressure, right?
Prepping for a college admissions test is stressful enough, but when you factor in the cost of study materials and actually taking the test, it can feel overwhelming. Rest assured, there are ways to prep for a college admissions test without breaking the bank.
Test prep these days has gotten a little less expensive and a little more convenient, thanks to the magic of free apps.
Some of the best study apps for college admissions tests include:
ACT Prep: Offers full-length practice exams and flashcards made by professional tutors.
Prep4 SAT: Packed with "bite-sized" lessons and thousands of SAT questions, complete with a detailed score analysis.
2. Find free study materials and practice exams online
Study sites like Course Hero and PowerScore offer free materials to keep you engaged and motivated before your college admissions test.
Course Hero: Offers 24/7 tutors, flashcards, prep schedules, and free test materials for each section.
PowerScore: Offers free SAT and ACT practice exams, as well as tips on how to optimize your time for each section.
Khan Academy: Offers full-length SAT tests and other admissions practice test.
3. Find cheap books and online courses
ePrep offers reasonably priced courses for both the ACT and SAT, ranging from $129 to $299. Their courses offer video lessons and answers by subject, in addition to full-length practice tests.
You can also find cheap test prep books on Amazon. As of writing this article, you can buy a used copy of The Official SAT Study Guide for less than $6!
Now go out there and conquer your college admissions test! (And don't forget to use the extra cash you're saving on a well-deserved pizza break!)
Additional Resources
Prep Scholar: Offers insight into overcoming test anxiety and stress.
Veritas Prep: Offers test prep services and resources for overcoming test anxiety
Kahn Academy: College Board partner and fantastic site with a variety of tutoring and test prep services, including practice quizzes and interactive learning tools.
PrepFactory.com: Free online SAT exam prep and ACT tests.
Number2.com: Free online SAT exam prep and ACT tests.
PWN Test Prep: Humorous and informative SAT exam prep website.
Perfect Score Project: SAT guide and resources for parents and students. Based on the work of Debbie Stier and her book The Perfect Score Project: One Mom's Journey to Uncover the Secrets of the SAT.
Erik The Red: Comprehensive SAT Math study guide and online practice question resource. A good place to build familiarity with the SAT, ACT, and test taking strategies.
The Critical Reader: Their catchphrase is "beyond tips and tricks" - aiming at in-depth analysis of standardized test trends and the SAT exam format. Offers books and tutoring services.
Method Test Prep: Crash course in SAT strategies. Online test prep help and tutoring service.