Mental Health for Student Veterans
Mental health resources are available to student veterans on and off campus. Identify support to overcome barriers using our mental health guide.
Image Credit: SDI Productions / E+ / Getty Images
---
Student veterans face unique barriers to accessing mental health care on and off campus.
Stigmas associated with military mental health may make veterans less likely to report mental health conditions.
Available mental health resources may not address individual student veterans' needs.
---
Student veterans are individuals pursuing secondary education who currently serve, or previously served, in a branch of the U.S. Armed Forces. In both traditional and nontraditional educational settings, student veterans face unique challenges in pursuit of academic credentials. Among these is the challenge of finding beneficial, reliable, and affordable resources for mental health care that meet each veteran's individual needs.
Student veterans likely have access to mental health services through the U.S. Department of Veterans Affairs (VA). However, accessing these services can prove tricky and may require additional support. To help, we cover various mental health support options and ways to overcome barriers to accessing support. Our mental health resources list specifically identifies supportive options for student veterans.
Types of Mental Health Support
There are a variety of mental health resources available to student veterans. Organizations and government agencies like the Department of Veterans Affairs provide resources. In addition, campus support offices offer other resources more specifically aligned for college students.
Exact resources may differ from one campus to the next. Supportive colleges typically offer a combination of individual and group counseling with professional therapists, support group meetings, and emergency response services for students in crisis. They may also provide health and lifestyle programs that promote a holistic approach to mental health.
"When you commit yourself to serving others, it's extremely difficult to ask for help."
— Brian Gillespie, First Responder Program Treatment Advocate
Student veterans may also wish to support their mental health with foundational self-help tools. These tools may include books or podcasts that focus on transitioning from a military career to civilian life. Other topics may cover communicating with trusted family and friends or reaching out to other student veterans for support.
We asked Brian Gillespie, a first responder program treatment advocate, for advice he would give student veterans seeking mental health support. He said, "When you commit yourself to serving others, it's extremely difficult to ask for help. Don't hesitate to reach out to organizations that cater to veterans such as Wounded Warrior Project, Soldier On, and Military OneSource, as well as nonprofits that provide service animals for veterans to help restore their physical and emotional independence."
Barriers to Mental Health Support for Student Veterans
Despite the many treatments available, seeking mental health support may not feel straightforward for student veterans. Studies show that student veterans perceive seeking help for mental health as stigmatized at higher rates than their non-veteran peers and may be less likely to believe in medication use for improving mental health.
Student veterans may encounter barriers even when they are ready to seek help, whether through on-campus services or through healthcare providers like the VA.
"Veterans are often hesitant to seek support, as they fear it may hinder their prospects for a job, such as a police officer or firefighter. Being labeled with PTSD can carry a heavy burden with it."
— Brian Gillespie, First Responder Program Treatment Advocate
In college settings, students may need to interact with administrators like student advisors, crisis counselors, and financial aid officers who do not have much experience working with veteran groups. This lack of experience can limit administrators' understanding of student veterans' needs. Administrators may also lack an understanding of military service, or how military experiences can impact student veterans' overall mental wellness.
The need to provide financial stability for others can further complicate student veterans' willingness to seek mental health care. Student veterans tend to be older than other students. Some student veterans with spouses or children they financially support enter undergraduate programs while holding one or more off-campus jobs.
When student veterans do seek out care for mental health conditions, they may not receive help as quickly as is needed. VA facilities may require long wait times or conflict with class times. A lack of flexibility in scheduling appointments can often lead to students having trouble prioritizing their mental health needs.
"For me, I see stigma as a very big barrier to seeking mental health support," said Gillespie. "Many vets are at an increased risk of behavioral health conditions and live with mental illnesses and PTSD, which can lead to substance use disorders after discharge. Veterans are often hesitant to seek support, as they fear it may hinder their prospects for a job, such as a police officer or firefighter. Being labeled with PTSD can carry a heavy burden with it."
Choosing the Right Mental Health Support for You
With the significant rise in mental health conditions among college students, campuses have increased resources available to support student mental health. But not all resources are made the same. Student veterans should consider which approach is most compatible with their goals and priorities.
When weighing the kind of mental health support that works best, student veterans should consider whether health and wellness professionals on their campuses hold cultural competency for military veterans. Training can help professionals to better support student veterans by understanding differences between military and civilian culture and decreasing barriers student veterans face when accessing mental health care.
"Seeking a private provider that specializes in mental health, trauma, and addiction for veterans is crucial."
— Brian Gillespie, First Responder Program Treatment Advocate
Student veterans may also consider other factors such as location and cost of care. Prioritizing their own health may require working with service providers who are available on weekends or after typical school hours. This flexibility may allow students to continue their academic education, work, or care for dependents while also caring for themselves.
According to Gillespie, "Vets still have trust issues with the Department of Veterans Affairs, and I wish that wasn't the case. Seeking a private provider that specializes in mental health, trauma, and addiction for veterans is crucial. Yet, few addiction treatment centers in the U.S. offer specialized services for these patients with unique, profession-related needs.
"I run one such program for Recovery Centers of America. RESCU is a confidential program whose participants are all part of the first responder community. We provide private group therapy sessions, peer support groups, specific programming for families, and individualized treatment led by a specially trained clinical team."
Take Time to Prioritize Self-Care
Give yourself time and space to focus on you. Explore our collection of mental health resources to find support.
Learn More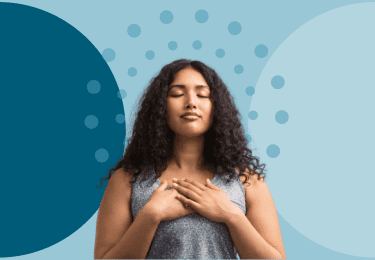 Mental Health Resources for Student Veterans
Frequently Asked Questions About Student Veterans' Mental Health
How many college students are veterans?
It is estimated that veterans make up between 3-4% of college students in the United States. Further data suggest that at least 1 million veterans received educational GI Bill® benefits in 2020.
Enrollment trends on student veterans should inform the availability of on-campus mental health resources. Most student veterans typically enroll as full-time students, fall into older age groups, and are more likely to hold one or more jobs off campus. They are also more likely to have spouses or other dependents.
Do veterans get free mental health care?
Veterans may be eligible for low to no-cost healthcare coverage through the VA after leaving the military. VA coverage typically includes appointments with mental health specialists for care related to mental and behavioral health, bereavement, and substance misuse. Veterans are not charged enrollment fees, monthly premiums, or deductibles. But they may need to pay out-of-pocket costs for copayments and prescription drugs.
There are many grants and scholarships for student veterans to help offset the everyday costs of academic programs. Students should carefully review eligibility criteria before applying.
How common is anxiety in veterans?
A Veterans Affairs study of 7,000 male-identifying veterans found that 9.9% of veteran participants reported having anxiety. Similarly, among combat veterans experiencing posttraumatic stress disorder, 7-13% reported experiencing social anxiety disorder.
Given the stigmas associated with mental health care and the military, service members and veterans are less likely to admit to having mental health conditions. This may make the number of veterans with anxiety higher.
With Advice From:
Brian Gillespie
U.S. Marine Corps Veteran, First Responder Program Treatment Advocate
Brian Gillespie is a first responder program treatment advocate for The Recovering Emergency Service Community United (RESCU) program. It provides specialized evidence-based drug and alcohol addiction treatment for military service members, both active and retired, at Recovery Centers of America at Raritan Bay — a substance use disorder treatment facility. Launched in June 2021, the program has a separate unit in the center and addresses this group of patients' unique challenges, including work-related traumatic events, drinking culture, mistrust of mental health professionals, and warrior ethos.
Gillespie was recently appointed by former Governor of New Jersey James McGreevey to serve on the NJ Reentry Corporation's veterans task force. A retired police officer and U.S Marine Corps veteran, and an individual in long-term recovery himself, he demonstrates that long-lasting recovery is possible.
---
GI Bill® is a registered trademark of the U.S. Department of Veterans Affairs (VA). More information about education benefits offered by VA is available at the official U.S. government website at https://www.benefits.va.gov/gibill/.
DISCLAIMER: The information provided on this website is not intended or implied to be a substitute for professional medical advice, diagnosis, or treatment; instead, all information, content, and materials available on this site are for general informational purposes only. Readers of this website should consult with their physician to obtain advice with respect to any medical condition or treatment.
---