The Ultimate College Packing Checklist
BestColleges.com is an advertising-supported site. Featured or trusted partner programs and all school search, finder, or match results are for schools that compensate us. This compensation does not influence our school rankings, resource guides, or other editorially-independent information published on this site.
Ready to start your journey?
Advertising Disclosure: Our team independently selected these products. If you purchase a product through one of our links, we may collect compensation. Pricing and availability are accurate at the time of publication.
---
When it comes to outfitting a college dorm room, you don't want too much or too little. Forget to purchase a reliable alarm clock, and you may miss your morning class. On the other hand, you probably won't need that random sweatshirt from middle school.
Knowing what to pack can feel overwhelming, but our ultimate college packing checklist can help. Review these items to make sure you have everything you need for a great semester.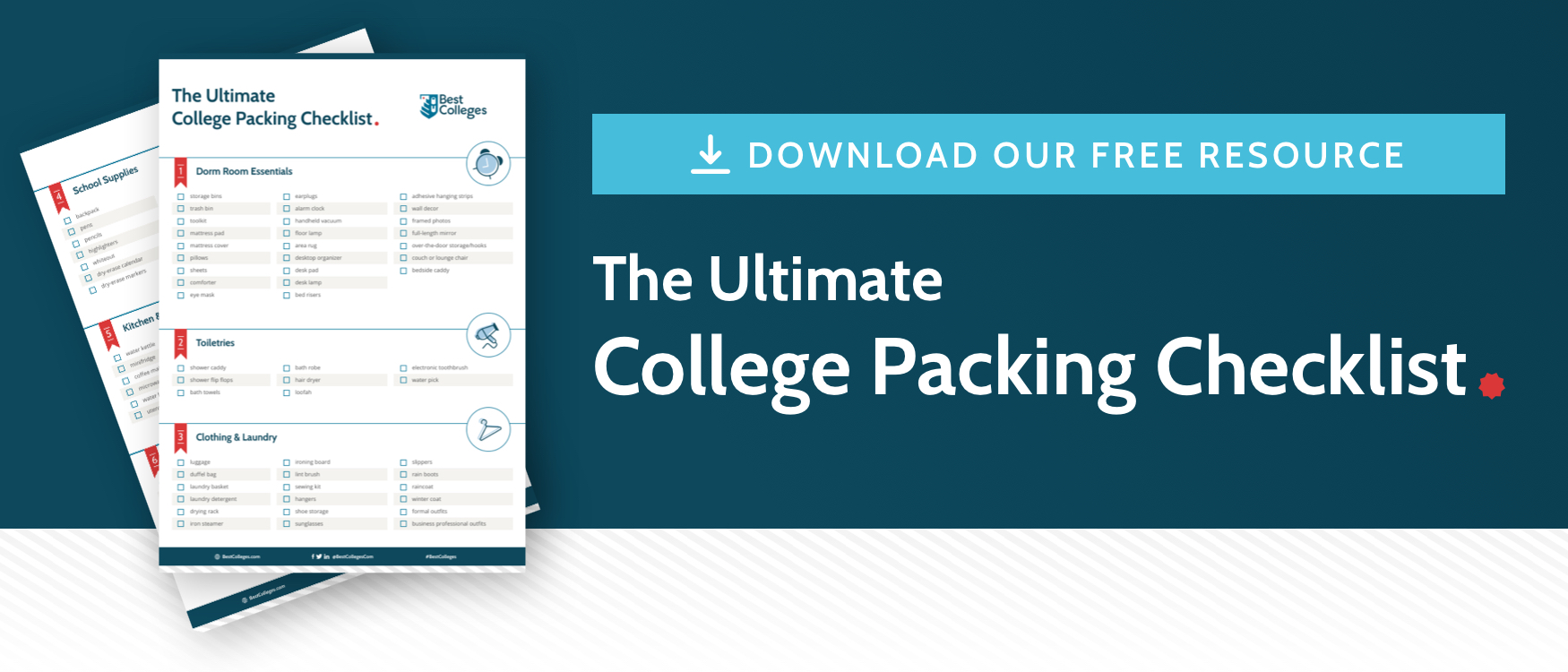 true
Price Legend
$ = Under $10 | $$ = $10-$25 | $$$ = $25-$50 | $$$$ = Over $50
Top 50 Items for College Students
Dorm Room Essentials | Toiletries | Clothing and Laundry | School Supplies
Electronics | Health and Wellness
Dorm Room Essentials
---
Our Recommendation: Multifunctional LED Desk Lamp With Charging Ports
This sleek and functional desk lamp has over 10,000 ratings on Amazon, averaging 4.5 stars. In addition to providing light during late-night study sessions, the lamp also comes with a wireless charger, a USB charging port, an autotimer, an adapter, and five brightness levels with eye care in mind.
---
Our Recommendation: DreamSky Alarm Clock With USB Port
You can choose from seven different display colors on this sleek, affordable alarm clock. Rather than relying on your phone, use this bedside clock with a USB charging port, brightness dimmer, and adjustable volume to keep you on track during busy days. You can also choose from several different alarm sounds.
---
Our Recommendation: storageLAB Underbed Storage Containers
Maximize limited dorm room space with this two-pack of underbed storage containers made from breathable woven fabric. Each container holds more than 20 articles of clothing or a large comforter. With sturdy handles, zippers, and sidewalls, the storageLAB containers are durable and lightweight, making them easy to carry when it's time to move in or out.
---
Our Recommendation: Apollo Tools Hand Tool Set
With over 1 million units sold, the Apollo Tools hand tool set is one of the most popular options for general home repair and DIY projects. The kit comes with 39 pieces, including commonly used tools like pliers, a claw hammer, and a bit driver. Every piece fits securely in a compact and sturdy carrying case.
---
Our Recommendation: Greenco Mesh Six-Gallon Trash Cans
When it comes to trash bins, the less obtrusive, the better. The Greenco mesh trash cans are sleek and simple, drawing little attention to themselves. Each order comes with two, six-gallon trash bins that can easily fit in your dorm room, bathroom, study area, or anywhere else that you might need to discard waste.
---
Our Recommendation: Bedsure Mattress Pad
Sleep better on that dorm room bed with a twin XL mattress pad from Bedsure. Made from stain-resistant and hypoallergenic microfiber, this mattress pad fits mattresses that are up to 18 inches deep. The Bedsure mattress pad uses a polygon design that reduces shifting to help you get an uninterrupted night's rest.
---
Our Recommendation: Amazon Basics Down Alternative Bed Pillows
Amazon Basics offers a two-pack of firm polyester microfiber pillows that are suitable for back and side sleepers. Filled with a down-alternative material, these pillows may appeal to people with allergies.
---
Our Recommendation: LIANLAM Twin XL Bed Sheets Set
The twin XL bed sheets set from LIANLAM comes with one fitted sheet, one flat sheet, and one pillowcase. The set comes in nine color options, including purple, dark gray, lake blue, and ivory. On top of their hypoallergenic properties, these microfiber sheets are resistant to wrinkles, stains, and fading.
---
Our Recommendation: LINENSPA Down Alternative Comforter
This microfiber comforter provides the warmth of down without the odor and risk of potential allergies. You can use it as a standalone comforter, or attach a duvet by using the eight built-in loops. Choose from different colors to match your decor.
Toiletries
---
Our Recommendation: Attmu Mesh Shower Caddy
This shower caddy contains inner and outer compartments that let you store and organize shampoo/conditioner bottles, razors, combs, and other toiletries. Made from durable mesh that comes in eight colors, the caddy is compact, lightweight, and quick to dry. Use the reinforced handles to hang the caddy from hooks and pegs.
---
Our Recommendation: Finleoo Shower Sandals With Drainage Holes
When living in a dorm, there's a good chance you'll share your shower with roommates — or even your entire floor. Because of this, investing in shower shoes is a good way to make sure you actually feel clean after washing off. Available in both men's and women's sizes, these self-draining, lightweight sandals come in different designs and 24 colors.
---
Our Recommendation: Utopia Bath Towels Set
Made from 100% ring-spun cotton, these bath towels are soft, absorbent, and lightweight. This bath towels set comes in a pack of four with color options like white, burgundy, dark brown, and plum.
---
Our Recommendation: Turquaz Unisex Spa Robe
This bathrobe features a double-stitched waffle design, tailored collar, two front pockets, and a tie closure. Made from a combination of cotton and polyester, the robe comes in three different sizes and a variety of colors.
---
Our Recommendation: Conair Pro Hair Dryer
This hair dryer uses ceramic technology to produce uniform heat to quickly dry hair without creating frizz or damage. In addition to three heat and two speed settings, this full-size hair dryer comes with a "Cool Shot" feature and concentrator nozzle designed for styling.
---
Our Recommendation: Almooni Exfoliating Loofah Pad
Almooni offers a two-pack of body scrubbers made from natural Egyptian loofah that contours to the shape of your body. The loofah pad features an abrasive side for exfoliating and a soft pad that can be used to apply body wash and moisturizer. Remember to clean your loofah weekly.
---
Our Recommendation: Aquasonic Toothbrush
Accepted by the American Dental Association Council on Scientific Affairs, this electric toothbrush is an affordable option. It comes with eight different brush heads, four brushing modes, a timer, wireless charging capabilities, and a travel case. This sleek toothbrush maintains an average rating of 4.5 stars based on over 45,000 reviews on Amazon.
---
Our Recommendation: H2ofloss Water Flosser
This cordless water pick helps you improve the health of your teeth and gums without having to buy dental floss. The flosser comes with five speed settings and six jet tips, so you can customize the function according to your needs. Additional features include a leak-resistant design and up to 15 days of battery life.
Clothing and Laundry
---
Our Recommendation: Rockland Melbourne Hardside Luggage
This two-piece set of wheeled suitcases from Rockland comes in dozens of color combinations and features hard backing made from a lightweight but strong ABS material. Spinner wheels and ergonomic handles let you maneuver the 28-inch upright and 22-inch carry-on suitcases with ease. The luggage boosts storage capacity by expanding up to two extra inches.
---
Our Recommendation: PurSteam Professional-Grade Steam Iron
Manufactured by PurSteam, this iron quickly removes wrinkles. It features axial steam holes and a stainless steel soleplate that lets you iron cotton, polyester, silk, linen, and even wool. Safety features include an anti-drip design and a three-way automatic shutdown mechanism.
---
Our Recommendation: HOMZ T-Leg Ironing Board
Whether ironing a dress shirt for a job interview or getting wrinkles out of your favorite shorts, a sturdy ironing board can help you look professional and presentable. This no-frills option comes in various colors and is made of perforated steel to prevent wobbling while your iron. You can also adjust the height to prevent back strain while you iron.
---
Our Recommendation: Zober Non-Slip Velvet Hangers
These ultra-thin clothing hangers are constructed from sturdy chrome material and black velvet. With chrome hooks, each hanger can hold up to 10 pounds of weight. These hangers also feature a pants bar, so you can store more clothing in less space.
---
Our Recommendation: Simple Houseware Over the Door Hanging Organizer
Spanning 19 inches across and 64 inches long, this clear hanging organizer contains 24 pockets for shoes and accessories. Use the built-in hooks to hang the organizer from any standard door without the need for hardware.
---
Our Recommendation: Handy Laundry Store Mesh Popup Laundry Hamper
The Handy Laundry Store offers a two-pack of laundry hampers made from sturdy mesh. When not in use, these hampers collapse into flat discs for easy storage, making them ideal for dorm life and travel. Each hamper is 13 inches by 14 inches by 21 inches.
---
Our Recommendation: SOJOS Polarized Sunglasses
Nearly 20,000 Amazon customers have given these sunglasses an average rating of 4.5 stars. You can choose from 11 different frame and lens colors and also take advantage of polarized, mirrored lenses for anonymity. The lenses also have a UV-protection coating to shield your eyes from the sun.
---
Our Recommendation: Charles River Apparel Pullover Rain Jacket
Keep yourself dry and warm in inclement weather with a Charles River Apparel unisex rain jacket. The coat's exterior is made of water and wind resistant RiverTec nylon, while the interior is constructed from a soft cotton flannel.
School Supplies
---
Our Recommendation: Quartet Combination Magnetic Whiteboard Calendar and Corkboard
At 23 inches wide and 17 inches tall, this portable whiteboard and corkboard offers ample room without taking up too much wall space. The whiteboard contains a magnetized calendar for multifunctional use. This product comes with a mounting system, dry erase marker, and two magnets to get you started.
---
Our Recommendation: Clever Fox Planner
This planner from Clever Fox allows you to organize your schedule by week and/or month with an undated format. The planner comes with decorative and time-management stickers and contains writing exercises that can help you reach short-term and long-term goals.
---
Our Recommendation: Matein Travel Laptop Backpack
If you're looking for a durable, sleek backpack with lots of storage space, you may be interested in this Matein model. Featuring a laptop sleeve, anti-theft pocket, USB charging port, and water-resistant fabric, this backpack is perfect for busy college students. It comes in several different subtle colors.
---
Our Recommendation: Amazon Basics College Ruled Composition Notebooks
For students who prefer to take notes with pen and paper, Amazon Basics offers a four-pack of college ruled composition notebooks. Each notebook contains 100 sheets of paper. The sturdy front and back covers display a weekly scheduler and quick reference conversion charts.
---
Our Recommendation: SyPen Stylus Pens
Seamlessly alternate between your notebook and smart device with these two-in-one ballpoint and stylus pens from SyPen. The sensitive stylus tip is compatible with most phones, tablets, and touchscreen laptops. Choose from either a twist-action or click pen.
---
Our Recommendation: BluePower Fireproof File Folder
Protect passports, transcripts, and other important documents with this portable file organizer. Constructed from five layers of silicone-coated fiberglass and insulated aluminum, the folder is waterproof and capable of withstanding temperatures that exceed 1,800 degrees Fahrenheit. The BluePower fireproof file folder can hold about 600 sheets of standard paper.
---
Our Recommendation: Besign Adjustable Laptop Table
The Besign multifunctional laptop table lets you comfortably study while sitting on your bed or standing at your desk. The tray adjusts between zero and 36 degrees, and the table itself comes with five height settings. This laptop table is big enough to accomodate a large laptop and mouse. The table folds up for easy storage.
---
Our Recommendation: Leven Deli Effortless Desktop Stapler
Leven's Deli stapler allows you to attach up to 25 sheets of paper with a single finger. Additional features include a jam-resistant design; quick, spring-powered loading; and a rubber base that minimizes skidding and scratching. This package comes with a staple remover and 1,000 staples.
---
Our Recommendation: Snap-N-Store Index Card File
The Snap-N-Store index card file can come in handy during midterms and finals if you're studying from several sets of notecards. You can also use this chrome-protected and water-resistant box to store business cards, photos, and receipts. The box holds up to 1,100 cards and comes with a pack of blank labels.
Electronics
---
Our Recommendation: Tile Bluetooth Tracker Starter Pack
The Tile Bluetooth Tracker makes retrieving your keys, backpack, and phone much less stressful. Use the free app to ring your Tile from within 200 feet, or locate faraway items with help from the anonymous Tile Network. The starter bundle comes with an all-purpose Tile Mate, as well as a Tile Slim that is suitable for keeping track of wallets, tablets, and passports.
---
Our Recommendation: Hamilton Beach Electric Kettle
This cordless water boiler from Hamilton Beach heats water faster and more safely than a microwave or conventional stove. The kettle features an automatic shutoff function to keep water from boiling dry and a mesh pour spout that traps deposits caused by hard water.
---
Our Recommendation: Black+Decker Compact Refrigerator
Keep your beverages cool and leftovers fresh with this compact refrigerator. At a little over 1.7 cubic feet, this mini fridge easily fits underneath a bed or desk. Additional features include reversible doors and adjustable temperature controls.
---
Our Recommendation: Acer Swift 3 Laptop
A relatively inexpensive, reliable laptop is worth its weight in gold for college students who rely on computers for everything, including writing papers, turning in assignments, video chatting with family, and listening to music. The 14-inch Acer Swift 3 features various ports and several storage configurations to meet the needs of students.
---
Our Recommendation: Miady Portable Charger
This two-pack of portable power banks lets you keep your electronics running on long trips or busy days. Each charger features USB, USB-C, and micro-USB connectivity and enough power to fully charge the latest iPhones and Androids five times over. Durable rubber exteriors protect the chargers from being damaged.
---
Our Recommendation: SanDisk Cruzer USB 2.0 Flash Drive
The SanDisk Cruzer USB 2.0 flash drive lets you store and transport up to 128 GB of documents, pictures, and media files. The drive comes with SecureAccess software that uses 128-bit AES encryption, enabling you to password protect private files.
---
Our Recommendation: One Beat Power Strip
This power Strip features three AC outlets, three USB-A ports, and one USB-C port. This charging station uses smart technology to maximize energy efficiency between different devices and works with voltages between 100 and 240 volts. Additional features include a five-foot extension cord and fire-resistant surge protection.
---
Our Recommendation: Logitech MK270 Wireless Keyboard and Mouse Combo
If you do a lot of writing and research in college, using only the small keyboard and trackpad on your laptop could get uncomfortable. Logitech's full-size keyboard boasts a spill-resistant design and a comfortable palm rest. The right-handed mouse contours to your hand for precise maneuverability.
---
Our Recommendation: Anker Soundcore Life Q20 Hybrid Active Noise-Canceling Headphones
These wireless headphones from Anker cancel a variety of low- and mid-frequency noises, including nearby conversation, traffic, and airplane engines. The headphones also produce hi-res audio using dynamic drivers and BassUp technology. Additional features include an enhanced voice pickup microphone and a Bluetooth 5 connection.
---
Our Recommendation: OontZ Angle 3 Portable Bluetooth Speaker
This portable Bluetooth speaker uses dual precision acoustic stereo drivers and a passive bass radiator to produce clear sound with little to no distortion — even at the loudest volume setting. The speaker's 14-hour battery life and 100-foot Bluetooth range make it suitable for movie marathons and dance parties.
Health and Wellness
---
Our Recommendation: SEAVON Electric Dehumidifier
This 16-ounce compact dehumidifier removes moisture from the air, extracting harmful spores and other irritants in the process. The result is a cooler, less muggy room where you'll be more comfortable studying, hanging out, and falling asleep. This mini dehumidifier features energy-efficient and ultra-quiet thermoelectric cooling technology, as well as an automatic shutdown function.
---
Our Recommendation: First Aid Only First-Aid Kit
Accidents happen. Prepare for these incidents with this OSHA-compliant portable first-aid kit. The kit contains 57 pieces (including antiseptic towelettes, sterile gauze pads, plastic and fabric bandages, and scissors) and is capable of treating up to 10 people. All the supplies fit neatly in a durable plastic case that can be stored in a drawer or mounted on a wall.
---
Our Recommendation: CeraVe AM Facial Moisturizing Lotion With Sunscreen
Recommended by the Skin Cancer Foundation, this moisturizing lotion is gentle on acne-prone and sensitive skin. This moisturizer contains ceramides and niacinamides to calm skin and restore the body's natural lipid barrier. The lotion also protects skin from UVA and UVB rays with an SPF 30, broad-spectrum sunscreen.
---
Our Recommendation: Stanley Classic Insulated Bottle
Stanley's classic, indestructible bottles have been around for more than a century. Available in two sizes, the bottle is suitable for both cold and warm beverages and soups. The lid also functions as a cup, and the bottle comes with a lifetime warranty.
---
Our Recommendation: Weighted Idea Cooling Weighted Blanket
Weighted blankets offer a form of deep pressure stimulation therapy that can relieve pain and help you relax. This 15-pound, twin-size blanket from Weighted Idea is made from breathable cotton that can help keep you cool or warm, depending on the conditions of your room. Customize your weighted blanket with a selection of removable duvet covers.
---
Our Recommendation: Zikari Large Plush Foam Reading Pillow
Despite your best intentions to use a desk or table, sometimes you'll end up doing homework or watching movies in bed. Unfortunately, our backs don't love this setup. A backrest can help provide lumbar support for areas that commonly grow achy when we sit in various positions. The Zikari reading pillow comes in a lush grey velvet and provides arm rests.
Feature Image: Ariel Skelley / DigitalVision / Getty Images
Use this guide to prepare for college dorm life! Incoming students can get tips from this comprehensive list of college and dorm essentials. Get ready for school this year by checking out our list of must-have college supplies that every student needs. We've selected the 10 best backpacks for college. Read on to learn which backpack fits your needs as you navigate college.
BestColleges.com is an advertising-supported site. Featured or trusted partner programs and all school search, finder, or match results are for schools that compensate us. This compensation does not influence our school rankings, resource guides, or other editorially-independent information published on this site.
Compare your school options.
View the most relevant school for your interests and compare them by tuition, programs, acceptance rate, and other factors important to find your college home.