Students majoring in sustainability learn about environmental management, analyzing environmental systems, and research methods, preparing for careers that help organizations and businesses build more environmentally friendly practices. This page covers potential career paths, salaries, different industries, and professional resources. The final section answers some frequently asked questions.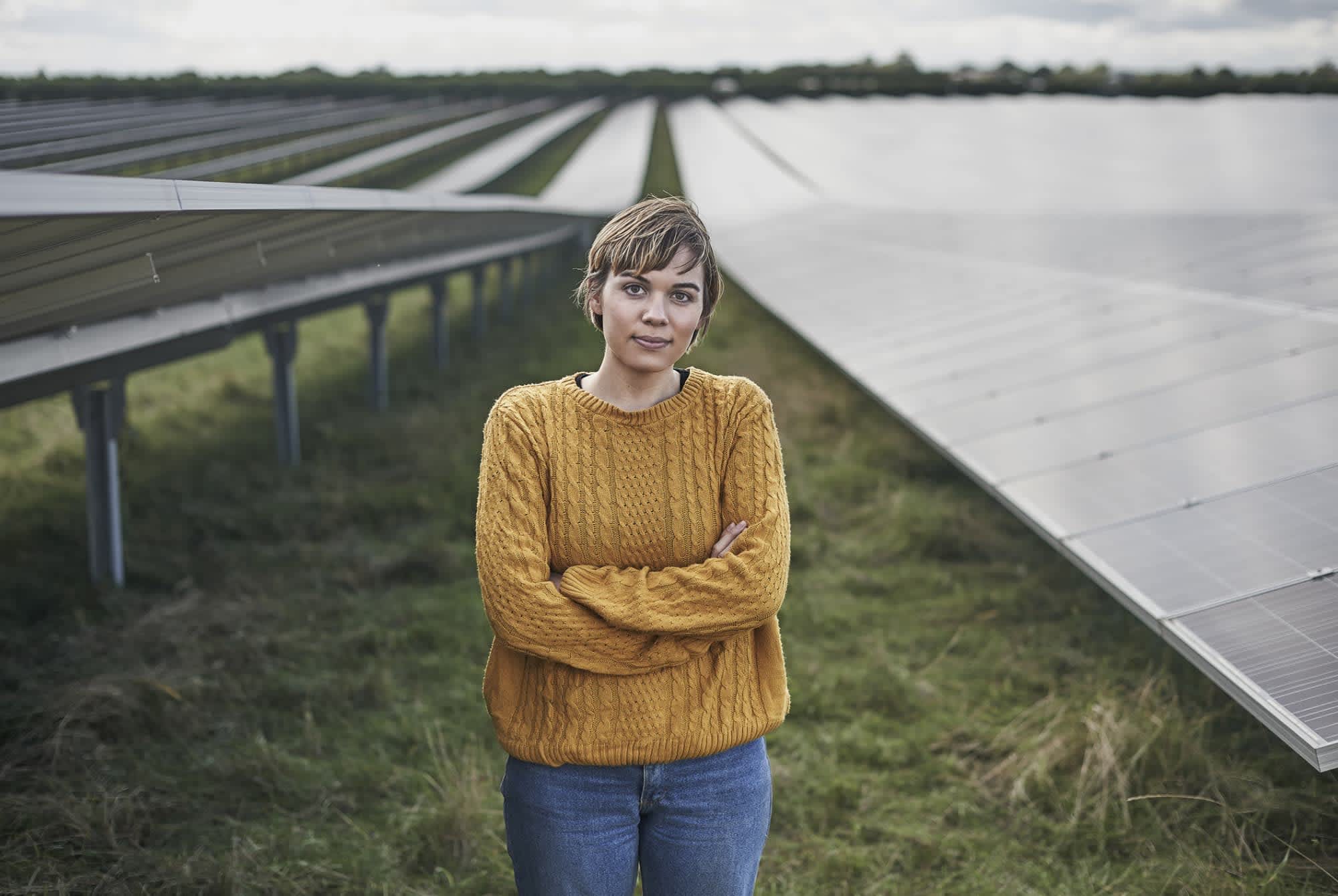 Why Pursue a Career in Sustainability?
Individuals passionate about the environment and creating a better future should consider a career in sustainability. Professionals must also possess heightened research, analytical, and communication skills. An associate, bachelor's, master's, or doctoral program can help students develop and hone these skills, while also introducing learners to the latest research related to sustainability.
Sustainability can lead to many career paths, such as sustainability specialist, environmental engineer, sustainability manager, and sustainability director. These and other job opportunities provide workers with the chance to positively impact the environment, people's quality of life, and future generations.
Sustainability Career Outlook
According to the Bureau of Labor Statistics (BLS), the United States employs approximately 53,150 environmental engineers. These professionals earn a median salary of about $88,000 per year. The BLS projects that the number of environmental engineer positions will increase by 5% between 2018 and 2028, leading to the creation of about 3,000 new jobs.
The following table highlights typical salaries for a few common sustainability careers. This information also demonstrates how a worker's salary increases with experience.
Median Annual Salary for Sustainability Careers
Job Title
Entry-Level
(0-12 months)
Early Career
(1-4 Years)
Midcareer
(5-9 Years)
Experienced
(10-19 Years)
Environmental Engineer
$56,670
$61,730
$74,320
$88,570
Sustainability Manager
N/A
$65,090
$76,540
$95,780
Sustainability Director
N/A
$76,280
$97,040
$113,380
Source: PayScale
Skills Gained with a Sustainability Degree
Because the sustainability field encompasses so many professional paths, students enjoy the freedom to pursue the coursework and hands-on training that best suits their career. However, all professionals in the field benefit from the overarching skills detailed below.
For example, research and analytical skills help students locate information, assess its validity, and evaluate its significance. With relevant information in hand, students apply problem-solving strategies to creatively tackle challenges. Communication skills allow professionals to clearly and persuasively get their points across, and interpersonal skills empower them to effectively collaborate with and lead teams.
Analytical Skills

Students learn to locate, collect, analyze, and present information. Presentations may include written or oral reports and data visualization. As part of their training, students use statistical analysis and computer modeling programs. Proper application of these tools allows students to interpret information efficiently, saving time and improving accuracy.

Communication Skills

Regardless of their particular industry, sustainability professionals must speak cogently and listen effectively. Strong communication skills help individuals learn from and cooperate with each other. This skill also prepares them to write persuasively and present their findings in front of different audiences. Students develop communication skills through rhetorical practice and group work.

Interpersonal Skills

Though sustainability professionals -- like researchers and conservationists -- complete many daily tasks individually, they eventually convene with their teams to advance communal goals. By developing interpersonal skills, students learn to effectively share resources, resolve conflict, and depend on one another for support and positive critiques. Professionals seeking positions as project managers and program directors require advanced interpersonal skills.

Problem-Solving Skills

Sustainability professionals confront urgent environmental, social, and health crises caused by human behavior and industry. Problem-solving skills include the ability to implement research-supported best practices and creatively tackle problems through unconventional means. As an interdisciplinary field, sustainability curricula train students about strategies that are useful in areas like business, policymaking, community engagement, and scientific research.

Research Skills

To validate and analyze individual claims, project proposals, and policy changes, sustainability professionals must provide accurate, up-to-date information. Research involves sifting through sources like library stacks, archives, websites, and online databases to identify data, statistics, and facts. It also entails designing and conducting tests to discover new information. One must also possess strong critical thinking skills to evaluate information for relevance and validity.
Sustainability Career Paths
Careers in sustainability are available in a variety of industries and areas of specialization. The following options represent a few fields where a recent graduate or experienced sustainability expert can find work. Keep in mind that one employer may work in multiple industries simultaneously, giving sustainability professionals several ways to make a positive impact.
Consulting

Companies that want to implement sustainability best practices hire expert consultants. These consultants perform different tasks -- such as interviewing employees, viewing work, and analyzing company documents -- to discover ways to make the company more environmentally friendly. They report results to company managers, recommend improvements, and train employees on new sustainability initiatives.

Military

When the military reduces waste, it can reduce costs; this represents a significant advantage when planning for the future. Sustainability careers in the U.S. military require enlistment and military training. Afterward, professionals analyze their base, ship, or department's operations for ways to reduce pollution and lessen environmental impacts.

Insurance

Insurance companies understand that issues such as climate change have a significant impact on their business model. As a result, they inform customers about heightened risks related to issues like flooding, hurricanes, and fire. An insurance broker with a background in sustainability can advise actuaries -- professionals who calculate different risks and set insurance rates accordingly.

Education

With a bachelor's or master's degree in a sustainability-related topic, professionals can become a high school science teacher. This position allows them to inform young people about sustainability's importance and role in creating a better future for humans. This career may require additional training, such as a teacher-preparation program.

Government

Local, state, and federal government agencies and departments hire sustainability experts. These careers usually involve performing original research, writing reports, and giving presentations to managers and elected officials. Professionals also work with the public to influence public policy; they may promote a new recycling program or advocate for environmental regulations.

Energy

To combat climate change, many companies in the global energy sector hire sustainability experts to research new energy methods, such as wind and solar. Their job duties may also include finding new best practices and advising management. These careers in sustainability could involve creating an advertising campaign detailing their company's commitment to environmental improvement.
How to Start Your Career in Sustainability
Attaining a career in sustainability begins with earning an associate, bachelor's, master's, and/or doctoral degree in sustainability or a related field. These degrees may offer learners the chance to specialize in one or more areas, enhancing a student's future career prospects. If a program provides numerous paths, students should consult with an academic or career advisor to find the option that best matches their goals.
Although an associate degree in sustainability prepares graduates for some jobs, positions with better wages require a bachelor's or master's degree. More advanced degrees may also qualify a professional for a managerial position. As a manager, they can influence their company's direction significantly.
How to Advance Your Career in Sustainability
After a professional attains their first job with a sustainability degree, they can improve their career and salary potential in different ways. One option includes earning an industry certification. Several organizations offer rigorous certification programs. A similar option involves enrolling in continuing education programs or coursework. These programs are commonly hosted by universities, and learners may be able to access coursework asynchronously.
Workers can also advance their career in sustainability by engaging in networking and joining professional organizations. The latter may offer multiple benefits, such as private job boards, free publications, and exclusive networking events.
Certifications and/or Licensure
Sustainability careers do not require a state-issued license for an entry-level job or advancement. However, professionals can improve their career and salary prospects by earning an industry certification. For example, the International Society of Sustainability Professionals (ISSP) awards a certification to workers who pass a 75-question exam. The exam covers sustainability topics, tools, and systems thinking. ISSP requires that certification-holders renew their certificate every two years.
The Association of Energy Engineers offers a similar certification: the certified sustainable development professional credential. Candidates must possess a mix of formal education and professional experience. Other certification steps include attending a seminar and passing an exam.
Continuing Education
Major colleges and universities offer sustainability certificates to busy professionals who want to improve their knowledge and skills. Certificate options include environmental management, urban planning and preservation, and sustainability. Schools often charge a per-course tuition rate comparable to what degree-seeking learners pay. Additionally, many programs allow students to learn entirely online.
Although earning one or more certificates can help sustainability experts achieve career advancement, some employers may require a bachelor's, master's, or doctoral degree for specific management-level positions. Fortunately, many online programs use an asynchronous delivery format -- a boon for professionals working full time and/or raising a family.
Next Steps
In addition to earning a certificate, certification, or advanced degree, workers can take additional steps to find the best careers for a sustainability major. For example, building a positive professional relationship with academic and work peers can help professionals discover new job opportunities, learn the latest sustainability best practices, and curate invaluable resources.
To network effectively, workers can join one or more professional associations, such as ISSP or NetImpact. These organizations provide many benefits, such as annual conferences, career centers, and professional development courses. Members can also take on a leadership role in a local chapter.
Where Can You Work as a Sustainability Professional?
Sustainability professionals work in diverse industries with many employment opportunities. Marketers can work for agencies, companies, or themselves. They can earn six-figure salaries or take on part-time roles. Salaries and opportunities are typically greater in well-populated urban areas with higher concentrations of cutting-edge industries than in rural settings.
Industries
Sustainability careers are found in many industries. Undergraduate and graduate students preparing for a career in sustainability should explore their options and reach out to their school's career center representatives for expert advice. The following table describes a few of the industries that hire the most environmental engineers.
Architectural, Engineering, and Related Services

This industry employs sustainability experts to perform environmental impact surveys and design buildings that consume fewer resources.

Annual Mean Salary: $96,580

Management, Scientific, and Technical Consulting Services

Companies and government agencies hire sustainability consultants to identify and eliminate waste, as well as create new sustainability initiatives.

Annual Mean Salary: $93,930

State Government, Excluding Schools and Hospitals

State governments create laws and institute public policies. These sustainability careers may involve advising elected officials.

Annual Mean Salary: $84,210

Local Government, Excluding Schools and Hospitals

This industry refers to county and city governments whose decisions impact local residents and businesses.

Annual Mean Salary: $87,980

Federal Executive Branch

The president of the United States oversees federal executive branch agencies, many of which employ sustainability professionals to reduce waste and meet the administration's environmental goals.

Annual Mean Salary: $103,280
Source: BLS
Locations
As of 2019, the states with the most environmental engineers included California, Texas, and New York. Texas and New York both have more than 3,000 positions, while California employs more than 8,000 of these workers.
Environmental engineers in Texas make the most money, earning an annual mean wage of $108,530. Other states where typical salaries exceed $100,000 include California, Maryland, and Minnesota.
Resources for Sustainability Majors
Sustainability students at the associate, bachelor's, master's, and doctoral levels can access numerous resources while looking for top careers in sustainability. These resources include professional organizations, continuing education courses, and industry publications. Continue reading to learn more about the best options in each category. Also, use the embedded links to discover additional information about these resources.
Professional Organizations

International Society of Sustainability Professionals: Founded in 2006, ISSP supports professionals by hosting networking events, promoting professional development opportunities, and providing best practices and tools. The society provides individual and organizational memberships, which come with perks like discounts on books, training seminars, and conference fees. Sustainability students can access internship and volunteer opportunities. ISSP operates two professional certification programs: sustainability associate and certified sustainability professional.

---

Sustainability Management Association: SMA empowers sustainability management professionals through advocacy and training programs. Members can access networking opportunities, comprehensive training webinars, and job postings. SMA offers professional certifications at three levels: student associate and certified associate -- which do not require work experience -- and certified professional, which necessitates at least two years in the field.

---

Association of Christian Sustainability Professionals: Established in 2011, ACSP promotes Christian stewardship and environmentalism. The association focuses on higher education, empowering students and professionals through networking events, training opportunities, and strategic collaborations. In partnership with the Center for Environmental Leadership, ACSP operates the Creation Care Covenant -- a project that enables Christian leaders to advocate for environmental causes.

---

National Association of Environmental Professionals: NAEP is a multidisciplinary professional organization that supports members through ethical research, state-of-the-art environmental planning, and networking initiatives. Members benefit from research awards, academic scholarships, and an extensive career development center. NAEP also operates an online library of research publications and statistical analysis reports. Students can take advantage of the organization's structured professional certification program.

---

American Academy of Environmental Engineers and Scientists: With a history that dates back to 1973, AAEES promotes leadership excellence through board certification and professional development programs. Professionals can earn certificates in areas like air pollution control, radiation protection, environmental toxicology, and sustainability science. Students benefit from awards, scholarships, and career guidance. They can also engage with AAEES student chapters and Tau Chi Alpha -- the organization's honor society.

---

Society for Conservation Biology: Boasting over 4,000 members, SCB advances a globalized approach to the scientific study and conservation of biological diversity. Members engage with policy initiatives worldwide and can access support from regional, local, and topical SCB groups. The society promotes networking and academic collaboration through monthly meetings and an annual international conference. Students and working professionals benefit from awards, scholarships, fellowships, career assistance, and educational resources.

---

Society of Women Environmental Professionals: Based in Philadelphia, SWEP supports members through monthly networking and professional development events. Sustainability professionals also benefit from field-specific mentorship programs and job postings. Additionally, SWEP provides financial assistance, including research grants, leadership awards, and graduate scholarships. Students can gain professional experience by taking advantage of the organization's educational and public service opportunities.

---

Young Professionals for Agricultural Development: YPARD empowers its 15,000 global members by providing strategic policy advocacy, research collaboration opportunities, and educational outreach programs. Sustainability majors can gain hands-on training through the YPARD mentorship programs, which provides training and logistical support to aspiring researchers, farmers, industrialists, and entrepreneurs. Members also benefit from an e-library, job postings, research grants, and academic scholarships.

Open Courseware

Environmental Protection and Sustainability - IsraelX: This class features coursework related to conserving biodiversity, solving pollution challenges, and promoting sustainable human development. Each of the course's eight weeks follows a different theme, such as water quality and urban sustainability. Instructors possess terminal degrees, and students can work at their own pace.

---

Sustainability Science - A Key Concept for Future Design - The University of Tokyo: Over six weeks, learners analyze how Japan has built sustainable cities and become a world leader in the sustainability field. Topics include historical lessons, urban-rural land use, and the latest developments in sustainability science. Students spend 2-3 hours each week completing coursework, and they can receive a verified certificate if they pay a modest fee.

---

Ecodesign for Cities and Suburbs - The University of British Columbia: This six-week course includes topics like urban design, solving urban challenges, and analyzing modern sustainable cities. Each week focuses on a different topic, such as climate change adaptation and how to make cities more livable. Students commit 4-5 hours to this course each week.

Publications

Energy for Sustainable Development: The International Energy Initiative publishes this in-depth academic journal. Recent article topics include the latest research into the developing world's energy requirements, the benefits of decentralized rural electrification, and energy poverty policies. This journal may also appeal to managers, consultants, and elected officials interested in international sustainability topics.

---

green@work: A resource for business leaders, green@work promotes corporate sustainability by offering articles on green strategies, best practices, and corporate responsibility. The magazine and accompanying website offer insights into ecological design and tips for companies interested in increasing sustainability. Subscribers receive access to all digital back issues.

---

International Journal of Green Energy: The International Journal of Green Energy features research in sustainable energy diversity, the consequences of energy use, and sustainable energy's practical applications. The publication's overall aim involves promoting clean energy sources to policymakers and influential people in the energy sector. Subscribers can access back issues from the last 15 years.

---

Mother Earth News: Mother Earth News helps people working in all fields adopt and promote a more environmentally friendly way of life. Article topics include renewable energy, green homes, and organic gardening. The magazine also highlights green jobs and recommended books. Subscribers can learn more by accessing the publication's numerous videos and podcasts.

---

Sublime: Professionals working in any sustainability career can benefit from reading Sublime. This magazine helps readers live a more sustainable lifestyle by offering articles on how to shop smart, adopt an eco-friendly diet, and promote a more sustainable economy. Visitors to Sublime's website can review articles from back issues at no charge.

---

Sustainable Cities and Society: An academic journal aimed at policymakers, Sustainable Cities and Society publishes articles promoting the construction of cities resilient to climate change. The journal's most popular articles cover topics that include architecture trends, the rise of electric vehicles, and the relationship between smart and sustainable cities. Visitors to the journal's website can read some articles for free.
Frequently Asked Questions
How do I get a job in sustainability?

Attaining a career in sustainability begins with earning a college degree in sustainability or a similar topic. The best positions require a bachelor's or master's degree. If you want to teach at the college level, you may need a doctorate. Visit your college's career center to learn more about potential careers and job-hunting best practices.

What does a career in sustainability look like?

The daily duties of a sustainability career vary widely depending on an individual's specific role. Some sustainability professionals oversee the installation of solar panels and wind turbines. Others write detailed reports on sustainability for elected officials.

Is a sustainability degree worth it?

A postsecondary degree provides three essential advantages when preparing for a sustainability career. It imparts vital and transferable skills that all professionals need, conveys the latest sustainability knowledge and best practices, and qualifies workers for high-paying jobs.

Which environmental degree is best?

This depends largely on an individual's intended career path. Different sustainability careers benefit from different skill sets. A degree-seeker should speak with an advisor to discuss their career goals and develop an academic and career roadmap.

Are sustainability specialists in demand?

The BLS projects that many common sustainability careers will see increased demand in the coming years. For example, environmental engineers (5% growth), zoologists and wildlife biologists (5% growth), environmental scientists and specialists (8% growth), and environmental science and protection technicians (9% growth) are all projected to experience average to above-average growth from 2018-2028.
Read More About Sustainability on BestColleges
Best Online Bachelor's in Sustainability Programs
Best Online MBA in Sustainability Programs
Bachelor's in Environmental Science Program Guide
Best Online Master's in Environmental Management Programs