Resource Guide for Hispanic and Latino/a Students in STEM
Hispanic and Latino/a students are underrepresented in STEM, but there are resources available. Use this guide to discover STEM programs that offer academic and career support.
Image Credit: Morsa Images / DigitalVision / Getty Images
---
The number of Latino/a students in STEM is growing.
STEM jobs pay Latino/a workers higher salaries than non-STEM jobs.
However, the Hispanic community is underrepresented in STEM degrees and the STEM workforce.
Fortunately, there are colleges and programs that support Hispanic and Latino/a students in STEM.
---
In the past decade, Hispanic and Latino/a students have made major strides in science, technology, engineering, and math (STEM) fields. According to a Pew Research Report, between 2010 and 2018, the percentage of STEM degrees awarded to Hispanic students increased from from 8% to 12%.
But Latino/a students still face barriers when it comes to STEM. While Hispanic workers make up 17% of the workforce, they only hold 8% of STEM jobs. How can Latino/a students break into STEM and thrive in science and engineering careers? Identifying supportive programs and resources that help Latino/a students launch STEM careers is the perfect place to start.
Promising Trends for Hispanic and Latino/a Students in STEM
Challenges for Hispanic and Latino/a Students in STEM
Underrepresentation
The Hispanic community is underrepresented in the STEM workforce and in STEM majors. Hispanic workers hold 17% of all jobs, but only 8% of STEM jobs. That underrepresentation also affects college students. Around 15% of college graduates hold a STEM degree, but the number is just 12% for Hispanic college graduates.
Wage Gap
Hispanic workers in STEM earn less than other STEM workers. While the average STEM job pays $77,400, Hispanic men in STEM make $73,000 and Hispanic women in STEM earn just $57,000 — making them, along with Black women, the lowest-paid STEM workers, on average. Unfortunately, the racial and ethnic wage gap has grown in recent years.
Fewer Mentorship Opportunities
Fewer Hispanic and Latino/a STEM workers means fewer role models and mentorship opportunities. The same problem affects higher education, where Hispanics make up 20% of undergraduates but only 5% of professors. As a result, Hispanic and Latino/a students have fewer mentorship opportunities during their education and in their careers.
"One of the biggest challenges is getting the exposure — getting to know that this is a viable career choice, and being presented with the opportunities to learn and engage. Finding the resources you need and being able to tap into networks can be a challenge, but if you work at it, it's very possible."
— Bobby Bermudez, IT Expert and Founder of Symposit
Five Programs That Support Hispanic and Latino/a Students in STEM
STEM Transformation Institute: Located at Florida International Institute, the STEM Transformation Institute helps future STEM workers from underrepresented groups. The program includes active learning classrooms, a learning assistant program, and a mastery math lab. FIU also institutes evidence-based teaching strategies to improve student learning in STEM courses.
Pathways to Student STEM Success: An initiative that brings together three Bronx CUNY colleges, PTS³ helps students at community colleges transition into four-year STEM programs. Students work with academic advisors and tutors to strengthen STEM skills. The program also offers math bootcamps during breaks and undergraduate research opportunities. Students may qualify for internships that come with a stipend.
HSI-STEM: At California State University, Long Beach, Latino/a students can participate in the HSI-STEM program. The program offers support for first-year students, including transition programs for STEM majors and learning communities. Transfer students also participate in STEM groups and workshops. The program incorporates family activities to encourage a broader community of support.
Queens STEM Academy: The newly announced partnership between LaGuardia Community College and Queens College will help Hispanic students earn STEM degrees. The Queens STEM Academy will recruit underrepresented students and help community college students transfer into bachelor's STEM programs. Learners also benefit from career support.
Project RAISE: California State University, Fullerton supports Hispanic STEM students with Project RAISE. The program offers services and programs for students, including lab tours, a summer research program, and peer advising programs. Project RAISE also partners with community colleges to support transfer students seeking a STEM bachelor's degree.
5 Scholarships for Hispanic and Latino/a Students in STEM
"Technology is so intrinsic to our entire world and our lives, and I think it's an excellent career choice for anyone, and colleges and universities can further enable that by providing more access to resources, computing power, labs, and things that, otherwise, one maybe wouldn't have the opportunity to access."
— Bobby Bermudez, IT Expert and Founder of Symposit
Additional Resources for Hispanic and Latino/a Students in STEM
The National Science Foundation offers resources for STEM programs at Hispanic-Serving Institutions. The tools include information on networking and professional development activities.
SACNAS trains diverse STEM professionals. Its services include leadership and mentorship programs, a career center, webinars, and professional programs.
The foundation supports Latinos/as in Silicon Valley, including students. Opportunities include leadership development programs and college scholarships for Latino/a students.
SHPE brings together Hispanics working in STEM. The society offers training and mentorship opportunities. SHPE also runs nearly 300 student and professional chapters located around the country.
Run by the Library of Congress, the resource connects students with resources and data related to STEM education and careers. These include the minority science and engineering improvement program, upward bound math-science programs, and information on STEM alliances and professionals.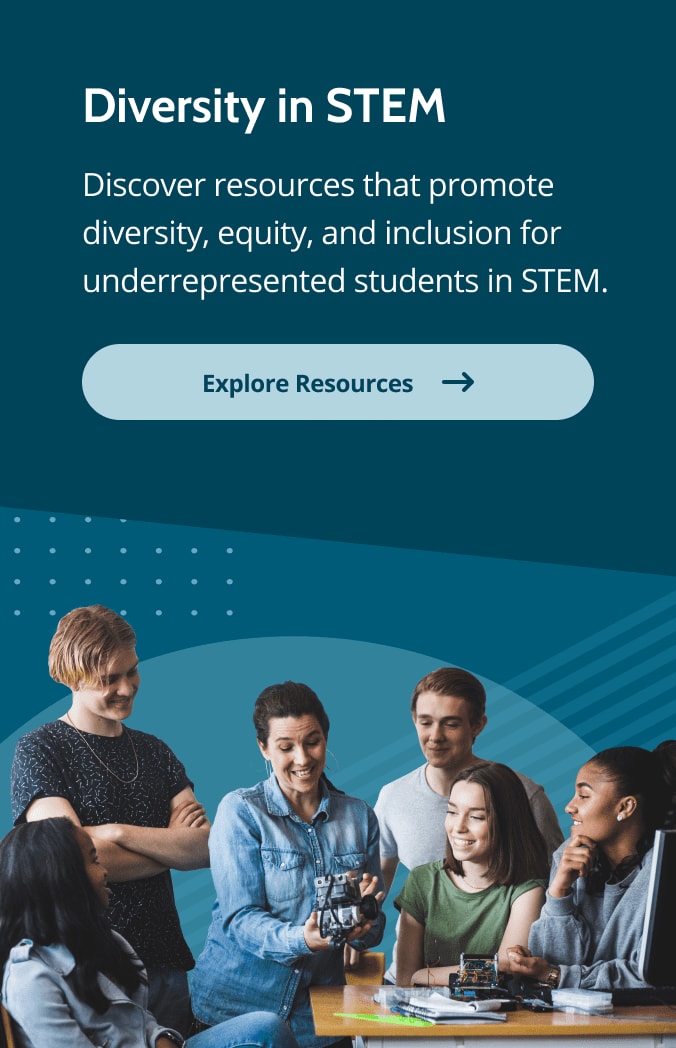 Frequently Asked Questions About Hispanic and Latino/a Students in STEM
What percent of Latinas are engineers?
Latinas are underrepresented in engineering and other STEM fields. Based on the most recent data, Latinas hold only 2% of all engineering jobs. Overall, only 13% of engineers are women, giving engineering one of the largest gender gaps for STEM fields. The underrepresentation of Latinas in engineering starts in school.
In 2018, Latinas earned fewer than 3% of all engineering degrees, according to the National Science Foundation. Computer science was the only STEM major with a lower percentage of degrees awarded to Latinas. Increasing Latina representation in engineering and other STEM fields requires an investment in STEM education.
Are Hispanics underrepresented in STEM?
Yes, Hispanics are underrepresented in STEM. In 2019, the National Science Foundation found that 9% of all full-time STEM workers identify as Hispanic or Latino/a. In comparison, the Census Bureau estimates that Hispanics made up 17% of the total workforce.
Hispanic and Latino/a students earn fewer than 16% of science degrees and around 12% of engineering degrees. In addition, Hispanic STEM workers earn lower salaries than their white counterparts. According to Pew, Hispanic workers in STEM make 83% of the salary of white STEM workers. Underrepresentation plus a wage gap creates barriers for Hispanics in STEM.
What percent of STEM majors are Hispanic?
Hispanics make up 12% of all STEM majors in 2018, according to a Pew Research study. That represents an increase from 2010, when Hispanic STEM majors made up 8% of all STEM degrees. Hispanic students also earn 9% of STEM master's degrees and 6% of STEM research doctorates.
However, Hispanic students currently earn 15% of all bachelor's degrees, indicating a gap in the number of Hispanic STEM majors. A majority of Hispanic STEM majors are women — Hispanic women earn 54% of undergraduate STEM degrees awarded to Hispanics, while Hispanic men earn 46%.
With Advice From:
Bobby Bermudez
Bobby has over 20 years of business & IT experience working with myriad clients including startups, non-profits, defense contractors, Fortune 500 and Local, State and Federal agencies. His broad expertise with computer, network and web technologies led him to create Symposit. He received a B.S. in Decision Sciences and Management Information Systems from George Mason University, a M.S. in Computer Information Systems with a concentration in Security from Boston University, graduate certificates from Georgetown and Dartmouth, and other technical certifications.
In addition, Bobby is also an active member of AFCEA, Infragard and GTSC and is a non-profit Board Director for Computer CORE. Bobby lives with his wife, daughter and son in Northern Virginia, roots for the Nats and Caps and tries to housebreak his Boston Terrier.