Mental Health for Black and African American Students
Black and African American college students experience disparities in mental health care. Read this guide to find support, including online resources.
Image Credit: Klaus Vedfelt / DigitalVision / Getty Images
---
APA reports that disparities continue to exist in available mental health services.
Black and African American people dealing with mental challenges often get poorer care.
Consider a school that can offer a variety of mental health support options.
---
For many students, college can be a stressful and trying time. Social and school challenges can lead to anxiety, depression, and other mental conditions.
All students need access to quality care. However, accessibility can be especially challenging for Black and African American students.
Black mental health matters. However the American Psychiatric Association (APA) reports that disparities continue to exist in mental healthcare services. And African Americans — a culturally diverse community making up around 13% of the U.S. population — commonly lack access to culturally competent care.
According to APA, African Americans experience similar rates of mental challenges as other communities, but the care African Americans receive is of lesser quality.
Read on to learn more about mental health resources for Black and African American students. Learn more about various types of mental health support available, barriers to support, and a list of resources.
Types of Mental Health Support
At many postsecondary institutions, mental health support remains low. And departments offering support are often underfunded and understaffed.
Black and African American students who seek out counseling services may encounter professionals who are not familiar with the role that cultural affiliation and race play in mental health. These professionals may have only been educated on Eurocentric methods and diagnoses.
However, if the counselors and therapists are involved in professional organizations like the Association of Black Psychologists, then they may have a better understanding of the types of treatments and resources better suited to aid Black and African American students.
Support can include psychotherapy, in-person and virtual appointments, and student peer support groups. Emergency response support and access to other health and wellness programs should be available.
Students can also turn to their friends and family to discuss their experiences and get support.
Your school's mental health support center should also be able to recommend books, films, and podcasts. A sign that a college supports student mental health is its promotion of school-life balance with wellness activities like meditation workshops.
Another resource found on some college campuses would be Black Cultural Centers and Multicultural Centers. They may offer counseling for students or be able to make referrals outside of the institution.
Supportive colleges also host orientation activities with icebreakers to help students learn to navigate and find their place within the campus culture. Many participate in JED Campus Programs, which aim to decrease substance misuse and suicide rates.
Barriers to Mental Health Support for Black and African American Students
Black and African American patients often face bias and discrimination in the U.S. healthcare system, which has historically excluded people of color. Due to stigmas and disparities, they tend to use mental health services less than other populations, including outpatient services and prescription drugs.
According to APA, African Americans are less likely to receive adequate care and are less frequently included in research studies. This can leave them more likely to use emergency rooms or primary care rather than mental health specialists.
Many African Americans, like many other people of color, come from socioeconomic backgrounds that make it more difficult to access treatment. In 2019, for example, 11.4% of nonelderly people who identified as Black or African American had no health insurance.
The stigma of mental health in the Black community also plays a role.
A National Mental Health Association study found that 63% of African Americans saw a mental health condition, like depression, as a sign of weakness resulting from a lack of inner strength.
They may seek a diagnosis from a physician rather than a mental health expert.
Additionally, they may turn to alcohol or drugs to help cope with their anxiety. If they are involved in church, the advice may be to "give it to God " rather than to seek professional help.
In many instances, ministers are not licensed counselors or psychologists and falsely believe mental health issues can be "prayed away." In such cases, mental health conditions may worsen from lack of professional care.
However, there are progressive churches that may actually have a "Mental Health Ministry" with church members who are licensed practitioners and, through the ministry, provide free services.
What barriers exist that prevent Black and African American people from finding mental health support?
"Although the topic of mental health has become somewhat more common to discuss, it still remains a taboo or silent topic in many households. In the Black and African American community, struggling with emotions and mental health symptoms has been perceived as a weakness, leading to feelings of shame.

"Another barrier that exists is the lack of Black and African American counselors and the possibility of connecting with a counselor who lacks cultural competence. Discussing symptoms and stressors is a very vulnerable experience. Given the history of mistrust toward the medical profession, the risk of being misunderstood or misdiagnosed by a culturally unaware mental health professional may not be worth it for some members of the Black or African American community."

— Lynell Williams, National Certified Counselor
Choosing the Right Mental Health Support for You
For many students, especially those at large universities, the campus resource center can provide a number of supportive resources. Campus and psychological services may be available and can provide mental health support.
Still, some students may choose to look off campus for this support.
Before signing up for mental health services, Black and African American students have to decide if a particular mental health facility is compatible with their needs.
Consider the diversity of the staff and the organization's stance toward diversity and inclusion — in addition to the location and costs of mental health care.
In today's pandemic era, the remote workforce includes mental health specialists. Students have the option to schedule and conduct therapy appointments virtually.
In therapy, Black and African American students can learn coping strategies to manage their conditions. By seeking therapists from similar backgrounds or who are aware of the biases that Black and African American people face, students can find appropriate care.
How can Black and African American students find the right mental health care for their needs?
"I would say for the students to check their school for resources that may be provided as part of their student fees. Many colleges offer free counseling services, medication management, support groups, and classes like practicing mindfulness or learning key coping skills.

"If possible, I encourage students to check out their counseling center and look up some of the available counselors. Many schools have staff websites that share their background, their approach to therapy, and what mental health concerns they work with best. This will give the student more control of who they see as a provider and make them comfortable before even making an appointment."

— Lynell Williams, National Certified Counselor
Mental Health Resources for Black and African American Students
Black Mental Health Alliance: Students can connect with therapists, find volunteer and internship opportunities, and locate information about BMHA programs, training, and workshops.
The Steve Fund: A leading organization in mental health for young people of color, the Steve Fund website offers various resources that include scholarships, articles on mental health, newsletters, and its SpeakOnIt! podcast.
The Clay Center for Young Healthy Minds: Located at Massachusetts General Hospital, this organization provides free online educational resources that include original podcasts, videos, and blog posts.
Therapy for Black Girls Podcast: This podcast is a weekly conversation on mental health and personal development. It offers an online blog and community and helps visitors find therapists. Therapy for Black Girls aims to provide a sense of belonging and support for Black girls.
JED Campus: Working directly with colleges and universities, the JED Foundation puts systems, programs, and policies in place to protect student mental health and build life skills.
Ourselves Black: An online and print magazine with a variety of resources, Ourselves Black promotes that mental health challenges must be understood and addressed.
Black Girls Smile: This leading organization on Black female mental wellness offers help crisis lines, resources for finding a mental health professional, and lists of various mental health organizations.
BEAM: The Black Emotional and Mental Health Collective website provides mental health support through programs, wellness tools, and funding opportunities.
The Trevor Project: The Trevor Project publishes mental health guides for young queer people. Visitors can choose to text, call, or chat online with one of the organization's mental health counselors
Free Black Thought: This online collaboration of scholars, technologists, and parents are "determined to amplify vital Black voices that are rarely heard on mainstream platforms."
National organizations on campus: Another option for Black and African American students is to find out if there are student chapters of nationally based organizations on campus, such as the Association of Black Psychologists or the National Association of Black Social Workers. Because of the national affiliation, students in these organizations would have contact with licensed professionals who work with Black communities and may be willing to offer discounted or volunteer counseling services to students.
Take Time to Prioritize Self-Care
Give yourself time and space to focus on you. Explore our collection of mental health resources to find support.
Learn More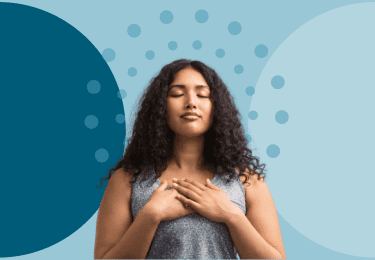 Frequently Asked Questions About Mental Health
How do you define mental health?
Mental health refers to the wellness of a person's mind. Just as people may experience physical ailments, individuals may also experience psychological challenges at some point in their lives.
Mental health also includes social well-being. The quality of our mental health influences our ability to communicate and empathize with others as well as our ability to make appropriate choices and manage stress.
A person's mind is developed from a combination of their environment and genetics. Mental health can be affected by multiple factors including: family history, genes, brain chemistry, and life experiences.
What are the most common mental health problems?
Anxiety is the most common mental health challenge. Depression is the second most common.
The Imagine America Foundation and other organizations report that the mental health of U.S. college students is deteriorating.
Among the almost 20 million students who enrolled in college in fall 2019, a large number experienced anxiety, depression, suicidal ideation, and substance misuse.
How does mental health affect social health?
Since mental health influences how we think and feel, a person's mental well-being influences their behavior. Behavior directly impacts our relationships. When someone is experiencing mental health challenges, such as anxiety or depression, their self-esteem may drop.
People with low self-esteem may neglect to nurture their relationships. They may begin to dread social situations and cancel or avoid making plans — neglecting to meet with friends, attend study groups, and create networks of support.
People dealing with mental health challenges may isolate themselves. Social isolation can become problematic when people avoid social interactions they once enjoyed — and, when they experience distress while alone.
With Advice From:
Lynell Williams
Lynell Williams is an associate professional counselor and national certified counselor in Atlanta, Georgia. She currently works at a private practice called HealATL and Georgia State University's counseling center. Williams specializes in the counseling of women's issues, ADHD in women, perfectionism, and self-confidence building. She currently works with individuals, couples, and groups and utilizes approaches integrated with humanistic, mindfulness, and cognitive-behavioral interventions. Williams is currently pursuing her doctoral degree in counselor education and supervision at the University of Georgia. Her research interests include mental health disparities in Black women, self-confidence, and clinician development.
DISCLAIMER: The information provided on this website is not intended or implied to be a substitute for professional medical advice, diagnosis, or treatment; instead, all information, content, and materials available on this site are for general informational purposes only. Readers of this website should consult with their physician to obtain advice with respect to any medical condition or treatment.