The purpose of this guide is to help identify the signs and symptoms of common mental health issues for college students — and where and when to seek help. Left untreated, these issues can become debilitating and even life-threatening. If you feel that you may be experiencing these issues or find yourself concerned for a friend or peer, it is important to take action now.
And don't forget: you're not alone. Mental illness is very common among students today. According to mental health research conducted by the National Alliance on Mental Illness (NAMI):
One in four students have a diagnosable illness
40% do not seek help
80% feel overwhelmed by their responsibilities
50% have become so anxious that they struggled in school
While a variety of other mental health concerns are both topical and common among students today, this article limits itself to five prevalent issues: depression, anxiety, suicide, eating disorders, and addiction.
Our guide is not a substitute for treatment. Instead, it aims to help you find resources helpful for leading to a happier and healthier college career. If you think treatment may be necessary, contact a medical professional immediately.
Please note that in any situation, it may be difficult for you to approach a friend regarding these illnesses. After all, people often dislike being told that they're sick, what they're feeling, or what they should do. It's wise to be supportive and patient, but applying too much pressure on a friend can make the situation worse.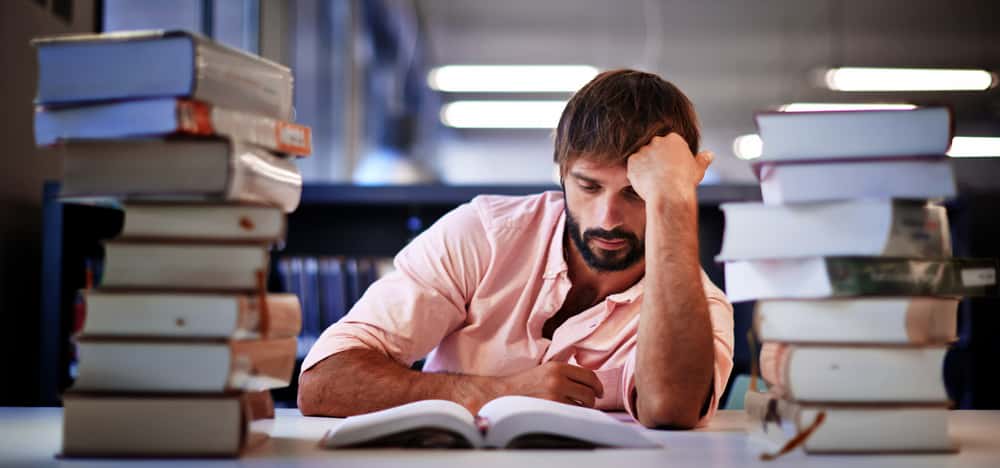 If you believe that you've developed one of these mental health ailments, try to remember that your friends are looking out for your best interests. They want you to be well, and they are not attacking you. Talking about your problems with someone close to you may seem like a daunting task, but try to let them help you until you are ready to seek the professional help you need to get better.
Anxiety
Low levels of stress and anxiety are a part of most people's lives. In turn, experiencing these feelings does not necessarily mean that you have an anxiety disorder. Anxiety disorders occur when anxiety interferes with your daily life, halting your ability to function, and causing an immense amount of stress and fear. The Anxiety and Depression Association of America (ADAA) reports that anxiety disorders are the most common mental illness in the U.S. today. According to the organization's report, anxiety disorders affect 40 million adults over the age of 18, yet only one-third seek and receive treatment. The ADAA says that nearly 75% of those affected by an anxiety disorder will experience their first episode before the age of 22. Anxiety disorder types can include (but are not limited to):
Generalized Anxiety Disorder (GAD)

Constant, severe anxiety that interferes with day-to-day activities.

Obsessive-Compulsive Disorder (OCD)

Unreasonable thoughts, fears and obsessions that lead to repetitive behaviors or compulsions.

Panic Disorder

Characterized by frequent sudden attacks of terror, panic, and constant fearfulness.

Post-Traumatic Stress Disorder (PTSD)

A condition triggered by experiencing or witnessing a terrifying event.

Social Anxiety Disorder (SAD)

A disorder in which everyday interactions cause irrational anxiety, fear, self-consciousness and embarrassment.
SYMPTOMS
Symptoms of anxiety disorders may sometimes be mistaken for everyday stress or simply written off as someone worrying too much. Depending on how your body responds to the increased levels of certain chemicals, panic attacks may be mistaken as a physical ailment, such as a heart attack or a tension headache. Symptoms manifest differently in each person, so what is true for you won't necessarily be true for a friend. Common symptoms for anxiety disorders may include:
Feelings of stress and apprehension
Irritability
Trouble concentrating
Fearfulness
Sweating and dizziness
Shortness of breath
Irregular heartbeat
Muscle pain and tension
Headaches
Frequent upset stomach or diarrhea
The exact causes of anxiety disorders aren't fully understood, but they may include a combination of genetics, naturally occurring brain chemicals, life experiences, or stress. If you experience extreme anxiety about exams, it may simply be common test anxiety. Comparatively affordable treatment options are available to students on campus, and the ADAA hosts a list of low cost treatment plans and resources available to you.
RECOGNIZING THE SIGNS
One of the most important things to remember about anxiety disorders is that brief and occasional flashes of anxious feelings or behavior do not automatically indicate a mental illness. But if the anxious feelings persist, or if they begin to manifest in obsessive behavior or an overwhelming sense of fear, then it's time to seek help for yourself or your friend.
What Should You Do if You Start to Notice Signs of an Anxiety Disorder in a Friend?
College is a stressful time and students can expect to deal with a variety of expected and unexpected stressors through their college careers. While stress sources don't necessarily cause anxiety disorders, they can worsen symptoms. And while, as mentioned above, anxiety disorders are the most common mental illnesses affecting adults and children in the U.S. today, identifying anxiety disorder signs in others can be difficult. This is in part because symptoms can seem like normal stress or anxiety, and people experience stress differently. For example, your friend may be suffering from an anxiety disorder if they:
Have experienced a tragic event and do not develop healthy coping habits
Appear to live in constant fear of failure, academically or socially
Are uncomfortable and extremely anxious in social atmospheres
Have trouble concentrating or seem to have a blank mind
Seem plagued with guilt or stress
Have visible panic attacks
If you believe someone you know may have an anxiety disorder, be an active listener when they are feeling stressed or anxious, and help them research the next steps they should take. Avoid criticizing or belittling the severity of their symptoms and encourage your friend to try coping strategies that avoid the issues or cause further anxiety (such as those recommended by the AADA). Encourage your friend to visit a campus health care center and discuss their troubles with a professional. If your friend is reluctant to seek treatment, consider consulting a mental health care provider for suggestions for moving forward.
How Do You Know if You Have an Anxiety Disorder?
Sooner or later just about every college student experiences stress and anxiety over the course of life on campus (such as exams). But if you begin feeling riddled with guilt or experience frequent anxiety or panic attacks, this could be cause for concern. Distinguishing the difference between regular stress and a disorder can be difficult, so it's smart to consult your healthcare provider if you feel you might be developing an anxiety disorder. Here are some questions to ask yourself:
Are you experiencing anxious or worrisome thoughts on a daily basis?
Are you plagued by fears others perceive as unfounded or irrational?
Do you avoid everyday social activities because they cause you anxiety?
Do you experience sudden heart-pounding panic attacks?
Is your anxiety interfering with your school work, social life and family?
If you answered yes to any of the above questions, consider consulting your primary healthcare provider (or your student health center) for a mental health assessment. An assessment can help determine if you are experiencing an anxiety disorder. Additionally, as mentioned above, ADAA has put together a list of coping techniques to help students living with anxiety that you may also want to consider.
Remember: anxiety disorders are treatable, and if you feel you are suffering, you'll be doing yourself a favor by taking your mental health seriously and contacting a professional today.
ANXIETY RESOURCES
The following organizations are examples of excellent resources for students suffering from anxiety disorders. Each organization provides information on the different forms of anxiety and useful resources that explore approaches to coping.
Eating Disorders
Millions of college students — both women and men alike — develop eating disorders during their college years. The vast majority don't seek help or don't realize the extent of their problem.
Eating disorders are extreme behaviors, emotions, and attitudes that revolve around food and weight perceptions. These disorders cause serious mental and physical problems that can result in life-threatening issues when left untreated. According to statistics provided by the National Association of Anorexia Nervosa and Associated Disorders (ANAD):
Eating disorders are extremely common among all ages and genders — at least 30,000,000 people in the United States suffer from some type of eating disorder
Of all mental disorders, individuals suffering from eating disorders have the highest mortality rate
One person dies as a direct result of an eating disorder every 62 minutes
Males are nearly as likely to develop a disorder as women. Due to cultural views of eating disorders, however, they don't often seek treatment — bulimia and anorexia are seen as women's issues.
As defined by the ANAD, examples of common eating disorders include:
Anorexia Nervosa

Characterized by an unhealthy fixation on thinness, a distorted body image, and fears of gaining weight, this disorder commonly results in emaciation.

Bulimia Nervosa

Bulimia nervosa is a binge eating disorder, involving recurrent and frequent episodes of eating unusually large amounts of food, followed by behavior that compensates for binging, like purging, fasting, or over-exercising.

Binge Eating Disorder

Binge eating disorder is characterized by constant cravings that occur any time of day and result in binge eating. This disorder is often associated with poor body image and low self-esteem.
SYMPTOMS
The signs and symptoms of eating disorders vary by person and condition and many depend on the mental state of the individual suffering from the disorder. However, there are several red flags that are common factors for anorexia, bulimia, and binging. These include:
Distorted or poor body image
Excessive exercise
Irregular heartbeats
Dehydration
Feeling like eating is out of control
Fear of eating in public
Constantly making excuses for eating habits
Many college students do not seek treatment for their eating disorder, nor do they believe they've developed a problem. Eating disorders are potentially life threatening and can contribute to serious health issues if not treated properly, including:
Kidney failure
Stunted growth
Loss of menstruation
Failure in the reproductive system
Heart problems
RECOGNIZING THE SIGNS
We all have days where our self-image isn't the best. We look in the mirror and sigh because all we see are our flaws. We sometimes don't eat, forget to eat, or eat junk when we're stressed or have an over-full schedule. Remember that a few occurrences of each does not mean someone is at risk.
When the random complaints about weight become all a friend can focus on, or when you notice you've started skipping meals and binging on junk food and then feeling guilty afterwards, you may want to approach this topic. If you're worried the behavior in a friend may have been going on long before you noticed, ask them gently about their eating habits. If you fear your friend won't respond well to your concern, or you're worried they will react poorly, you can contact a professional who will walk you through how to broach the subject. It may not be easy for you to get your friend to talk about their problems because no one likes to be told they're sick.
What Should You Do if You Think Your Friend is Developing an Eating Disorder?
Eating disorders aren't just about eating and weight; they come with underlying stress management and self-esteem issues. Many college students with eating disorders don't seek treatment because they are unaware of the severity of their disorder, or they may avoid treatment by refusing to acknowledge that they have a problem. When caught at an early stage, eating disorders are highly treatable, so it's important to let your friend know your concerns shortly after you notice signs of a disorder.
Here are some signs to look for that could indicate an eating disorder:
Is your friend skipping meals or only eating small portions?
Is your friend suddenly uninterested in foods they once loved?
Is your friend limiting their meals to foods very low in calories?
Is your friend taking diet pills excessively or medication that suppresses hunger, such as Adderall or Ritalin?
Does your friend disappear suddenly to the restroom after meals?
Are your friend's teeth noticeably stained?
Are they using mints after trips to the bathroom or perfume to mask the smell of vomit?
If you answered yes to any of these questions, your friend could be developing an eating disorder. Many college students and young adults a negative body image during their college years. While this is certainly a sensitive time, don't let worries underscore the importance of valid concerns. If you need help approaching your friend, consult the National Eating Disorder Association, and get matched with someone trained to assist friends and family address eating disorders with their loved ones.
How Do You Know if You Have an Eating Disorder?
Recognizing that you have an eating disorder is often the first step to recovery. Many who develop a disorder feel a pressure to be thin or a certain weight, have a distorted or very poor body image, or the stress in their lives makes them feel out of control. In order for you to see these things in yourself, you must be willing to take a long, hard look at your behavior, moods and health. Here are some questions to ask yourself:
Do you refuse to eat food or skip meals?
Do you fear eating in public with others?
Do you count calories out of a need for control?
Do you have strict eating habits that you feel guilty and ashamed for breaking?
Do you have a history of perfectionism?
Are you obsessed or dissatisfied with your weight or body shape?
Do you find yourself eating large amounts of food and then purging or making yourself vomit?
Have you avoided eating for a day then overate when you became too hungry?
Have you noticed excessive hair growth on your arms and face or loss of your menstrual cycle?
If you answered yes to any of these questions, or believe you have an eating disorder, do not delay seeking treatment. Eating disorders can become life-threatening, and it's important to receive treatment as soon as possible.
EATING DISORDER RESOURCES
If you need assistance helping a friend through an eating disorder, or if you need to understand more about them before you come to terms with the fact that you may have one, the following list of resources are a good place to start. Each organization provides information on getting help for yourself and a loved one.
Know Your Rights as a Student
University responses to the growing mental health crisis on campus have been controversial. Commentators often deem university responses to mental health crises as inadequate or are even counterproductive. Students are becoming increasingly aware of the fact that more and more of their peers have been reprimanded for reporting their crises to campus healthcare center professionals. Students are sometimes kicked off campus and forced into hospitalization, even though their crisis didn't necessarily require them to do so. For example, a recent (2014) Newsweek exposé relates the story of a Princeton student whose decision to overdose, a clear sign of mental distress, was met by the university's decision to force the student to withdrawal, sticking his family and himself with hefty bills for the few weeks he attended the school.
The Americans with Disabilities Act (ADA) and other federal disability laws prohibits discrimination against students whose psychiatric disabilities "substantially limit a major life activity." It also mandates that colleges and universities provide students with "reasonable accommodations," such as less school work and extended deadlines, provided they can meet nondiscriminatory academic and behavior standards. The ADA also stipulates that the student's disability must not pose a significant risk of harm that cannot be mitigated by reasonable accommodations.
While colleges must abide by certain rules and regulations to keep students living on campus safe from harm, this does not give them the right to discriminate against mental illness, so take a moment to better understand your rights as a student via the following governmental resources:
The Americans with Disabilities Act (ADA)
Patient Confidentiality Rights (HIPAA)
Family Educational Rights and Privacy Act (FERPA)