Understanding Eating Disorders
---
---
According to the Mayo Clinic, an eating disorder is defined as any "persistent eating behavior" that negatively affects one's physical or emotional health. The National Eating Disorder Association (NEDA) estimates that 20 million women and 10 million men in the U.S. will experience a clinically significant eating disorder during their lifetime. Those suffering from an eating disorder are often affected by other illnesses, including depression, anxiety, and substance abuse.
Eating disorders are considered serious, treatable medical illnesses. While they are curable, this should not diminish the fact that if left untreated, eating disorders can be life-threatening. Today's mental health professionals emphasize the need to dispel myths and stereotypes about the underlying causes of eating disorders in order to combat the stigma surrounding them. However, persistent negative attitudes toward people with eating disorders remain prevalent throughout the world. The National Institute of Health (NIH) stresses the importance of not only studying the biological roots of eating disorders, but also disseminating research findings to the general public.
Types of Eating Disorders
The three most commonly diagnosed eating disorders are anorexia nervosa, bulimia nervosa, and binge-eating disorder. Physicians also identify a fourth category referred to as eating disorders not otherwise specified (EDNOS), which include orthorexia and muscle dysmorphia, among others. The symptoms of eating disorders often go unnoticed by friends and family members of the affected individual, allowing many cases to go undiagnosed and untreated.
Below you will find detailed descriptions for some the most common eating disorders. Please note that this list is not exhaustive.
Treatments
All eating disorders are considered treatable. NEDA notes that effective treatment of any eating disorder involves psychotherapy or psychological counseling accompanied by a renewed emphasis on nutrition and proper diet. Due to the range of underlying factors and the physical and emotional effects of different eating disorders, treatment strategies should be tailored to individual patients. In some cases, medication will be a component of a person's treatment and recovery.
Many with eating disorders eventually receive outpatient therapy. Inpatient care--either hospitalization or in-house treatment at a dedicated medical facility--becomes necessary when an eating disorder leads to serious physical, psychological, or behavioral complications.
It is absolutely critical for anyone with an eating disorder (or suspected eating disorder) to consult a physician or mental health professional prior to seeking treatment.
Eating Disorder Resources
National Association for Anorexia Nervosa: This nonprofit organization strives to promote positive eating habits and behaviors, and increase national awareness about the causes, effects, and treatment possibilities for people with eating disorders.
Project Heal: Dedicated to helping sufferers recover from different addictions and disorders, Project Heal features an extensive collection of posts related to bulimia.
Overeaters Anonymous: OA is a nonprofit group dedicated to helping people address their eating habits.
Food Addicts in Recovery Anonymous: This organization offers online and community-based support services for people fighting food addiction.
RecoverYourLife: RYL is an organization dedicated to helping people dealing with self-harm issues, including all eating disorders. Site visitors can participate in forum discussions, chat with fellow members, and seek advice on different topics.
Support Groups: This website hosts and moderates online chat threads devoted to people with anorexia, bulimia, BED, orthorexia, and other eating disorders.
---
Eating Disorders in College
College is an exciting and pivotal time for most men and women, but the campus atmosphere can also bring challenges and pressures that put young people at risk for eating disorders. These factors can create an environment that increases one's susceptibility to eating disorder behaviors.
The Rise of Eating Disorders on Campus
NEDA conducted a survey of students at one unnamed college, which found a significant increase among students who reported eating disorder behaviors over the past decade. Over an 11-year period, the rate of male respondents with eating disorders rose dramatically. More women reported having an eating disorder as well.
There are many reasons why eating disorders are prevalent among college students. Most eating disorders begin among people between the ages of 18 and 21; 35% of young people who diet escalate to pathological dieting, and 20-25% of them develop partial or full-syndrome eating disorders. Environmental factors play a role, as well. Many students attend social gatherings and engage in substance use, and the stress of maintaining good academic standing can lead to anxiety and depression. All of these are contributing factors to eating disorders.
Transitioning from High School to College
Many college students are living on their own for the first time, without parents to monitor their behavior or recognize eating disorder warning signs. Young people who have already been diagnosed with an eating disorder face additional struggles with this new-found independence. Dining halls typically serve food in a buffet-style setting, and many of the available foods are unhealthy; both of these factors can be triggers for students who are prone to binge-eating. Student athletes with a history of eating disorders may also be at-risk for excessive exercising, particularly those who play a weight-centric sport, such as gymnastics or wrestling.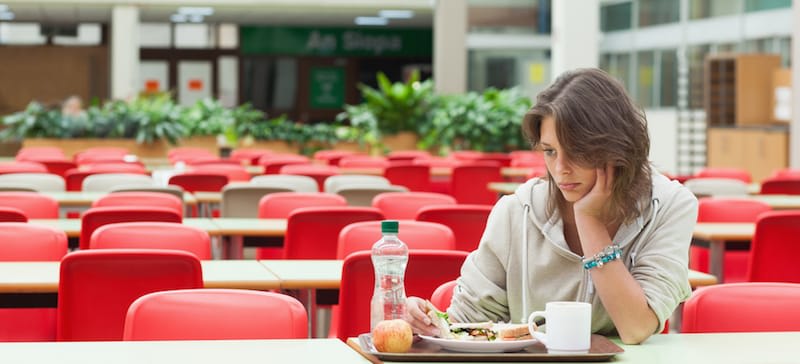 Choosing a College
Prospective college students with eating disorders should carefully research schools before making a final decision. Their top choices should include schools that provide effective counseling services, a warm and compassionate health staff, strong educational programs, support events, and medical services dedicated to students with eating disorders. NEDA's Eating Disorders on the College Campus survey recently evaluated more than 80 colleges and universities in all 50 states using 23 criteria points related to eating disorder prevention, awareness, and support. Based on this survey's findings, students with a history of eating disorders should ensure the following campus resources will be readily available:
Counseling Center

Counseling services are commonplace on college campuses, but students with an eating disorder should make sure their school's counseling center features programs and staff dedicated to eating disorder-related therapy. Nutritionist services are also recommended.

Eating Disorder Screenings

Many colleges and universities only offer a handful of eating disorder screenings throughout the academic year, while some do not provide these services at all.

Support Groups

"Making Peace With Food" and other support group programs for people with eating disorders meet on a daily or weekly basis at many colleges and universities.

Eating Disorder Workshops

Most colleges and universities provide workshop opportunities for students with eating disorders, but the frequency will vary; some offer these services daily or weekly, while others only feature them once a year or semester.

Eating Disorder Education Coordinator

Coordinators work with other campus officials to organize courses, workshops, and other programs centered around eating disorder awareness and support. Many campuses provide an education coordinator dedicated to this topic.

Eating Disorder Courses

Classes dealing with eating disorders, nutrition, and other associated topics are sometimes offered through a school's psychology, public health, and women's studies departments.

Residence Life Programs

Most colleges and universities offer support services for their students through their residence halls; students should ensure these services are available regularly. Those planning to join a fraternity or sorority should also prioritize schools with programs available through their local Greek councils.

Peer Advisors

In addition to resident life programs, many schools hire peer advisors dedicated to helping students with eating disorders.

Eating Disorder Screenings and Prevention Programs for Athletes

Students involved with collegiate athletics should ensure their school provides these services on a regular basis.

Library Resources

Most schools offer printed eating disorder information through their health and wellness centers, but a select few also provide related materials through the library.
Family, Friends, and Community
The National Eating Disorders Collaboration emphasizes the importance of a strong support system for people struggling with an eating disorder. Immediate family members, romantic partners, and close personal friends typically form the foundation of such support systems; these individuals are often the first to approach those who are at-risk for eating disorders, and they may ultimately care for loved one during treatment and recovery. In many cases, someone with an eating disorder may not realize the scope of their disease until another person addresses their habits and behaviors. Friends and family can also encourage loved ones with eating disorders by helping them build and maintain a strong body image and good self-esteem through positive reinforcement. Additionally, loved ones are urged to contact confidential eating disorder hotlines if they believe a relative or friend is currently battling an eating disorder.
Getting Help
According to HelpGuide.org, eating disorder recovery begins with an honest self-assessment about habits, behaviors, and beliefs about the importance of weight and body image. NEDA provides a free, anonymous screening tool anyone can use to find out if they currently meet the criteria for an eating disorder or if they are considered at-risk for developing one.
Once you identify symptoms or warning signs of an eating disorder, it is imperative for you to seek help from loved ones. After establishing a support system, you should seek medical or mental health treatment from a licensed professional specializing in eating disorders. These professionals can help you come to terms with your specific health concerns and form a comprehensive plan for long-term recovery, which typically involves ongoing therapy, support groups, and an emphasis on positive living.
Additional Resources
Treatment Resources
Diversity Group Resources
Campus Resources
Community/Support Systems
Community, Support, Family, and Friends
For Further Study
---
Editor's Note: This article contains general information and is not intended to be a substitute for professional advice. Please consult a professional advisor before making decisions about health-related issues.
---