Understanding Eating Disorders
BestColleges.com is an advertising-supported site. Featured or trusted partner programs and all school search, finder, or match results are for schools that compensate us. This compensation does not influence our school rankings, resource guides, or other editorially-independent information published on this site.
Ready to start your journey?
---
According to the Mayo Clinic, an eating disorder is defined as any "persistent eating behavior" that negatively affects one's physical or emotional health. The National Eating Disorder Association (NEDA) estimates that 20 million women and 10 million men in the U.S. will experience a clinically significant eating disorder during their lifetime. Those suffering from an eating disorder are often affected by other illnesses, including depression, anxiety, and substance abuse.
Eating disorders are considered serious, treatable medical illnesses. While they are curable, this should not diminish the fact that if left untreated, eating disorders can be life-threatening. Today's mental health professionals emphasize the need to dispel myths and stereotypes about the underlying causes of eating disorders in order to combat the stigma surrounding them. However, persistent negative attitudes toward people with eating disorders remain prevalent throughout the world. The National Institute of Health (NIH) stresses the importance of not only studying the biological roots of eating disorders, but also disseminating research findings to the general public.
Types of Eating Disorders
The three most commonly diagnosed eating disorders are anorexia nervosa, bulimia nervosa, and binge-eating disorder. Physicians also identify a fourth category referred to as eating disorders not otherwise specified (EDNOS), which include orthorexia and muscle dysmorphia, among others. The symptoms of eating disorders often go unnoticed by friends and family members of the affected individual, allowing many cases to go undiagnosed and untreated.
Below you will find detailed descriptions for some the most common eating disorders. Please note that this list is not exhaustive.
true
Anorexia Nervosa
Anorexia nervosa, often shortened to anorexia, is characterized by infrequent or abnormal eating patterns and, in many cases, self-induced weight loss. Underlying psychological factors often include a fear of gaining weight, an exaggerated view of one's physical appearance, and low-self esteem regarding body image. In the U.S., roughly one in every 200 women has anorexia; the lifetime prevalence rate for American men is .3%.
Long-term anorexia may cause menstrual cycles to disappear in females and reduce testosterone levels in males. Other health effects include anemia, heart disease, bone loss, gastrointestinal issues, low electrolyte levels, and kidney problems. Anorexia carries the highest mortality rate among all psychological disorders; roughly 20% of individuals with anorexia die of complications stemming from the disorder. Suicide is responsible for roughly half of all anorexia-related fatalities; other common causes of death linked to the disease include starvation, substance abuse, and cancer.
Bulimia Nervosa
Bulimia nervosa, often called bulimia, is characterized by periods of binge eating followed by attempts to reduce calorie intake using unnatural means. The Mayo Clinic divides bulimia into two categories. Purging bulimia involves self-induced vomiting and/or the abuse of medical aids like laxatives, diuretics, and enemas. Nonpurging bulimia usually involves excessive exercise, fasting, and/or severe dieting. According to Mirror-Mirror, roughly 1.5% of women (4.7 million) and 0.5% of men (1.5 million) in the United States will have bulimia during their lifetime.
Roughly half of all people with anorexia will develop bulimic habits. If left untreated, long-term bulimia can lead to serious dehydration, heart problems, laxative dependence for bowel movements, depression, and irregular menstrual cycles. Recent studies estimate that as many as 6.3 million women (or 4% of the U.S. female population) and 700,000 men will have bulimia during their lifetime. The disease has a 3.9% mortality rate.
Binge Eating Disorder
Binge eating disorder (or BED) is defined as excessive eating patterns accompanied by feelings of shame, guilt, and/or lack of control. Unlike anorexia or bulimia, BED does not include a purging component and consequently, many men and women with this disease are considered obese. Roughly 2.8% of American men and women will have BED during their lifetime; fewer than half will seek treatment.
Long-term BED can lead to poor productivity at work, interpersonal problems, and feelings of isolation, as well as psychiatric disorders like depression, anxiety, and substance abuse. Additionally, medical complications linked to chronic obesity include heart disease, diabetes, joint problems, gastroesophageal reflux disease (GERD), and sleep disorders, including sleep apnea. BED is commonly linked with family history, and individuals are most likely to develop BED-related habits in their late teens or early 20s. BED carries a 5.2% mortality rate.
EDNOS/OSFED
EDNOS, an umbrella term for eating disorders also referred to as other specified food or eating disorders (OSFED), are characterized by certain symptoms related to anorexia or bulimia without meeting the criteria for an official diagnosis of either disorder. These are just as serious as the previously explained eating disorders, and considerably more common: the National Eating Disorders Collaboration (NEDC) estimates that 40-60% of adults and juveniles seeking treatment for an eating disorder will be diagnosed with EDNOS.
Long-term EDNOS can lead to serious physical complications, including inflammation of the esophagus or stomach, chronic constipation or diarrhea, renal failure, osteoporosis, heart problems, absent menstrual cycles, and infertility.
Orthorexia
Orthorexia is characterized by an abnormal fixation toward food without being accompanied by destructive eating habits. Orthorexia often begins with a genuine, healthy concern about maintaining a proper diet. Over time, orthorexics eventually become preoccupied or obsessed with food quality and quantity, adhering to a rigid set of standards when it comes to daily meals. Presently, orthorexia is not officially recognized by the Diagnostic and Statistical Manual of Mental Disorders (DSM-5); however, NEDA notes that many doctors and mental health professionals today recognize orthorexia as a genuine eating problem.
If unaddressed, orthorexia can eventually lead to symptoms of other eating disorders, including anorexia or bulimia. Common symptoms include malnutrition, starvation, feelings of isolation, and psychiatric disorders like depression and social anxiety.
Muscle Dysmorphia
Body dysmorphia is a psychological disorder characterized by a preoccupation or obsession with perceived physical flaws. Muscle dysphoria is a subtype of body dysmorphia where one feels that their muscular build is too small or otherwise inadequate. For this reason, muscle dysmorphia is seen as an opposite to anorexia; while individuals with the latter are fixated on attaining a smaller physique, those with muscle dysmorphia strive to become larger and stronger, often employing unhealthy or destructive strategies to achieve this goal. Muscle dysmorphia can occur in either gender, but is more common among men.
People with muscle dysmorphia often regulate their eating to unhealthy extremes by consuming too many proteins or severely limiting their intake of carbohydrates and fats.
Unaddressed muscle dysmorphia can lead to serious complications, including psychiatric diseases like depression, anxiety, and substance abuse.
Treatments
All eating disorders are considered treatable. NEDA notes that effective treatment of any eating disorder involves psychotherapy or psychological counseling accompanied by a renewed emphasis on nutrition and proper diet. Due to the range of underlying factors and the physical and emotional effects of different eating disorders, treatment strategies should be tailored to individual patients. In some cases, medication will be a component of a person's treatment and recovery.
Many with eating disorders eventually receive outpatient therapy. Inpatient care--either hospitalization or in-house treatment at a dedicated medical facility--becomes necessary when an eating disorder leads to serious physical, psychological, or behavioral complications.
It is absolutely critical for anyone with an eating disorder (or suspected eating disorder) to consult a physician or mental health professional prior to seeking treatment.
Interview with Chelsea Kronengold
Chelsea Kronengold, M.A. is a body image and eating disorders activist and nonprofit professional. Chelsea graduated summa cum laude from the University of Florida, subsequently receiving a masters degree in clinical psychology from Columbia University.
Presently, Chelsea works at the National Eating Disorders Association (NEDA) as a senior program associate. In this role, Chelsea coordinate's NEDA's prevention and body positive efforts, including overseeing the national dissemination of the Body Project; an evidence-based body confidence program for women and girls.
What are some myths about individuals with eating disorders?
true
There are many myths and misconceptions about eating disorders. One common myth is that eating disorders are a fad, phase, or choice. Eating disorders are serious and complex illnesses that stem from a variety of biological, psychological and social factors. Moreover, eating disorders do not discriminate. You cannot tell if a person has an eating disorder based on their age, race, gender, socioeconomic status, or even weight. It is also important for people to know that if they're struggling, they are not alone and recovery is possible with the right help and support.
What role does stigma play in eating disorder treatment and recovery?
The consequences of eating disorders can be life-threatening, and stigma against eating disorders (and other mental illnesses) can interfere with a timely diagnosis and suitable treatment. In the U.S. alone, 20 million women and 10 million men suffer from a clinically significant eating disorder at some time in their life (Wade, Keski-Rahkonen, & Hudson, 2011). People who struggle with eating disorders also have a severely impacted quality of life and many sufferers go out of their way to hide symptoms of their illness due to shame and stigma associated with these disorders. Moreover, many individuals who recognize their struggle often fear that they are not "sick enough" to seek out treatment for their eating disorder.
How can people help fight stigma associated with eating disorders?
One of the best and easiest ways to fight stigma associated with eating disorders is to talk about it. Recognize how your own beliefs and discourse about eating disorders perpetuate the shame, stigma, and stereotypes associated with these conditions. Other ways to fight stigma include educating yourself about eating disorders, increasing your awareness of comments that enable disordered behavior (e.g., "you look so great, did you lose weight?"), seeking out stories of hope from people who are in recovery, and getting involved with eating disorder advocacy and activism.
What are some of the underlying reasons behind the prevalence of eating disorders among college students?
Eating disorders are a growing epidemic on college campuses. A longitudinal study over a 13 year period found that the rate of eating disorders among college students has risen from 7.9% to 25% for males and 23.4% to 32.6% for females (White, 2011). College is a period of development in which disordered eating is likely to arise, resurface, or worsen for many young men and women. The increased social pressure to make friends, have romantic relationships, achieve academically, and fear of the "freshman 15" are all potential risk factors for disordered eating and other maladaptive coping mechanisms for college students.
What should someone do if they suspect a friend or loved one has an eating disorder?
If you are worried about someone's eating behaviors or attitudes, you can express your concerns with honesty and respect in a loving and supportive manner. It is also important to discuss your worries early on, rather than waiting until a person shows physical and emotional signs of a full-blown eating disorder. Be sure to address your concerns in a calm, caring, and non-confrontational manner. Address specific behaviors using "I" statements (e.g., "I'm concerned about you because you refuse to eat breakfast or lunch") and try to avoid accusatory "You" statements (e.g., "You have to eat something! You're out of control!").
At what point should someone see a physician or mental health professional regarding an eating disorder?
Given that eating disorders have the highest mortality rate of any mental illness (Arcelus, 2011), early detection, intervention, and treatment is extremely important and gives an individual the best chance of recovery. NEDA encourages folks to be evaluated by an eating disorder specialist as soon as they start exhibiting signs and symptoms of disordered eating behavior. The earlier a person with an eating disorder seeks treatment, the greater the likelihood of physical and emotional recovery. Some people might be hesitant to seek help because they fear stigmatization, believe their problem isn't "that" bad, or think they can recover on their own; however, we do not recommend that people try to fix or overcome their situation through willpower, which is why we do not provide self-help tips on our website.
What are some programs and events sponsored by NEDA?
NEDA has three types of programs and services: information, find help and support, and get involved. Our feeding hope fund for clinical research, annual conference, NEDA toolkits, and The Body Project - an eating disorder prevention program - are all part of our information and outreach services.
NEDA's Information and Referral Helpline (800-931-2237) is a great place to start if you are contemplating getting help or already know that it is what you need, as we are equipped with the necessary resources to help you find treatment, support groups and research studies that can be of assistance. We also have a variety of programs designed to provide personal support to individuals who are suffering and family members who are supporting a loved one with an eating disorder: Online Eating Disorders Screening, Loss Support Network, NEDA Navigators, Online Eating Disorder Screening, Parent, Family & Friends Network (PFN), Proud2Bme and Proud2Bme On Campus: NEDA's youth/collegiate program promoting healthy self-esteem and body confidence.
NEDA's awareness and advocacy efforts include NEDA Walks, Media Watchdogs program, NEDAwareness Week, and advocacy at the state and federal level via our Solutions Through Advocacy and Reform (STAR) program.
Eating Disorder Resources
National Association for Anorexia Nervosa: This nonprofit organization strives to promote positive eating habits and behaviors, and increase national awareness about the causes, effects, and treatment possibilities for people with eating disorders.
Project Heal: Dedicated to helping sufferers recover from different addictions and disorders, Project Heal features an extensive collection of posts related to bulimia.
Overeaters Anonymous: OA is a nonprofit group dedicated to helping people address their eating habits.
Food Addicts in Recovery Anonymous: This organization offers online and community-based support services for people fighting food addiction.
RecoverYourLife: RYL is an organization dedicated to helping people dealing with self-harm issues, including all eating disorders. Site visitors can participate in forum discussions, chat with fellow members, and seek advice on different topics.
Support Groups: This website hosts and moderates online chat threads devoted to people with anorexia, bulimia, BED, orthorexia, and other eating disorders.
---
What Causes an Eating Disorder?
According to the NEDC, medical researchers haven't pinpointed a singular root cause of eating disorders. Rather, decades of study have revealed a range of underlying factors that influence the development of eating disorders in different people.
Research covering eating disorders is constantly evolving, and most contemporary medical and mental health professionals believe that they are caused by a combination of psychological, biological, genetic, and cultural factors.
true
Genetics
Studies have shown that individuals with certain genotypes are predisposed to developing an eating disorder, suggesting that these illnesses may be inherited in some cases.
The NEDC notes that eating disorders have been closely linked to genes associated with "food intake, appetite, metabolism, mood, and reward-pleasure responses." Statistically, if a family member has an eating disorder, you are seven to 12 times more likely to develop a similar disorder than a person without any family history of one. Recent studies have also examined the relationship between eating disorders and epigenetics, or the environmental factors that influence heredity and genetic traits.
Home Life/Relatives
For many years, parents were primarily blamed for the development of eating disorders in their children. Contemporary studies have largely dispelled this notion.
The Academy of Eating Disorders recently released a study stating that there is "no data to support" the notion that parenting styles or family dynamics contribute to diseases like anorexia or bulimia. However, parents can reduce the likelihood of their child developing an eating disorder by helping them cultivate a positive body image and gain an appreciation for nutrition, proper exercise, and a balanced diet.
Temperament
Several studies have established a connection between eating disorders and certain personality traits, such as obsessive thoughts, perfectionist tendencies, hypersensitivity, and impulsivity.
Individuals who are susceptible to anxiety or stress are also considered at-risk for binge-related eating disorders; they may overeat or consume large amounts of unhealthy comfort food as a way of alleviating their intense feelings. Those who grapple with difficult situations are vulnerable as well, as eating disorders often begin as a coping mechanism for a different problem.
Body Image
Eating disorders often appear in people with low self-esteem stemming from a negative body image. The NECD calls dieting "the most common precipitating factor in the development of an eating disorder," also noting that diets carry an overall failure rate of 95-98%. Other studies have noted a link between personal trauma and body dissatisfaction later in life; those who have had a traumatic experience are more likely to develop an eating disorder as a way of coping with associated painful memories and negative emotions.
While negative body image is considered a risk factor for eating disorders, positive body image can help people avoid social pressures related to weight and physical appearance.
Media
The media can play an indirect role in the perpetuation of eating disorders. Many people feel influenced by what they perceive as attractive or culturally acceptable body types portrayed in films, television shows, and magazines. Psychologists refer to this phenomenon as the "sociocultural ideal".
In the United States, most experts agree that our sociocultural ideal for body type for women is defined by thinness, while the ideal for men is characterized by leanness and muscularity. Adolescents are considered especially vulnerable to negative feelings and self-perceptions associated with sociocultural ideals.
Eating Disorders Do Not Discriminate
Despite decades of awareness campaigns, misconceptions about eating disorders and the people afflicted by them persist. Historically, these diseases have been primarily linked to adolescent girls and women in their early 20s. However, contemporary studies have found that eating disorders affect people at every cross-section of the population. Experts warn that anyone can be susceptible to these diseases regardless of age, gender, race, sexual orientation, or socioeconomic standing. These groups that are often left out of discussions pertaining to eating disorders:
Eating Disorders in College
College is an exciting and pivotal time for most men and women, but the campus atmosphere can also bring challenges and pressures that put young people at risk for eating disorders. These factors can create an environment that increases one's susceptibility to eating disorder behaviors.
The Rise of Eating Disorders on Campus
NEDA conducted a survey of students at one unnamed college, which found a significant increase among students who reported eating disorder behaviors over the past decade. Over an 11-year period, the rate of male respondents with eating disorders rose dramatically. More women reported having an eating disorder as well.
There are many reasons why eating disorders are prevalent among college students. Most eating disorders begin among people between the ages of 18 and 21; 35% of young people who diet escalate to pathological dieting, and 20-25% of them develop partial or full-syndrome eating disorders. Environmental factors play a role, as well. Many students attend social gatherings and engage in substance use, and the stress of maintaining good academic standing can lead to anxiety and depression. All of these are contributing factors to eating disorders.
Transitioning from High School to College
Many college students are living on their own for the first time, without parents to monitor their behavior or recognize eating disorder warning signs. Young people who have already been diagnosed with an eating disorder face additional struggles with this new-found independence. Dining halls typically serve food in a buffet-style setting, and many of the available foods are unhealthy; both of these factors can be triggers for students who are prone to binge-eating. Student athletes with a history of eating disorders may also be at-risk for excessive exercising, particularly those who play a weight-centric sport, such as gymnastics or wrestling.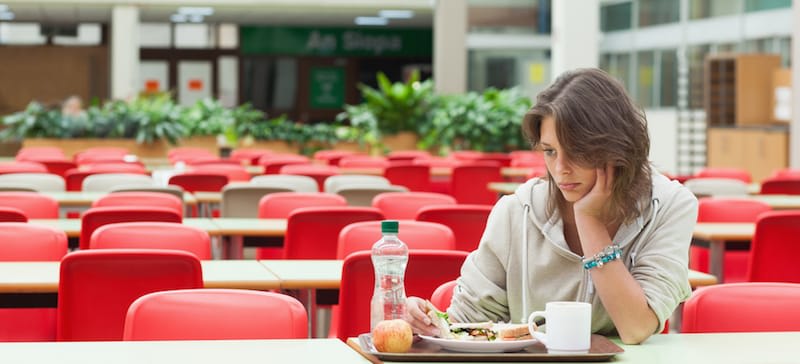 Choosing a College
Prospective college students with eating disorders should carefully research schools before making a final decision. Their top choices should include schools that provide effective counseling services, a warm and compassionate health staff, strong educational programs, support events, and medical services dedicated to students with eating disorders. NEDA's Eating Disorders on the College Campus survey recently evaluated more than 80 colleges and universities in all 50 states using 23 criteria points related to eating disorder prevention, awareness, and support. Based on this survey's findings, students with a history of eating disorders should ensure the following campus resources will be readily available:
Counseling Center
Counseling services are commonplace on college campuses, but students with an eating disorder should make sure their school's counseling center features programs and staff dedicated to eating disorder-related therapy. Nutritionist services are also recommended.
Eating Disorder Screenings
Many colleges and universities only offer a handful of eating disorder screenings throughout the academic year, while some do not provide these services at all.
Support Groups
"Making Peace With Food" and other support group programs for people with eating disorders meet on a daily or weekly basis at many colleges and universities.
Eating Disorder Workshops
Most colleges and universities provide workshop opportunities for students with eating disorders, but the frequency will vary; some offer these services daily or weekly, while others only feature them once a year or semester.
Eating Disorder Education Coordinator
Coordinators work with other campus officials to organize courses, workshops, and other programs centered around eating disorder awareness and support. Many campuses provide an education coordinator dedicated to this topic.
Eating Disorder Courses
Classes dealing with eating disorders, nutrition, and other associated topics are sometimes offered through a school's psychology, public health, and women's studies departments.
Residence Life Programs
Most colleges and universities offer support services for their students through their residence halls; students should ensure these services are available regularly. Those planning to join a fraternity or sorority should also prioritize schools with programs available through their local Greek councils.
Peer Advisors
In addition to resident life programs, many schools hire peer advisors dedicated to helping students with eating disorders.
Eating Disorder Screenings and Prevention Programs for Athletes
Students involved with collegiate athletics should ensure their school provides these services on a regular basis.
Library Resources
Most schools offer printed eating disorder information through their health and wellness centers, but a select few also provide related materials through the library.
Family, Friends, and Community
The National Eating Disorders Collaboration emphasizes the importance of a strong support system for people struggling with an eating disorder. Immediate family members, romantic partners, and close personal friends typically form the foundation of such support systems; these individuals are often the first to approach those who are at-risk for eating disorders, and they may ultimately care for loved one during treatment and recovery. In many cases, someone with an eating disorder may not realize the scope of their disease until another person addresses their habits and behaviors. Friends and family can also encourage loved ones with eating disorders by helping them build and maintain a strong body image and good self-esteem through positive reinforcement. Additionally, loved ones are urged to contact confidential eating disorder hotlines if they believe a relative or friend is currently battling an eating disorder.
Getting Help
According to HelpGuide.org, eating disorder recovery begins with an honest self-assessment about habits, behaviors, and beliefs about the importance of weight and body image. NEDA provides a free, anonymous screening tool anyone can use to find out if they currently meet the criteria for an eating disorder or if they are considered at-risk for developing one.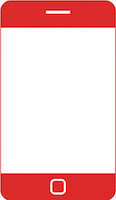 If you or someone you know is suffering from an eating disorder,
NEDA offers a confidential toll-free hotline at (800) 931-2237. For crisis situations, text "NEDA" to 741741 to be connected with a trained volunteer at Crisis Text Line.
In case of emergency, contact your local health provider or dial 911.
Once you identify symptoms or warning signs of an eating disorder, it is imperative for you to seek help from loved ones. After establishing a support system, you should seek medical or mental health treatment from a licensed professional specializing in eating disorders. These professionals can help you come to terms with your specific health concerns and form a comprehensive plan for long-term recovery, which typically involves ongoing therapy, support groups, and an emphasis on positive living.
Additional Resources
Treatment Resources
Diversity Group Resources
Campus Resources
Community/Support Systems
Community, Support, Family, and Friends
For Further Study
---
Editor's Note: This article contains general information and is not intended to be a substitute for professional advice. Please consult a professional advisor before making decisions about health-related issues.
---
Similar to the FAFSA, the CSS Profile is a financial aid application required by certain colleges for the purpose of awarding nonfederal aid. Learn about the top online bachelor's in accounting programs of 2021 while also familiarizing yourself with common courses, career options, and helpful info. Whether you're looking for an online, in-person, or hybrid coding bootcamp, we've compiled a comprehensive list of the best bootcamps around.
BestColleges.com is an advertising-supported site. Featured or trusted partner programs and all school search, finder, or match results are for schools that compensate us. This compensation does not influence our school rankings, resource guides, or other editorially-independent information published on this site.
Compare your school options.
View the most relevant school for your interests and compare them by tuition, programs, acceptance rate, and other factors important to find your college home.